BA (Hons) Interior Architecture and Design
Key information
Study abroad option
Entry requirements

| UCAS points | A Level | BTEC |
| --- | --- | --- |
| 112-120 | BBC-BBB - Including formal or informal qualifications in Art or Design | DMM-DDM |

Additional requirements

Access course: Diploma with 45 level 3 credits at merit.
Portfolio: Presentation of an acceptable portfolio of artwork.
IB requirements: 112-120 UCAS points from a minimum of two HL subjects at H4 or above to include Visual Arts at SL or HL (with the remaining points to come from a combination of HL, SL and Core).
IELTS: All students from non-majority English speaking countries require proof of English language proficiency, equivalent to an overall IELTS score of 6.0 with a minimum of 5.5 in each band.

If you do not have the required IELTS or equivalent for direct entry on to your degree programme, our Pre-sessional English and International Foundation courses can help you to achieve this level.

For more details on the University of Hertfordshire's entry requirements, please visit our Undergraduate Entry Requirements page.

Find out more about International Entry Requirements.

The University of Hertfordshire is committed to welcoming students with a wide range of qualifications and levels of experience. The entry requirements listed on the course pages provide a guide to the minimum level of qualifications needed to study each course. However, we have a flexible approach to admissions and each application will be considered on an individual basis.

Professional accreditations

We are a member of the Interior Educators Group and are ranked 10th in the country in the design and crafts section of the Guardian's 2017 University League Tables.

Sign up for alerts

Get access to personalised content, tailored towards your interests:

Information on your favourite courses
Tips to help you through the application process
Blogs, vlogs and advice from current students
Why choose this course?
Gain real world experience on live industry projects
Learn from international acclaimed architects and designers
Explore spaces in project based field work
Interior Architecture and Design students have participated in live projects with a number of commercial partners including Letchworth Garden City urban regeneration, Jamie Oliver's Fifteen, Smirnoff Nightlife Exchange, The Forum Hertfordshire, Welwyn Hatfield Borough Council and St Albans Museums.
The degree focuses on working with existing buildings and spaces and exploring different possibilities for habitation.
The Interior Architecture and Design degree pursues a progressive and holistic teaching approach as we consider the design process as something non-linear or sequential (i.e. research first, design later).
Graduates from the course are eligible for associate membership to professional institutions such as: The British Interior Design Association, The Society of British Interior Design and The Chartered Society of Designer.
Read our blog to find out more.
What's the course about?
This course specialises in the design and production of immersive, innovative and surprising interior spaces. You will have the opportunity to design and think between the digital and the physical worlds. Virtual and augmented reality are mixed with physical making and prototyping skills, which enables you to think about design with an open mind and challenge you to communicate your ideas in the most exciting ways. There's great emphasis on the understanding and use of materials as you explore surface design and detailing.
Throughout the course you'll work with existing buildings and conditions, producing refit, refurbishment, retrofit, re-use and place-making designs. As you progress, you'll develop an expertise in producing impressive drawings, images and models, as you not only design functional, contemporary and innovative interiors, but – above all else – create immersive atmospheres.
Your main campus is College Lane  
This is where the creative arts, science and health-related subjects are based. This means you'll share the campus with future nurses, scientists, artists and more. You can use the common rooms to relax with friends, work out in the 24-hour gym or have a drink in our on-campus pub or cafes. We also have restaurants for you to eat in or grab something on the go. Our Learning Resources Centres are open 24/7, which means you can study whenever suits you best. Want to pop over to the other campus? You can take the free shuttle bus or walk there in just 15 minutes.   
What will I study?
Lectures, Workshops, Seminars, Field Trips, Group and Individual Tutorials, Critiques, Live Pitches with Clients/ Industry Panels.
The Interior Architecture and Design degree will develop your knowledge, skills and techniques of Interior Architecture and Design, to broaden and deepen your understanding of and competency in Interior Architecture and Design. Students are encouraged to engage with some key contemporary issues and learn to develop their design exploration and experimentation, to be more self-directed in their design processes and to produce coherent and more complex design resolutions.
This degree will introduce students to thinking about the "interior" as a space of intersecting environments within an urban realm. Interior Architecture is explored as the engagement with and adaptation and transformation of the existing built fabric across both inside and outside spaces, generating ideas from a critical engagement with occupation, material form, site context and culture.
You will develop proficiency in a wide range of communication and technical skills from hand drawings, physical model making, CAD drawings and knowledge of structure, construction, materials and detailing. Learn how to observe, analyse, represent and communicate the qualities of existing spaces, adapt and improve existing building fabrics. In addition, a Critical and Cultural Studies modules offer the opportunity for students to acquire the theoretic and historic knowledge of the discipline while exploring a particular contemporary issues in depth.
Check out our student blogs
Student Blogs
Neofytos - My week at a glance
My week at a glance.
My week starts by attending to my studio space, which it is a corner made up of three big whiteboards, a locker to secure my belongings and a table to work on. I personally love that space! It always makes me feel good! Having this area to work and do research for projects that I have been given, make me feel focused and productive.
On Tuesdays I have a lecture which is about two or two and a half hours, depending on how much we need to cover. In our lecture, we talk about theories that could be beneficial to our artistic perspective, but we also use this time to talk about anything that involves group assignments and projects.
Wednesdays for me only consist of an hour of optional art talks. During these talks, we have the chance to attend a seminar where artists are presenting their work to us! That's an amazing way to be provided with an insight into how the industry works and be prepared for our working lives after graduation.
Lastly, we have our optional life drawing sessions which run every Thursday's afternoon is a great chance to have a little break from spending most of your time in your studio space working on your projects. Going to the life drawing session I have the great chance to see the human figure, as well as being given the fantastic opportunity to draw models.
As for Friday, I have nothing booked on, so I can spend most of my time in my studio space working on my projects without getting distracted!
I love my routine at university, it gives me both the time to work on my projects thus attend and organise sessions and group works.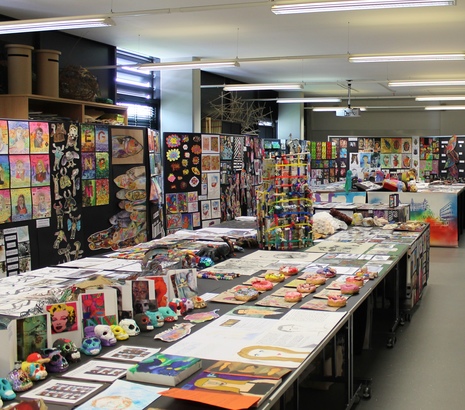 Student Blogs
Neofytos - Why I love my Course
What I love most about my course.
For years I have been drawing, painting and sculpting - prompting me to study Fine Art BA(Hons). And as a result, I have expanded my knowledge and learned more about fine art in greater depth about what I love.
The facilities at the Art and Design building are just amazing! That is what I love the most about my course. As a Fine Art student at this university, I have the great chance to take part and work in different workshops such as printmaking, ceramics, textile, welding, life drawing and so many more. For me, that is the most beneficial factor, because in this way the University allows me to explore and learn more about my artistic direction by trying different mediums and methods. Therefore, by having the freedom to attend to different workshops, I have the great chance to meet people from different courses, make new friends with similar interests and even more have the chance to collaborate with some of them!
As I said I love my course because it allows me and supporting me to try expanding horizons and find my artistic voice in an extremely healthy way.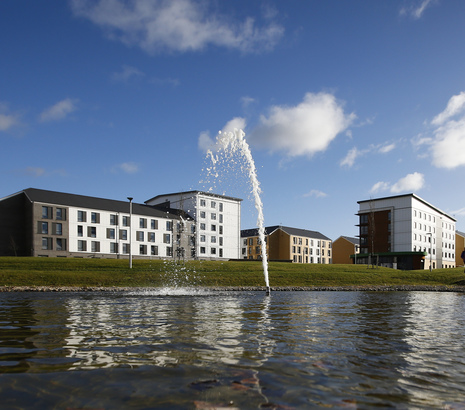 Student Blogs
Neofytos - Why I chose Herts
Why I chose Herts.
I am an international student studying at the University of Hertfordshire, which has been a blessing!
I chose Herts because the University itself is such a wonderful place to study! The facilities and the two beautifully designed campuses that the University has made my studies here amazing! For instance, there are two huge Learning Resource Centres (LRCs) on both campuses at the university where it really helps the students with their assignments. Moreover, all the buildings where we have classes at are very new and that proves that the university cares about its appearance and invest a lot of money for the students to have a great environment to study within.
However, except for the excellent facilities that the university has, the University has a great spot for socialising. Cafes, restaurants, common rooms, gyms, and a big University club are factors that make Herts a great place to be. All of them are found near to each other which is very convenient for us as students to socialise easily.
Speaking of location, the University is not far from London which is an amazing thing since London is such a beautiful and diverse city!
All these were the factors that made me choose Herts and I have never regretted my choice!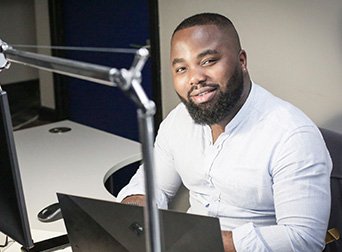 Alumni Stories
James J Igbafe
Meet James. James completed a bachelor's and master's degree at Herts and has since embarked on a career as an Architectural Designer.
Read more stories
BA (Hons) Interior Architecture and Design
MArch Architecture and Urbanism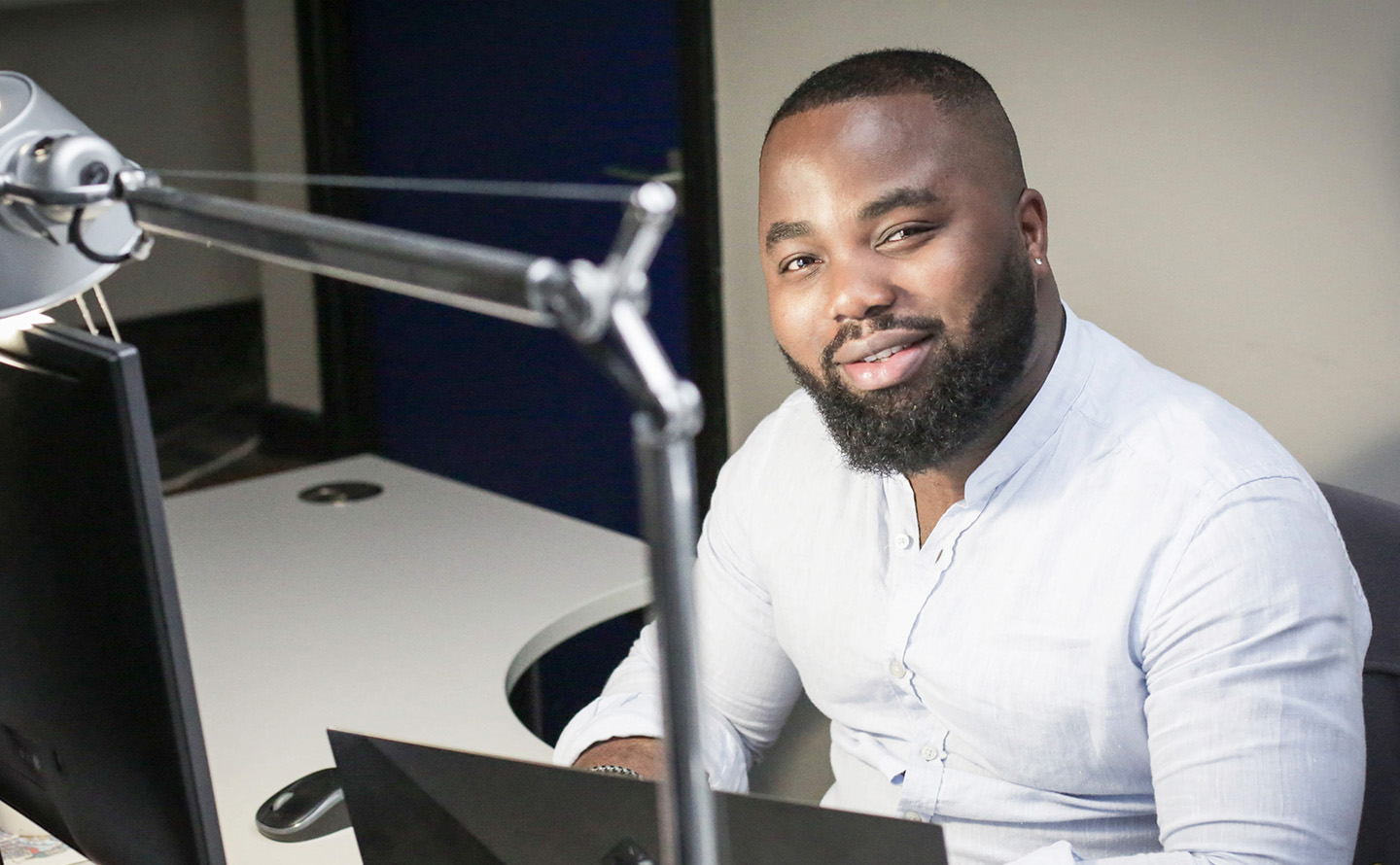 James first studied BA (Hons) Interior Architecture and Design at Herts, graduating in 2017. He says, 'The course was structured well and engaging. At the time, the University was introducing changes to their studios, which made the experience of studying there even better.'
Before he completed his bachelor's degree, he was awarded Student of the Year by the School of Creative Arts for his commitment to learning, his willingness to help others succeed, and his positive attitude.
Balancing a master's degree and full-time work
He describes returning to Herts to study M.Arch Architecture and Urbanism as a 'no-brainer'. He was already in employment, and says it was easy to manage his academic work around a full-time job due to the structure of the course. He adds, 'It was clear from the start what I'd get with the M.Arch course, and I knew from my bachelor's degree that the University had the relevant resources. Not only that, but my tutors had also taught at other prestigious architecture institutions, so are well experienced.'
Valuable on-site experience
James says that the first year of his master's was the most memorable, as he took part in group projects and visits to construction sites. He says, 'These visits provided me with a greater understanding of what to expect in a professional and construction setting, building on what I had already learnt in industry. These opportunities also allowed me to explore my creativity, and I have used what I learnt at site visits during the concept development stages of my work.'
James visited a construction site for one of his site visits where a trade yard in Shoreditch, London, was being demolished to make room for a co-living/co-working building. He says, 'We were able to ask questions, conduct a thorough site analysis, and had the opportunity to further ask the accompanying tutor questions over a drink by the canal.'
James is working towards earning his chartered registered architect status with the RIBA/ARB by completing the Part Three Study in Architecture Postgraduate Diploma & Professional Practice.
His advice
James' advice to current and future Herts students is to always continue learning. He says, 'Never get comfortable. Well-rounded and knowledgeable graduates are attractive to employers. Challenge the 'norm' - be creative and enthusiastic about the work you produce.
'Management skills are also key for future architects, as at some point you will run projects through from start to finish. Therefore, you need to learn how to prioritise your time and manage colleagues well.'
What's next for my career?

You will gain the transferable skills which will enable you to respond to current and future career challenges. Create opportunities for live projects and work placements in the industry. The course will equip you with career development skills to work professionally in the disciplines related to interior architecture and design and contribute creatively in a variety of roles, working independently and as part of multidisciplinary design teams.

This course will prepare you for a variety of careers. Our Interior Architecture and Design graduates have gone on to work as:

Interior Designer
Visual Merchandise and Commercial Display Designer
Museum & Exhibition Designer
Model Maker
Renderer
Theatre Designer
Project Coordinators
Design business start-up
Design Journalist
Design Teacher

Interior architects and designers can work on new construction projects or within existing buildings, as an individual practitioner or entrepreneur, within an architectural or interior design company, or as part of a multi-disciplinary design consultancy. With the opportunity to move into areas such as retail design and display, production design for stage, film or television, exhibition design, event design, styling of photo shoots, or virtual environments, interactive design and game design. There is work on small-scale domestic schemes for individual clients or be involved in large corporate identity and branding projects. The Interior Architecture and Design programme enables you to explore the design possibilities of these different areas, to develop your own position as a designer and help them achieve their personal and career development plans.

You'll be well equipped for a job in the creative industries, whether you choose to specialise in interior architecture and design or move into a more multidisciplinary role. Many graduates have been offered jobs from leading companies, such as Foster + Partners. You'll also be eligible for membership of several professional institutions.

The School of Creative Arts works closely with industry such as the Hertfordshire Associates of Architects, Wilkinson Eyre, Zaha Hadid Architects, Sir Robert McAlphine, Morgan Sindalls Architects, TP Bennetts and many more. You'll benefit from industry lectures, workshops, critical feedback and awards activities with these companies. Additionally, we have a strong relationship with Denton Associates, which is the longest established design and build company in London. Every year on the course we run an ongoing graduate employment scheme with the company, offering many permanent job opportunities to our graduates.

You'll have the opportunity to attend career and employment events that happen twice a year, where UK design companies provide internship opportunities, part time positions, portfolio review and interview experiences. Many previous students have gained work experience after attending the events.

The course will prepare you to enter and to deal with changes in the design industry with confidence. You will learn portfolio preparation, interview technique, professional etiquettes, freelancing, contracts, project costing, business budgeting, studio management and how to promote your business on different platforms and social media.

Gain experience by immersing yourself in different cultures and explore the world of design. You'll have the opportunity to travel and work on collaborative projects with our international partners in Tokyo, New York, Canada, Sri Lanka, Athens, Berlin and Copenhagen. We also run an international multi-disciplinary project with our New York partner on campus, so you can participate and achieve a real booster project to your portfolio.

View our Alumni profiles

Key staff

Erica Liu
Programme Leader for Interior Architecture & Design. Erica has over 10 years of experience in the far east as an interior and exhibition designer. Her projects have also won 33 national awards.
Find out more about Erica Liu

Giuseppina Giuffrida
Giuseppina is module leader of Technology and Design Studio (IAD) for the first year. She is an architect and interior designer whose experience in residential and commercial design roots in a strong connection with leading brands of the design industry.


Silvio Carta
Architect and Senior Lecturer in Interior Architecture and Design. His studies have focused on contemporary architecture, digital design, architectural criticism, as well as research and analysis.
Find out more about Silvio Carta

Further information - includes assessment method

| Course fact sheets | |
| --- | --- |
| BA (Hons) Interior Architecture and Design | Download |

| Programme specifications | |
| --- | --- |
| BA (Hons) Interior Architecture and Design | Download |

Additional information

Sandwich placement or study abroad year

Optional

Applications open to international and EU students

Yes

Course length

Full Time, 3 Years
Part Time, 6 Years
Sandwich, 4 Years

Location

University of Hertfordshire, Hatfield

How to apply?

Fees and funding

Fees 2023

UK Students

Full time

£9250 for the 2023/2024 academic year

Part time

£1155 per 15 credits for the 2023/2024 academic year

EU Students

Full time

£14750 for the 2023/2024 academic year

Part time

£1845 per 15 credits for the 2023/2024 academic year

International Students

Full time

£14750 for the 2023/2024 academic year

Part time

£1845 per 15 credits for the 2023/2024 academic year

In addition to the fees there are some compulsory course attached to this course:

Year 1
Materials kit; paper, card, modelling materials, drawing equipment, materials for making: £120 - £160
Periodicals/magazines: £60 - £120
Field trips, site visits: £80 - £100

Year 2
Materials kit; paper, card, modelling materials, drawing equipment, materials for making: £150 - £250
Field trips, site visits: £80 - £100

Year 3
Degree shows & materials: £200 - £300
Professional portfolio / Design show Printing, Final Model, models: £100 - £180
Field trips, site visits: £80 - £100

*Tuition fees are charged annually. The fees quoted above are for the specified year(s) only. Fees may be higher in future years, for both new and continuing students. Please see the University's Fees and Finance Policy (and in particular the section headed "When tuition fees change"), for further information about when and by how much the University may increase its fees for future years.

View detailed information about tuition fees

Read more about additional fees in the course fact sheet

Other financial support

Find out more about other financial support available to UK and EU students

Living costs / accommodation

The University of Hertfordshire offers a great choice of student accommodation, on campus or nearby in the local area, to suit every student budget.