MArch Architecture and Urbanism
Why choose Herts?
Professional Accreditation: This programme has prescribed qualification by the Architects Registration Board (ARB) Part II, for the purpose of Architects registration in the UK.
Expert Teaching: Our academic staff have won national and international teaching and design awards and bring extensive global experience to enhance your learning.
Fantastic Facilities: Students have access to our Architecture Studio, Digital and 3D Workshop and Computer Labs for 3D printing, rapid prototyping, laser cutters, CNC machines, and Apple Suite.
Entry requirements and key information

To access this programme, applicants are normally expected to hold a minimum of a Upper Second-class Bachelor's degree in Architecture or related discipline from a UK university or an overseas qualification in Architecture or related discipline of an equivalent standard. Related disciplines include degrees in spatial design practices, history and theory, social and cultural studies, geography, human centre-design and building, construction and engineering.

We advise applicants hold a BA(Hons) in Architecture or equivalent, ARB prescribed Part I, however this is not a compulsory access requirement.

Selection is based on a portfolio interview. Applicants may be required to provide further information of previous studies or design experience.

Applications will be considered on an individual basis and are particularly welcomed from a variety of backgrounds with previous work experience in design.

Entrance is not usually permitted directly at Year 2. Exceptions will be considered on case-by-case scenario, evaluating previous qualifications and relevant work experience.

Applicants will be evaluated against the following criteria:

Academic attainment
Satisfactory academic reference
Personal statement or letter of application
Alternative or additional experience within architecture and design or appropriate subject areas.

In addition to fulfilling the general entry requirements of the University, applicants will normally be expected to attend an interview and provide evidence of previous architecture related design study through a portfolio, which demonstrates a range of art and design experience such as:

2D work such as drawing, painting, technical drawing, design, media experimentation, and photography
3D work evidenced by photography, models and prototypes
Software: Rhino, Illustrator, InDesign, Photoshop
an awareness of the cultural, historical and professional contexts of architecture and the role of the architect in society and the design process.

All students are required to demonstrate suitable levels of English Language competence. This can be demonstrated through previous study in English though we often require specific performance by way of English assessments. All applicants must be able to prove a minimum of IELTS 6.5 or equivalent.

Institution code

H36

School of study

School of Creative Arts

Course length

Full Time, 2 Years
Part Time, 4 Years

Location

University of Hertfordshire, Hatfield

Request information and updates

Get access to personalised content, tailored towards your interests:

Information on your favourite courses
Tips to help you through the application process
Blogs, vlogs and advice from current students
Employability

Careers

"As a graduate working in architecture, it's essential to understand the context within which a building is situated to fully realise its design potential. I work with engineers, consultants and historians and I think being able to empathise and collaborate with industry is one of the key things I learned." Tom Wilson, Master of Architecture graduate, Holmes Miller Architects.

Upon graduation, you can work as an architect in private firms or government departments, or set up your own practice working on residential, commercial and institutional projects. You may also move into related careers such as industrial design, furniture design, interior design, landscape design, urban design, urban planning, facility management, project management and development, and conservation and heritage management.

Our graduates work for a wide range of specialist firms such as:

AD Architects

Bogle Architects

Finc Architects

Homles Miller

Louis de Soissons

McGregor White Architects

Simon Knight Architects

Many of our students also progress into research and academic careers. The ethos of the program emphasises the central role of research in the design studio. Students can take a research subject which may interest further studies such as a Doctorate in Design (DDes) or becoming a PhD candidate.

Alumni success stories

See what some of our previous graduates have gone on to achieve and how their time at the university helped shaped their careers.

Work placement

RIBA PEDR Recording

Qualifying as an architect in the UK involves completing Part 1, 2 and 3 qualifications and undertaking a minimum of 24 months' professional practical experience. Graduates of this programme should record all practical experience using RIBA's PEDR recording tool.

Whilst undertaking your experience in practice, our M.Arch programme will support and guide your learning throughout your studies. You'll be provided with an employment mentor and Professional Studies Advisor (PSA) inclusive to the general student support function throughout the programme. You'll also be supported by our Careers and Employment team for four-years following graduation.

The mentorship and professional studies advisor initiative is available to all students who graduate from the M.Arch (Part 2) with ambition to complete Part 3. This personalised support structure is also available to graduates of overseas courses who have obtained Part 1 and/or Part 2 through the Architects Registration Board's Prescribed Examination process.

Gain relevant work experience, become an ambassador!

You'll have opportunity to become become a M.Arch Student Ambassador! Join the team and get involved as a Student Ambassador for M.Arch supporting staff, peers and guests at design tutorials and reviews, software sessions, key events and gain valuable experience. You'll make friends, gain skills and experience, and enjoy flexible, paid employment to fit around your studies.

Paid position
Enhance your CV
Become a valuable member of the design team
Improve communication and personal skills
Reinforce your own study skills and knowledge of your subject
Increase your confidence and motivation
Increase your circle of friends
Benefit from a sense of fulfilment and personal growth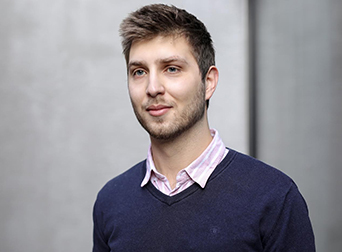 Alumni Stories
Josip Pijević
Meet Josip. He was drawn to Herts because he wanted to grow his skillset, and was impressed by the University's campus and location. He completed a postgraduate course at Herts too and is now looking to pursue further study.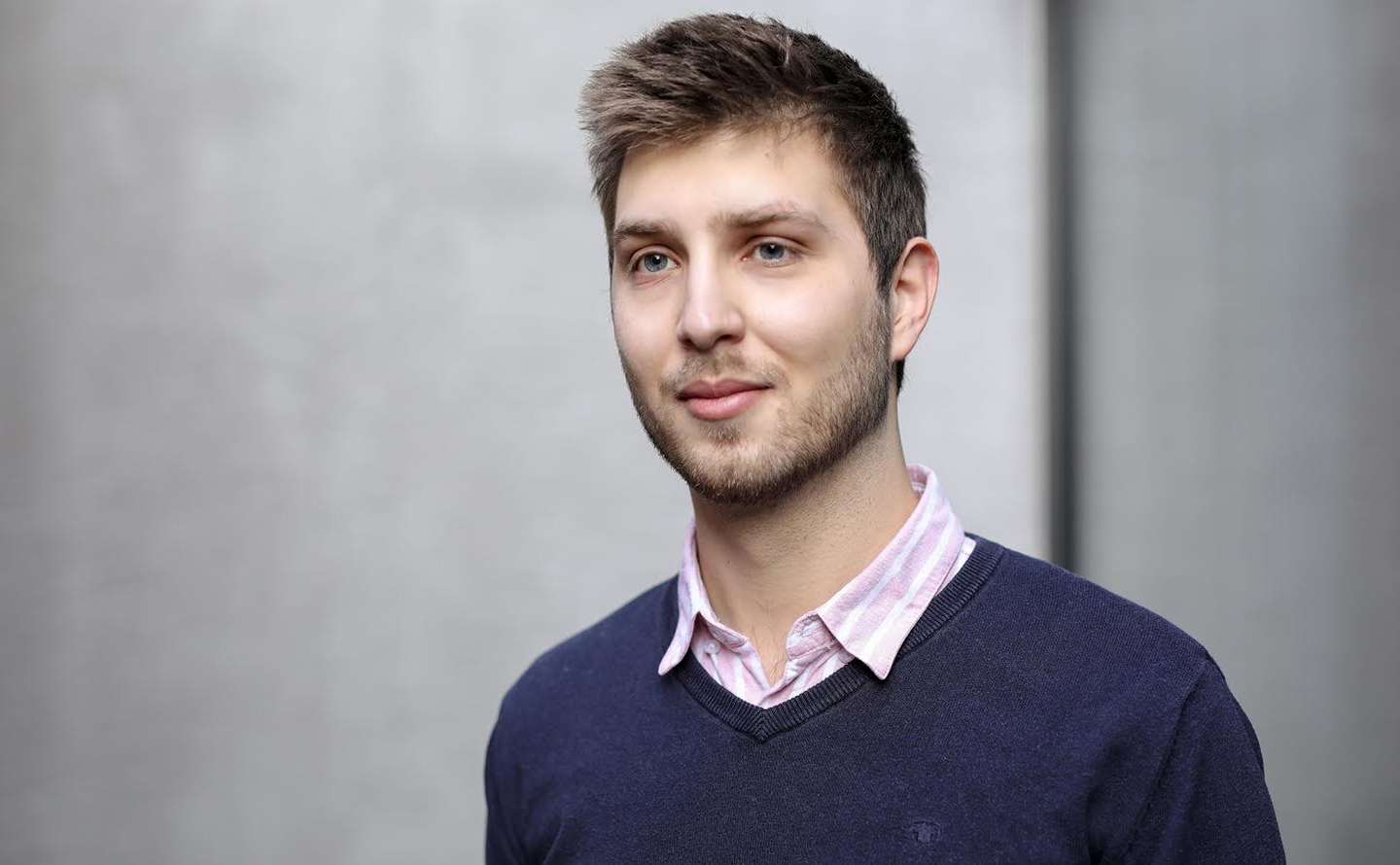 From undergrad to postgrad
The BA (Hons) Architecture course was still relatively new at Herts when Josip enrolled, and he saw it as an opportunity to grow his skillset and pursue a career in the profession. The campus facilities and the University's proximity to London were also a plus for him.
Josip thoroughly enjoyed his undergraduate degree, in particular learning about sustainability, the use of AI in architecture, and human-centred design, all of which play a big part in the curriculum. He decided to complete his M.Arch at Herts too because of the quality of teaching he experienced during his undergraduate studies, and the opportunities M.Arch offered for Josip to help deliver undergraduate lectures and contribute to research.
As Josip says, 'Herts is one of the few universities that offered an M.Arch Architecture and Urbanism course. It's a great architecture programme, and the fact that it's combined with urbanism helps you understand the wider context for any architecture project, from small-scale projects such as house extensions to larger ones like airports.
'The tutors are amazing, and we had guest critics come from some of the top practices in the world, which allowed me to connect with professionals at an early stage. This opened doors for me, and I received a couple of job offers before I finished my M.Arch.'
Downtime
Josip lived close to campus during his studies, which he felt helped, particularly when the deadlines started rolling in. He says, 'I would meet friends for a walk, go for food, or for a couple of games of table tennis. This was a lifesaver after a long study session and was certainly a highlight of final year for me.'
Josip's advice
Josip's advice for future and current students is to 'do your very best' at university and participate in as many extra-curricular activities as you can. Josip says, 'This will allow you to connect with many interesting people and it will widen your knowledge of various subjects.
'And always remember, your hard work will pay off in the end!'
Josip is now in employment and looking to get his Architecture Part Three qualification, which combined with his studies at Herts, will provide him with a strong foundation to achieve his future ambitions.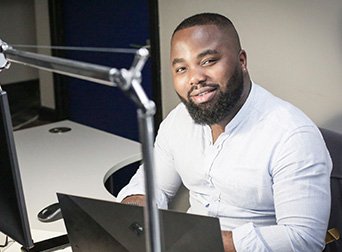 Alumni Stories
James J Igbafe
Meet James. James completed a bachelor's and master's degree at Herts and has since embarked on a career as an Architectural Designer.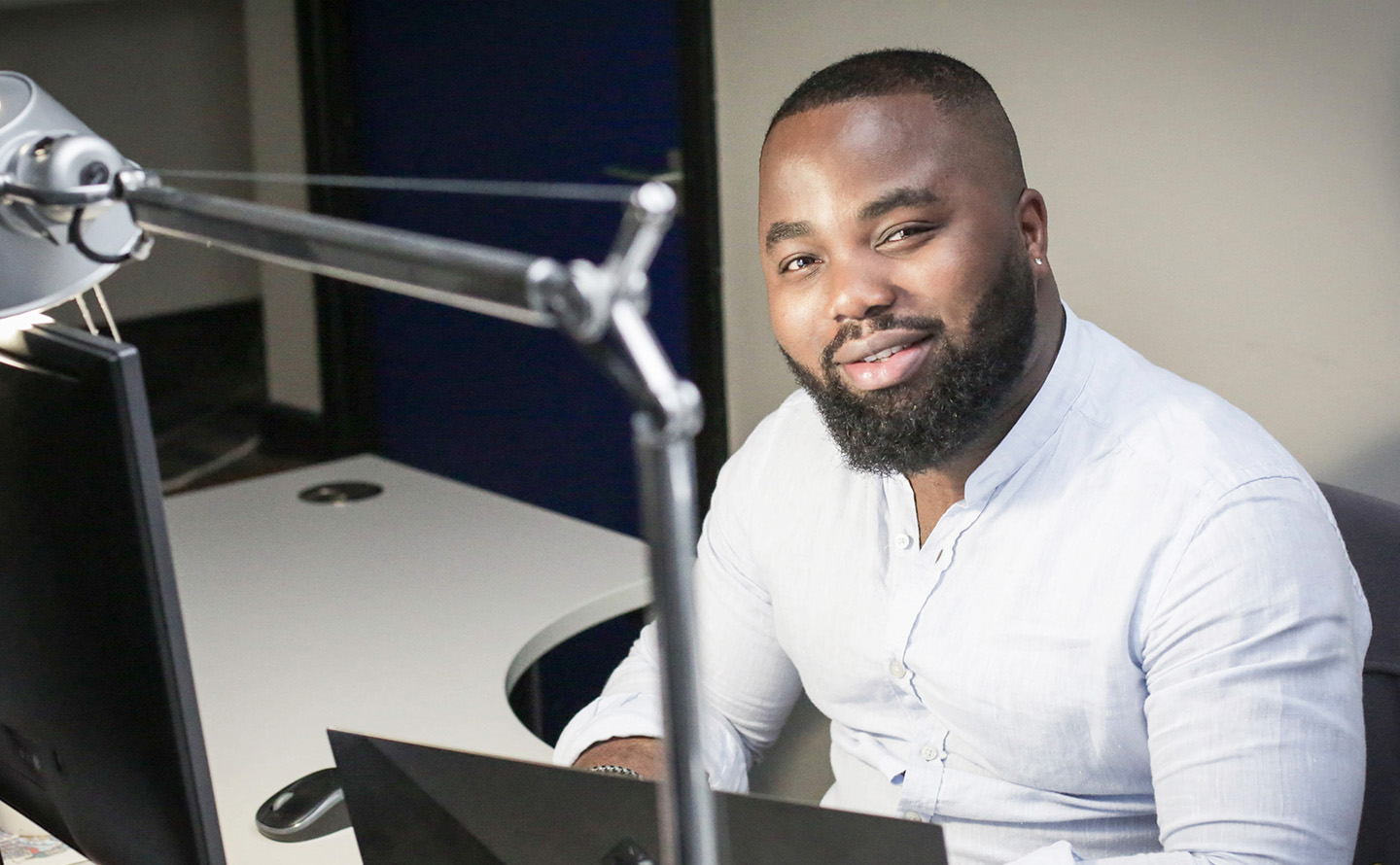 James first studied BA (Hons) Interior Architecture and Design at Herts, graduating in 2017. He says, 'The course was structured well and engaging. At the time, the University was introducing changes to their studios, which made the experience of studying there even better.'
Before he completed his bachelor's degree, he was awarded Student of the Year by the School of Creative Arts for his commitment to learning, his willingness to help others succeed, and his positive attitude.
Balancing a master's degree and full-time work
He describes returning to Herts to study M.Arch Architecture and Urbanism as a 'no-brainer'. He was already in employment, and says it was easy to manage his academic work around a full-time job due to the structure of the course. He adds, 'It was clear from the start what I'd get with the M.Arch course, and I knew from my bachelor's degree that the University had the relevant resources. Not only that, but my tutors had also taught at other prestigious architecture institutions, so are well experienced.'
Valuable on-site experience
James says that the first year of his master's was the most memorable, as he took part in group projects and visits to construction sites. He says, 'These visits provided me with a greater understanding of what to expect in a professional and construction setting, building on what I had already learnt in industry. These opportunities also allowed me to explore my creativity, and I have used what I learnt at site visits during the concept development stages of my work.'
James visited a construction site for one of his site visits where a trade yard in Shoreditch, London, was being demolished to make room for a co-living/co-working building. He says, 'We were able to ask questions, conduct a thorough site analysis, and had the opportunity to further ask the accompanying tutor questions over a drink by the canal.'
James is working towards earning his chartered registered architect status with the RIBA/ARB by completing the Part Three Study in Architecture Postgraduate Diploma & Professional Practice.
His advice
James' advice to current and future Herts students is to always continue learning. He says, 'Never get comfortable. Well-rounded and knowledgeable graduates are attractive to employers. Challenge the 'norm' - be creative and enthusiastic about the work you produce.
'Management skills are also key for future architects, as at some point you will run projects through from start to finish. Therefore, you need to learn how to prioritise your time and manage colleagues well.'
Professional Accreditations
Master of Architecture & Urbanism meets the requirements of ARB (Architect's Registration Board) and undergoes a regular formal review process to ensure the quality and relevance of the program.
Completing an accredited degree means you enter the workforce with a stamp of quality on your CV. In a competitive market, an accredited degree is an assurance of quality to employers and an advantage for your career path. For us, it means we continually strive to improve the quality of the degree in order to retain accreditation. You'll receive the most up-to-date and innovative educational experience with ongoing support throughout your studies.
About the course
Master of Architecture & Urbanism is grounded and future-focused, shaping students who care for people, place, materiality, and truth. If you're motivated by social and ecological issues, this is the course for you. This programme enables students to explore potential as agents for change and challenges you to find an appropriate architecture that belongs.
M.Arch is driven by architectural and urban future developments, from the Garden City Movement to Smart Cities to Resilient Communities. The programme not only takes ideas from an alternative future vision to the uncontrolled and unhealthy growth of cities in a harmonious environment but also its radically innovative social and economic model of sustainable growth, land ownership and local community creation. Our location provides a local lens where we examine global issues such as urbanisation, the state of regional towns and megacities, ecological architectures, the future of the housing industry, and the architectures of resource transition.
This programme is designed to meet the needs of advanced graduates and young professionals aiming to become registered architects or urban designers.
Students engage with design problems and challenges, considering scenarios past, present and future, learning to develop architectural processes and propositions that consider ecologies and environments for the benefit of human and non-human users. We're focused on creating inquisitive, agile, and skilled graduates, confident in playing key roles in transforming the architectural field.
Why choose this course?
Accreditation: This programme has been prescribed qualification by the Architects Registration Board (ARB) Part II, for the purpose of Architects registration in the UK.

Workplace Mentorship: Mentoring in the workplace is an established partnership between the students at the University of Hertfordshire and selected RIBA Charted Architectural Practices. For students, this is an opportunity to spend an extended time away from the studio and enter the workplace to gain experience and insight into the profession, site visits, build your CV and access practical advice.

Strong Industry Connections: Benefit from our excellent links with a range of architectural practice including Zaha Hadid, Foster+Partners, DAAB Design, BDP, Simon Knights Architects, Louis de Soissons, HolmesMiller, Labit, Seth White Architects, Pinchin Architects for talks, networking and work placement opportunities.

Dedicated academic and professional teaching staff who've won national and international teaching and design awards and have extensive experience around the world.

Access our fantastic facilities including Architecture Studio, Digital and 3D Workshop, and Computer Labs for 3D printing, rapid prototyping, laser cutters CNC machines, Apple Suite and ongoing support throughout the programme.
Student work is showcased and celebrated.
Benefit from excellent student to teacher ratio with our small class sizes.
What will I study?
This programme focuses on developing urban design strategies and architectural typologies that respond to and address the changing social, environmental, economic, and the technological landscape across the UK housing industry. The M.Arch will enable students to gain a critical understanding of the environment where local communities operate physically, culturally and socially and develop a multi-layered urban and architectural strategies. By the end of the course, students will be familiar with the current debates surrounding resilient communities, sustainable growth, future, smart and digital cities, urban sprawl, Green Belts, infrastructure mobility and social diversity. The studio will engage students with critical thinking, collaborative work and constructive discussion, and students will be expected to demonstrate appropriate problem recognition, investigative, analytical, interpretative design and presentation skills.
The M.Arch programme will also immerse students in the latest trends and advances of computational design, digital fabrication and research in Architecture which will support those students interested in pursuing the Research, Development and Innovation (R&D+i) avenue both in academic or in-practice setting.
Study Visits
Study visits are organised by the studios and may include project site visits, excursions to exhibitions, lectures, debates, cultural events, or meetings with professionals. At least one visit is organised each year within the School which is open to all courses and stages. In recent years, groups have travelled around the UK, to London and Liverpool, to European destinations including Barcelona and Paris, as well as further afield to New York.
Learn from Leading Industry and Academic Experts
The M.Arch programme has been designed to open up global opportunities for your career and your life! Students get a grounded, but future-focus curriculum; but in addition, they get to learn from industry experts. Industry experts are right inside the design studio – all of our design tutors have real-life work experience in their fields.
This programme is designed to meet the needs of advanced graduates and young professionals aiming to become registered architects or urban designers.
Key staff
Further course information
| Course fact sheets | |
| --- | --- |
| MArch Architecture and Urbanism | Download |
| Programme specifications | |
| --- | --- |
| MArch Architecture and Urbanism | Download |
| Additional information | |
| --- | --- |
| Sandwich placement or study abroad year | n/a |
| Applications open to international and EU students | Yes |
Student experience
At the University of Hertfordshire, we want to make sure your time studying with us is as stress-free and rewarding as possible. We offer a range of support services including; student wellbeing, academic support, accommodation and childcare to ensure that you make the most of your time at Herts and can focus on studying and having fun.
Find out about how we support our students
You can also read our student blogs to find out about life at Herts.
Funding and fees

Other financial support

Find out more about other financial support available to UK and EU students

Fees 2023

UK Students

Full time

£9250 for the 2023/2024 academic year

Part time

£1155 per 15 credits for the 2023/2024 academic year

EU Students

Full time

£15450 for the 2023/2024 academic year

Part time

£1930 per 15 credits for the 2023/2024 academic year

International Students

Full time

£15450 for the 2023/2024 academic year

Part time

£1930 per 15 credits for the 2023/2024 academic year

Fees 2024

UK Students

Full time

£9250 for the 2024/2025 academic year

Part time

£1155 per 15 credits for the 2024/2025 academic year

EU Students

Full time

£16450 for the 2024/2025 academic year

Part time

£2055 per 15 credits for the 2024/2025 academic year

International Students

Full time

£16450 for the 2024/2025 academic year

Part time

£2055 per 15 credits for the 2024/2025 academic year

PhD Scholarships

PhD applications are invited by Centre for Future Societies Research for three fully funded PhD studentships at the University of Hertfordshire.

These research studentships will be part of the University Alliance (UA) Doctoral Training Alliance in Future Societies. The studentships are offered on a full-time basis for three years from September (subject to satisfactory progress) and provide a minimum bursary of £15,609 per annum, including a full tuition fee waiver for three years. Awards increase each year, typically with inflation.

*Tuition fees are charged annually. The fees quoted above are for the specified year(s) only. Fees may be higher in future years, for both new and continuing students. Please see the University's Fees and Finance Policy (and in particular the section headed "When tuition fees change"), for further information about when and by how much the University may increase its fees for future years.

View detailed information about tuition fees

Living costs / accommodation

The University of Hertfordshire offers a great choice of student accommodation, on campus or nearby in the local area, to suit every student budget.

View detailed information about our accommodation

How to apply