Contact the International Office
If you have any questions about studying at the University of Hertfordshire or about how to apply, please don't hesitate to contact us.
If you would like to receive email updates and information about the University please complete our short enquirer form.
International Office
International Office staff regularly visit a wide range of countries to interview potential students, assist them with their applications and answer any questions about studying at the University.
Alternatively, please contact the relevant team, using the details below and we will be happy to help.
For queries relating to applying to University, your offer or CAS contact:
International admissions:
+ 44 (0)1707 284800
admint@herts.ac.uk
For immigration advice and visa application queries contact:
International Student support:
+44 (0) 1707 284800
iss@herts.ac.uk
For general enquiries about recruitment events, agent queries or country specific information:
International recruitment:
+44 (0) 1707 281249
international@herts.ac.uk
If you are a UK applicant please contact us on ask@herts.ac.uk
Postal address:
International Office
University of Hertfordshire
MacLaurin Building
Hatfield
Hertfordshire
AL10 9NE
United Kingdom
Our team
Stuart Smith, Director of International
Kat Shaw, International Services Manager
Ellen Marriot, International Services Manager
Anne Murray, Senior Team Administrator
Carla Hammond, Team Administrator
South East Asia
Gavin Tan, Regional Manager
Kamen Yau, International Officer (Acting)
Middle East and Africa
James Perrin, Regional Manager
Jumana Al Jayoosi, International Officer
South Asia
Sayaz Miah, Regional Manager
Europe and The Americas
Sam Poulton, Regional Manager
Marketing, Admissions & Conversion
Brad Johnson, International Marketing Officer
Catherine Fulton, Senior Conversion Officer
Bonnie Lwanga, Conversion and Admissions Officer
Tom Rowe, International Marketing Coordinator
Ask Herts
Our online Ask Herts facility offers an instant, detailed response to a wide range of frequently asked questions about the University. If you don't receive the information you need through Ask Herts, you will be given the option to email us to receive a personal answer.
Our representatives
We have a network of representatives throughout the world who provide advice and further information about studying at the University to prospective students, and help them with the application and visa process. We recommend that you get help from a representative if you can. (You should ask about any charges the representative may make, usually the services offered are free of charge.)
For details of our overseas representatives please select your country from the Your country page.
Admissions Service
Once you have applied, if you have a question about your application or your offer, you can contact our International Admissions team.
Please contact them on admint@herts.ac.uk or telephone + 44 (0)1707 284800
+ 44 (0)1707 284800 .
Our team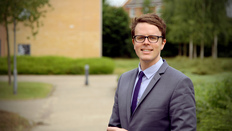 Stuart Smith
Head of International Recruitment
Stuart Smith is the Head of International Recruitment at the University of Hertfordshire. Stuart overseas after all aspects on recruitment for the European Union and Rest of the World.