Centre for Agriculture, Food and Environmental Management Research (CAFEM)
The Centre for Agriculture, Food and Environmental Management (CAFEM) Research is internationally renowned for research into the secure and sustainable production of food for nourishing diverse populations. The research is applied to many of the major challenges facing the food system. The Centre's expertise, of over thirty staff, includes: microbiology, plant pathology, nematology, mycology, genomics, environmental conservation, water and agri-environmental management, glaciology, climate change modelling, human nutrition, dietetics, and food policy. In the 2014 Research Excellence Framework, 63% of the research outputs were rated as world-leading or internationally excellent.
CAFEM's researchers work closely with the agricultural and horticultural industries, farmer-growers, health bodies, and policy making stakeholders as well as societal partners. Research projects are meeting the strategic priorities of national research councils and international bodies. Funding sources for projects include: BBSRC, Innovate UK, AHDB, Defra, British Council, European Union Horizon 2020 and ERA CAPS, ERDF, and a number of charitable trusts. International research partnerships reach from Canada, across many countries in Europe, to Egypt, India, China and to Australia and New Zealand.
The Centre has a strategic research agreement with Rothamsted Research and the Royal Veterinary College, facilitating a collaboration of world-class agri-food researchers in Hertfordshire.
The Centre's work is based in the School of Life and Medical Sciences, and is carried out primarily in three areas: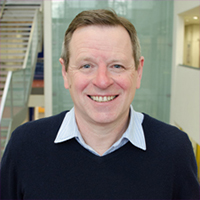 David Barling
David is Director of the Centre for Agriculture, Food and Environmental Management at the University of Hertfordshire. He is also the University Food Research Theme Champion and a Professor of Food Policy and Security.
His research focuses on food policy, food security and sustainability, and the governance of the agri-food sector.