Information and Security research
Information is vital to innovation in a rapidly changing world. With the advancement of information and communication technologies, an ever-increasingly large volume of data contributes to solutions addressing some of our key societal challenges such as the demands of an ageing population, food security, and clean energy.
Information is a highly valuable commodity and it needs to be secure. The information and security research theme includes research in robotics, artificial intelligence and data sciences, algorithms, and biocomputation, as well as cyber security, biodefense and civil protection. With funding and collaborators across Europe and internationally as well as within the UK, examples of work in this theme include the Kaspar project that offers a robotic intermediary for the education of children with autism; the Octave project that considers automatic speaker verification using machine learning; and the SCRIPT project that offers robotic gloves and games to stroke patients to enable them to exercise at home.
The research within this theme benefits from many state of the art infrastructure technologies such as the University's computation cluster, the international ground based Lidar facilities and the University's Robot House that offers national infrastructure for research into robot companions and ambient assisted living.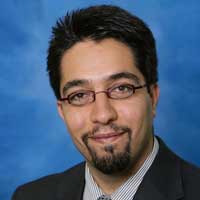 Prof Farshid Amirabdollahian
I am a professor of Human-Robot Interaction in the School of Engineering and Computer Science. I received my PhD in 2004 from Reading University, Department of Cybernetics.
I lead the Assistive and Rehabilitation Robotics Laboratory, as well as the Kaspar project and University of Hertfordshire Robot House. My expertise is in the areas of robotics, ambient assisted living, safety and ethics, haptics, and assistive and rehabilitation robotics with specific focus on adaptive and personalised training.
I have undertaken research involving using technology for caring and assisting humans since 1999. I have been involved in FP5/6/7 projects such as GENTLE/S, i-Match, LIREC and ROBOSKIN.
I have successfully coordinated the ACCOMPANY (FP7 STREP) and SCRIPT (FP7 STREP) projects and been involved in CORBYS (FP7 IP), and Trustworthy Robotic Assistance (EPSRC). I'm a member of ISO Technical Committee 299, involved in standardisation activities of robot and robotic devices.
Research Centres and Groups
Information and Security research at the University of Hertfordshire takes place across a number of Research Centres, Groups and disciplines:
Doctorates, degrees and courses
We offer one of the most diverse range of research degree programmes in the UK.
Visit our Doctoral College to find out more.
Get in touch
For more information on our Information and Security theme, please contact Dr Farshid Amirabdollahian.