BA (Hons) Illustration
Key information
Study abroad option
Entry requirements

| UCAS points | A Level | BTEC |
| --- | --- | --- |
| 112-120 | BBC-BBB | DMM-DDM |

Additional requirements

Access course: Diploma with 45 level 3 credits at merit.
Portfolio: Presentation of an acceptable portfolio of artwork.
IB requirement: 112-120 UCAS points from a minimum of two HL subjects at H4 or above to include Visual Arts at SL or HL (with the remaining points to come from a combination of HL, SL and Core).
IELTS: All students from non-majority English speaking countries require proof of English language proficiency, equivalent to an overall IELTS score of 6.0 with a minimum of 5.5 in each band.

If you do not have the required IELTS or equivalent for direct entry on to your degree programme, our Pre-sessional English and International Foundation courses can help you to achieve this level.

For more details on the University of Hertfordshire's entry requirements, please visit our Undergraduate Entry Requirements page.

Find out more about International Entry Requirements.

The University of Hertfordshire is committed to welcoming students with a wide range of qualifications and levels of experience. The entry requirements listed on the course pages provide a guide to the minimum level of qualifications needed to study each course. However, we have a flexible approach to admissions and each application will be considered on an individual basis.

Sign up for alerts

Get access to personalised content, tailored towards your interests:

Information on your favourite courses
Tips to help you through the application process
Blogs, vlogs and advice from current students
Why choose this course?
Your teachers are internationally recognised illustrators
Be inspired by guest speakers and drawing day trips
Students achieve success in prestigious illustration award schemes
We have an enviable record of success. In recent years our students have won over many awards in all of the most prestigious national and international design and illustration competitions. These include: the overall winner of the Carmelite Prize, coveted D&AD pencils; various awards at New Designers; countless YCN awards; and many short listings and nominations in competitions such as the Penguin Random House Design awards, Folio Society, the London Transport and Lloyds TSB Illustration awards.
Clever, original ideas and excellent craftsmanship are vital for a successful career working at the top end of the profession and our course is committed to teaching students how to achieve these skills. We foster a fun yet demanding atmosphere that encourages our students to think independently, question the world around them and be opinionated.
Our proximity to London (20 minutes on the train) is a core part of our success. It allows us to easily bring in high-quality visiting tutors, guest speakers and live-projects. It means we have great industry connections and study trips to museums and companies are a regular part of the curriculum.
92% of students are satisfied with teaching and 91% with learning opportunities and academic support in the 2022 National Student Survey (NSS)
What's the course about?
This multi-award-winning course will give you a thorough grounding and understanding of the commercial applications of illustration. Our aim is to develop creative thinkers and visual communicators who aren't confined by the conventional boundaries of the industry. We encourage you to think imaginatively to develop engaging and purposeful ideas, and to execute them beautifully. The First Year is about core skills and finding the right pathway. Teaching guides you to be creative, generate ideas and solve problems, with workshops in software, typography and printmaking. Later, we focus on professional projects, emphasising commercial constraints and expectations. We also explore areas like digital design, interaction and motion graphics. In the Final Year you'll produce a high-quality portfolio.
Find out more about the BA(Hons) Graphic Design.
Your main campus is College Lane  
This is where the creative arts, science and health-related subjects are based. This means you'll share the campus with future nurses, scientists, artists and more. You can use the common rooms to relax with friends, work out in the 24-hour gym or have a drink in our on-campus pub or cafes. We also have restaurants for you to eat in or grab something on the go. Our Learning Resources Centres are open 24/7, which means you can study whenever suits you best. Want to pop over to the other campus? You can take the free shuttle bus or walk there in just 15 minutes.   
What will I study?
Teaching consists largely of project based work supported by appropriate 'skills' based workshops. Students tackle a huge variety of briefs ranging in complexity and time scales. Some projects will take many weeks to complete whilst others will be solved within a matter of hours. There's also a huge variety to the pattern of learning experiences with some projects being team based and others are worked on individually. We encourage a competitive, demanding yet light-hearted atmosphere.
We pride ourselves on providing a lot of direct contact between staff and students. Tutorials and seminars include one-on-one, small group, medium sized groups for workshops and large groups for lectures. Active participation is expected at our lively and fun end of project crits.
Our aim is to nurture well-prepared, ideas-driven people able to work in a wide variety of creative industries. The emphasis is giving our students the skills to develop industry-focused portfolios with a wide range of transferrable expertise.
The first year of Illustration is about core skills and finding the right pathway. The first semester will allow you to explore both Graphic Design and Illustration, before choosing one to specialise in for the rest of the course. Teaching encourages creative thinking, the generation of ideas and problem solving, with hands-on workshops in drawing, printmaking and software.
The second year focuses on professional projects, emphasising commercial constraints and expectations. It includes high-profile live projects which allow you to develop a real understand of what employers expect. We also explore areas like animation, interactive illustration and new technologies such as VR.
Final year Illustration students, focus on building a professional portfolio with the opportunity to enter the best student competitions, as well as developing your own interests. All projects in third year, reflect the standards of professional illustrative practice, developing individuality and confidence as an image maker. It is intended to provide an experience from which you can emerge as a work-ready creative. The staff team are nationally and internationally recognised designers and illustrators who bring their research and professional interests directly into the student environment.
Check out our student blogs
Student Blogs
Neofytos - My week at a glance
My week at a glance.
My week starts by attending to my studio space, which it is a corner made up of three big whiteboards, a locker to secure my belongings and a table to work on. I personally love that space! It always makes me feel good! Having this area to work and do research for projects that I have been given, make me feel focused and productive.
On Tuesdays I have a lecture which is about two or two and a half hours, depending on how much we need to cover. In our lecture, we talk about theories that could be beneficial to our artistic perspective, but we also use this time to talk about anything that involves group assignments and projects.
Wednesdays for me only consist of an hour of optional art talks. During these talks, we have the chance to attend a seminar where artists are presenting their work to us! That's an amazing way to be provided with an insight into how the industry works and be prepared for our working lives after graduation.
Lastly, we have our optional life drawing sessions which run every Thursday's afternoon is a great chance to have a little break from spending most of your time in your studio space working on your projects. Going to the life drawing session I have the great chance to see the human figure, as well as being given the fantastic opportunity to draw models.
As for Friday, I have nothing booked on, so I can spend most of my time in my studio space working on my projects without getting distracted!
I love my routine at university, it gives me both the time to work on my projects thus attend and organise sessions and group works.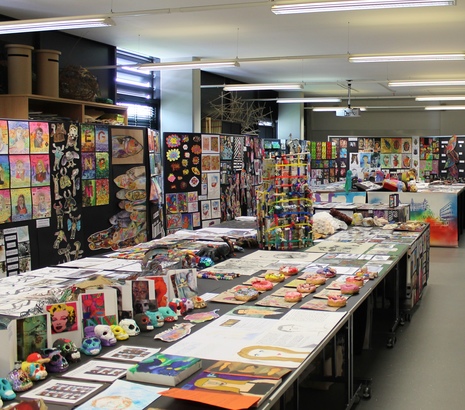 Student Blogs
Neofytos - Why I love my Course
What I love most about my course.
For years I have been drawing, painting and sculpting - prompting me to study Fine Art BA(Hons). And as a result, I have expanded my knowledge and learned more about fine art in greater depth about what I love.
The facilities at the Art and Design building are just amazing! That is what I love the most about my course. As a Fine Art student at this university, I have the great chance to take part and work in different workshops such as printmaking, ceramics, textile, welding, life drawing and so many more. For me, that is the most beneficial factor, because in this way the University allows me to explore and learn more about my artistic direction by trying different mediums and methods. Therefore, by having the freedom to attend to different workshops, I have the great chance to meet people from different courses, make new friends with similar interests and even more have the chance to collaborate with some of them!
As I said I love my course because it allows me and supporting me to try expanding horizons and find my artistic voice in an extremely healthy way.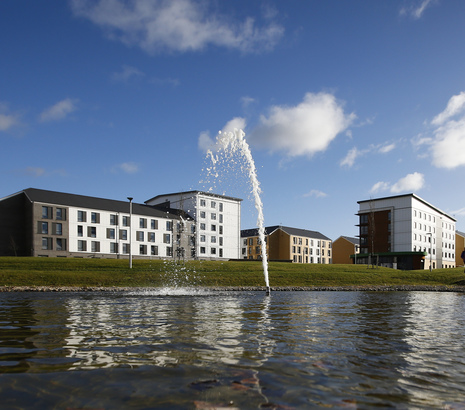 Student Blogs
Neofytos - Why I chose Herts
Why I chose Herts.
I am an international student studying at the University of Hertfordshire, which has been a blessing!
I chose Herts because the University itself is such a wonderful place to study! The facilities and the two beautifully designed campuses that the University has made my studies here amazing! For instance, there are two huge Learning Resource Centres (LRCs) on both campuses at the university where it really helps the students with their assignments. Moreover, all the buildings where we have classes at are very new and that proves that the university cares about its appearance and invest a lot of money for the students to have a great environment to study within.
However, except for the excellent facilities that the university has, the University has a great spot for socialising. Cafes, restaurants, common rooms, gyms, and a big University club are factors that make Herts a great place to be. All of them are found near to each other which is very convenient for us as students to socialise easily.
Speaking of location, the University is not far from London which is an amazing thing since London is such a beautiful and diverse city!
All these were the factors that made me choose Herts and I have never regretted my choice!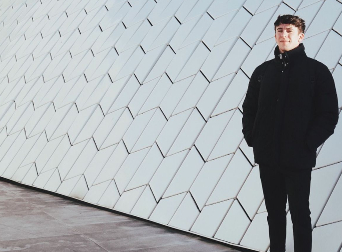 Alumni Stories
Sam Sampson
Meet Sam Sampson who utilised the flexibility of his degree to discover his passion. Since graduating in 2017, he has been working as a Junior Creative at Wasserman Experience.
Read more stories
Find out more about this course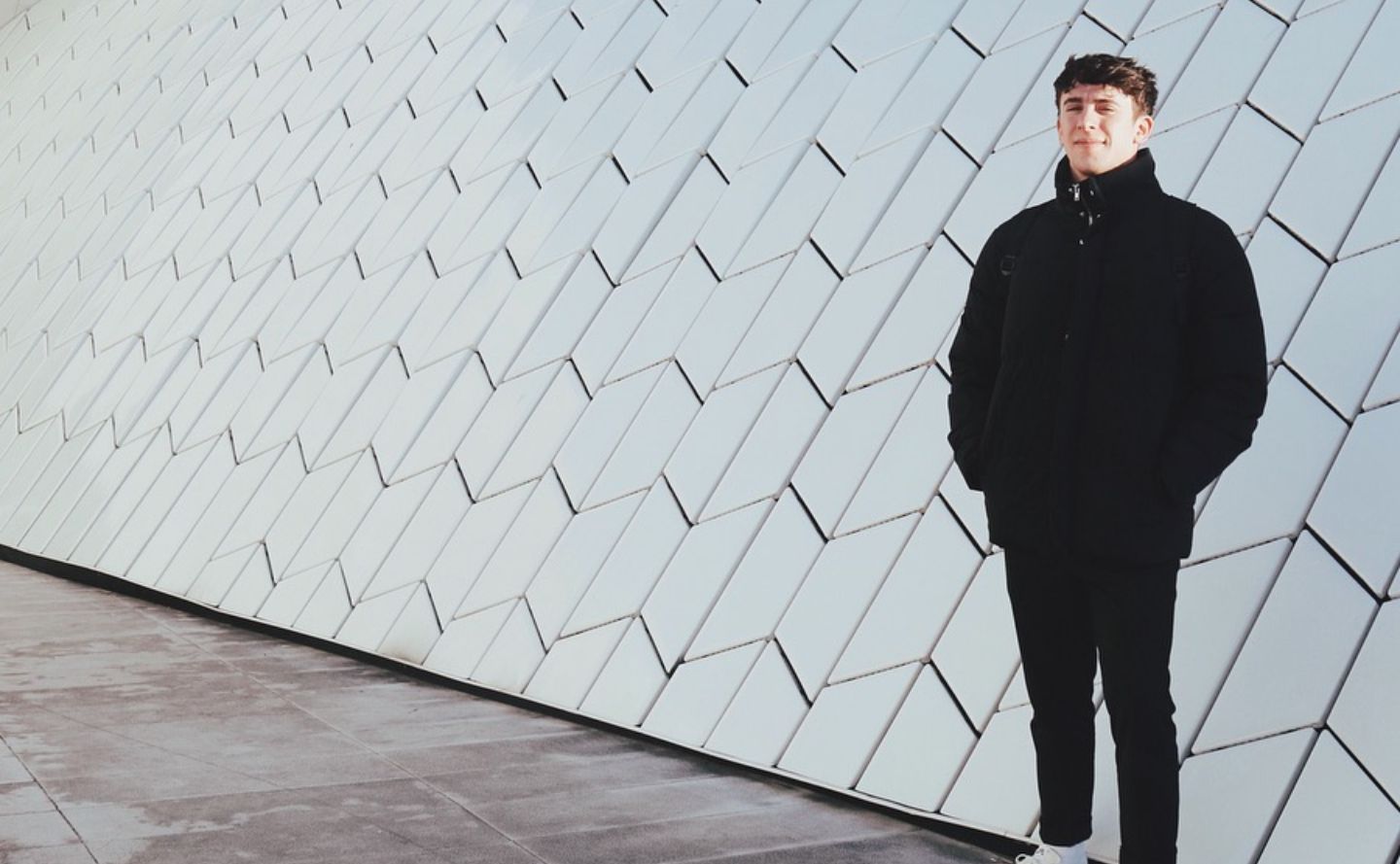 Flexible studying opportunities
When Sam came to study at the University, he was a Philosophy student but ended up changing his major to Digital Media Design. 'Luckily, the humanities department provided a major/minor split in my studies. This meant whilst I was studying philosophy, I could pick from a range of other courses that I had not considered. I chose "New Media Publishing" and found that it was much more aligned to my personality, so I changed to a full creative degree. If it had not been for that system, I would not be in my current role.'
Flexibility is a key way in which the University supports students to tailor their studies to fit their lives and best suit their skills and career aspirations. This is part of our commitment to recognise potential and nurture talent, providing students with fantastic opportunities and experiences. Sam says, 'the University of Hertfordshire truly shaped me personally as well as my career. I can guarantee that no other University would have provided me with the same opportunities they did and I can confidently say that if I had not studied here, I wouldn't be as happy in my career as I am today.'
Supporting athletes
Sam is also an athlete and was fortunate enough to qualify for the sport scholarship programme due to his involvement in judo. Extracurricular activities such as these enhance the student experience, giving students multiple ways to develop and uncover their potential. Sam says, 'The performance gym (Performance Hertfordshire) is a truly spectacular facility for all athletes. The staff are very highly qualified and provided me with ongoing support via specialised training regimes, nutritional advice and physiotherapy that was imperative to my performance as an athlete. I could not recommend Performance Hertfordshire enough.'
Sam began his studies uncertain of what he wanted to do or how his future career would unfold. However, through the support and ingenuity of the University's degree programmes, Sam has been able to discover potential he hadn't previously recognised and enter an industry that suits his skills and interests.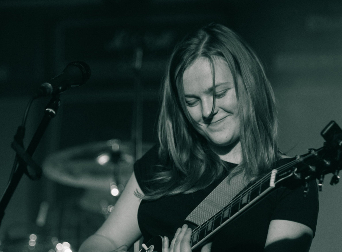 Alumni Stories
Elise Robinson
Meet Elise Robinson who has used her degree and creativity to propel her career. Elise currently works as a Marketing Project Senior at Marshall Amplification plc.
Read more stories
Find out more about this course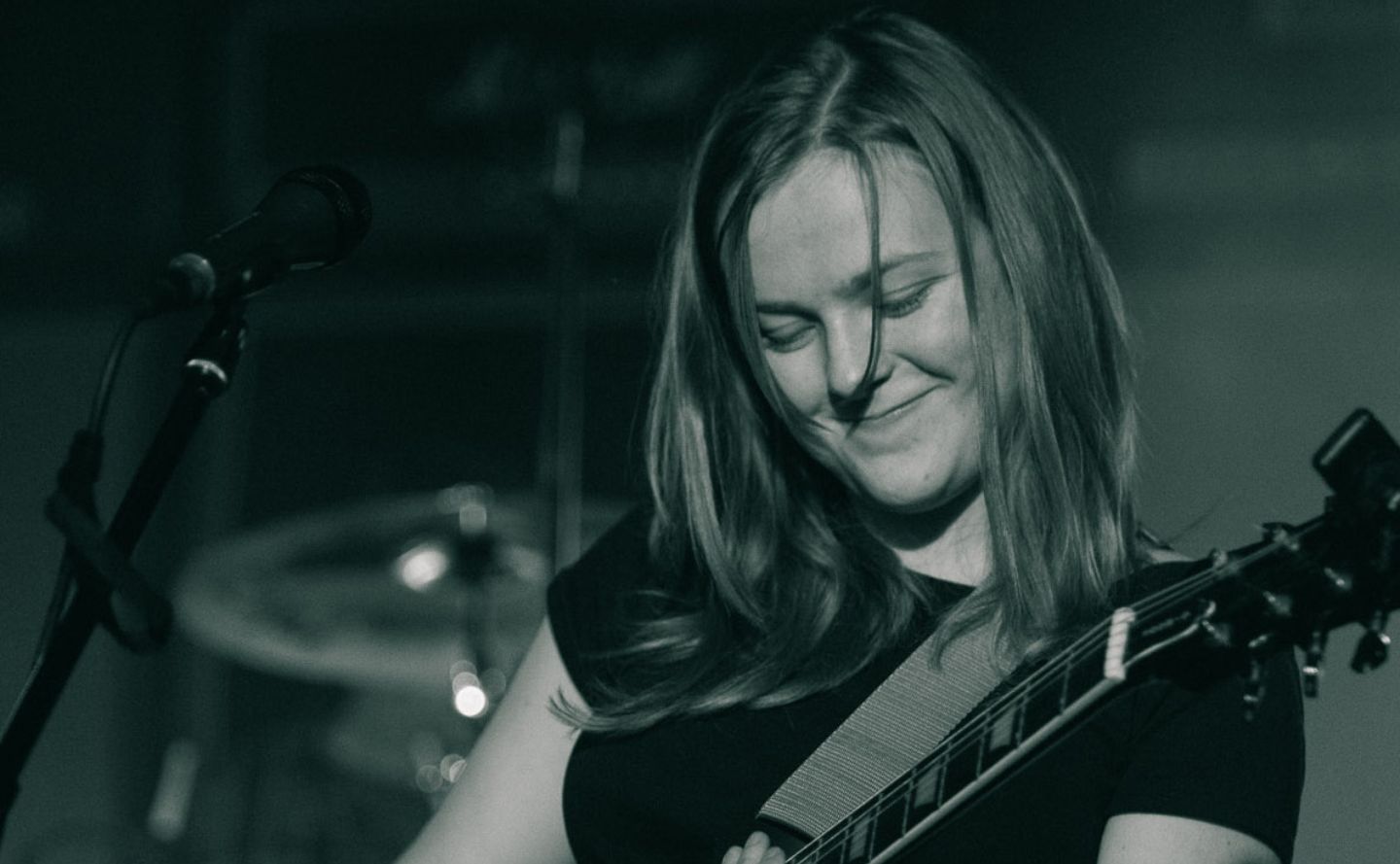 Currently, it's Elise's job to ensure smooth communication between the design and communications teams and other parts of the business. 'It's a bit like being an account manager for a design agency but in-house, where the other departments are your clients. I've taken a slight sideways step from a creative role to a management role, but it's my creative background and experience that helps me make informed decisions for the business.'
Embracing a different path
Having studied Graphic Design at Herts, graduating in 2014, and originally intending on leading a creative career in a commercial area, Elise soon embraced the opportunity of changing course and pursuing a more meaningful pathway.
Her degree provided her with a very broad understanding of cross platform campaigns and what it takes to deliver them. While she may not be in a creative role now, that broad understanding means she can confidently represent the creative teams and make strategic decisions.
Elise says she chose to study at Herts as the Graphic Design course reflected her career ambitions. She thinks choosing a Graphic Design course is a very personal choice because they vary so much. Some are very fine art focused, and some are much more commercial/business orientated. She wanted the latter, and Herts offers a very practical, business-orientated course that suited her and reflected the type of career she wanted to go in to.
Commercial experience
The commercial elements of the course alongside the industry exposure Elise received during her studies enabled her to develop an impressive wealth of experience and contacts which she could take with her into the professional world. 'The contacts I made whilst at university (printers, artists, clients and more) have been invaluable in my career so far. As the course was mostly practical design projects you had to go out and find suppliers and people to collaborate with.'
A wide set of skills is always attractive to an employer, especially when entering a creative role. Possessing a comprehensive skill base will make you even more employable. Elise encourages students hoping to follow a similar career path to diversify their skillset by exploring related disciplines. 'If you can do graphic design, why not also brush up on your photography, web design or illustration?'
What's next for my career?

Recent Illustration graduates are working in all areas of the creative industries in the UK and abroad. Encouragement is given to the development of versatility, leading to a wide range of career opportunities in design and illustration in the fields of publishing, marketing and publicity, and advertising as well as freelance illustration.

Our Illustration graduates' work is regularly seen online, in books, newspapers and advertising campaigns. Many graduates work as freelance illustrators, while others work in publishing, marketing, publicity and advertising.

View our Alumni profiles

Key staff

Further information - includes assessment method

| Course fact sheets | |
| --- | --- |
| BA (Hons) Illustration | Download |
| BA (Hons) Illustration | Download |

| Programme specifications | |
| --- | --- |
| BA (Hons) Illustration | Download |
| BA (Hons) Illustration | Download |

Additional information

Sandwich placement or study abroad year

Optional

Applications open to international and EU students

Yes

Course length

Full Time, 3 Years
Sandwich, 4 Years

Location

University of Hertfordshire, Hatfield

How to apply?

Fees and funding

Fees 2022

UK Students

Full time

£9250 for the 2022/2023 academic year

EU Students

Full time

£14000 for the 2022/2023 academic year

International Students

Full time

£14000 for the 2022/2023 academic year

Fees 2023

UK Students

Full time

£9250 for the 2023/2024 academic year

EU Students

Full time

£14750 for the 2023/2024 academic year

International Students

Full time

£14750 for the 2023/2024 academic year

*Tuition fees are charged annually. The fees quoted above are for the specified year(s) only. Fees may be higher in future years, for both new and continuing students. Please see the University's Fees and Finance Policy (and in particular the section headed "When tuition fees change"), for further information about when and by how much the University may increase its fees for future years.

View detailed information about tuition fees

Read more about additional fees in the course fact sheet

Other financial support

Find out more about other financial support available to UK and EU students

Living costs / accommodation

The University of Hertfordshire offers a great choice of student accommodation, on campus or nearby in the local area, to suit every student budget.