BA (Hons) English Language and Literature
Due to the ongoing Coronavirus pandemic, examinations may be replaced by an alternative form of assessment during the academic year 2020/2021. Please refer to the Programme Specification on these pages for further details.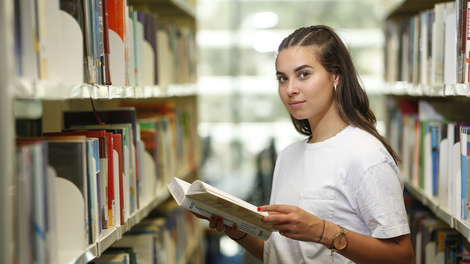 Balance your reading of poetry and drama with analyses of language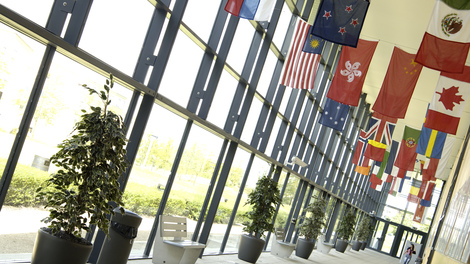 Global literature approach from different eras and cultures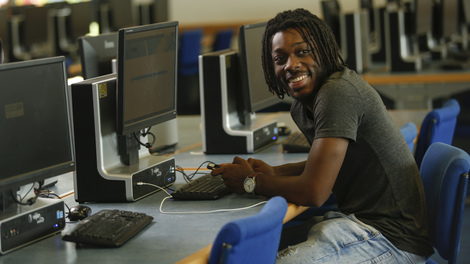 Access huge online literary text databases to pursue your research
This course includes the sandwich year options of:
*No fees are charged for this year
Key information

UCAS code

Q1Q3

Institution code

H36

School of study

School of Humanities

Course length

Full Time, 3 Years
Sandwich, 4 Years

Location

University of Hertfordshire, Hatfield

Entry requirements

| UCAS points | A Level | BTEC | IB requirement |
| --- | --- | --- | --- |
| 104 | BCC | DMM | 104 points |

Additional requirements

GCSE: Grade 4/C in English and 4/D Mathematics

Access Course Tariff: An overall merit profile in 45 credits at Level 3.

All students from non-majority English speaking countries require proof of English language proficiency, equivalent to an overall IELTS score of 6.5 with a minimum of 5.5 in each band.

If you do not have the required IELTS or equivalent for direct entry on to your degree programme, our Pre-sessional English and International Foundation courses can help you to achieve this level.

For more details on the University of Hertfordshire's entry requirements, please visit our Undergraduate Entry Requirements page.

Find out more about International Entry Requirements.

The University of Hertfordshire is committed to welcoming students with a wide range of qualifications and levels of experience. The entry requirements listed on the course pages provide a guide to the minimum level of qualifications needed to study each course. However, we have a flexible approach to admissions and each application will be considered on an individual basis.

Sign up for alerts
Why choose this course?
We give you:
An understanding of applied language, to underpin your future career
A fresh take on both traditional writing and contemporary works that speak directly to our everyday lives
A supportive, research-active academic team
A flexible programme of study, allowing you to concentrate on areas you find especially interesting
Access to huge online databases, including literary texts, to drive your original and creative research
CV-building potential through work placements and extra-curricular activities
What's the course about?
Our BA English Language and Literature enables you to combine your study of the structure, development and use of English as a world language with your reading of literature written in English from all parts of the globe.
You'll be taught by research-active academics who bring fresh thinking to our accessible, engaging courses. We'll introduce you to writers who will open doors to contemporary worlds and cultures remote from your own, and also help you explore more familiar literature in ways that challenge your preconceptions.
You'll enrich your study of English literature in its cultural and historical contexts through modules on the history of the English language. You'll balance your reading of poetry and drama with analyses of how language is used in the media, to inform or persuade. The common link between the two disciplines will be your analysis of language and how it operates in literature and in real life.
A core module in your first year will equip you to read and interpret both traditional and contemporary literary texts critically as a scholar of English literature. You'll also be introduced to English Linguistics, the scientific study of our language, from how language develops in children, to the ways it reflects society and how it changes over time.
Your second-year core modules will focus on English grammar and the sounds of English, and you'll also study period-based literature from the Renaissance onwards, gaining an understanding of literary history, from Elizabethan verse and drama to the emergence of modernity in the 20 th century. A core module in English Literature will introduce you to a range of theoretical lenses which you can apply to your further study of texts.
You'll have the chance to specialise in your final year, tailoring your degree to reflect your own interests. English Literature options include children's literature, young adult fiction, 21 st century American literature and literary adaptations, amongst others.
Alongside these, a module on Corpus Studies in English Language will allow you to bring your literature and language interests together. Using Sketch Engine, a text analysis tool that enables you to search vast databases of language, you'll be able to search literary texts to identify how particular words have been used in novels or literature. With more than 15 billion words available to you, you'll be able to ask questions no one has asked before and pursue uniquely creative research projects.
What will I study?
Our English Language and Literature students benefit from being part of a supportive, research-active academic community. From tutorials and group work to eye-opening psycholinguistic experiments, we use a range of engaging, student-centred teaching methods to help you work confidently and creatively.
You'll dive into real-life data, get involved in research and learn from guest experts. You'll have the opportunity to get involved in activities that will complement your studies, such as working for the student newspaper or radio station. Not only do these enhance your experience, they also make for a more impressive CV.
Level 4

Level 5

Level 6

Study abroad

Taking a year's study abroad is an excellent opportunity to broaden your understanding of the world. Living in another country opens up fresh perspectives and helps create global citizens.

For our English Language students, it will enable you to experience Global English while gaining an appreciation of another culture and society. Recent students have studied in Japan.

For our English Literature students, a natural step from studying global literature is to go out into the world and experience it for real. If you're reading African American literature and take the option to study in the American South you'll see the legacy of slavery or the birthplace of the civil rights movement at first hand. Your year will broaden your horizons and enhance your understanding of the literature of other cultures.

Work placement

Work placements enable you to gain valuable experience, explore career possibilities and make useful contacts with a potential future employer. We offer our students a career development module that will equip you to take up a teaching work placement or become a Stroke Association volunteer. You may also shadow speech and language therapists or help with specialist language teaching in sixth form college.

Alternatively, our students can choose a literature-focused work experience module, Literature at Work, which explores English Literature in the classroom and aspects of the literary heritage industry. The module is centred around a six-week work placement where you'll gain valuable transferable skills. Our students have worked as school classroom assistants, in publishing houses or attractions such as London's Charles Dickens Museum and Dr Johnson's House.