BA (Hons) Architecture
Key information
Study abroad option
Entry requirements

| UCAS points | A Level | BTEC |
| --- | --- | --- |
| 120-128 | BBB-ABB | DDM |

Additional requirements

Access course: Diploma with 45 level 3 credits at merit.
Portfolio: Presentation of an acceptable portfolio of artwork.
IB requirements: 120-128 UCAS points from a minimum of two HL subjects at H4 or above to include Visual Arts at SL or HL (with the remaining points to come from a combination of HL, SL and Core).
IELTS: All students from non-majority English speaking countries require proof of English language proficiency, equivalent to an overall IELTS score of 6.0 with a minimum of 5.5 in each band.

If you do not have the required IELTS or equivalent for direct entry on to your degree programme, our Pre-sessional English and International Foundation courses can help you to achieve this level.

For more details on the University of Hertfordshire's entry requirements, please visit our Undergraduate Entry Requirements page.

Find out more about International Entry Requirements.

The University of Hertfordshire is committed to welcoming students with a wide range of qualifications and levels of experience. The entry requirements listed on the course pages provide a guide to the minimum level of qualifications needed to study each course. However, we have a flexible approach to admissions and each application will be considered on an individual basis.

Professional accreditations

The BA (Hons) Architecture is ARB (Architects Registration Board) prescribed and RIBA (Royal Institute of British Architect) validated course for Part I, based on its course content (including education aims, learning outcomes and assessment criteria); and evidence that the University has adequate resources in place to maintain and increase the achievement of pupils to standards required.

The following degrees – BA (Hons) Architecture; BA (Hons) Architecture (Sandwich); and BA (Hons) Architecture with Year Abroad - are currently ARB prescribed, subject to period review, for the purposes of entry onto the United Kingdom Register of Architects.

Sign up for alerts

Get access to personalised content, tailored towards your interests:

Information on your favourite courses
Tips to help you through the application process
Blogs, vlogs and advice from current students
Why choose this course?
ARB Part I prescribed (or exempted) and RIBA Part I validated
Affiliation with RIBA Association of Architects (East & Herts)
Gain experience with award-winning architectural offices
Gain practical skills alongside theory
This course empowers you to satisfy the requirements of a brief and re-energise our environment. You'll learn the technical knowledge to inspire your professional portfolio. We'll teach you how to analyse, develop, test and communicate your ideas.  You'll be working on drawings and models for domestic, public and commercial projects, such as houses, museums and cityscapes.  Be creative. Spend time in our fantastic studios and workshops. We have woodworking, metalworking and casting workshops to help you develop real-world skills. Try your hand at ceramics (for building facades), printmaking and life-drawing classes to enhance your sketching skills. Use our specialist computer software suites and even download software onto your personal laptop. With 3D printers, laser cutters, a welding booth and studio space at your fingertips, we'll help you bring your idea to life.
Discover the history that has influenced architecture.  From garden cities, new towns built after WW2, to today's contemporary cities.  How do the needs of society motivate design?  You'll learn to be an innovative and responsible architect.  To evaluate a building's purpose, the impact of materials and the cultural factors which underpin design.  You'll gain insights in the international and national perspectives of the built environment. We'll encourage you to question the role of technology, gender, politics and economics in design.  You'll debate the issues confronting architects, including sustainability, urban sprawl and gentrification. By analysing theory and practice you'll become confident in the founding principles of design philosophy.   
Every step of the way, you'll be inspired by our expert teaching team including researchers, authors and acclaimed architects. You can benefit from the Royal Institute of British Architects (RIBA) Future Architects network and the Student Mentoring Scheme. We have excellent links to industry, the RIBA and the Hertfordshire Association of Architects, these will allow your to start building you own network and finding exciting work placements opportunities.
Do you want a Professional Accreditation?
To become a registered architect, you need to complete Part 1, 2 and 3 of your studies. This degree programme is Part 1 prescribed by the Architects Registration Board (ARB) and Validated by the RIBA. Upon successful completion, you don't need to take any extra exams when you graduate. You can progress straight to your Part 2.
What's the course about?
In the first year, you'll learn skills in sketching, drawing and Computer Aided Design (CAD), as well as model making and 3D representation. We'll teach you 2D and 3D analogue and digital technologies so you can visualise your design ideas. You'll produce technical drawings to multiple scales. You'll take part in demonstrations and workshop-based activities to understand how engineering and technology inform practice. We'll teach you skills in problem-solving, research and analysis, as you explore the relationship between culture and design.   
In the second year, you'll grow as a critical thinker. Your knowledge of culture and theory will fuel your creativity. Explore the fascinating relationship between buildings, people and the environment. Design a public building and public space. You'll learn to integrate hand drawing with digital editing, CAD and 3D Modelling in your proposals.  We'll help you improve your skills with 2D and 3D printing, CNC routers and laser cutters. You'll learn technologies to map and analyse cities and infrastructures. Discover how design can complement the world around us. Be curious. How can architecture be functional and expressive? Through reflection and debate you'll feel confident about your understanding of contemporary architecture and your place within it.   
In the third year, you'll write your dissertation, a 6000-word essay on a topic that interests you. We'll help you develop a professional portfolio as you work on real-life projects and pitch your ideas in a competitive environment. This is your chance to inspire. The pinnacle of your studies is a major project. You'll investigate the use of space and analyse how architecture impacts a city and its population. You'll use your expert design and technology skills to innovate. This is your chance to prove you're ready for professional practice or postgraduate study. 
Your main campus is College Lane 
This is where the creative arts, science and health-related subjects are based. This means you'll share the campus with future nurses, scientists, artists and more. You can use the common rooms to relax with friends, work out in the 24-hour gym or have a drink in our on-campus pub or cafes. We also have restaurants for you to eat in or grab something on the go. Our Learning Resources Centres are open 24/7, which means you can study whenever suits you best. Want to pop over to the other campus? You can take the free shuttle bus or walk there in just 15 minutes.   
What will I study?
Degree programmes are structured into levels, 4, 5 and 6.  These correspond to your first, second and third/final year of study.  Below you can see what modules you'll be studying in each. 
During your studies you will be able to comprehend the value of the built environment and will work on a retrofitting brief giving you the skills and opportunity to approach sustainability holistically, alongside ethical and aesthetical issues when you graduate. The study of sustainability is supported by teaching materials, workshops, cutting-edge software and innovative research carried out by the Arch+, the Carbon Zero Lab and the Centre for Future Societies.
Study abroad

An opportunity for an amazing experience, which will help make you stand out from the crowd. With more and more companies working internationally, experience of living in another country can make a great impression on future employers.

This course offers you the opportunity to enhance your study and CV with a sandwich year abroad. The University has partnerships with over 150 universities around the world, including the USA, Canada, Asia, Africa, Australia, South America and closer to home in Europe.

If you study abroad between your second and third year of study, you'll pay no tuition fee to the partner university and no tuition fee to us either. We'll ask you to make your decision in your second year, so there is plenty of time to think about it.

Find out more about Study abroad opportunities

Please note Erasmus+ funding is only available until May 2023. For students starting their course in September 2022 and wishing to study abroad in 2023-24 or 2024-25, please refer to the Turing Scheme.

Work placement

Graduate with invaluable work experience alongside your degree and stand out from the crowd.

This course offers you the opportunity to enhance your study and CV with a work placement sandwich year. It's a chance to explore career possibilities, make valuable contacts and gain sought after professional skills.

Our dedicated Careers and Employment team are here to help guide you through the process.

The programme supports the student in opportunities to undertake live projects which may arise through their own endeavour and works to build such opportunities into the student's learning and assessment through negotiation of briefs and presentable outcomes. The term 'live projects' refers here to a range of activities that extends well beyond those that are primarily commercial and includes social enterprise projects undertaken in connection with community groups, arts organisations and other agencies. Where a student wishes to undertake a live project, it is a requirement that before it commences there is in place a learning contract that specifies clearly how it enables the student to fulfill the module Learning Outcomes, the materials to be submitted for assessment, the date of submission for that material, what the work means in terms of the student's attendance and workload and an appropriate strategy for supervision by a tutor. That contract has to be agreed by both the module tutor and the Programme Leader.

If you take up a work placement between your second and third year of study, at the University of Hertfordshire you'll pay no tuition fee for this year. We'll ask you to make your decision in your second year, so there is plenty of time to think about it.

What if I need support?

You'll get a personal tutor to guide you through your course, all the way to graduation.

You might also want or need extra support during your time with us. Rest assured, no matter what you study, we've got you covered. For help with study skills, including referencing, essay writing and presentations, you'll have access to our academic support services. You can attend workshops, 1-to-1 sessions and online tutorials. Both our LRCs (Learning Resources Centres) run drop-in study skills sessions. And the best thing is, it's all free.

In the School of Creative Arts, we also have a dedicated Student Liaison Officer. So you can access academic support with someone who understands the requirements of creative arts courses. Plus, there's additional support if you have dyslexia. For international students, we also have a Creative Arts International Support Officer. The Creative Arts Toolkit is a fantastic resource, where you can find lots of information about facilities, equipment and study skills. You can feel confident that we'll support you for all your educational, wellbeing and disability needs.
Check out our student blogs
Student Blogs
Neofytos - My week at a glance
My week at a glance.
My week starts by attending to my studio space, which it is a corner made up of three big whiteboards, a locker to secure my belongings and a table to work on. I personally love that space! It always makes me feel good! Having this area to work and do research for projects that I have been given, make me feel focused and productive.
On Tuesdays I have a lecture which is about two or two and a half hours, depending on how much we need to cover. In our lecture, we talk about theories that could be beneficial to our artistic perspective, but we also use this time to talk about anything that involves group assignments and projects.
Wednesdays for me only consist of an hour of optional art talks. During these talks, we have the chance to attend a seminar where artists are presenting their work to us! That's an amazing way to be provided with an insight into how the industry works and be prepared for our working lives after graduation.
Lastly, we have our optional life drawing sessions which run every Thursday's afternoon is a great chance to have a little break from spending most of your time in your studio space working on your projects. Going to the life drawing session I have the great chance to see the human figure, as well as being given the fantastic opportunity to draw models.
As for Friday, I have nothing booked on, so I can spend most of my time in my studio space working on my projects without getting distracted!
I love my routine at university, it gives me both the time to work on my projects thus attend and organise sessions and group works.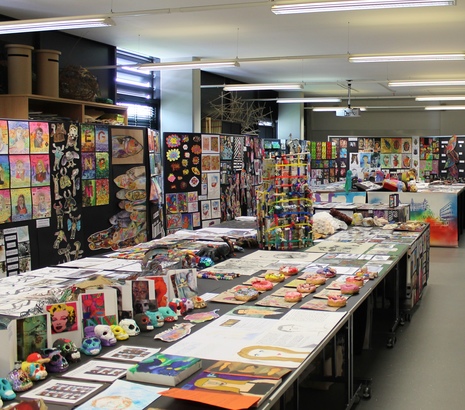 Student Blogs
Neofytos - Why I love my Course
What I love most about my course.
For years I have been drawing, painting and sculpting - prompting me to study Fine Art BA(Hons). And as a result, I have expanded my knowledge and learned more about fine art in greater depth about what I love.
The facilities at the Art and Design building are just amazing! That is what I love the most about my course. As a Fine Art student at this university, I have the great chance to take part and work in different workshops such as printmaking, ceramics, textile, welding, life drawing and so many more. For me, that is the most beneficial factor, because in this way the University allows me to explore and learn more about my artistic direction by trying different mediums and methods. Therefore, by having the freedom to attend to different workshops, I have the great chance to meet people from different courses, make new friends with similar interests and even more have the chance to collaborate with some of them!
As I said I love my course because it allows me and supporting me to try expanding horizons and find my artistic voice in an extremely healthy way.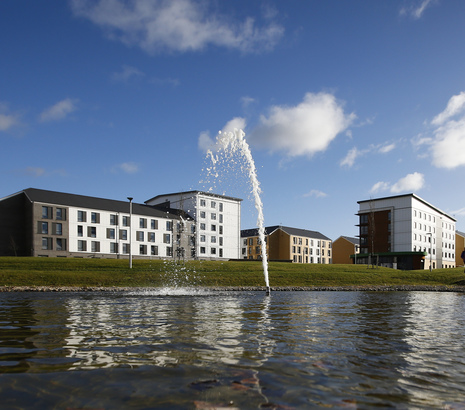 Student Blogs
Neofytos - Why I chose Herts
Why I chose Herts.
I am an international student studying at the University of Hertfordshire, which has been a blessing!
I chose Herts because the University itself is such a wonderful place to study! The facilities and the two beautifully designed campuses that the University has made my studies here amazing! For instance, there are two huge Learning Resource Centres (LRCs) on both campuses at the university where it really helps the students with their assignments. Moreover, all the buildings where we have classes at are very new and that proves that the university cares about its appearance and invest a lot of money for the students to have a great environment to study within.
However, except for the excellent facilities that the university has, the University has a great spot for socialising. Cafes, restaurants, common rooms, gyms, and a big University club are factors that make Herts a great place to be. All of them are found near to each other which is very convenient for us as students to socialise easily.
Speaking of location, the University is not far from London which is an amazing thing since London is such a beautiful and diverse city!
All these were the factors that made me choose Herts and I have never regretted my choice!