BA (Hons) Accounting and Finance
Key information
Study abroad option
This course is up for periodic review

This course is due to be renewed at a Periodic Review event which will be held on December 2021.

We anticipate that there will be further enhancements made to the course as a result of the Review.

Our website and printed literature will be updated following completion of the Periodic Review in order to provide applicants with further confirmed details on the following:

module titles
whether the modules are core or optional
the expected contact hours
how the course will be assessed
staff teaching on the course

Entry requirements

Clearing entry requirements

We're committed to welcoming students with a wide range of qualifications and levels of experience. Over Clearing, we'll be taking a flexible approach so if you don't have the advertised grades, please submit a clearing application via our online application form or by calling our Clearing hotline on 0300 303 6300, and we'll review and consider your application on an individual basis.

Standard entry requirements

| UCAS points | A Level | BTEC |
| --- | --- | --- |
| 112 - 120 | BBC - BBB | DMM - DDM |

Additional requirements

GCSE: Grade 4/C in English Language and Mathematics

All students from non-majority English speaking countries require proof of English language proficiency, equivalent to an overall IELTS score of 6 with a minimum of 5.5 in each band.

If you do not have the required IELTS or equivalent for direct entry on to your degree programme, our Pre-sessional English and International Foundation courses can help you to achieve this level.

For more details on the University of Hertfordshire's entry requirements, please visit our Undergraduate Entry Requirements page.

Find out more about International Entry Requirements.

The University of Hertfordshire is committed to welcoming students with a wide range of qualifications and levels of experience. The entry requirements listed on the course pages provide a guide to the minimum level of qualifications needed to study each course. However, we have a flexible approach to admissions and each application will be considered on an individual basis.

| UCAS points | A Level | BTEC |
| --- | --- | --- |
| 112 - 120 | BBC - BBB | DMM - DDM |

Additional requirements

GCSE: Grade 4/C in English Language and Mathematics

All students from non-majority English speaking countries require proof of English language proficiency, equivalent to an overall IELTS score of 6.0 with a minimum of 5.5 in each band.

If you do not have the required IELTS or equivalent for direct entry on to your degree programme, our Pre-sessional English and International Foundation courses can help you to achieve this level.

For more details on the University of Hertfordshire's entry requirements, please visit our Undergraduate Entry Requirements page.

Find out more about International Entry Requirements.

The University of Hertfordshire is committed to welcoming students with a wide range of qualifications and levels of experience. The entry requirements listed on the course pages provide a guide to the minimum level of qualifications needed to study each course. However, we have a flexible approach to admissions and each application will be considered on an individual basis.

Professional accreditations

When you complete Hertfordshire Business School's BA Accounting and Finance degree, you'll be able to apply for exemptions from exams with professional accountancy bodies.

We're accredited by, and work in collaboration with: 

The Association of Chartered Certified Accountants (ACCA)  
The Institute of Chartered Accountants in England and Wales (ICAEW) 
The Chartered Institute of Management Accountants (CIMA) 
Chartered Institute of Public Finance and Accountancy (CIPFA)

If you are looking for the maximum exemptions, your program leader can advise which modules you should take to achieve this.

Sign up for alerts

Get access to personalised content, tailored towards your interests:

Information on your favourite courses
Tips to help you through the application process
Blogs, vlogs and advice from current students
Why choose this course?
93% of students are in employment or in further study (2019/20 Graduate Outcome)
This course is CIMA, ICAEW & ACCA accredited
For ACCA one of the highest pre agreed professional exam exemptions in the UK by a university
This course goes beyond the numbers, looking at the stories they tell. We are committed to bringing this way of working to life. You'll benefit from a lot of interactive sessions, including simulations and group exercises.
Assessments are varied and balanced. Whilst there is a need for closed book exams to get the professional exemptions, these are complemented by practical options including online tests, professional report writing, group presentations, and discussions to prepare you for employment.
For hard-working students, you have a support team that is 100% behind you, whatever your background. They will share their expertise, advice, networks and experience and are focused on nurturing your potential as they help you succeed.
We foster strong relationships with Industry and Professional Associations. Get exemptions from various professional exams and become a fully qualified accountant sooner. This course offers exemptions from a range of accounting bodies including the Chartered Institute of Management Accountants (CIMA), Association of Chartered Certified Accountants (ACCA), Chartered Institute of Public Finance and Accountancy (CIPFA) and Institute of Chartered Accountants in England and Wales (ICAEW). Students on the programme have also had the opportunity to benefit from mentors provided by PwC Watford, Legal & General, Deloitte and the ICAEW Beds, Bucks and Herts Society.
You will also benefit from several networking events throughout the year, where you can meet industry professionals. Students are encouraged to take part in enterprise competitions such as University Business Challenge and Enactus. Those with an entrepreneurial spirit are encouraged to enter the 'Flare Ignite' annual competition for students and alumni looking to start their own businesses. Winners get support, training, and funding to help make their ideas a reality.
What's the course about?
Accounting and Financial experts are crucial to the success of any organisation, from micro businesses to large corporates. They play an essential part in determining strategic direction because of the insight they provide and the metrics they manage.
You'll learn the skills of modern accountants who build on the mathematical side, with analytical skills, making numerical based decisions. Modules in the course will assist you in honing your numerical, creative, digital, problem-solving and reporting skills. You will be fully supported every step of the way.
If you are serious about a career in finance or accounting and wish to take the relevant professional examinations, this course will help. It provides a solid basis to kick-start your journey. The combination of your newfound knowledge combined with the practical experience you gain will give you a significant advantage in the workplace. We also maintain solid relationships with professional bodies and leading companies, so you can launch your career with the support of a wide-ranging and influential network. The course also offers you an exemption from professional exams.
This Accounting and Finance degree follows a similar path to the BA (Hons) Accounting but has a stronger focus on corporate finance and business decision-making.
Where you'll study
Hertfordshire Business School and our Enterprise Hub are both located on the University of Hertfordshire de Havilland Campus. You'll be sharing the campus with those studying business, law, sports, education, and the humanities, as well as the Sports Village, which features a gym, swimming pool, coffee shop, and climbing wall.
There are two dining options, a bar, and a recreational space on campus where you can shoot some pool or play video games. The Enterprise Hub is a vibrant destination where local firms and students can work and learn in comfort. In addition to open study spaces, our Learning Resources Centre also features private study rooms, and is open 24/7 allowing you to study around your schedule.
The student union bar and additional facilities are only a 20-minute walk (or short bus ride) away at our second campus. Student housing is available near both campuses.
What will I study?
With a focus on consulting and financial storytelling, this Accounting and Finance course will prepare you for a career in modern finance, helping you to turn the numbers into something engaging and relevant. You'll also have the opportunity to study complementary topics such as economics, law, information technology and quantitative techniques.
In your first year, you'll learn the principles of accounting, explore and analyse financial information as well as learn digital and professional skills.
In the second year of your accounting programme, you will expand your foundational understanding of the subject, as well as learn effective research and problem-solving techniques that will prepare you for the professional world.
In your final year, you will build on the foundation with advanced financial reporting and accounting modules. You'll also have the chance to pick options in areas that interest you, such as research methods, taxation, Islamic finance and banking or information systems.  
Level 4

Level 5

Level 6

Study abroad

An opportunity for an amazing experience, which will help make you stand out from the crowd. With more and more companies working internationally, experience of living in another country can make a great impression on future employers.

This course offers you the opportunity to enhance your study and CV with a sandwich year abroad. The University has partnerships with over 150 universities around the world, including the USA, Canada, Asia, Africa, Australia, South America and closer to home in Europe.

If you study abroad between your second and third year of study, you'll pay no tuition fee to the partner university and no tuition fee to us either. We'll ask you to make your decision in your second year, so there is plenty of time to think about it.

Find out more about Study abroad opportunities

Please note Erasmus+ funding is only available until May 2023. For students starting their course in September 2022 and wishing to study abroad in 2023-24 or 2024-25, please refer to the Turing Scheme.

Work placement

With Hertfordshire Business School, you also have the chance to experience a year of working life or study abroad.

Work experience is the biggest contributor to your future employability. A placement year or shorter internship offer an opportunity to put your knowledge into action, while learning about how a business operates. Along with preparing for the workforce, you'll establish helpful connections.

To assist you in making the most of your sandwich year, the dedicated HBS Future Success Team maintains close ties with companies both abroad and locally. This team will hand hold you through the process, including CV assistance and preparing for interview and presentations, with our ground-breaking simulated assessment centre experience.

Students on the programme have recently had the opportunity to benefit from placements at PwC, the NHS, Worldpay, Sumitomo Mitsui Banking Corporation (SMBC), Grant Thornton and Ernst Young.

Last year, two students got mini-internships at Price Waterhouse Coopers, on the Women in Business and Black in Business programmes.
Studying at the University of Hertfordshire gave me insight into skills that I was unaware I possessed.
I am now a more confident individual and working in Deloitte Tanzania as an audit associate.
Check out our student blogs
Student Blogs
Kayleigh - Week at a glance
My week at a glance
At the beginning of each week, I write up my lecture PowerPoints ready to take with me to my lectures so I can add notes to it during the lecture. I find that writing up my lectures helps me to take in the information given to us. I tend to do my reading in bits throughout the week to help break it up, but I make sure it's done before I go to the relevant lecture. I find doing this betters my understanding of the topic that is going to be covered in that lecture!
For each Accounting module, I had an hour lecture and an hour seminar each week! For French, I had a two-hour lectorial, which is a lecture and seminar in one session! I went into university three days of the week for lectures and seminars; I had two days at home!
Towards the end of October, assignments start to get set so you have a lot more work to be doing. I like to start the research for my assignments when they get set. Don't leave them until the last minute, you'll do much better when you have time to think about what you're going to write! Managing your time between assignments and work for your lectures can be difficult but if you make yourself a plan, you'll be fine!
I lived at university, so I also had to find time to get my weekly food shop. I tended to go on one of my days off in the morning and then in the afternoon, I could get back to my uni work! I would also work for the university on open days and other events as a student ambassador, so I also had to factor that into my schedule. You need to make sure you have some time for yourself so you can wind down, you don't want to overload yourself! I like to spend a day of the weekend watching Netflix or meeting up with friends!
Student Blogs
Kayleigh - Things you should know
Things you need to know before studying Accounting at Herts
There can be some preconceptions of what accounting is; it is NOT all maths! There is a lot of maths involved in the course, but it is not complicated maths so don't worry, there is also a lot of written aspects too. There are several types of accounting ranging from financial to management accounting, all of which you cover over the three-year course! All the lecturers are chartered accountants, and most have worked in the industry for a significant amount of time and they have so much information for you. They're always willing to help you as much as they can!
With any degree, there is a lot of reading. You use a different textbook for each module, and they set reading weekly for you. Most of the textbooks are on the online library and so are free to access so don't go buying the textbooks straight away. For certain modules, doing the reading helps deepen your understanding of the topic significantly. For me, doing the reading for my Taxation module helped me to better understand the topics we studied but don't try to do it all at once because you won't take any information in. Remember to break it up so you don't overload yourself!
You will be assessed in both exams and assignments for the course. Your assignments can range from an essay or a report but could also be a presentation in a group. Most modules have a mixture of exams and assignments so don't stress too much about doing exams because you have your assignments to fall back on if necessary.
I would highly recommend that future students research what a chartered professional qualification is and the different bodies that offer them. Once you complete your degree in accounting it does not mean that you are a fully qualified accountant; you will need to complete a chartered qualification. The University offers a different amount of exemptions upon completion of the course from ACCA (Association of Chartered Certified Accountants), ICAEW (Institute of Chartered Accountants in England and Wales) and CIMA (Chartered Institute of Management Accountants). In your first year, ACCA comes in for a highly informative talk. In this talk, they encourage you to sign up to their ACCA accelerate scheme. I would highly recommend this, the cost savings for yourself in the future is beneficial. They also send you emails keeping you up to date with everything that's going on.
Accounting can be a difficult degree but don't stress. Planning your time wisely and being organised with assignments will make an enormous difference. Don't forget to enjoy your time at university and make as many new friends as you can! Good Luck!
Student Blogs
Kayleigh - Why I chose Herts
Why I chose Herts
The first reason being that Herts had the perfect course for me, Accounting with French. Herts allows you to do a language alongside a business degree which not that many other universities offer! Not only do I receive several exemptions from my professional accounting qualification, but I also got to continue studying French, which is something I really enjoyed at college and wanted to continue at university!
Herts is remarkably close to London but it's not in London. This is perfect for me because I moved from living in a village in the countryside to quite a busy town! I come from north Lincolnshire so Herts is also far enough from home that I would have to be completely independent but not too far that it would take me all day to travel home. Well a three-hour drive to me isn't that bad anyway. I have lived in halls and off-campus for all three years of university! This has allowed me to meet so many people and some of my best friends! Also, this meant that I was never more than a five-minute walk from the Learning Resource Centre (LRC) on campus that is open 24/7, great for when you have deadlines looming.
When I visited Herts for the first time on my applicant day, I had the best day! I met three of the lecturers that have taught me over the past three years of university, which was reassurance the lecturers were lovely! My French teacher was so encouraging and excited! When I started in September there were only five people in my French class, so it was very one to one which was so beneficial to me overall!
I know that moving away from home for the first time can be very daunting, but don't worry! Everyone in your halls is in the same boat! Go out and enjoy freshers! Order takeaways together and get to know each other! It will be one of the best things you do! My self-confidence has improved so much because I went to university!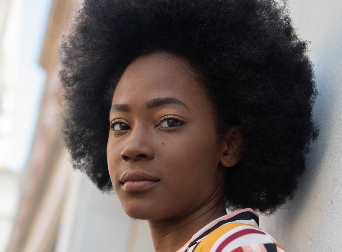 Alumni Stories
Theresa Lola
Meet Theresa Lola who turned her secret passion for writing into a career. She has just finished her tenure as the Young People's Laureate for London which she completed in April 2020.
Read more stories
Find out more about this course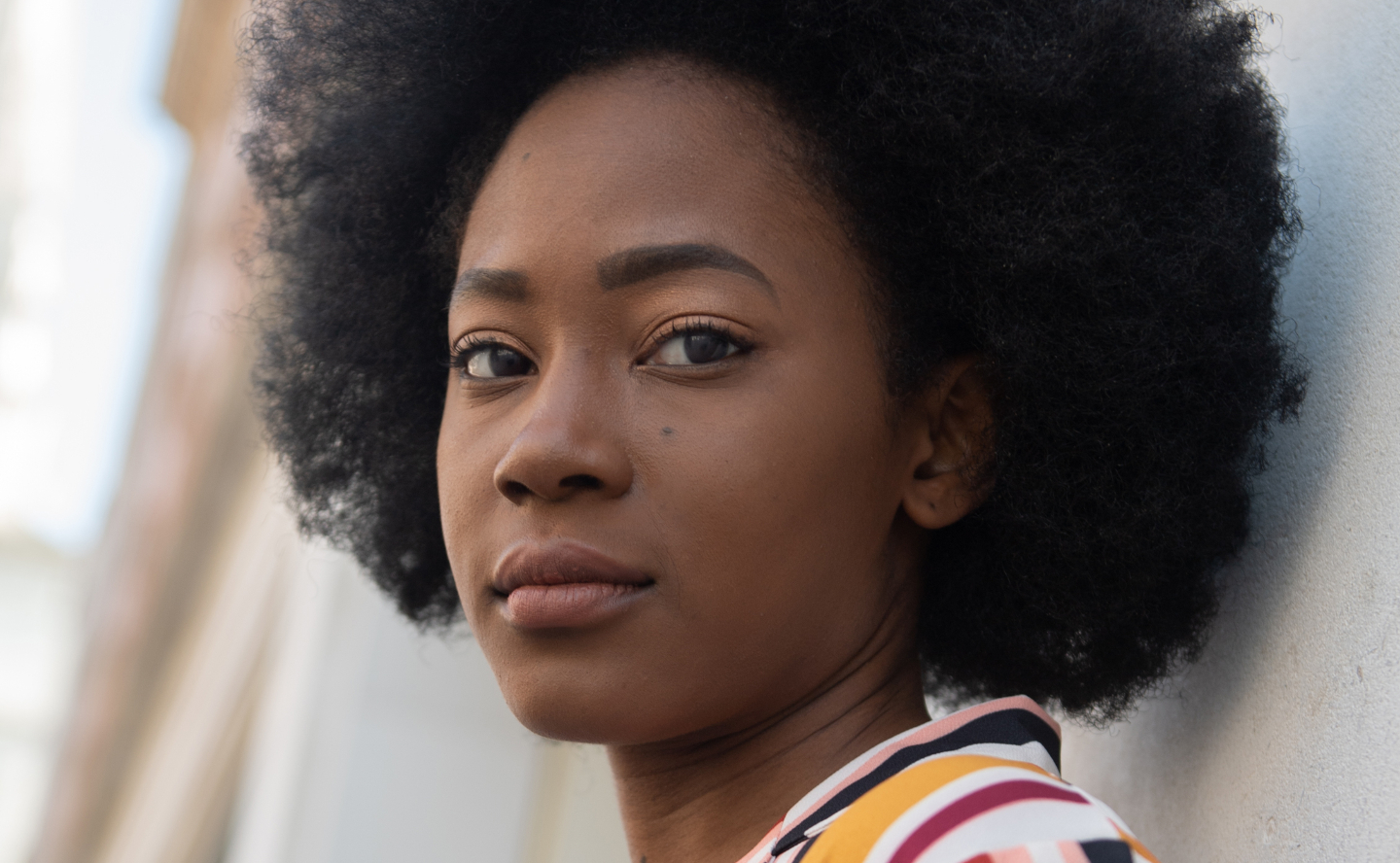 University life and experience
While Theresa did not pursue a career which directly related to her course, she believes that her modules in Accounting and Finance taught her a lot about using employability and professionalism.
The 'balance between student academic life and social life' is one of the main reasons Theresa decided to study at the University of Hertfordshire. She praises the vibrant campus and the variety of societies and opportunities to get involved in student life. She enjoyed exploring her other passions, like her secret writing, outside of her degree.
'One of the things I love about the University was the fantastic range of student societies. I joined the Evacreate Society which organised music and poetry events. I eventually had the courage to perform at one of the events.'
The future
Theresa really enjoys her work as a poet and her desire to help people with her writing is evident. Her future plans are to continue to grow and work on different projects by 'merging with art forms such as film and music and to continue to travel and connect with different people and organisations using this.'.
In June 2020 Theresa was named as the UK Alumnus/Alumna of the Year because of her outstanding achievements and was also a key contributor to the University's ground breaking Festival of Ideas Reimagined event.
One of the things I love about the University was the fantastic range of student societies. I joined the Evacreate Society which organised music and poetry events. I eventually had the courage to perform at one of the events.
What's next for my career?

All students are encouraged and supported to aim high. Our graduates have gone on to make an impact in both the public and private sectors, in roles such as accountancy, financial analytics and auditory positions. We are honoured to have produced graduates working in prestigious organisations such as Citibank, Amazon,  PwC, John Lewis, TUI and The Walt Disney Company.   

View our Alumni profiles

Key staff

Further information - includes assessment method

| Course fact sheets | |
| --- | --- |
| BA (Hons)(SW/YAB) Accounting and Finance | Download |
| BA (Hons)(SW/YAB) Accounting and Finance | Download |

| Programme specifications | |
| --- | --- |
| BA (Hons) Accounting | Download |
| BA (Hons) Accounting | Download |

Additional information

Sandwich placement or study abroad year

Optional

Applications open to international and EU students

Yes

Course length

Full Time, 3 Years
Sandwich, 4 Years

Location

University of Hertfordshire, Hatfield

How to apply?

Fees and funding

Fees 2022

UK Students

Full time

£9250 for the 2022/2023 academic year

Part time

£1155 per 15 credits for the 2022/2023 academic year

EU Students

Full time

£14000 for the 2022/2023 academic year

Part time

£1750 per 15 credits for the 2022/2023 academic year

International Students

Full time

£14000 for the 2022/2023 academic year

Part time

£1750 per 15 credits for the 2022/2023 academic year

*Tuition fees are charged annually. The fees quoted above are for the specified year(s) only. Fees may be higher in future years, for both new and continuing students. Please see the University's Fees and Finance Policy (and in particular the section headed "When tuition fees change"), for further information about when and by how much the University may increase its fees for future years.

View detailed information about tuition fees

Read more about additional fees in the course fact sheet

Other financial support

Find out more about other financial support available to UK and EU students

Living costs / accommodation

The University of Hertfordshire offers a great choice of student accommodation, on campus or nearby in the local area, to suit every student budget.