MSc Physiotherapy (Pre-Registration)
NHS Learning Support Fund
Training grants of at least £5,000 a year are available for eligible healthcare students which you will not have to pay back.
You may also be eligible for an additional £2,000 towards childcare costs to help balance your studies with family life and £3,000 for students who find themselves in unforeseen financial hardship.
Find out more
Why choose Herts?
Fast-track course: Our accelerated two year postgraduate course commences in January.
Industry accredited: Our accelerated master's course is accredited by the Chartered Society of Physiotherapy and prepares you to become a physiotherapist.
Work placement opportunities: Gain at least 1000 hours clinical based practice throughout the course.
Entry requirements and key information

Degree

2:1 degree classification or above in an undergraduate degree in a science* or a healthcare related subject
And students would have studied successfully at level 6 or above in the five years prior to commencement on the physiotherapy programme

*Appropriate science subjects for physiotherapy include biology, human biology, chemistry, physical education, physics, psychology, sociology, sports therapy and sports science and usually should also include elements of health-related practice and patient/client interactions.

Additional requirements

GCSE

Five GCSEs or more taken at one sitting to include English language, mathematics and science*

GCSEs of grade 4/Grade C or above (or equivalent).

*Appropriate science subjects for physiotherapy include: biology, human biology, chemistry, physical education, physics, psychology, sociology, sports therapy and sports science.

English language requirements

All applicants for whom English is not their first language and are not in possession of a GCSE English language qualification at grade 4 or above/Functional Skills English level 2 will need Academic IELTS:

Academic IELTS equivalent to level 7 overall with no element lower than 6.5 is normally required.

Offers are subject to health screening, the Disclosure and Barring Services (DBS) checks, and a satisfactory reference.

View our MSc Physiotherapy application guide

| | |
| --- | --- |
| Institution code | H36 |
| School of study | School of Health and Social Work |
| Course length | Full Time, 2 Years |
| Location | University of Hertfordshire, Hatfield |

Request information and updates

Get access to personalised content, tailored towards your interests:

Information on your favourite courses
Tips to help you through the application process
Blogs, vlogs and advice from current students
Employability

Careers

With a growing demand for physiotherapists, you'll have the opportunity to work for the NHS or in the private sector.

Often, you'll begin your career in the NHS in a rotational role, learning key skills and gaining experience across different areas of practice before specialising. The different specialities can include cardiac and respiratory care, neurological and musculoskeletal rehabilitation.

Physiotherapists work across a range of settings including intensive care and outpatient units, the community, sports clubs or children's centres.

Career progression

If you're working in the NHS there is a defined career structure where you can work your way up to senior and more specialist clinical roles and managerial roles. You can also work in private practice and work towards opening your own practice.

Advanced physiotherapy

The MSc Physiotherapy (Pre-registration) course is designed to fast-track and train graduates to become practising physiotherapists. This course is not suitable for already qualified physiotherapists.

If you are a qualified physiotherapist, the University of Hertfordshire MSc Advanced Physiotherapy course provides the opportunity to enhance your knowledge and skills.

Career support

We'll offer you careers support for the first four years after graduation. Get your career off on the right track with our careers and employment service which gives you access to Handshake, LinkedIn Learning and our Career Adviser team.

We also offer one-to-one support to help you:

write an effective CV and cover letter
get help with application forms
practice interview skills.

Whatever your goals, our Careers and Employment Service is happy to help.

Find out how we can support your career prospects

Work placement

You'll benefit from practical placements throughout your studies. This will ensure you gain the clinical hours required to qualify as a physiotherapist. These are scheduled into the course in five week blocks, for example:

year one: there will be approximately three five-week placements
year two: there will be approximately four five-week placements

Across 1000 hours of clinical experience, you'll discover how physiotherapy is used in a range of settings and specialities. Each placement is focussed on one of the NHS values. This gives you the chance to link the theory and practical skills learnt at Herts with real-life situations, through the lens of the core values in the NHS.

On placements you'll receive support, supervision and expert teaching from highly skilled practicing clinicians. Your own tutor back at the University, will be on hand to help too. You'll meet at least once during each placement, and more if you need, meaning that you'll always have the guidance and support you need.
Professional Accreditations
Eligibility to apply for full membership of the Chartered Society of Physiotherapy (CSP) and registration as a Physiotherapist with the Health and Care Professions Council (HCPC).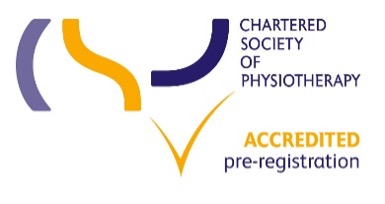 About the course
This dynamic two year course gives you the knowledge, skills and placement experiences to become a contemporary physiotherapist with a masters qualification. The contemporary curriculum considers the care settings primary, secondary and tertiary to reflect modern patient centred healthcare. Research will underpin practice including a focus on leadership and innovation. You'll be exposed to seven different placements, usually starting from the first semester, providing you the opportunity of gaining hands-on experience and practical knowledge.
Take a virtual tour of our facilities at the School of Health and Social Work
What will I study?
Through scenario-based learning you'll learn how different subjects and care settings interrelate. You'll master key skills to become an autonomous practitioner. Every step of the way you'll have the chance to immerse yourself in practical laboratory sessions and small group tutorials to build confidence and expertise.
Course delivery
We offer a hybrid approach with a mix of online, face to face and clinical placement learning opportunities. Assessment will be via practical sessions and coursework.
Year 1
There will be Modules based at the University (both level 6 and 7) and placement modules (level 6).
Year 2
There will be Modules based at the University (level 7) and placement modules (level 6).
Key staff
Sharon Newman
Programme Lead

Further course information
| Course fact sheets | |
| --- | --- |
| MSc Physiotherapy (Pre-Registration) | Download |
| Programme specifications | |
| --- | --- |
| MSc Physiotherapy (Pre-Registration) | Download |
| Additional information | |
| --- | --- |
| Sandwich placement or study abroad year | n/a |
| Applications open to international and EU students | Yes |
Student experience
At the University of Hertfordshire, we want to make sure your time studying with us is as stress-free and rewarding as possible. We offer a range of support services including; student wellbeing, academic support, accommodation and childcare to ensure that you make the most of your time at Herts and can focus on studying and having fun.
Find out about how we support our students
You can also read our student blogs to find out about life at Herts.
Funding and fees

Other financial support

Find out more about other financial support available to UK and EU students

Fees 2023

UK Students

Full time

£9250 for the 2023/2024 academic year

EU Students

Full time

£17950 for the 2023/2024 academic year

International Students

Full time

£17950 for the 2023/2024 academic year

Fees 2024

UK Students

Full time

£9250 for the 2024/2025 academic year

EU Students

Full time

£18950 for the 2024/2025 academic year

International Students

Full time

£18950 for the 2024/2025 academic year

Financial support available

Postgraduate student loan

Postgraduate pre-registration physiotherapy students have access to a the Student Loans Company Funding. Students who have already taken out a student loan are still able to apply for the undergraduate funding package to study the MSc Physiotherapy pre-registration course.

NHS Learning Support Fund

Since September 2020 new and continuing students studying nursing, midwifery and allied health subjects can apply for a training grant of £5,000 a year. In addition, they can apply for reimbursement of excess costs incurred on practice placement.

Find out more about Learning Support Funds on the NHS website

*Tuition fees are charged annually. The fees quoted above are for the specified year(s) only. Fees may be higher in future years, for both new and continuing students. Please see the University's Fees and Finance Policy (and in particular the section headed "When tuition fees change"), for further information about when and by how much the University may increase its fees for future years.

View detailed information about tuition fees

Living costs / accommodation

The University of Hertfordshire offers a great choice of student accommodation, on campus or nearby in the local area, to suit every student budget.

View detailed information about our accommodation

How to apply

To find out more about how to make an application, please visit the How to Apply pages.