Groundbreaking new video streaming technology launched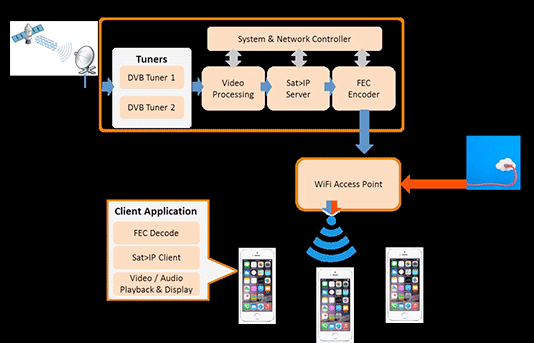 Development of high quality, large-scale event video streaming facility.
Global Invacom Group Limited, the BBC R&D and the Optical Networks Research Group of the University of Hertfordshire has successfully developed with funds from European Space Agency (ESA), a breakthrough technology that permits live, high quality and large-scale event video streaming over a Wi-Fi network.
Bx-WiFi enables simultaneous streaming of uninterrupted audio or video content from multiple sources - such as satellite feed, 'live' video or digital radio – to thousands of smartphone or tablet devices all located in the same hotspot which can be deployed in diverse venues, including coffee shops, stadiums, and even aboard aircraft. It uses Forward Error Correction to maintain video quality despite potential Wi-Fi packet loss, and multicast technology that minimises bandwidth usage when a large number of users are simultaneously streaming.
In simple terms, this means that users should be able to watch the broadcast without experiencing buffering or loss of signal. Unlike classic video streaming, this solution does not rely on the Internet and uses little WiFi bandwidth, allowing other users to access the Internet without saturating the terrestrial broadband telecommunication network.
The Bx-WiFi technology - which stands for Broadcast WiFi, was successfully live-tested at the Edinburgh Fringe Festival on 12, 13 and 18 of August 2017.
Contact
Dr Pandelis Kourtessis on p.kourtessis@herts.ac.uk.