Bachelor of Laws LLB (Hons) (Accelerated)
Due to the ongoing Coronavirus pandemic, examinations may be replaced by an alternative form of assessment during the academic year 2020/2021. Please refer to the Programme Specification on these pages for further details.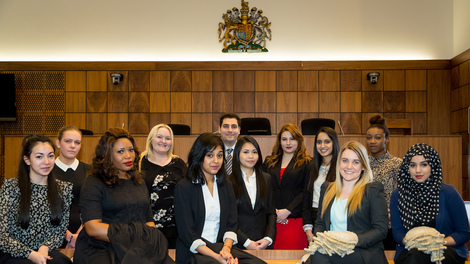 Fast track your career on this two year course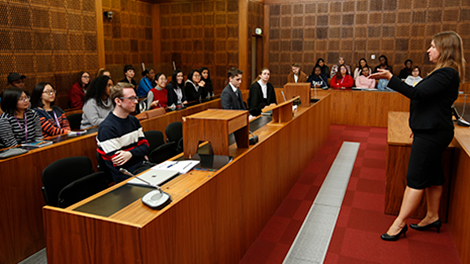 Practice your legal skills in our full-size replica Crown Court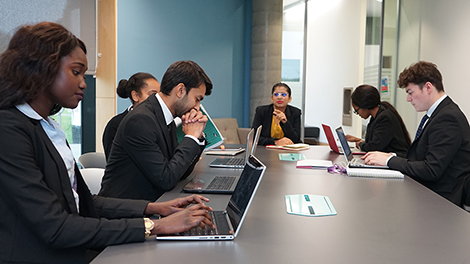 Work with experienced lawyers in our award-winning law clinic
Key information

| | |
| --- | --- |
| UCAS code | M101 |
| Institution code | H36 |
| School of study | Hertfordshire Law School |
| Course length | Accelerated Route (Full Time), 2 Years |
| Location | University of Hertfordshire, Hatfield |

Entry requirements

| UCAS points | A Level | BTEC | IB requirement |
| --- | --- | --- | --- |
| 120 | BBB | DDM | 120 points |

Additional requirements

GCSE: Grade 4/C in English and 4/D Mathematics

Access Course Tariff: Access and foundation not accepted.

All students from non-majority English speaking countries require proof of English language proficiency, equivalent to an overall IELTS score of 6.0 with a minimum of 5.5 in each band.

If you do not have the required IELTS or equivalent for direct entry on to your degree programme, our Pre-sessional English and International Foundation courses can help you to achieve this level.

For more details on the University of Hertfordshire's entry requirements, please visit our Undergraduate Entry Requirements page.

Find out more about International Entry Requirements.

The University of Hertfordshire is committed to welcoming students with a wide range of qualifications and levels of experience. The entry requirements listed on the course pages provide a guide to the minimum level of qualifications needed to study each course. However, we have a flexible approach to admissions and each application will be considered on an individual basis.

Professional accreditations

This programme satisfies the academic stage of training and is fully recognised by the Solicitors Regulation Authority and Bar Standards Board.

Sign up for alerts

This course is up for a periodic review

This course is due to be renewed at a Periodic Review event which will be held on June 2020.

We anticipate that there will be further enhancements made to the course as a result of the Review.

Our website and printed literature will be updated following completion of the Periodic Review in order to provide applicants with further confirmed details on the following:

module titles
whether the modules are core or optional
the expected contact hours
how the course will be assessed
staff teaching on the course
Why choose this course?
Why study the 2-year programme:
Fast track your career by entering the jobs market earlier than your peers
Ideal programme if you are looking to change careers and require an LLB degree
Demonstrate to employers your ability to manage and work under pressure by completing your law degree within 2 years.
In order to enhance your student experience, our law programme includes a diverse approach to assessment which incorporates a wide range of coursework and practical elements alongside traditional exams. Our techniques mean that 73% of our students secure a good honours degree!
Our law degree is also significantly enhanced by expert research-informed and practitioner-led teaching to ensure you are academically supported. You'll also be part of a community which offers significant pastoral and careers support along the way, thanks to our dedicated student support tutors, cohort tutors and programme leaders, student mentors and careers tutors.
If you want to develop your skills and increase your confidence, our unique range of co-curricular activities including Mooting, Trial Advocacy, Client interviewing, Street Law and Law Clinic can help you do this. You may also have the chance to participate in internal and external competitions.
We also offer a broad range of careers events throughout the year, including speed careers networking, and guest speakers from a wide range of employers. Our aim is to allow you to enhance your employability, whilst giving you the best University experience possible! It's no wonder that 93.8% of Hertfordshire Law School graduates are in employment or further study within six months of graduating*
* Data sourced from 2016/17 Destination of Leavers from Higher Education (DLHE) survey.
How to use the 2-year programme in Canada
To practise law in Canada students who complete the two-year accelerated programme to qualify in Canada are required to apply to the National Committee on Accreditation (NCA) and obtain a Certificate of Qualification. The NCA's role is in assesses the qualifications of individuals with legal qualifications obtained outside of Canada who wish to be admitted to a common law bar in Canada. Accreditation is decided on an individual basis, which will take into account the particular circumstances of the individual's education.
Once the application has been reviewed, the NCA will issue an assessment result to the applicant listing the subjects and/or legal education that is required to ensure that the applicant's legal education and training is appropriate. Generally, for those undertaking a two-year LLB and achieves a 2:2, with no individual marks under 46%, then they will have 7 exams to do: the 5 mandatory exams, plus another 2 assigned by the NCA. For full details please see the NCA website.
What's the course about?
Perhaps you would like to study Law, but you want to complete your studies in two years, instead of the traditional three? Then our LLB Accelerated degree is the course for you. If you opt to study on our accelerated route, you will fast track your studies by starting in September and then study over two years including throughout the summer. This means that you not only enter the jobs market quicker, but you have potential to save on living costs during your studies.
The programme offers a unique approach to teaching and learning, adopting a flipped classroom model which increases flexibility by providing a permanent online resource to support you and encourage your learning journey. By studying with us, you'll be able to develop skills such as legal drafting (contractual clauses, defence statements), and advocacy (interim and junction applications) alongside developing your knowledge in the foundations of law. This course will provide you with an excellent foundation to pursue a legal career. Find out more about the structure of our accelerated degree.
We offer a range of optional modules to ensure that our course is tailored to your needs and interests. For example, for our Canadian students, we have also developed optional module in Canadian Constitutional Law. This modules will enable you to gain a critical understanding of aspects of Canadian Law, potentially helping to prepare you for the Canadian National Committee on Accreditation exams.
Watch our Canada International Student Story to find out just what it's like to travel across the globe and study with us here at Hertfordshire.
What will I study?
We offer an innovative teaching programme with high levels of contact time during the week between staff and students.
Each module has a knowledge-based lecture to explain the law, weekly surgeries to allow you to see tutors on a one-one basis and a focused 2-hour workshop. These workshops offer a chance to test your own understanding and raise any tricky issues in a supportive study environment. Lectures are available online and can be downloaded to allow you to review key issues again at your leisure.
Level 4

Level 5

Level 6

Work placement

Due to the nature of the 2 year accelerated degree, you will be unable to undertake a Work Placement or Study Abroad programme whilst studying on this course.
Studying law at Hertfordshire was a great decision. The teaching and facilities are fantastic and enabled me to fast track my legal career.
The programme is flexible and the lecturers were very supportive, giving me a lot of guidance throughout my two years. I had a fantastic experience.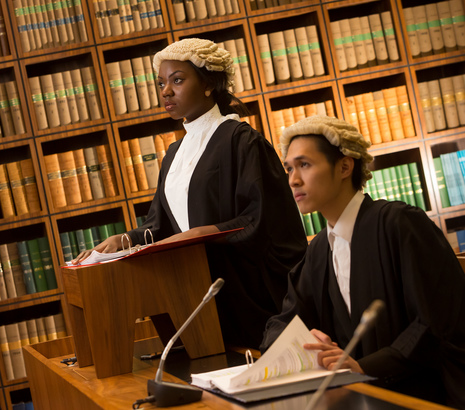 Student Blogs
Nicole-Therese - Week at a glance
My week at a glance
A typical week for me at the University of Hertfordshire starts on a Sunday. I am a Law student here at the university and my course consists of online lectures which I need to watch before going to each class. On Sundays, I listen to the relevant lectures that have been made available to me pertaining my upcoming classes. I listen to the lectures relevant to my class on Mondays and Wednesdays or all of them if I can, make notes and prepare any questions I would like to ask my lecturer during class.
I study five modules in total for my third year. I go into university approximately three times a week.
On Mondays, I start my day at 07:30 that way I can make some breakfast before I leave for my class which starts at 9:00. I live about eight minutes away from the University so it's not too much of a hassle getting there on time. It is a two-hour class so by 11:00 I am done. We also have the option to go to drop-in classes for each module; these classes are just extra help for students who maybe need further clarification on certain topics. They get one on one time with lecturers and I think it is a great inclusion into our academic timetable. If I feel the need to attend any drop-in classes after my class, I would do so otherwise I would go to the Learning Resource Centre (LRC) and do some research on any upcoming assignments I have or listen to my lectures.
I follow the same routine stated above, on Wednesdays and Thursdays when I have my other classes. I try to make sure I stay up to date with all my online lectures and do my work on time. On Tuesdays, I also partake in an extra co-curricular activity called mock trials. It is important to get involved in as many co-curricular activities as you can. On Fridays, I go to work for an agency which recruits me to do temporary catering jobs. On Saturdays, I try my best to rest for the whole day and maybe watch a movie or visit friends. I try to make sure I take a break from my normal routine on Saturdays.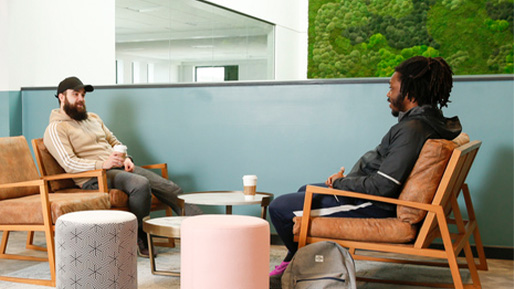 Student Blogs
Nicole-Therese - Things you should know
Things you need to know before studying Law at university
The first thing that you need to know before you attempt to study Law at university is that there needs to be a lot of hard work and commitment on your part.
Studying Law is not an easy task so you need to make sure you set your priorities straight. You cannot afford to lose focus so make sure you put in a lot of work and you will always be successful.
Ask questions/ Be willing to seek advice or help
If there is anything that you do not understand or you need clarification on, make sure that you make this known to your lecturers or tutors. Don't be afraid or embarrassed to seek help. There is a lot of support available to Law students so make sure that you utilise this. Make sure to use all resources available to you, for example, drop-in sessions which take place during the week.
Get involved / participate in extra-curricular activities
As a law student, it is imperative for you to participate in co-curricular activities. Not only are these activities super fun and enlightening they boost your cv and make you stand out to a future employer. In my opinion, they also give you a sense of reality; a glimpse of what it may be like when you're out in the real world actually practising Law.
Do a significant amount of research on the modules you may decide to choose in your second and third year of University.
In our second and third year, we have the option to choose certain modules we would prefer to study. Make sure that you know what those modules would entail and you are sure that it is something that you are interested in.
It is so important to be proficient at time management while at university. There is a lot of content to learn every week and most of the course consists of independent study. I understand that many people engage in part-time work while at university so it's important that you have a daily planner or some system that is organised to make sure you don't fall behind on your academic work.
Attend as many seminars/ Workshops as you can
There are often very informative workshop sessions on various topics and issues for example "how to find work opportunities" or "UK immigration & post-study work: what are your rights?" – this one was really helpful to me as I'm an international student. There are also loads of networking events where you could meet potential employers and mingle with people who could give you an insight of what life after university could be like.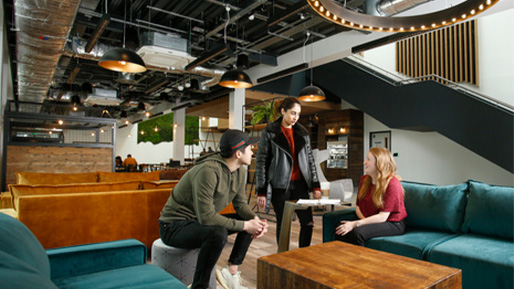 Student Blogs
Nicole-Therese - Guide to law facilities
Guide to the law facilities
The de Havilland Campus situated at the crossroads of A1001 and A1087 in Hatfield Business Park is where everything relating to Law takes place.
There's a separate building opposite the building where the Learning Resource Centre is situated called the Law Court Building. This Building is where a vast majority of my classes take place and where the mock Courtroom is located.
The Learning Resource Centre (LRC)
In the Learning Resource Centre (LRC), we have a whole sector just for Law textbooks and resources. Law requires a lot of reading, so this is essential while studying Law at university.
There are computers on each floor which you could use as well as laptops you can borrow, take home and use. There are quiet rooms as well to accommodate students who find it difficult to focus in a busy environment. There are also rooms where students can meet up to conduct group meetings for group assignments/ projects.
The online library is very important for Law students and arguably the most useful resource while studying Law. You can search for things like textbooks, journal articles and eBooks. The online library also shows you what textbooks are available in hard copy at the LRC. There are also tools for legal database research available like Westlaw, Lexis Nexis and practical Law. There are also training sessions on how to use these resources.
The University has a £10 million Law Court building containing a full-scale courtroom which was voted the eight most impressive law school building in the world.
There are also Law Report books in the courtroom. I have also been to the courtroom for an important webinar and a domestic abuse training conference which took place there.
The careers and employment service are on hand to help you on your way to future success in Law. There are people available to advise you on your cv layout, cover letters etc. They even provide training on how to ace a job interview.
What's next for my career?

Many of our graduates who have entered the legal professional are now in private practice or employed in such fields as industry, local government, or the Crown Prosecution Service. Of those who choose not to enter the legal profession, many have gone on to pursue higher degrees or enter other fields of employment such as personnel or management training programmes, the police, accountancy, teaching, local government and journalism.

We are particularly proud of our alumnus Grace Ononiwu OBE who is the Chief Crown Prosecutor for the West Midlands.

Many of our graduates who have entered the legal professional are now in private practice or employed in such fields as industry, local government, or the Crown Prosecution Service. Of those who choose not to enter the legal profession, many have gone on to pursue higher degrees or enter other fields of employment such as personnel or management training programmes, the police, accountancy, teaching, local government and journalism.

Further information - includes assessment method

How to apply?

Fees and funding

Fees 2020

UK/EU Students

Full time

£11100 for the 2020/2021 academic year

International Students

Full time

£17355 for the 2020/2021 academic year

From 2019/2020 Home/EU students will be charged £11,100 for each academic year and will be able to take out a tuition loan for this amount from the Student Loan Company. Email Student Funding & Financial Support for queries regarding your Student Loan Company funding.

*Tuition fees are charged annually. The fees quoted above are for the specified year(s) only. Fees may be higher in future years, for both new and continuing students. Please see the University's Fees and Finance Policy (and in particular the section headed "When tuition fees change"), for further information about when and by how much the University may increase its fees for future years.

View detailed information about tuition fees

Read more about additional fees in the course fact sheet

Other financial support

Find out more about other financial support available to UK and EU students

Living costs / accommodation

The University of Hertfordshire offers a great choice of student accommodation, on campus or nearby in the local area, to suit every student budget.
Please note that some of the images and videos on our course pages may have been taken before social distancing rules in the UK came into force.