BSc (Hons) Pre-Registration Midwifery
New government grants available from September 2020 for new and continuing degree-level students. You may be eligible for additional support of at least £5,000 a year which you won't need to pay back.
You may also be eligible for an additional £1,000 towards childcare costs to help balance your studies with family life.
Due to the ongoing Coronavirus pandemic, examinations may be replaced by an alternative form of assessment during the academic year 2020/2021. Please refer to the Programme Specification on these pages for further details.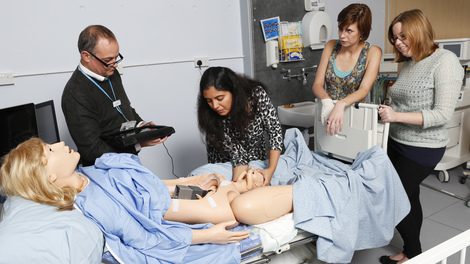 Gain hands on experience in our simulation hospital wards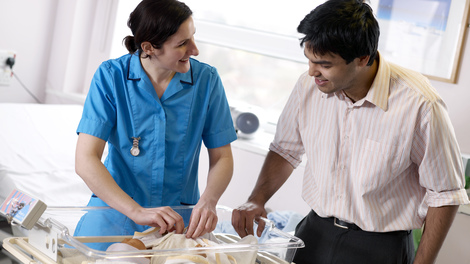 Learn on clinical placements throughout your course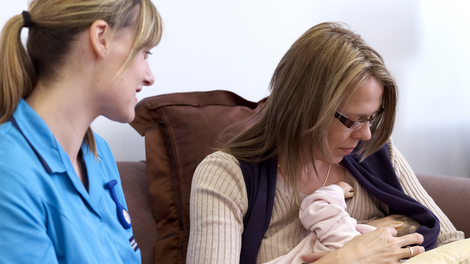 Provide essential care during pregnancy, labour and after the birth
Key information

| | |
| --- | --- |
| UCAS code | B720 |
| Institution code | H36 |
| School of study | School of Health and Social Work |
| Course length | Full Time, 3 Years |
| Location | University of Hertfordshire, Hatfield |

Entry requirements

| UCAS | A Level | BTEC |
| --- | --- | --- |
| 112 | BBC - including grade B in a Biological or Behavioural/Social Science | DMM - in Applied Science or Health related subject |

Additional requirements

GCSE: Grade 4/C in English, Mathematics and Science.

All offers will be subject to the applicants demonstration of the NHS constitution's "Values and Behaviours", satisfactory interview, occupational health screening and the Disclosure and Barring Services (DBS) checks. You can view the full NHS Constitution for England on the Government website.

For more details on the University of Hertfordshire's entry requirements, please visit our Undergraduate Entry Requirements page.

Find out more about International Entry Requirements.

The University of Hertfordshire is committed to welcoming students with a wide range of qualifications and levels of experience. The entry requirements listed on the course pages provide a guide to the minimum level of qualifications needed to study each course. However, we have a flexible approach to admissions and each application will be considered on an individual basis.

Professional accreditations

When you successfully complete the BSc(Hons) Midwifery course, you can apply for registration with the Nursing and Midwifery Council, the regulatory body governing Midwifery practice in the UK. It is necessary to register in order to practice as a midwife in the UK.

Sign up for alerts
Why choose this course?
We have an excellent reputation and will help you to develop the qualities needed that define a University of Hertfordshire graduate midwife.
With the BSc (Hons) Midwifery course you gain sound midwifery knowledge of normality, enabling you to become competent in recognising and managing deviations from this normality.
Inclusion of the newborn and infant physical examination (NIPE) competency provides you with advanced knowledge to support the care provided.
Our commitment to achieving UNICEF UK Baby Friendly Accreditation enables learning that supports best practice in relation to infant feeding.
In addition to university study skills support, lecturers also provide close guidance to students both in the university and in practice.
The course lays the foundation for your continuing personal and professional development throughout your career, with opportunities when you graduate for post-qualification study at Masters and Doctoral level.
100% of our Midwifery graduates went on to employment or further study within 6 months according to the latest national Destination of Leavers from Higher Education (DLHE) survey.
Any queries about the programme or entry requirements, please contact the Midwifery Admissions team via email: midwiferyenquiries@herts.ac.uk
What's the course about?
Midwives provide essential care during pregnancy, labour and the postnatal period to both mothers and their babies. This course will provide you with the knowledge and skills needed to become a Registered Midwife. You will be eligible to apply for registration with the Nursing and Midwifery Council (NMC) upon successful completion of the course.
Over the three year programme you will develop a sound knowledge of normal pregnancy and childbearing and be able to recognise and manage any problems that may arise. With innovative, evidence based teaching, you will spend half of your time exploring and developing your theoretical knowledge and half of your time will be spent in various clinical settings, working alongside and supported by experienced midwives. The inclusion of the newborn and infant physical examination (NIPE) competency, provides you with advanced knowledge to undertake clinical examinations of the newborn. During the programme you will also have an exciting opportunity to undergo an elective placement abroad or in the UK.

What will I study?
You will experience a wide variety of approaches to teaching and learning on this course delivered by experienced experts in the field. We will support you to develop the qualities needed to become a skilled, competent and confident midwife who can care and advocate for mother and baby. Your studies will include standard lectures, seminars, tutorials and simulated learning in our clinical skills laboratory. We also facilitate learning through case studies project work and a range of student centred activities.
In your final year you will normally have the opportunity to practice independent study skills by completing an extended literature review on a subject of your choice.
Level 4

Level 5

Level 6

Work placement

Practice Placement Experience - Placement sites are allocated according to preference and availability and include: West Herts Hospitals NHS Trust, based at Watford General Hospital, East and North Herts NHS Trust, based at Lister Hospital in Stevenage, and Royal Free London NHS Foundation Trust, based at Barnet Hospital, Luton and Dunstable University Hospital Foundation Trust in Luton and Princess Alexandra Hospital NHS Trust in Harlow.
All placements will give you the opportunity to link the theoretical knowledge you gain via lectures and seminars with practical experiences in the clinical field.
You also have the exciting opportunity to undertake an elective placement at the end of your second year. This will enable you to spend three weeks in a different midwifery setting either in the UK or abroad.
'This course has a good mixture of practice and placement blocks, to help implement our learning and help build confidence to be a competent practitioner with a NIPE qualification.'
Check out our student blogs
Student Blogs
Alina - Week at a glance
My week at a glance
Hello everyone! My name is Alina and I am in my first year of the Midwifery course. In this blog, I will tell you the few common things that I do every week when I'm at uni.
I always start my week by planning what I will be doing that specific week. I have a planner that I keep which helps me remember the things that I need to do. I would write deadlines, duties that I must fulfill and other personal responsibilities.
Before lectures, I try to remind myself of the topic that will be discussed at that lecture so that I will be bringing the right things to the lecture.
Soon after each lecture, I tend to visit the LRC and go over the lecture again in my own time to make sure I understand everything discussed in that lecture. I like to draw diagrams, print pictures and use many colours when taking notes. I have noticed that this is a very effective way of learning for me.
During placement weeks, I ensure I have the right things with me in the hospital, such as a note pad, a stethoscope and a pen. Taking notes whilst on placement has aided my visual learning, as whenever I am shown something new I find that writing it down helps to build and reinforce my understanding.
Aside from the compulsory lectures and placement, I try to do other activities within the university. I occasionally play volleyball and recently joined the Student Ambassador community. The midwifery course isn't entirely easy, and therefore it is very important to find some time for yourself to go out with friends and do what you love to do.
While university life may sound scary to many of you, if you have the right people next to you, encouraging you to keep going, you can have an amazing time studying a subject that you love. Therefore, I encourage all of you to make friends, join communities outside your course and be open to other opportunities. The university also has so much support available to all their students, so if you ever need some advice and support the student support centre and your school of study will be happy to lead you in the right direction.
I wish you all the best of luck!
Student Blogs
Alina - Things you should know
Things you need to know before studying Midwifery at Herts
You probably think that reading is essential to gain the knowledge of midwifery, and yes, this is partly true, however, the university provides many practical resources and opportunities for you to gain the skills and knowledge of midwifery as well as theory. To be completely honest, I didn't know much information about midwifery before starting my course and now that my first year is almost over, I can tell you a few tips to enhance your knowledge of midwifery before starting the course.
Getting to know what midwifery is about
Before starting your course, you might find it useful to read about what the course is about, however you would have to find out what midwifery is about. There are some books which can help you get started. Reading about midwifery will make your life at university easier as they will not only inform you of what midwifery is about beforehand but also help you with your assignments and knowledge throughout your 3-year course. It is always helpful to ask the university what the course consists of and what to expect from it.
Midwifery is a complex course, however, the outcome of it is worth it. This course will require commitment, there will be moments when you will have to give up a night out to finish an assignment or cancel plans due to change in your timetable. As this course provides 50% theory and 50% placement, good time management is essential. You will have to make sure you're not absent and not late as it can affect your learning.
When studying midwifery there are different ways you will be assessed. Aside from being assessed on your knowledge of the theory you've been taught; you will also be assessed on your performance and skills in placement. There is no need for you to be worried about that now because everything will be easier to understand as you start your course. There is plenty of support available for you regarding any aspect of your course and anyone at the university will be happy to help you.
Studying midwifery will require a lot of independent work. You will be required to plan your time wisely to meet deadlines and avoid stressful situations. To help you organise your time better I advise you to buy a diary where you can write your plans for the days and weeks to come. Making friends from your cohort can be very helpful as well. Yes, university life can get stressful at times, but you must ask for help when you need it.
Student Blogs
Alina - Why I chose Herts
Why I chose Herts
Hi! My name is Alina and I am going into my second year of studying midwifery at the University of Hertfordshire. Before applying to universities last year, I used to live in North West London with my family, therefore I applied to the universities closer to home. After being accepted at the University of Hertfordshire my family decided to purchase a house in Northampton which meant that I had to commute from Northampton, live in halls or rent private accommodation in Hatfield. I went with the third option. This year I have had the opportunity to see what's it like to live with other students and how it is to take my life into my own hands.
Before studying at Herts, I studied a 2-year BTEC Health and Social Care course in London. During this time, I have had the opportunity to study different areas of health and social work. The decision to study midwifery was spontaneous and it the best decision I have made so far. The University of Hertfordshire is a great place for those who want to study midwifery. I remember the interview at Herts took place in a small building where practical lectures usually took place. This is when I saw how many different learning resources the university can provide to its students.
The facilities of the university are amazing. Not only does it have 24/7 LRC access and support available but also the quality of the food served as well as other advanced facilities have been an influence towards my decision to choose Herts as the university, I would like study at.
Moving away from home isn't easy, I have struggled at the beginning but the support I received was very helpful. For those who want to move into halls or other accommodation, I advise you not to panic. The idea of moving from home may sound scary but if you try to enjoy it, you will realize that it is not as scary as you thought it would be.
Thank you for reading this, good luck!