MEng (Hons) Aerospace Engineering with Pilot Studies
Due to the ongoing Coronavirus pandemic, examinations may be replaced by an alternative form of assessment during the academic year 2020/2021. Please refer to the Programme Specification on these pages for further details.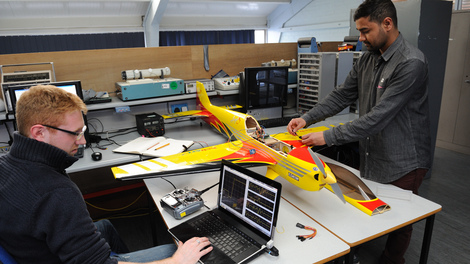 Study at one of the largest engineering schools in the UK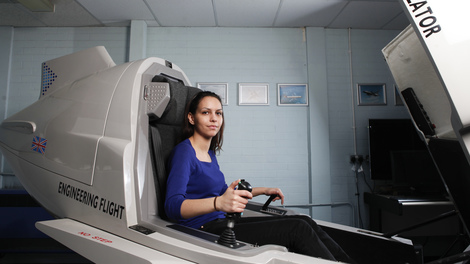 Access fantastic facilities, from flight simulators to wind tunnels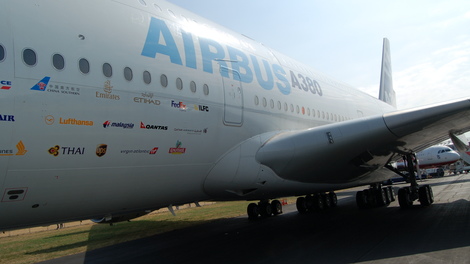 Work for airlines or aerospace industries around the world
This course includes the options of:
*No fees are charged for this year
Key information

UCAS code

H497

Institution code

H36

School of study

School of Engineering and Computer Science

Course length

Full Time, 4 Years
Part Time, 8 Years
Sandwich, 5 Years

Location

University of Hertfordshire, Hatfield

Entry requirements

| UCAS Points | A Level | BTEC |
| --- | --- | --- |
| 120 | BBB - Requires Maths and Physics or Technology or Engineering based subjects, excluding General Studies/Critical Thinking | Not accepted |

Additional requirements

GCSE: Grade 4/C in English Language, Science and Mathematics.

All students from non-majority English speaking countries require proof of English language proficiency, equivalent to an overall IELTS score of 6.0 with a minimum of 5.5 in each band.

If you do not have the required IELTS or equivalent for direct entry on to your degree programme, our Pre-sessional English and International Foundation courses can help you to achieve this level.

For more details on the University of Hertfordshire's entry requirements, please visit our Undergraduate Entry Requirements page.

Find out more about International Entry Requirements.

The University of Hertfordshire is committed to welcoming students with a wide range of qualifications and levels of experience. The entry requirements listed on the course pages provide a guide to the minimum level of qualifications needed to study each course. However, we have a flexible approach to admissions and each application will be considered on an individual basis.

Professional accreditations

The MEng (Hons) Aerospace Engineering with Pilot Studies course is accredited by RAes and IMechE and satisfies, in full, the academic requirements for Chartered Engineer (CEng) registration for the cohort intakes from 2016 up to, and including, 2020.

Sign up for alerts

Get access to personalised content, tailored towards your interests:

Information on your favourite courses
Tips to help you through the application process
Blogs, vlogs and advice from current students
Why choose this course?
This MEng degree course in Aerospace Engineering with Pilot Studies places particular emphasis on the flying qualities from a pilot's point of view;
You will get the opportunity to gain a UK National Private Pilot's Licence whilst doing your degree;
The flying is offered locally at an attractively discounted rate.
Our MEng Aerospace Engineering with Pilot Studies students have previously completed work placement years at companies including: Goodrich Control Systems, Honeywell (UK) Ltd, and MBDA
Recent Aerospace Engineering graduates have gone on to work at organisations including The Royal Air Force, Marshall Aerospace and Defence Group, and McLarens Aviation
What's the course about?
This unique course gives you the flexibility to pursue an engineering career designing aircraft from a pilot's perspective, or to take the first step to become a commercial pilot. The compulsory flying element is mainly in the Final Year and is provided by a nationally recognised flight centre either in the UK or the US at an additional cost. There are also opportunities to fly in the First and Second Years as an extracurricular activity, including the chance to use various flight simulators. The MEng's extra year will deepen your knowledge of aerospace systems and develop your business and management skills.
Your main campus is College Lane 
This is where the creative arts, science and health related subject are based. This means you'll share the campus with future nurses, scientists, artists and more. You can use the common rooms to relax with friends, work out in the 24-hour gym or have a drink in on-campus pub or cafes. We also have restaurants for you to eat in or grab something on the go. Want to pop over to the other campus? You can take the free shuttle bus or walk there in just 15 minutes.  
What will I study?
The School has a reputation for innovation in teaching and learning with most modules delivered through a combination of traditional face to face teaching and distance learning through the university's StudyNet web based facility.
StudyNet allows students to access electronic learning resources and electronic discussion with staff and other students and allows for you to submit coursework. StudyNet is available anywhere in the world 24/7.
With a heavy emphasis on Computer Aided Engineering, the school has a policy of using industrial standard software wherever possible and operates an open-access laboratory policy of when possible students doing experiments in their own time.
What you will learn
In your first year, you will study the fundamental skills and knowledge required by a modern engineer including principles of flight and aircraft operations. In particular you will be introduced to computer packages commonly used in aerospace industry.
In your second year, the first year core themes are developed for application in aerospace engineering. You will learn about the components and the electronics inside the airframe that enable the aircraft to be so widespread and the safest form of transport available. You will learn how aircraft are designed for their handling qualities, and expand your knowledge of aerodynamics, with wind tunnel experiments. You will also build your pilot skills by studying PPL Ground School and have the opportunity to fly at a local flying school.
You may take a placement year if you wish, where you will gain excellent work experience, and this will be followed by your fourth year where for many, the Aerospace Design group project is the climax of your course where they can use your engineering skills and ingenuity to design a complete aircraft in a competitive environment. For others the self-confidence developed during the Individual Major Project that challenges them to research an aerospace relevant topic entirely by themselves using either the University or industrial facilities is the most rewarding part of your degree and can lead to future employment. Flying training is further enhanced by the Pilot Studies module with further flying lessons.
You will then enter your final year where you will study at a Masters level, deepening your knowledge and understanding of aerospace topics as well as developing your business and management skills. The Team Project is multidisciplinary and involves applying your skills to solve an unusual and challenging problem, for example the design of an autonomous unmanned aerial vehicle.
Level 4

Study abroad

This course offers you the opportunity to study abroad in the Sandwich Year through the University's study abroad programme. Study abroad opportunities are available worldwide and in Europe under the Erasmus+ Programme.

Work placement

You have the opportunity to spend a year working either in a professional research environment or within industry. The practical experience you gain will be of tremendous benefit both when you resume your studies and when you embark on a career. Companies that have employed students in the past on a placement basis include:

Honeywell (UK) Ltd
Goodrich Engine Control Systems
Marshall Aerospace
MBDA
Eads Astrium
Rockwell
and numerous smaller companies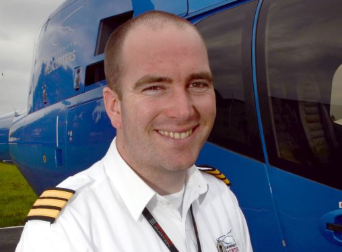 Alumni Stories
Jim Hammett
Meet Jim Hammett who landed his dream career in the aerospace industry. He currently works as a Chief Flying Instructor (Helicopters) at Bliss Aviation.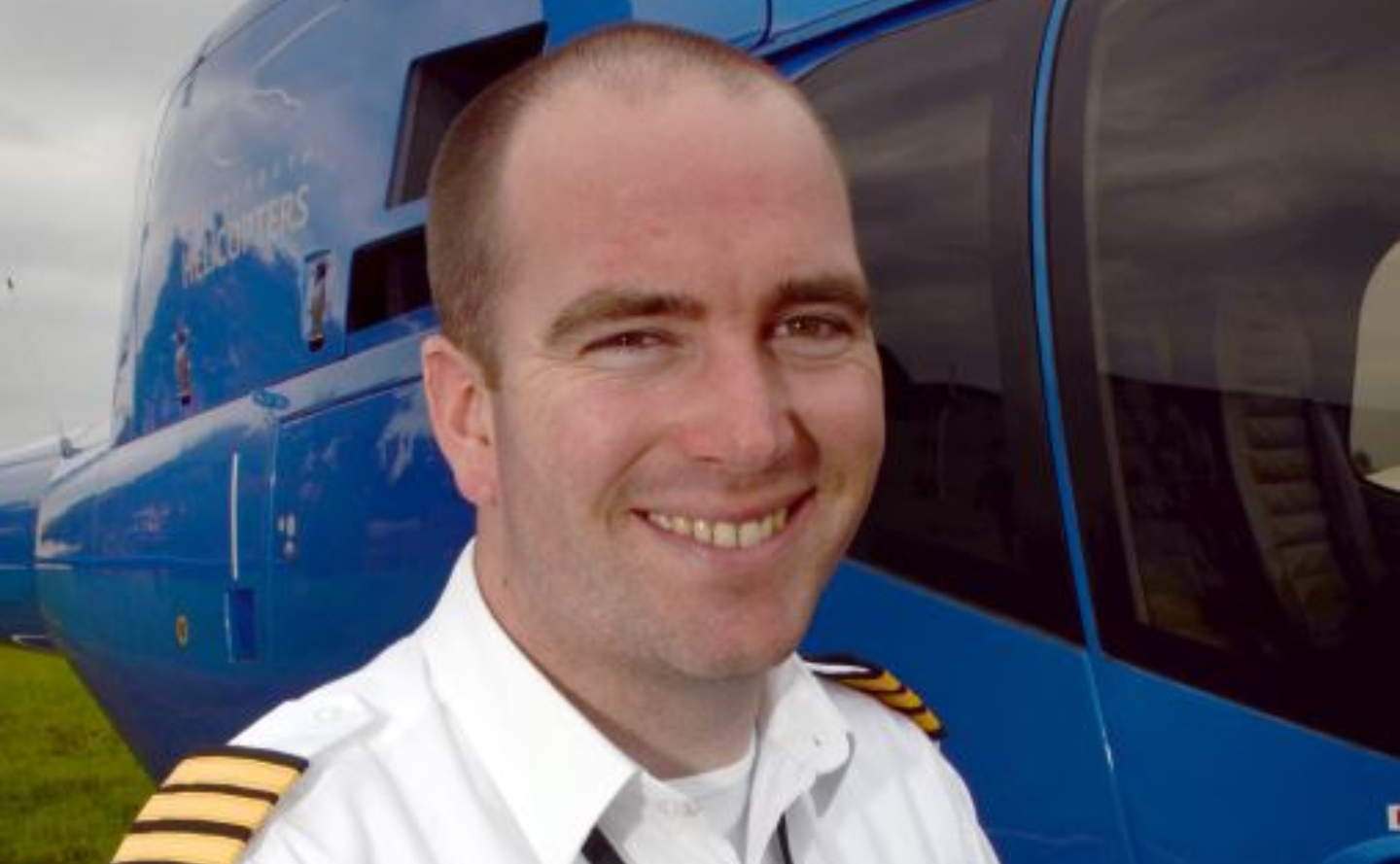 Lifelong aspiration
Becoming a pilot was an aspiration for Jim as long as he could remember. At the age of 18, his passion led him to his first flight at the controls of a Cessna 152, a 2-seated aircraft primarily used for training and personal purposes.
While studying at the University he had the opportunity to have a subsidised trial lesson in a PA28 warrior followed by a short flight in an R22 at Elstree. He says, 'This first flight in a helicopter was like a lightning strike for me and changed what I wanted to do for the rest of my life. I got my Private Pilots Licence PPL(H) in 2006 while working as a Project Engineer for an aerospace company.'
After saving for 3 years, Jim went to the USA to achieve a Commercial Pilot License (CLP (H)) and also managed to gain an American instructor rating. He explains, 'When I returned to the UK, I was sponsored to convert my US instructor rating to a European instructor rating. I then travelled the country looking for work as an instructor and was finally taken on by Airways Aviation in April 2012.'
Jim's determination over the years has paid off, from his initial training to his current position as Chief Flying Instructor. However, he explains that his degree still contributes to his current job role on a daily basis. He says, 'It [has given] me a deeper understanding of the principles of flight and general aircraft knowledge. It also made gaining my license easier as I felt I already knew some parts of the course.'
Helping future generations
As a Chief Flying Instructor, some of Jim's daily responsibilities include helping students to obtain their PPL(H), ensuring all training given is up to standard and writing and amending operations and training manuals. 'My day-to-day activities vary depending on bookings and the weather. Every day is different and you have to come to work ready for anything. My responsibilities don't change but the amount of work I do does.'
For those who are looking to get into a similar career, Jim stresses the importance of having a strong love for aviation as the sacrifices are not often reflected in the pay scale. He says, 'Should you achieve your goals, the view from the office is much better! Having a good backup career is also a fine plan if you lose your medical.'
Plans for the future
In the future Jim would like to branch out into other areas of commercial helicopter flying, possibly in other countries: 'I would like to take on pleasure flights, sling work and VIP Charter. It's also been an ambition of mine to start a flying school of my own one day.'
This first flight in a helicopter was like a lightning strike for me and changed what I wanted to do for the rest of my life.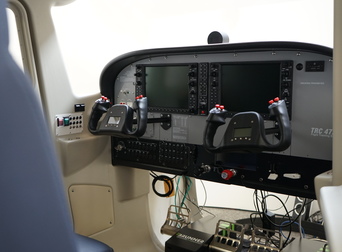 Alumni Stories
Kennedy Ameh
Meet Kennedy Ameh who has explored his passion for the aviation industry since graduating. He currently works as the Head of Operations Strategy at Collins Aerospace.
Since graduating, Kennedy has gone on to work for Collins Aerospace, a subsidiary of United Technologies Corp. He currently holds the role Head of Operations Strategy within the organisations Mechanical Systems Business Unit. 'I joined through the graduate development programme, and I have held roles of increasing responsibility throughout my career here. In my role, I am responsible for creating, developing and executing manufacturing strategy across six global sites in Asia and Europe.' Kennedy credits being 'results driven' and always rising to the challenge as the driving factors that have gotten him to where he is today.
University experience and opportunities
Kennedy recognises the impact the University made on his career, having been exposed to many fantastic opportunities during his time as a student. He says, 'During my time at the University, I was exposed to a faculty of experts that drew from industry experience and transferred this knowledge to the classroom. I also acquired a plethora of information through the Learning Resources Centre during my placement year in the industry. During my studies, I was challenged to think differently, identifying solutions before problems. I was taught to use my initiative and leverage on teamwork.'
Diverse community
A key factor that made Kennedy choose the University was the diverse community. He says, 'As an international student, the vibrant international community at the University was important to me. However, the real attraction was the rich aviation heritage of the University of Hertfordshire.' Kennedy took advantage of the University's industry connections to propel himself forward in the sector.
Aspirations for the future
Looking forward, Kennedy intends to stay at Collins Aerospace yet still remains ambitious. He says, 'I want to run an aviation business in the future and I am very conscious of the opportunities emerging in markets like Africa. I hope to be an employer on the continent to enhance, enable and empower young minds like mine to operate globally.'
The University of Hertfordshire truly shaped me personally as well as my career. I can guarantee that no other University would have provided me with the same opportunities they did and I can confidently say that if I had not studied here, I wouldn't be as happy in my career as I am today.
View our Alumni profiles

Further information - includes assessment method

How to apply?

Fees and funding

Fees 2021

UK Students

Full time

£9250 for the 2021/2022 academic year

Part time

£1155 per 15 credits for the 2021/2022 academic year

EU Students

Full time

£13450 for the 2021/2022 academic year

Part time

£1680 per 15 credits for the 2021/2022 academic year

International Students

Full time

£13450 for the 2021/2022 academic year

Part time

£1680 per 15 credits for the 2021/2022 academic year

*Tuition fees are charged annually. The fees quoted above are for the specified year(s) only. Fees may be higher in future years, for both new and continuing students. Please see the University's Fees and Finance Policy (and in particular the section headed "When tuition fees change"), for further information about when and by how much the University may increase its fees for future years.

View detailed information about tuition fees

Read more about additional fees in the course fact sheet

Other financial support

Find out more about other financial support available to UK and EU students

Living costs / accommodation

The University of Hertfordshire offers a great choice of student accommodation, on campus or nearby in the local area, to suit every student budget.
Please note that some of the images and videos on our course pages may have been taken before social distancing rules in the UK came into force.