BEng (Hons) Mechanical Engineering
Entry requirements

| UCAS points | A Level | BTEC | Access Course Tariff | IB requirement |
| --- | --- | --- | --- | --- |
| 120-128 | BBB-ABB - Maths and either physics or technology or engineering based subjects, excluding general studies/critical thinking | DDM - Extended diploma in engineering (DMM) to include Distinction in further maths | Engineering diploma with 30 Level 3 credits at distinction to include maths or science or principles units. the remaining 15 L3 credits must be at merit | 120-128 points from a minimum of two HL subjects at grade 4 or above to include HL Maths and Physics |

Additional requirements

GCSE: Grade 4/C in English Language and 4/C in Mathematics.

All students from non-majority English speaking countries require proof of English language proficiency, equivalent to an overall IELTS score of 6.0 with a minimum of 5.5 in each band.

If you do not have the required IELTS or equivalent for direct entry on to your degree programme, our Pre-sessional English and International Foundation courses can help you to achieve this level.

For more details on the University of Hertfordshire's entry requirements, please visit our Undergraduate Entry Requirements page.

Find out more about International Entry Requirements.

| UCAS points | A Level | BTEC | Access Course Tariff | IB requirement |
| --- | --- | --- | --- | --- |
| 120-128 | BBB-ABB - maths and either physics or technology or engineering based subjects, excluding general studies/critical thinking | DDM - Extended diploma in engineering (DMM) to include Distinction in further maths | Engineering diploma with 30 Level 3 credits at distinction to include maths or science or principles units. the remaining 15 L3 credits must be at merit | 120-128 points from a minimum of twp HL subjects at grade 4 or above to include HL Maths and Physics |

Additional requirements

GCSE: Grade 4/C in English Language and 4/C in Mathematics.

All students from non-majority English speaking countries require proof of English language proficiency, equivalent to an overall IELTS score of 6.0 with a minimum of 5.5 in each band.

If you do not have the required IELTS or equivalent for direct entry on to your degree programme, our Pre-sessional English and International Foundation courses can help you to achieve this level.

For more details on the University of Hertfordshire's entry requirements, please visit our Undergraduate Entry Requirements page.

Find out more about International Entry Requirements.

Professional accreditations

The BEng (Hons) Mechanical Engineering course is accredited by RAeS and IMechE as detailed in the programme specification and satisfies, in part, the academic requirements for Chartered Engineer (CEng) registration for the cohort intakes from 2016 up to, and including, 2019. The programme has been recently reviewed and updated by the University as part of its regular periodic review process, and we will be seeking IMechE accreditation for the 2020 intake.

Sign up for Clearing support package

Exclusive content to help you through Clearing

Tips and info sent straight to your inbox
Clearing advice livestream
Subject campus tour
1-on-1 call with advisor
Downloadable university starter kit
Opportunity to have your first year society membership fee paid upon enrolment
Why choose this course?
Study with one of the largest engineering schools in the UK
Build real engineering prototypes in exciting projects
2nd in the East of England for Mechanical Engineering (2023 Complete University Guide)
The BEng Honours degree in Mechanical Engineering at the University of Hertfordshire has been highly successful and over the years produced thousands of successful graduates working in all fields of engineering;
You will learn mechanical engineering subjects in core modules that balance laboratory activities with the relevant, supportive theoretical knowledge;
You will operate state-of-the-art laboratory equipment during every year of your academic career as part of your learning experience in the core modules;
You will learn how to apply computer-aided engineering and industrial-standard software;
You may take part in the IMechE challenge in your first year of study, and be able to compete with engineering students from other British universities on exciting mechanical engineering-related projects;
You may decide to spend the third year of your mechanical engineering degree on a year-long work placement;
Students from the School of Engineering and Computer Science at the University of Hertfordshire have previously completed work placement years at companies including Amazon, Bosch, Network Rail, Transport for London, Tesla Motors (UK), Aston Martin, BMW (UK), Mercedes-Benz (UK), Virgin Atlantic, MBDA;
You may join the automotive students and help design, build and race single-seater race car in the UK Formula Student Competition;
You may join aerospace students on projects involving Unmanned Air Vehicles (UAVs);
Recent Mechanical Engineering graduates have gone on to work at organisations including London Energy Ltd, Progressive Technology, Halfords, Fords, Barclays.
We are members of the CDIO Initiative (Conceive Design Implement Operate), a worldwide network of academic professionals, industry representatives and engineering leaders who have a passion for engineering education and engineering leadership. The CDIO framework has been embedded into our undergraduate degree programme, ensuring you'll put into practice what you learn through "Design and Build" projects during your studies.
What's the course about?
Learn the fundamental skills and knowledge of a modern engineer. This course offers a comprehensive introduction to engineering, giving you the flexibility to work in a broad range of industries. Among the general topics, you'll study engineering mathematics, materials and electrical science, mechanical science, manufacturing technology, computer-aided engineering and thermodynamics. You'll also have the unique opportunity to collaborate with other engineering students on some incredible projects, such as designing a hovercraft, a Formula Student racing car and an unmanned aircraft. This course is the first step towards chartered engineer status.
Your main campus is College Lane 
This is where the creative arts, science and health-related subjects are based. This means you'll share the campus with future nurses, scientists, artists and more. You can use the common rooms to relax with friends, work out in the 24-hour gym or have a drink in our on-campus pub or cafes. We also have restaurants for you to eat in or grab something on the go. Our Learning Resources Centres are open 24/7, which means you can study whenever suits you best. Want to pop over to the other campus? You can take the free shuttle bus or walk there in just 15 minutes.   
New School of Physics, Engineering and Computer Science building opening in 2024
Learn in our brand-new building, where you'll experience a range of experiential learning zones. You will have access to modelling, simulation and research labs, our Merlin Flight Simulator and automotive workshop (complete with electric vehicle facility), wind tunnel, welding bay and controls testing suite.
You will also benefit from a Success and Skills Support Unit, which is aimed at helping you build your employability and academic skills. Plus, have access to industry mentors who will provide you with pastoral support, vocational guidance, and career progression opportunities.
The new building will also provide space to collaborate, with plenty of workshops, social and meeting spaces available. Even better, the building has been designed with the University's net zero carbon target in mind, and forms part of our plan to replace or upgrade older sites that are energy inefficient.
What will I study?
The school has a reputation for innovation in teaching and learning with most modules delivered through a combination of traditional face to face teaching and distance learning through the university's Canvas web-based facility. Canvas allows students to access electronic learning resources, electronic discussion with staff and other students, and, for some modules, submit coursework 24/7 from anywhere in the world! With a heavy emphasis on Computer-Aided Engineering, the school has a policy of using industrial standard software wherever possible. The school also operate an open-access laboratory policy of when possible students doing experiments in their own time.
What you will learn
You will study the fundamental skills and knowledge required by a modern engineer including principles of flight and an introduction to aircraft systems. In particular, you will be introduced to computer packages commonly used in the aerospace industry. You will learn about the design process and will have the opportunity to work on the Class 200 Formula Student car.
First Year
You will study engineering mathematics, engineering applications of mathematics, materials and electrical science, mechanical science, introduction to manufacturing technology, introduction to design, and fluid mechanics and thermodynamics.
Second Year
You will study thermofluid mechanics, further engineering mathematics, computer-aided engineering (CAE), structural mechanics, dynamics, data acquisition and control systems, integrated engineering system design and project management and product development.
Third Year
You have the option of taking an integrated one-year professional placement.
Final Year (3rd or 4th)
You will study mechanical engineering design, micro-engineering and micro-technology or manufacturing strategy, mechanics and properties of materials, control systems, thermofluid mechanics and heat transfer, vibration, noise and vehicle dynamics, and an individual major project.
Check out our student blogs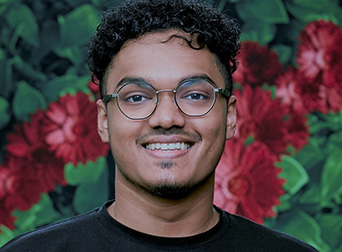 Alumni Stories
Abir Ahmed
Meet ambitious Abir Ahmed who made the most of the support at Herts and is now on a Graduate Programme at Vodafone
Read more stories
Find out more about this course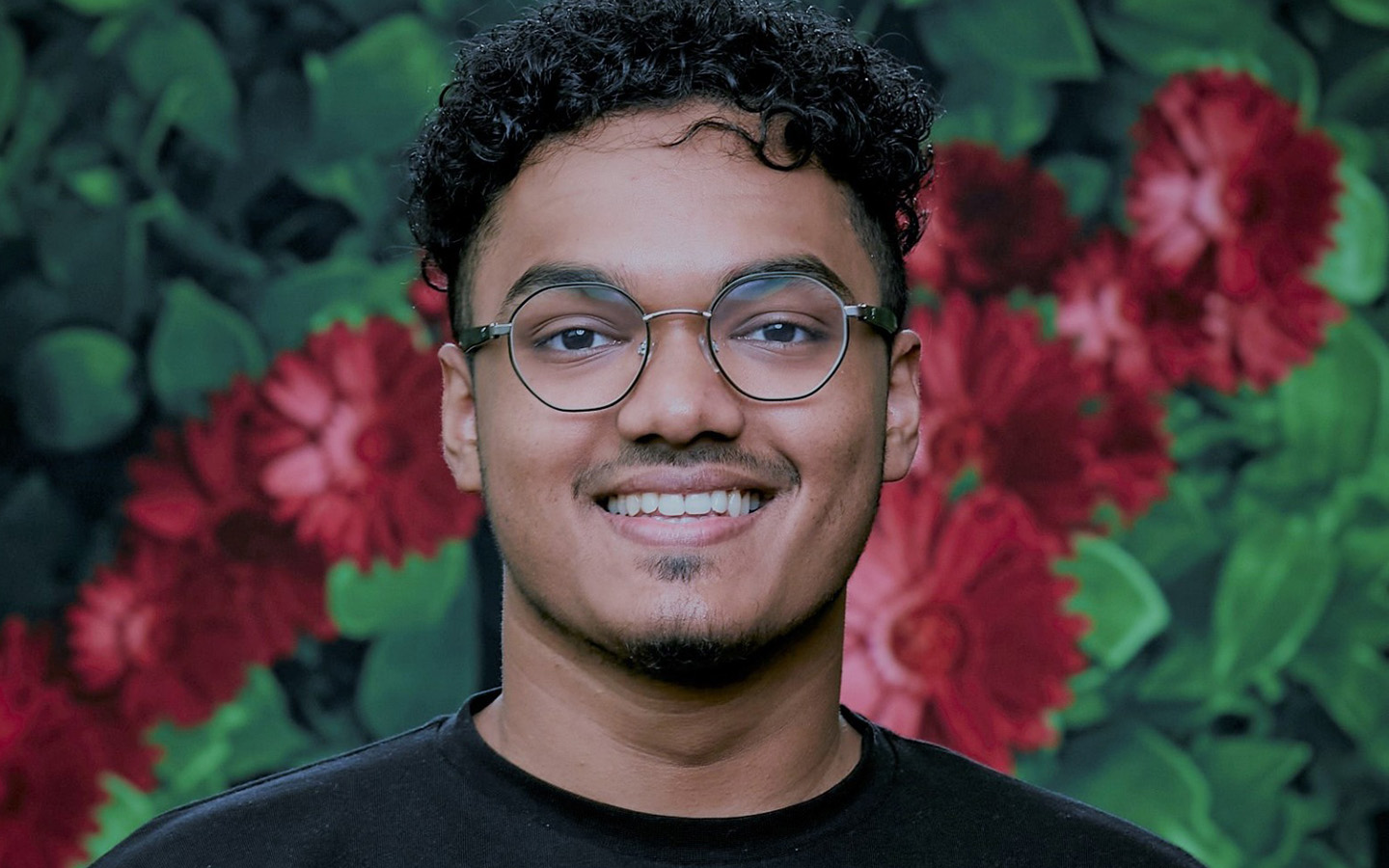 Abir is part of the Technology Discover Graduate Programme at Vodafone which helps explore different roles within Tech over a two year period. He says, 'My current role is in data analytics with a team which works closely with crowd sourcing data. Day to day I mainly use Python, Google Cloud Platform as well as visualisation packages.'
Why I chose to study at Herts
'I grew up in an estate close to central London and it was challenging to stay motivated, and hard to meet successful individuals who were willing to mentor or support you through your career. I also come from a BAME background so at times I lacked confidence and felt demotivated, especially when reading some of the performance statistics of those who come from similar backgrounds.
I could see Herts was successful in helping students from all backgrounds attain success post studies. From high employment rates to helping students with starting their own business. It was a place full of opportunities where I could get support in any dreams or aspirations I had.'
'Amazing' course
When talking about his course Abir is full of praise, 'The Mechanical Engineering BEng was amazing and pushed me to explore different paths. I had the opportunity to use different techniques to analyse cases when solving engineering problems. The lectures were always happy to make time for us all and give us key tips and tricks. A shout out to my fluid mechanics and thermodynamics lecturer who was able to give me advice based on her experiences in industry prior to becoming a lecturer!'However, Abir is particularly proud of getting through his degree during the pandemic. 'The pandemic was only just starting in my third and final year, I got very anxious. The University was very supportive and at times when I thought I wouldn't be able to push through, I was able to benefit from extensions and support online from our lecturers and tutors. It was a proud moment for me getting my job offer as well as completing my dissertation!'
Career support
Abir realised during his studies that it was important to take advantage of all the resources made available to him at Herts. He particularly made sure he used the Careers Team.
'I spoke to the careers advisers who were an amazing help in supporting me during my job application process. I was given key guidance on how to perform during assessment centres which came in handy, and I was also able to get CV help too.
I made use of the careers website which was regularly updated with job opportunities.The organised careers fairs were great in being able to branch out and make contacts with working professionals.'
Herts memories
Abir looks back at his time at Herts with great fondness and says, 'I really enjoyed making use of the communal prayer space on the College Lane Campus. It was a place I could reflect and pray as well as meet fantastic friends. Charity events were always fun to attend, bake sales, football tournaments and more. I really liked the maths support in the LRC which helped me with those difficult equations and exam and coursework prep too.'
What the future holds
Abir has his sights firmly set on the future in both the short and long term, 'My short-term ambitions are to complete my grad programme and find a permanent role which challenges me but also gives me time to learn and develop new skills.'My long-term ambitions and aspirations are to dive further into the world of tech. I mainly enjoy data analytics and visualisation, but have interests in data engineering and data science as well as UX and UI. I've also been working on my own projects some of which include developing an AI bot for my local machine!'
What's next for my career?

Professional chartered mechanical engineers and mechanical engineering graduates are highly sought after around the world. Our graduates have an excellent employment record illustrating that this degree gives you the flexibility to work in virtually any manufacturing setting, both in the UK and abroad.

More about the Course

Our students can take the work placement option, spending their Third Year in industry. Some students take the opportunity to study part of their degree abroad through student exchange programmes with other universities in the EU, USA or Canada.

A mechanical engineering degree will provide you with the flexibility to be employed in any engineering company irrespective of their product range. Mechanical engineers are involved in producing innovative designs, using the latest materials and Computer Aided Engineering systems to meet ever-increasing expectations in 21st century living. With our excellent teaching standards and facilities, the University has a strong track record of providing industry with these highly skilled professionals.

In your first year you will study the fundamental skills and knowledge required by a modern engineer including principles of design and manufacture. In particular you will be introduced to computer packages commonly used in engineering.

In your second year the core themes from year 1 are further developed so that they can be applied to solve engineering problems encountered in industrial and commercial environments. You will learn about the design process, through both group design and detail design work, and will have the opportunity to work on extra-curricular projects, such as our Formula Student car, Unmanned Air Vehicle and rocket systems.

In the third year you have the chance to work for an engineering company on placement or study at one of overseas partners.

In the final year, whilst adding to your knowledge of materials and structures, vibration and noise, and control systems, you have the option of covering either manufacturing or the rapidly growing field of micro-electrical-mechanical systems (MEMS). Project work, both in teams on design and individually on a topic of special interest, encourages you to develop valuable practical, interpersonal and communication skills.

Mechanical engineering graduates are highly sought after around the world. Our graduates have an excellent employment record; 80.8% of the students taking part in a survey who had completed their BEng in Mechanical Engineering at the University of Hertfordshire in 2017 were in graduate employment six months after graduation.

View our Alumni profiles

Further information - includes assessment method

| Course fact sheets | |
| --- | --- |
| BEng (Hons) Mechanical Engineering | Download |

| Programme specifications | |
| --- | --- |
| BEng (Hons) Mechanical Engineering | Download |

Additional information

Sandwich placement or study abroad year

Optional

Applications open to international and EU students

Yes

Course length

Full Time, 3 Years
Part Time, 6 Years
Sandwich, 4 Years

Location

University of Hertfordshire, Hatfield

How to apply?

Fees and funding

Fees 2023

UK Students

Full time

£9250 for the 2023/2024 academic year

Part time

£1155 per 15 credits for the 2023/2024 academic year

EU Students

Full time

£14750 for the 2023/2024 academic year

Part time

£1845 per 15 credits for the 2023/2024 academic year

International Students

Full time

£14750 for the 2023/2024 academic year

Part time

£1845 per 15 credits for the 2023/2024 academic year

*Tuition fees are charged annually. The fees quoted above are for the specified year(s) only. Fees may be higher in future years, for both new and continuing students. Please see the University's Fees and Finance Policy (and in particular the section headed "When tuition fees change"), for further information about when and by how much the University may increase its fees for future years.

View detailed information about tuition fees

Read more about additional fees in the course fact sheet

Other financial support

Find out more about other financial support available to UK and EU students

Living costs / accommodation

The University of Hertfordshire offers a great choice of student accommodation, on campus or nearby in the local area, to suit every student budget.