BA (Hons) Marketing
Key information
Study abroad option
Entry requirements

Standard entry requirements

| UCAS points | A Level | BTEC | IB |
| --- | --- | --- | --- |
| 104-112 | BCC-BBC | MMM-DMM | 104-112 |

Additional requirements

GCSE: Grade 4/C in English Language and Mathematics

All students from non-majority English speaking countries require proof of English language proficiency, equivalent to an overall IELTS score of 6 with a minimum of 5.5 in each band.

If you do not have the required IELTS or equivalent for direct entry on to your degree programme, our Pre-sessional English and International Foundation courses can help you to achieve this level.

For more details on the University of Hertfordshire's entry requirements, please visit our Undergraduate Entry Requirements page.

Find out more about International Entry Requirements.

The University of Hertfordshire is committed to welcoming students with a wide range of qualifications and levels of experience. The entry requirements listed on the course pages provide a guide to the minimum level of qualifications needed to study each course. However, we have a flexible approach to admissions and each application will be considered on an individual basis.

| UCAS points | A Level | BTEC | IB |
| --- | --- | --- | --- |
| 112-120 | BBC-BBB | DMM-DDM | 112-120 |

Additional requirements

GCSE: Grade 4/C in English Language and Mathematics

All students from non-majority English speaking countries require proof of English language proficiency, equivalent to an overall IELTS score of 6.0 with a minimum of 5.5 in each band.

If you do not have the required IELTS or equivalent for direct entry on to your degree programme, our Pre-sessional English and International Foundation courses can help you to achieve this level.

For more details on the University of Hertfordshire's entry requirements, please visit our Undergraduate Entry Requirements page.

Find out more about International Entry Requirements.

The University of Hertfordshire is committed to welcoming students with a wide range of qualifications and levels of experience. The entry requirements listed on the course pages provide a guide to the minimum level of qualifications needed to study each course. However, we have a flexible approach to admissions and each application will be considered on an individual basis.

Professional accreditations

Chartered Institute of Marketing Qualification

Hertfordshire Business School (HBS) is a one of four strategic University partners in the UK and offers professional qualification options, as well giving students access to additional event and learning opportunities.

Students taking BA Marketing degrees are eligible to study for the Chartered Institute of Marketing (CIM) qualifications whilst at university. In the first year, students are given the opportunity to become Affiliate Members of the Chartered Institute of Marketing and study for a first CIM award.

Opportunities to gain additional CIM qualifications are offered during the second and final years. The course also offers value exemptions from a variety of CIM qualifications through the Graduate Gateway. The Chartered Institute of Marketing has commended Hertfordshire Business School on numerous occasions for the success of the students studying CIM qualifications alongside their course.

Sign up for alerts

Get access to personalised content, tailored towards your interests:

Information on your favourite courses
Tips to help you through the application process
Blogs, vlogs and advice from current students
Why choose this course?
Hertfordshire Business School is one of just four CIM strategic university UK partners
93.9% of students are in employment or in further study (2019/20 Graduate Outcomes)
A practical, coursework-based degree, focused on real life challenges
The course nurtures individuality with a variety of modules. Students are pushed to develop their own unique strategies for success and given the support they need. The team behind you is committed to helping you find your path, and they back you up by providing a number of learning options, one-on-one tutoring, and other resources.
While a firm grounding in theory is essential, what really matters is how that theory can be applied in the real world. We'll help you go beyond the textbook by providing you with the tools and resources you'll need to understand what this means for modern businesses and aspiring business owners.
We foster strong relationships with Industry and Professional Associations. The Business School is a CIM Strategic Partner and was a founding member of the regional CIM Marketing Club. This club is free for all students at Hertfordshire Business School (HBS), giving you access to six marketing webinars plus four online employability events a year. It also gives you access to the CIM Annual Pitch competition; an international competition designed to recognise and reward the marketing talent of the future.
Since the first year is the same as BA (Hons) Advertising and Digital Marketing, it allows those with a more creative outlook to swap at the end of the first year. Those with an entrepreneurial spirit are encouraged to enter the 'Flare Ignite' annual competition for students and alumni looking to start their own businesses. Winners get support, training, and funding to help make their ideas a reality.
What's the course about?
Marketing teams are positive, full of energy and new ideas, as they drive businesses forward. Anyone with a genuine interest in marketing, looking to define businesses, will thrive in this course.
You will learn marketing strategies and tactics, as well as how to effectively use a variety of media and communication channels.
The principles of marketing haven't changed, but technology has fundamentally altered the way it is delivered. You will be introduced to the essentials of marketing and the digital tools of modern marketing. You will learn how to understand target audiences, as well as how to create and deliver effective content to engage them.
Since the disciple encompasses written, numerical and creative skills, you will get to choose modules that pique your interest as you discover what you truly love about marketing. You will finish our programme with a firm grasp of what successful marketing is and an understanding of where your strengths lie.
There's a direct connection between what you learn in class and certifications you can earn from organisations like Google, Hootsuite, Facebook, LinkedIn, and the Chartered Institute of Marketing (CIM).
You will leave more than ready for this exciting, magnetic, and diverse industry. Joining previous graduates who have gone on to successful careers in advertising, PR, account management, and more.
Where you'll study
Hertfordshire Business School and our Enterprise Hub are both located on the University of Hertfordshire de Havilland Campus. You'll be sharing the campus with those studying business, law, sports, education, and the humanities, as well as the Sports Village, which features a gym, swimming pool, coffee shop, and climbing wall.
There are two dining options, a bar, and a recreational space on campus where you can shoot some pool or play video games. The Enterprise Hub is a vibrant destination where local firms and students can work and learn in comfort. In addition to open study spaces, our Learning Resources Centre also features private study rooms and is open 24/7 allowing you to study around your schedule.
The student union bar and additional facilities are only a 20-minute walk (or short bus ride) away at our second campus. Student housing is available near both campuses.
What will I study?
There are four modules in each semester. You begin with general marketing modules before moving on to more focused ones. Each module has a good mix of theoretical knowledge and useful skills that can be used in other situations. The theory is just the beginning of what you'll learn. You'll also get to use what you've learned in real-life situations and work with local businesses to solve their marketing problems.
Each module has a minimum of two hours of in-person teaching per week (this might be less than you're used to). You will also need to do independent learning , and you will have access to online content as well as recommended books, videos, and podcasts to help you. Teamwork activities are a big part of your learning, and you'll get to work on projects, give presentations, and figure out how to solve problems with other people. Each subject has weekly drop-in and review sessions with a personal tutor to help you do well.
First-year students get a broad base of marketing knowledge, understanding key concepts and topics. More creative students may prefer to switch to BA (Hons) Advertising and Digital Marketing at the end of this year.
In the second year, students hone their knowledge of marketing fundamentals like customer behaviour and quantitative analysis. In addition, you'll gain expertise in digital marketing, social media marketing, innovation, people management, and market research.
In the final year, you'll get your teeth into marketing practise through your dissertation, an industry study, or modules such as integrated communications.
There are also opportunities to further enrich your personal development through our GoHerts program, placements, internships, study-abroad and Future Success team events.
Level 4

Level 5

Level 6

Study abroad

An opportunity for an amazing experience, which will help make you stand out from the crowd. With more and more companies working internationally, experience of living in another country can make a great impression on future employers.

This course offers you the opportunity to enhance your study and CV with a sandwich year abroad. The University has partnerships with over 150 universities around the world, including the USA, Canada, Asia, Africa, Australia, South America and closer to home in Europe.

If you study abroad between your second and third year of study, you'll pay no tuition fee to the partner university and no tuition fee to us either. We'll ask you to make your decision in your second year, so there is plenty of time to think about it.

Find out more about Study abroad opportunities

Please note Erasmus+ funding is only available until May 2023. For students starting their course in September 2022 and wishing to study abroad in 2023-24 or 2024-25, please refer to the Turing Scheme.

Work placement

With this degree, you have the chance to experience a year of working life or study abroad.

Work experience is the biggest contributor to your future employability. A placement year or shorter internship offer an opportunity to put your knowledge into action, while learning about how a business operates. Along with preparing for the workforce, you'll establish helpful connections.

To assist you in making the most of your sandwich year, the dedicated HBS Future Success Team maintains close ties with companies both abroad and locally. This team will hand hold you through the process, including CV assistance and preparing for interview and presentations, with our ground-breaking simulated assessment centre experience.

Students have been hired by a wide range of companies, including Disney, IBM, Porsche, Toyota, Body Shop, and Hugo Boss.

What if I need support?

You will always find a friendly and supportive welcome in the Hertfordshire Business School (HSB). Our course and module tutors are here to guide you on your academic journey. To enhance your learning, we have a dedicated Centre for Academic Skills Enhancement (CASE), which provides both online and face to face academic skills guidance to all HBS students, enabling you to get the best grades possible. If you need further support and things don't go according to plan, our pastoral team are also here for you to help you get back on track.

Whether you stay in our ultramodern Halls of Residence or commute to the University you will be a valued member of an active student community and the wider HBS family.
Studying Marketing and French as part of the Hertfordshire Business School has been both a fun and enriching experience. The various optional modules have enabled me to shape my course around my own interests, which boosted the enjoyability of my degree.
Check out our student blogs
Student Blogs
Kamila - A typical day
My typical day
My typical day at university starts with revising materials for the subjects that I will have lectures from on that day. I revisit both recorded lectures and my notes that I gathered from tutorials. This allows me to keep consistency in my learning and allows me to be prepared.
After that, I leave the house and go to the gym. I study on the de Havilland campus, which makes it very convenient for me to combine keeping healthy with studying. The gym is located in the main building. When I am done with working out, I grab a meal at the restaurant, which is only a one-minute walk away. Since I started using the restaurant, I have saved money on food and time on preparing it! I really appreciate the fact that all the facilities are so close to each other which is a massive time saver; I don't have to make multiple trips. This makes working everything around my university schedule easy.
During the lecture presentations, I follow along on my computer, make notes and try to be active (sometimes it earns you extra points!) After lectures me and my friends use the Learning Resource Centre (LRC) to study together and work on group projects. Sometimes we stay in late and grab a coffee from the LRC café which comes in handy!
Grocery shopping is what usually comes next. I and my flatmates pick up our reusable bags and head towards either ASDA or Aldi, which are about 10 minutes away from the de Havilland Campus. We try to shop for a whole week's worth of food just once but somehow, we always end up going there every two days ;).
My typical day usually finishes with making popcorn and watching a movie with my friends after I have worked on my individual projects.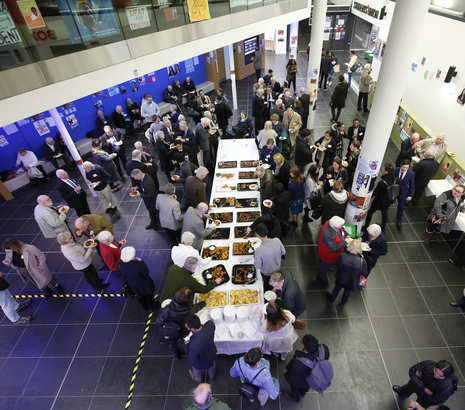 Student Blogs
Kamila - Things you should know
Things you need to know before studying Events Management & Marketing at university
Hi! Here are a couple of things worth knowing before you decide to study Events Management & Marketing!
Don't fear the joint courses! You won't be studying twice as much, and you won't be buried in work! Comparing my course with my friends, who study either only Marketing or only Event Management, I have realised that a joint course brings together the best of both worlds and allows you to have a bigger overview of the matter. What more can you ask for? 😇
Consistency is key! There is nothing more important than revising regularly and making sure you have done the required reading for the next lecture. It is the best way to learn and makes exam revision way easier. Having said that, don't stress over missing a revision session once or twice – we all need rest sometimes!
Since it is a subject that is taught within the Business School, you will be needed to follow along with any business news that might be applicable. It will be useful not only during your lectures but also later when writing exams. Many times, exam questions will ask for examples from current world situations. Make reading at least one news channel your daily habit and you're good to go!
Throughout the course, lecturers will be sending out suitable work opportunities they find. Make sure that you try to get at least one job experience. Choosing to go on a placement year is also a promising idea. Having experience is a huge plus to have on your CV (Curriculum Vitae) and future career prospects! If you're not sure how to go through the recruitment process, Careers and Employment will help you with that. Just book an appointment!
Overall, I am sure you will have an amazing experience on this course, I certainly have! 😊
Student Blogs
Kamila - Why I chose Herts
Why I chose Herts
When deciding on which university to choose I was thinking about many factors. I tried to consider both academic life and my free time. Academically, I chose Herts because of the amazing Business School. I was convinced that the lecturers will provide me with all the knowledge that I will need when starting my career and I was not wrong. Even during my first work experiences I have references and went back to what I learned in the university multiple times.
I also decided to go to Herts because of its facilities. I have lived on both campuses and used both Learning Resource Centres (LRCs), which turned out to be amazing! They not only have teaching materials but also have quiet zones that will help you study and write your assignments. I am also a health-oriented person and having a gym on both campuses came in handy. I was able to go there straight from my classes saving me time. The food available at the restaurant has also been useful when I forgot to pack lunch or was too busy to make one.
When choosing a university, it was important to me for it to have nightlife. When will you party if not in your early 20s, right 💃?! Fortunately, Herts has an amazing club with many themed parties that will keep you up all night! If you don't enjoy dancing and just want to grab a drink with your friends, EleHouse is your place to go.
After studying in Herts for three years, I can honestly say these were some of the best experiences of my life. I have made amazing friends for life, grown as a person and received a great education. If I could make the decision again, I would choose Herts without a doubt! 💞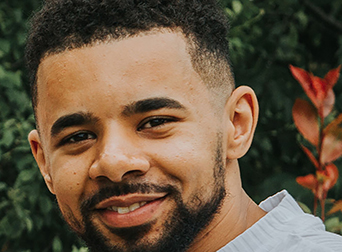 Alumni Stories
Ashley Joseph
Meet Ashley Joseph who has combined his social media skills and his passion for football to forge a successful career
Read more stories
Find out more about this course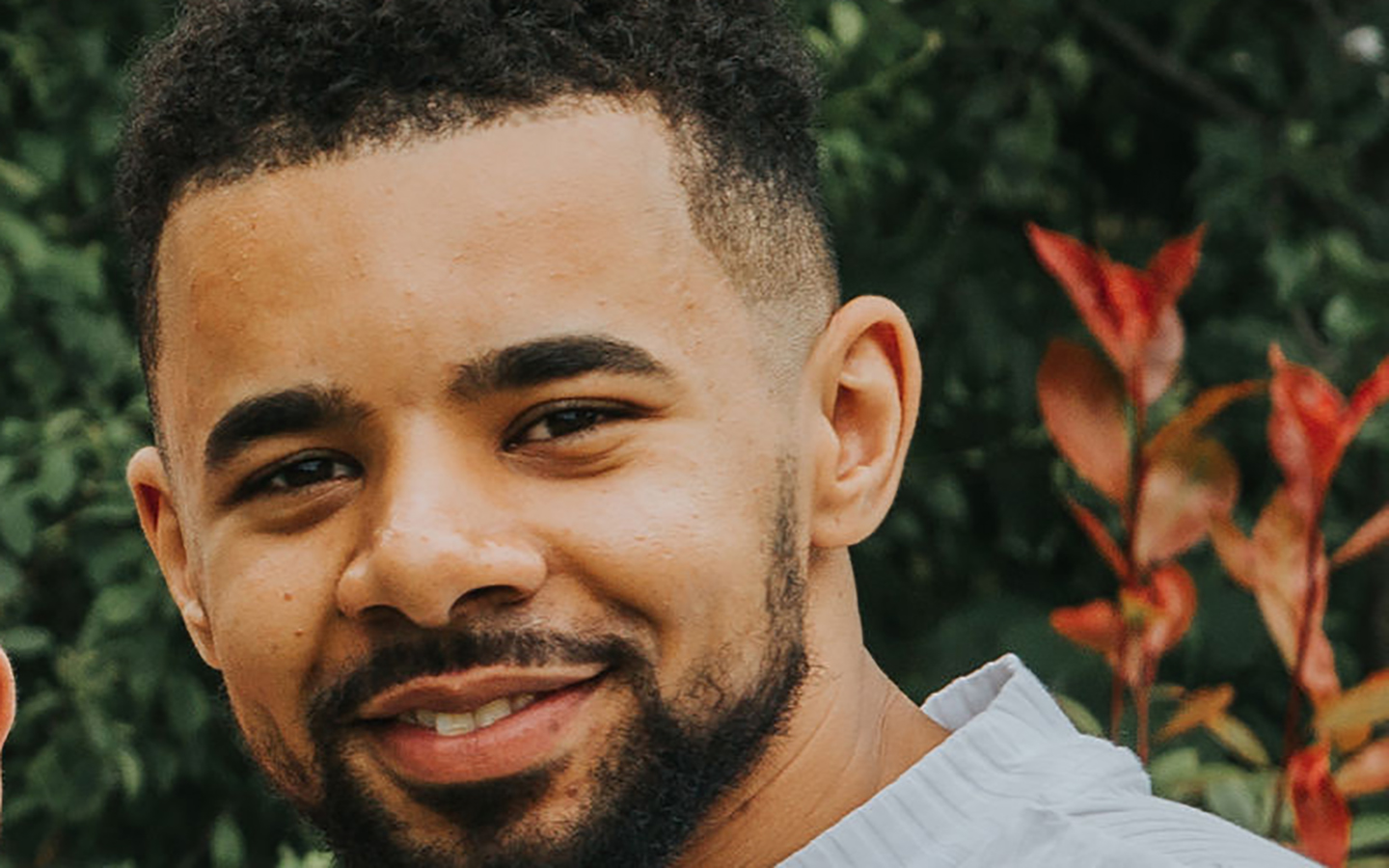 Ashley is currently the Digital and Social Media Manager at the Football Foundation. He manages the Foundation's social media output and digital projects.
Time at Herts
Ashley knew in his final year that he wanted to work in social media and he has combined this with his passion for football. His first opportunity arose with the Middlesex FA back and he hasn't looked back since.When reflecting on his time at the University Ashley feels it played a huge part in his development. 'My course was great. It covered a wide range of marketing principles which helped make me a more rounded and employable person than many of the other people in my industry. Some of my final year projects where we had the ability to be as creative as possible really helped set me up for some of the things I have encountered in the working world. The fact that the course also offered an optional placement year (which I took up) helped me to secure a job very soon after graduating.'
Words of advice
Ashley is very forthcoming when giving advice for anyone hoping to get into the industry, 'Use your spare time and summer holidays to get as much practical experience as possible. Internships and placements are invaluable even if it's just a few weeks here and there.'.
And when talking about the social aspect of University life he says, 'Get involved in as much as possible. Societies, clubs, events; just do as much as possible as you'll meet some great people and it will help you become a better more rounded person. '.
What the future holds
Ashley has set his sights high and adds, 'I want to continue in the football industry and hopefully work my way up to a marketing manager/social media manager role at a big football club. I'd love to work abroad too.'.
Get involved in as much as possible. Societies, clubs, events; just do as much as possible as you'll meet some great people and it will help you become a better more rounded person.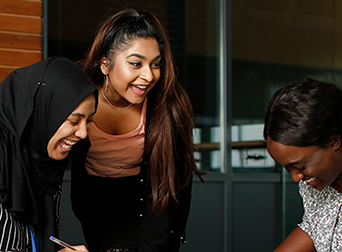 Alumni Stories
Francesca Francois
Meet Francesca Francois who has had a rich career since graduating. Francesca now works as a Marketing Manager.
Read more stories
Find out more about this course
University experience
Francesca had a good feeling when she walked around our campus. She visited us three times, just to make sure we were the right choice for her. We certainly were, as Francesca met her husband at Herts, and after twelve years together they married in 2017. She tells us that some of the friends she met at university, she couldn't live without.
Francesca enjoyed her studies and learnt a lot about working with different types of people. Having the opportunity to learn business, marketing and French within one degree allowed her to fully understand the career she would soon enter. The curriculum interested her, and she welcomed the relevancy of the modules, such as global marketing and corporate social responsibility. Her placement year gave her valuable experience which helped Francesca find employment when she graduated.
Career progression
Francesca has had a rich marketing career. Highlights include working as a marketing manager for Hamleys and her current role as a Europe marketing manager. Francesca says that the key to her successes have been believing in herself and continuously learning. In the future, Francesca would like to set up her own marketing and events company and hopes to offer internships to students at the University of Hertfordshire.
My stand-out moment was definitely meeting my now husband. After nearly twelve years together we finally wed 19th May 2017.
What's next for my career?

93.9% of students are in employment or in further study (2019/20 Graduate Outcomes data).

Students' wide knowledge sets them up for success in a variety of fields, both at agencies and client-side. The retail industry has benefited from the skills and experience HBS graduates has brought to companies like Tesco, John Lewis, Marks & Spencer, Matches, and Argos. Many former students now have positions with consumer-facing businesses like L'Oreal, Bosch, Disney, Danone, and BMW as well as in government agencies like the House of Commons, and B2B corporations like Iris, Microsoft, Ipsos, and IBM. Saatchi & Saatchi and JWT London are just two of the many advertising firms that employ former HBS students.

With such a myriad of opportunities, you can choose whether to go into a generalist marketing role or something more niche in terms of industry (e.g Retail Marketing) or expertise (e.g. Brand Management).

Roles this course can lead to includes:

Marketing Manager
New product Developer
Communications  Officer
Data Analyst
Product Manager
Market Researcher
Content Creator 
PR and Event manager
Brand Manager

View our Alumni profiles

Key staff

Ariya Nithikulsak
A lecturer with a keen interest in social media-based marketing strategies as a tool to connect, communicate and collaborate with customers.


Jessica Lau
A strategic brand storyteller with over 15 years of marketing experience. Thinks with data and creates with humanity when managing all aspects of marketing. A strong focus on exceeding objectives.


Jimmy Pressly
An engaging, popular and forward-thinking lecturer whose passion for marketing ensures his teaching is as engaging as his personality!
Find out more about Jimmy Pressly

Further information - includes assessment method

| Course fact sheets | |
| --- | --- |
| BA (Hons) Marketing | Download |
| Marketing with a European Language | Download |

| Programme specifications | |
| --- | --- |
| BA (Hons) Marketing | Download |
| Languages Programme Specification | Download |

Additional information

Sandwich placement or study abroad year

Optional

Applications open to international and EU students

Yes

Course length

Full Time, 3 Years
Part Time, 5 Years
Sandwich, 4 Years

Location

University of Hertfordshire, Hatfield

How to apply?

Fees and funding

Fees 2022

UK Students

Full time

£9250 for the 2022/2023 academic year

Part time

£1155 per 15 credits for the 2022/2023 academic year

EU Students

Full time

£14000 for the 2022/2023 academic year

Part time

£1750 per 15 credits for the 2022/2023 academic year

International Students

Full time

£14000 for the 2022/2023 academic year

Part time

£1750 per 15 credits for the 2022/2023 academic year

Fees 2023

UK Students

Full time

£9250 for the 2023/2024 academic year

Part time

£1155 per 15 credits for the 2023/2024 academic year

EU Students

Full time

£14750 for the 2023/2024 academic year

Part time

£1845 per 15 credits for the 2023/2024 academic year

International Students

Full time

£14750 for the 2023/2024 academic year

Part time

£1845 per 15 credits for the 2023/2024 academic year

*Tuition fees are charged annually. The fees quoted above are for the specified year(s) only. Fees may be higher in future years, for both new and continuing students. Please see the University's Fees and Finance Policy (and in particular the section headed "When tuition fees change"), for further information about when and by how much the University may increase its fees for future years.

View detailed information about tuition fees

Read more about additional fees in the course fact sheet

Other financial support

Find out more about other financial support available to UK and EU students

Living costs / accommodation

The University of Hertfordshire offers a great choice of student accommodation, on campus or nearby in the local area, to suit every student budget.