BA (Hons) Event Management
Entry requirements

| UCAS points | A Level | BTEC |
| --- | --- | --- |
| 104-112 | BCC-BBC | MMM-DMM |

Additional requirements

GCSE: Grade 4/C in English Language and Mathematics

All students from non-majority English speaking countries require proof of English language proficiency, equivalent to an overall IELTS score of 6 with a minimum of 5.5 in each band.

If you do not have the required IELTS or equivalent for direct entry on to your degree programme, our Pre-sessional English and International Foundation courses can help you to achieve this level.

For more details on the University of Hertfordshire's entry requirements, please visit our Undergraduate Entry Requirements page.

Find out more about International Entry Requirements.

| UCAS points | A Level | BTEC | Access Course Tariff | IB Requirement |
| --- | --- | --- | --- | --- |
| 104 - 112 | BCC - BBC | DMM | 104 - 112 points | 104 - 112 points |

Additional requirements

GCSE: Grade 4/C in English Language and Mathematics.

All students from non-majority English speaking countries require proof of English language proficiency, equivalent to an overall IELTS score of 6.0 with a minimum of 5.5 in each band.

If you do not have the required IELTS or equivalent for direct entry on to your degree programme, our Pre-sessional English and International Foundation courses can help you to achieve this level.

For more details on the University of Hertfordshire's entry requirements, please visit our Undergraduate Entry Requirements page.

Find out more about International Entry Requirements.

Professional accreditations

Member of the Association for Events Management Education (AEME). The AEME was formed to promote events education in the United Kingdom and elsewhere. They provide a voice for events education, encouraging an international exchange of ideas and sharing best practice information.

Sign up for Clearing support package

Exclusive content to help you through Clearing

Tips and info sent straight to your inbox
Clearing advice livestream
Subject campus tour
1-on-1 call with advisor
Downloadable university starter kit
Opportunity to have your first year society membership fee paid upon enrolment
Why choose this course?
2022 Graduates successfully organised the Hertfordshire Business School Grad Ball at Hatfield House
Undertake live event planning from your first year
A fun, immersive and engaging course for anyone interested in event planning
Co-creating an event is a bit like magic, from the moment you start to think through the initial ideas and plan it out, to the thrill of watching your audience live your vision.
This BA (Hons) Event Management course teaches you everything you need to know to organise successful events of any size, scope, or budget. Enjoy working on live events from the first year, and whatever career you go in to, you'll have a practical grounding in every aspect of business.
There is a steep learning curve in the events industry, and it can take several years to get the skills you need. The experience you gain across all event disciplines on this course, and your involvement in actually running events, often fast tracks your career once you enter the events or tourism sector. 
We work closely with the sector to maintain a strong focus on modern event management, including sustainability, technology, and entrepreneurship. Our collaborations enable us to bring in many successful industry speakers.
You also get access to a lot of chances for volunteering, with a large number of opportunities to attend real events. This is the fastest route to being a super event organiser because you learn how the theory applies in practise.
There is an option for an international field trip in your second year, as well as a regular field trips to experience events in action.
Develop your own strategies for success with a supportive team committed to helping you find your path, assisting you by providing several learning options, one-on-one tutoring, and other resources.
This course sits within the Hertfordshire Business School which maintains strong relationships with professional bodies and business connections. Meet entrepreneurs–in–residence, business ambassadors and industry leaders at networking events or in guest lectures through our Business Academy.
If you have an entrepreneurial spirit, you are encouraged to enter the Flare annual competition.
Our staff
Your teaching team has experiential, enthusiastic and experienced tutors alongside expert guest lecturers, thanks to our strong alumni base and exceptional industry connections.
You also benefit from an academic support team, wellbeing team and personal tutor to help you adjust to the demands of university learning and living. 
What's the course about?
Immerse yourself in the fun, fast paced and creative events industry. This interactive BA (Hons) Event Management course teaches you how to create exciting experiences, and you get to see first-hand how people react as you organise your own live events.
The course includes a bit of everything – you'll learn about marketing, project management, accounting and people management, with the context of one of the most exciting and dynamic careers in the world.
You'll do a lot of live event planning in the course, both theoretical and in reality. For example, one group ran an online conference for external clients, which made a great addition to their CV.
This is a fun course, where you'll constantly improve, develop and professionalise your skills. So much live experience, opens up a rewarding career in a sector that has seen phenomenal transformation in recent years.
With such a wide range of experience and marketable abilities, even if you decide against working in the events industry, you'll be in good shape. For example, one student was particularly interested in the project management component of the course and ultimately found employment in the field because of their transferable skills.
We actively support you to go out on an industry placement, study abroad or do an internship (including the latest online bite-sized digital experiences) to help you find your direction and to boost your CV to secure your first graduate role.
Where you'll study
Your teaching is on our modern de Havilland Campus, with our 24/7 Learning Resources Centre, featuring open and private study spaces. You also get online self-study materials to further support you.
There are dining options, a bar, and a recreational space on campus where you can shoot some pool or play video games. It also houses Hertfordshire Sports Village, which features a gym, swimming pool, coffee shop, and a climbing wall.
Discover the Enterprise Hub, a vibrant destination where local firms and students work and learn in comfort.
The Student Union bar and additional facilities are only a 20 minute walk (or short bus ride) away at our College Lane Campus. Student housing is available at both campuses.
What will I study?
A fun and practical course where students are encouraged to develop their skills from the start. For example, first year students planned out a horror weekend as part of an assignment and had a lot of fun dressing up and creating their own promotional video!
This course offers a solid section of topics for a modern event organiser. All modules are practical, and sustainability is a key theme throughout.
Year 1 provides a firm foundation in the industry and key areas such as marketing and professional skills. You also get the chance to get involved in live events straight away. At the end of Level 4 (year one), students have the option to switch to the course BA (Hons) Event Management and Tourism.
Year 2 gives you the chance to delve deeper into key aspects such as risk assessment with the opportunity to look at areas of specific interest.
Year 3 brings your skills together with immersive live projects and the chance to work with local businesses on their own events. You'll organise a student conference as part of your final year project.
The 2022 Hertfordshire Business School Grad Ball was organised by Events students also running the events society. Not only was it a lot of fun for all who went but it provided an excellent CV boost for organisers. It was a direct contributor to many getting the Go Herts Awards alongside their degree.
There are also opportunities to further enrich your personal development through our Go Herts certification program, placements, internships, study-abroad and Future Success networking events.
Level 4

Level 5

Level 6

Study abroad

You can take a sandwich year abroad, making that decision in your second year. Studying at one of our international partners is a huge personal development opportunity, and an amazing experience.

With more companies working internationally, experience of living in another country will make a great impression on future employers.

With over 100 partners in 40 countries, the world really is your oyster! Our dedicated Study Abroad office will advise you on your options, to help you make the most of this opportunity.

If you study abroad between your second and third year of study, you'll pay no tuition fee to the partner university and no tuition fee to us either.

Find out more about Study abroad opportunities 

Please note Erasmus+ funding is only available until May 2023. For students starting their course in September 2022 and wishing to study abroad in 2023-24 or 2024-25, please refer to the Turing Scheme.

Work placement

At the end of your second year, you have the option to experience a year of working life with a placement or a shorter internship, which is a huge CV booster!

Professional work experience is the biggest contributor to your future employability. It allows you to put your knowledge into action, while learning how a business operates and making some handy professional connections. 

For those wishing to complete this BA (Hons) Event Management degree within three years, we'll help you find other opportunities to enhance your CV such as employer competitions, insight days, digital programmes, volunteering, student leadership roles, and achievement awards.

Students on the course have recently had the opportunity to work at Disney, Bucharest, Wendy Wu Tours, Strata Creative Communications, Four Seasons, Finlayson media Productions and Earth Impacts.

We have a dedicated team that will help you make the most of the experience, holding your hand from start to finish. You also get assistance with your CV, plus help preparing for interviews and presentations, at our ground-breaking mock Assessment Centre Experience.
Check out our student blogs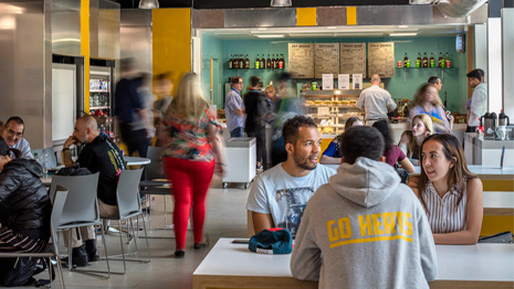 Student Blogs
Kamila - A typical day
My typical day
My typical day at university starts with revising materials for the subjects that I will have lectures from on that day. I revisit both recorded lectures and my notes that I gathered from tutorials. This allows me to keep consistency in my learning and allows me to be prepared.
After that, I leave the house and go to the gym. I study on the de Havilland campus, which makes it very convenient for me to combine keeping healthy with studying. The gym is located in the main building. When I am done with working out, I grab a meal at the restaurant, which is only a one-minute walk away. Since I started using the restaurant, I have saved money on food and time on preparing it! I really appreciate the fact that all the facilities are so close to each other which is a massive time saver; I don't have to make multiple trips. This makes working everything around my university schedule easy.
During the lecture presentations, I follow along on my computer, make notes and try to be active (sometimes it earns you extra points!) After lectures me and my friends use the Learning Resource Centre (LRC) to study together and work on group projects. Sometimes we stay in late and grab a coffee from the LRC café which comes in handy!
Grocery shopping is what usually comes next. I and my flatmates pick up our reusable bags and head towards either ASDA or Aldi, which are about 10 minutes away from the de Havilland Campus. We try to shop for a whole week's worth of food just once but somehow, we always end up going there every two days ;).
My typical day usually finishes with making popcorn and watching a movie with my friends after I have worked on my individual projects.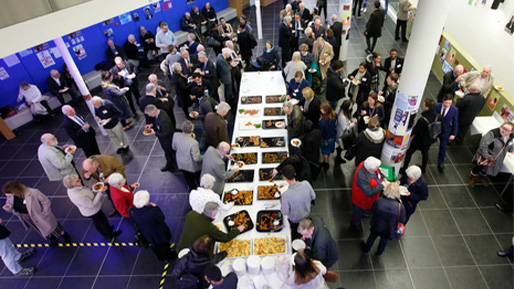 Student Blogs
Kamila - Things you should know
Things you need to know before studying Events Management & Marketing at university
Hi! Here are a couple of things worth knowing before you decide to study Events Management & Marketing!
Don't fear the joint courses! You won't be studying twice as much, and you won't be buried in work! Comparing my course with my friends, who study either only Marketing or only Event Management, I have realised that a joint course brings together the best of both worlds and allows you to have a bigger overview of the matter. What more can you ask for? 😇
Consistency is key! There is nothing more important than revising regularly and making sure you have done the required reading for the next lecture. It is the best way to learn and makes exam revision way easier. Having said that, don't stress over missing a revision session once or twice – we all need rest sometimes!
Since it is a subject that is taught within the Business School, you will be needed to follow along with any business news that might be applicable. It will be useful not only during your lectures but also later when writing exams. Many times, exam questions will ask for examples from current world situations. Make reading at least one news channel your daily habit and you're good to go!
Throughout the course, lecturers will be sending out suitable work opportunities they find. Make sure that you try to get at least one job experience. Choosing to go on a placement year is also a promising idea. Having experience is a huge plus to have on your CV (Curriculum Vitae) and future career prospects! If you're not sure how to go through the recruitment process, Careers and Employment will help you with that. Just book an appointment!
Overall, I am sure you will have an amazing experience on this course, I certainly have! 😊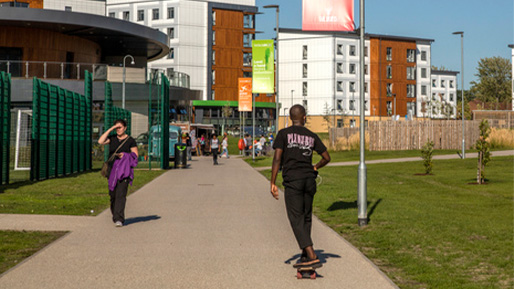 Student Blogs
Kamila - Why I chose Herts
Why I chose Herts
When deciding on which university to choose I was thinking about many factors. I tried to consider both academic life and my free time. Academically, I chose Herts because of the amazing Business School. I was convinced that the lecturers will provide me with all the knowledge that I will need when starting my career and I was not wrong. Even during my first work experiences I have references and went back to what I learned in the university multiple times.
I also decided to go to Herts because of its facilities. I have lived on both campuses and used both Learning Resource Centres (LRCs), which turned out to be amazing! They not only have teaching materials but also have quiet zones that will help you study and write your assignments. I am also a health-oriented person and having a gym on both campuses came in handy. I was able to go there straight from my classes saving me time. The food available at the restaurant has also been useful when I forgot to pack lunch or was too busy to make one.
When choosing a university, it was important to me for it to have nightlife. When will you party if not in your early 20s, right 💃?! Fortunately, Herts has an amazing club with many themed parties that will keep you up all night! If you don't enjoy dancing and just want to grab a drink with your friends, EleHouse is your place to go.
After studying in Herts for three years, I can honestly say these were some of the best experiences of my life. I have made amazing friends for life, grown as a person and received a great education. If I could make the decision again, I would choose Herts without a doubt! 💞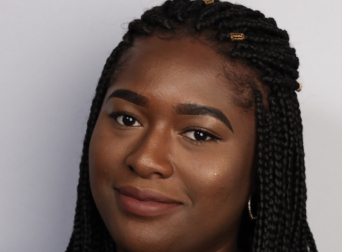 Alumni Stories
Abies Iriowen
Meet Abies Iriowen who has applied her degree to improve diversity and equality in businesses. She currently works as a Diversity & Inclusion Coordinator at Goldman Sachs
Read more stories
Find out more about this course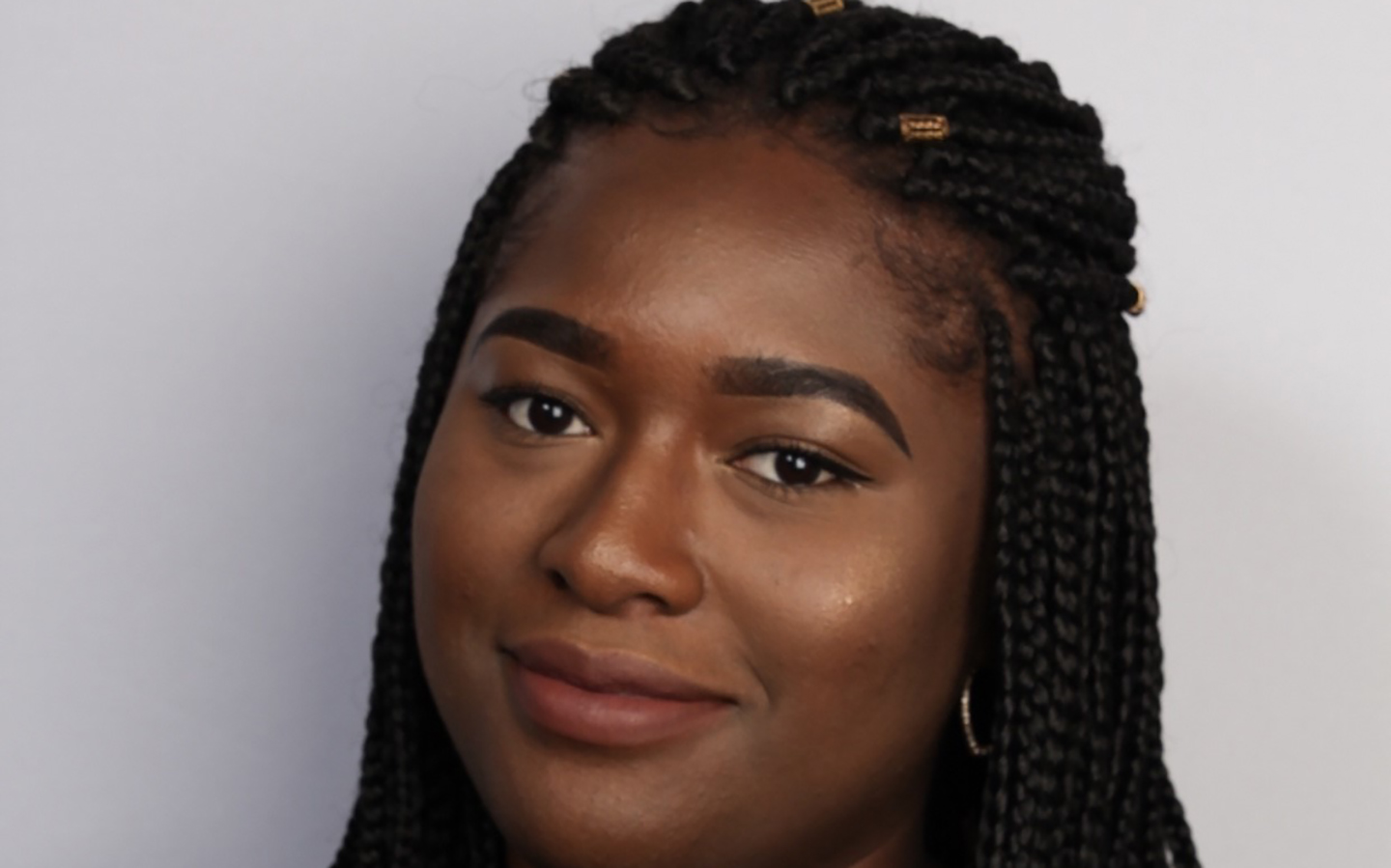 University experience
Abies has fond memories of her time at the University of Hertfordshire and is grateful for all of the opportunities she had within and outside of her studies.
She stresses the importance of joining societies, going on trips and taking advantage of tutors. She says, that her studies gave her 'the push to get practical work experience as they taught me great organisation skills and how to work well in a team.'
As part of her degree, Abies secured a placement at FDM group who then asked her to come back after she graduated. 'I got to this point in my career by getting as much work experience as possible. I completed two summer internships before securing my placement.'.
Current career and future
As a Diversity and Inclusion Coordinator at Goldman Sachs, her role involves 'managing school engagement programmes across the UK, supporting external conversations and diversity and inclusion, and delivering all Diversity and Inclusion Events across the country.'
In the future, she hopes to work her way up in an organisation to promote and support inclusive working environments.
I got to this point in my career by getting as much work experience as possible. I completed two summer internships before securing my placement.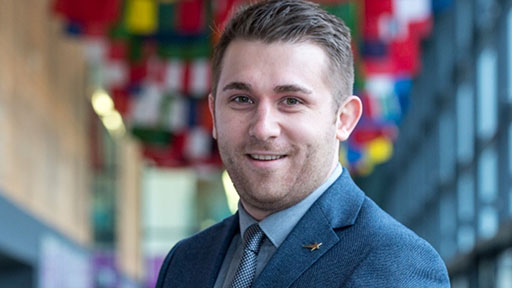 Alumni Stories
Bradley Johnson
Meet Bradley Johnson who has gone onto work in Higher Education since graduating.
Read more stories
Find out more about this course
Current job role
Head of Progression at NCUK - The University Consortium
Year of graduation
2015 / 2019
Course of study
BA (Hons) Marketing with Events Management
MSc Business and Organisational Strategy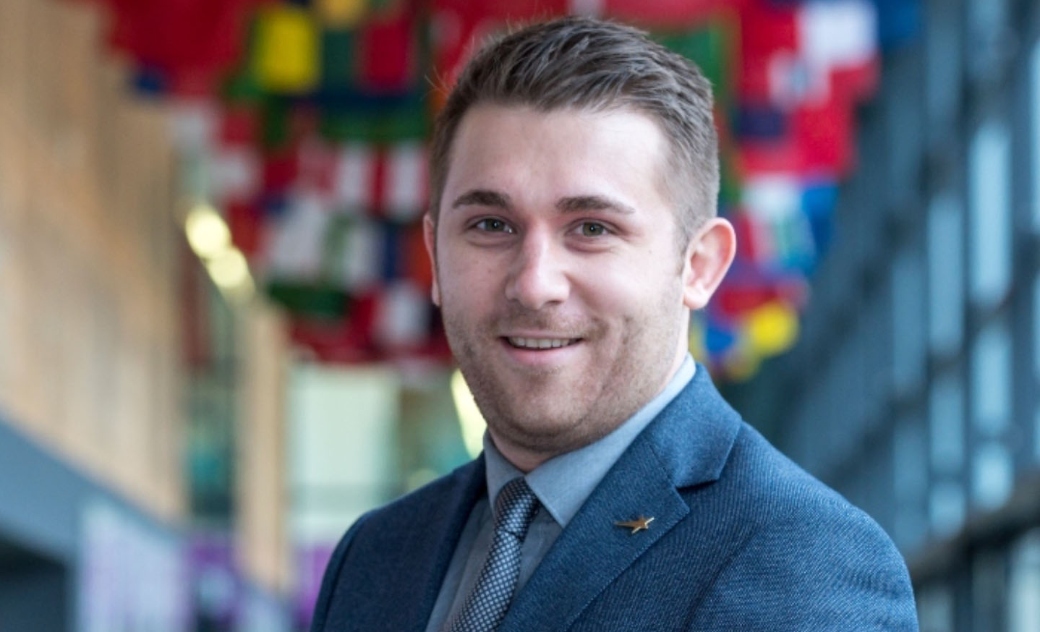 University experience and opportunities
Bradley immersed himself into his studies, taking advantage of all the opportunities his degree had to offer. He says, 'I was able to combine professional qualifications and academic learning, which made my whole experience more practical. In my first year of study, I started as a Marketing Assistant in the Students' Union, which eventually led to me becoming Vice President of the Students' Union in my final year.' He adds, 'Balancing work and studies can be difficult but the professional experience I gained in a practical role while studying was very valuable.'
He speaks fondly of his time as a student at the University and is proud to be an alumnus who continued his professional career here. He says, 'I made great friends on my degree and through the Students' Union, and I've now got friends around the world, because of the wider Alumni community.' He adds, 'I am proud to have been a student at the University and that's the reason I worked there after I graduated. I wouldn't have worked at Herts if I didn't believe it was great.'.
Aspirations for the future
Still incredibly driven, Bradley is looking to study for this PhD in the future and hopes to remain in Higher Education, ideally in a policymaking role. 'Driving education policy in the UK is hugely important because Higher Education is one of our biggest exports in the sector; it does a lot for the civic good, providing facilities, supporting businesses and supporting the economy of the local area. A strong education policy is ultimately good for the country.'
Making time for volunteering
In 2021 Bradley started volunteering with the RNLI, a charity providing 24 hour search and rescue across the UK and Ireland coastlines. Bradley, an All-weather and Inshore lifeboat volunteer crew member, and his fellow crew members are undertaking an ambitions fundraising programme for Skegness RNLI Lifeboat Station with '200 for 200' challenges which runs from 2022 to 2024 to coincide with the 200-year anniversary of the RNLI in 2024.
Bradley says, 'Giving back to my community through volunteering is really important to me. Being able to do something with my free time and potentially making a difference to someone's life is so rewarding. Working from home and remote work has enabled me to take on this amazing opportunity with such a worthwhile charity.'
Find out more about Bradley's RNLI fundraising