BA (Hons) Early Childhood Education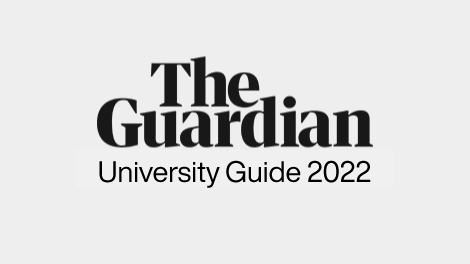 We are ranked 11th for Education in the UK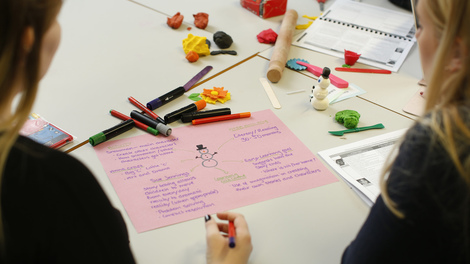 Improve your employability through work-based learning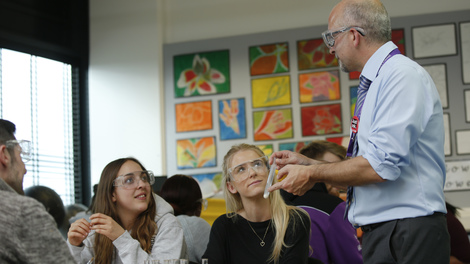 Learn from experts with a wide range of experience in early years
This course is up for periodic review

This course is due to be renewed at a Periodic Review event which will be held on July 2021.

We anticipate that there will be further enhancements made to the course as a result of the Review.

Our website and printed literature will be updated following completion of the Periodic Review in order to provide applicants with further confirmed details on the following:

module titles
whether the modules are core or optional
the expected contact hours
how the course will be assessed
staff teaching on the course

Key information

UCAS code

X310

Institution code

H36

School of study

School of Education

Course length

Full Time, 3 Years
Part Time, 6 Years

Location

University of Hertfordshire, Hatfield

Entry requirements

| UCAS points | A Level | BTEC | IB requirement |
| --- | --- | --- | --- |
| 96 | CCC | MMM | 96 points |

Additional requirements

Access Course Tariff: An overall merit profile in 45 credits at Level 3.

All students from non-majority English speaking countries require proof of English language proficiency, equivalent to an overall IELTS score of 6.0 with a minimum of 5.5 in each band.

If you do not have the required IELTS or equivalent for direct entry on to your degree programme, our Pre-sessional English and International Foundation courses can help you to achieve this level.

For more details on the University of Hertfordshire's entry requirements, please visit our Undergraduate Entry Requirements page.

Find out more about International Entry Requirements.

The University of Hertfordshire is committed to welcoming students with a wide range of qualifications and levels of experience. The entry requirements listed on the course pages provide a guide to the minimum level of qualifications needed to study each course. However, we have a flexible approach to admissions and each application will be considered on an individual basis.

| UCAS points | A Level | BTEC | IB requirement |
| --- | --- | --- | --- |
| 104-112 | BCC - BBC | MMM - DMM | 104 - 112 points |

Additional requirements

Access Course Tariff: An overall merit profile in 45 credits at Level 3.

All students from non-majority English speaking countries require proof of English language proficiency, equivalent to an overall IELTS score of 6.0 with a minimum of 5.5 in each band.

If you do not have the required IELTS or equivalent for direct entry on to your degree programme, our Pre-sessional English and International Foundation courses can help you to achieve this level.

For more details on the University of Hertfordshire's entry requirements, please visit our Undergraduate Entry Requirements page.

Find out more about International Entry Requirements.

The University of Hertfordshire is committed to welcoming students with a wide range of qualifications and levels of experience. The entry requirements listed on the course pages provide a guide to the minimum level of qualifications needed to study each course. However, we have a flexible approach to admissions and each application will be considered on an individual basis.

Sign up for alerts

Get access to personalised content, tailored towards your interests:

Information on your favourite courses
Tips to help you through the application process
Blogs, vlogs and advice from current students
Why choose this course?
You want to work with children and families to help each child fulfil their potential. You're excited to learn about children's education, development and care. We'll teach you the latest theory, philosophy and best practice. There are so many different approaches you can try. This is a chance to specialise in the development of young children between 0 – 7 years old. We'll teach you how to give every child you work with the best possible start.
Gain practical experience
You'll benefit from our strong links with employers and practitioners. You'll see theory come to life in early educational settings. We'll help you to improve your practice as you dive into work-related learning. We'll unlock your ability to capture a child's imagination, so you can support their educational needs. When you graduate, you'll have a CV packed with valuable insights, skills and experience.
Pick the path that's right for you
Choose to specialise in the area that suits you best. We give you the opportunity to focus on practice or research. Whichever path you choose, you can enter a variety of careers related to working with children and families.
If you focus on practice, you'll complete two extended work placements in your 2nd and 3rd year. In addition to your degree, you'll graduate with Early Childhood Graduate Practitioner Competencies. This puts you in an excellent position to seek immediate employment in early childhood settings and to count in staff-child ratios from the day you start work. This means you'll be able to make a difference early on in your career. Plus, you'll have a range of transferable skills that are in high demand.
If you focus on research, you'll specialise in theory and critical analysis. You'll investigate philosophies, concepts and current issues related to early childhood education. We'll teach you how to critique their impact through work-based learning. Through your studies, you'll become an expert in the theories which underpin child development, education and care. You'll become a confident, self-aware and reflective graduate. You'll have the research skills to work in a variety of multi-agency settings or progress to post graduate studies.
What's more, you can study full or part time. This degree is suitable for students who have just completed their Level 3 studies and early childhood practitioners who want to increase their qualifications. If you're passionate about improving early childhood education, then we've got a flexible programme of study that's right for you.
Learn from experts
You'll learn from lecturers who have worked in early childhood settings for many years. Our staff come from a variety of professions, including primary teaching, children centre management, health visiting and nursing. With so much experience to learn from, you'll gain a unique and valuable insight into your chosen career. Our expert teaching team are committed to delivering an innovative education experience.
What's the course about?
In your first year, we'll teach you the personal and professional skills needed by a range of early years practitioners. You'll reflect on your childhood and you'll examine your own beliefs and values. How could your background impact your future work with children? You'll develop inclusive activities and observe and plan lessons. You'll visit early childhood settings to see how practitioners engage young minds through play. We'll teach you the current issues in childhood development and education from a global and national viewpoint. You'll learn about the impact of government policy, culture and economics. We'll teach you research skills and you'll learn how to collect and interpret data. By the end of this year, you'll have the theoretical insight and growing self-awareness to see the potential of this rewarding career.
In your second year, you'll choose your own path. If you want to gain real life practical experience, you'll benefit from work placements with employers. If you want to specialise in research, you'll immerse yourself in theory and analyse its impact through work-related learning. Together we can explore the psychology of children and adults in early childhood settings. You'll design stimulating learning environments and observe children as they play and learn. What do you notice? You'll gain the skills and knowledge to design effective interventions. We'll teach you how chronic illness, special educational needs and disability can affect how a child develops. You'll question your assumptions and theories. You'll see every challenge as a chance to think creatively. By the end of this year, you'll feel confident in the area you want to specialise in.
In your third year, you'll investigate a range of concepts central to early childhood. These could include children's rights or cultural, political and economic factors. We'll teach you how to develop effective partnerships with child development professionals, parents, families and communities. You'll learn how to work with parents from all cultures and backgrounds, so everyone is included in the child's development. You'll explore the philosophy of education. You'll design fun activities to teach mathematics, language and literacy. You'll learn how to support children with Autism, Asperger's, Dyslexia and hearing impairments. You'll delve into an independent research project. By the end of this year you'll have everything you need to support a child's development.
Your main campus is de Havilland
You'll share this campus with students from business, law, sport, education, and humanities subjects. The student housing is close to our Sports Village which includes a gym, swimming pool and climbing wall. You can get breakfast, lunch, or dinner in our on-campus restaurant or bar (in the newly built Enterprise Hub) on days you don't feel like cooking. You can also use the common room to play pool, video games or just to hang out with friends.  Our Learning Resources Centres are open 24/7, which means you can study whenever suits you best. Want to pop over to the other campus? You can take the free shuttle bus or walk there in just 15 minutes.  
What will I study?
Degree programmes are structured into levels, 4, 5 and 6. These correspond to your first, second and third/final year of study. Below you can see what modules you'll be studying in each.
Level 4

Level 5

Level 6

Study abroad

An opportunity for an amazing experience, which will help make you stand out from the crowd. With more and more companies working internationally, experience of living in another country can make a great impression on future employers.

This course offers you the opportunity to enhance your study and CV by studying abroad in semester B of your second year of study. The University has partnerships with over 150 universities around the world, including the USA, Canada, Asia, Africa, Australia, South America and closer to home in Europe.

We'll ask you to make your decision in your second year, so there is plenty of time to think about it.

Work placement

The second year of the course focuses on applying theory to practice through work-related learning. In order to achieve this you will undertake a placement in an early childhood setting of approximately 22 days.

You will spend a whole week in your placement setting after which you will attend placement for one day each week throughout Semester A and Semester B.

Your learning and experience in placement will support and inform your learning in the taught modules during Year 2. If you are already in work you may not need an additional placement but the placement tutor may recommend some visits to other settings.

What if I need support?

You'll get a personal tutor to guide you through your course, all the way to graduation. You might also want or need extra support during your time with us. Rest assured, no matter what you study, we've got you covered. For help with study skills, including referencing, essay writing and presentations, you'll have access to our academic support services. You can attend workshops, 1-to-1 sessions and online tutorials. Both our LRCs (Learning Resource Centres) run drop-in study skills sessions. And the best thing is, it's all free.

Within the School of Education, we have a dedicated 'Student Success and Engagement Team' who are there to support you with your welfare and academic writing support. There are also opportunities to have a peer mentor, who will be a more experienced student specially trained to provide support for you.
Check out our student blogs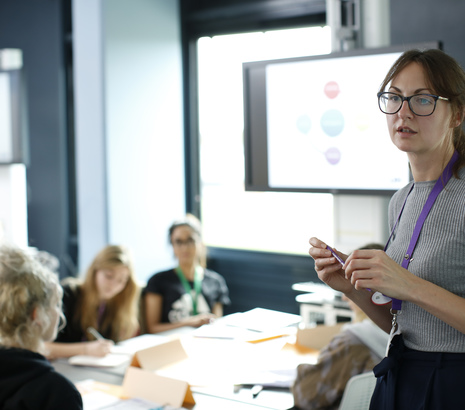 Student Blogs
Katie - Week at a glance
My week at a glance
My week as a third-year student always started with ensuring that I had prepped for the week ahead for example sorting travel to and from university as a disabled student this had to be done in advance as much as possible so that I could get the right assistance and deal with any issues that a rose on the day. I would recommend you check your timetable every day for any room changes. Once I had established the days when I was in university, I had a routine and it was easier to manage my anxiety.
Lectures are more intense as there is a lot of information to take in either one or two hours so make sure you have different notebooks for each module this will help you keep organised and have everything in one place and when you come to writing your assignment, this will be a god send trust me!! Also, listen to the tutors, they are there to help you. As a disabled student I had a study needs agreement which meant that I was able to have lecture slides a few days before the lecture so that I could read and make notes; I had scribe to help me. During my time at university, I couldn't lip read and make notes at the same time, so this was essential to my journey at university as this made access a little easier.
Once I had logged on to Studynet and got the information, I needed for the week I printed everything I needed and put them in the folder for the specific module with notebook. I would always have sub sections in my folder like 'My Notes' with dates and headings so I could refer to them and I had a copy of the module guide to refer back to so that I can link my notes to sections in my folder.
Seminars follow on from lectures, but they are in smaller groups so you're able to work with fellow classmates and discuss the topic in more detail with the tutor. I would make sure you have your notebook ready as the seminars you will attend have more information to help with your assignments. This is the time to ask questions about the module or topic that is being discussed that week.
After the seminar I would have an hour break to have food etc this is where I would recommend you switch off either listen to music or just chat with your friends before the next seminar otherwise you will struggle in the last seminar of the day. Drink something with sugar or eat chocolate to help you will the last bit of energy. I also used any spare time I had whilst in university to see the student engagement team in the School of Education to help with my academic writing. This service is brilliant, and they are lovely team!
On Fridays I tend to be more tired so just take your time and make sure you have prepped, and this will help with any work given to do at home. Time keeping is essential because I needed at least the evenings off during the week when I was at university. The days when I was at home not going to university I would do extra readings from the reading list then the other days I had days off I did my work as a governor at a special needs school and then spent time with family and friends.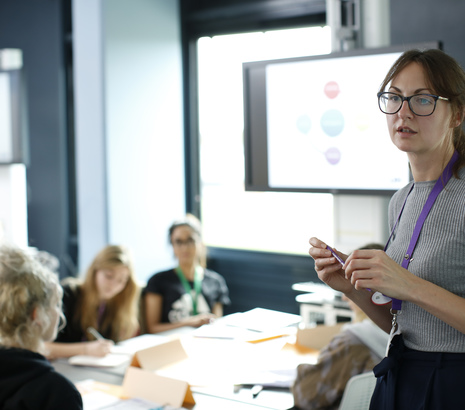 Student Blogs
Katie - Why I love education
What I love most about my course
I loved my course because we learnt Psychology, History of Education, Contemporary Ideas and Philosophy-what is education. In my First Year, to give you a different view what education is about and then you were able to decide if you wanted to general overview of education or be more specific and I chose special education needs as I wanted to understand in more detail about special education needs what it meant in a different context.
In my Second Year, I learnt more about special education needs and what is inclusion I was able to explain what cerebral palsy is to my fellow classmates and we had real-life experiences from other people who had different disabilities talk to us which gave me the opportunity to see it through their eyes and I became to see things differently not everything is as straight forwarded as I first thought.
We were given the chance to have work experience within our modules and I really enjoyed this part of the course as I was able to go back to my old school and do my work experience there as I was able to go to two schools: Lonsdale and Nobel and it were nice to see how much they have changed for the better and I was able to improve their access as they asked my opinion and they have used some of my suggestions that I put forward.
Working with my teacher again was one of the highlights as he said I'm still the same person; passionate about people seeing passed the wheelchair and I have had other students with disabilities come up to me asking who I am and they want to be as confident as I am! This gave me a different idea of what I wanted to do within education, which I will discuss further on.
With the new knowledge that I had gained helped me with my work as a governor as I was able to articulate my views very well and some of my ideas that I have suggested have been used at the school. We were also the opportunity to learn about research and all the terminology, so we had the skills ready for our final year.
They say Final Year is the hardest and I totally agree it is but that is the challenge as learning is not always meant to be easy. We only had one lecture a week for the research project in semester A, the rest were seminars to do with Research and Special Educational needs. Research Project was split into two sections: a proposal of our research project and presenting it as a presentation. This gave the tutors insight about how we thought through our question as it had to be a small example due to the time restrictions so that we focused on the question we wanted to answer.
I was grateful for this as I was able to use the proposed plan as my main structure for the writing part in part two which saved me so much time and effort. I would suggest that you use part one of the research as your layout in part two.
On a personal level, my time at Herts has been amazing even with the challenges that I had to face within the university and school of education are an amazing team to be a part of as they supported me to voice my ideas and express them to the relevant people.
As said previously I was passionate about people seeing passed the wheelchair and because of my personal challenges at university. I then realised I wanted to start my own business as a disability awareness coordinator as I feel that I can educate people on how to how to communicate with people with different disabilities. I have my Canine Partner still waiting for my partnership and I will have him work alongside me in this new journey. So, I have new experiences happening in my life after university which is exciting.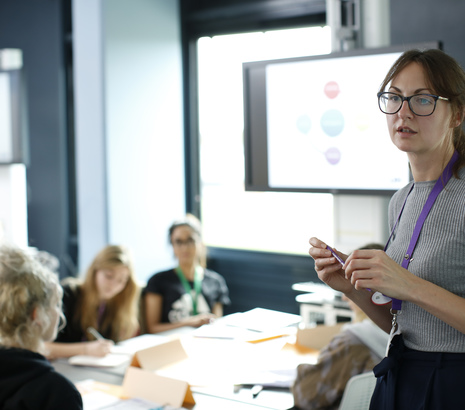 Student Blogs
Katie - Why I chose herts
Why I chose Herts
I chose Herts because I could commute from home and because of my care needs had to be taken into consideration. Also, Herts they offered the course I wanted to do which was Education Needs with Special Education Needs. I wanted to learn more about special education needs in a broader content because I know about cerebral palsy as I live with it myself.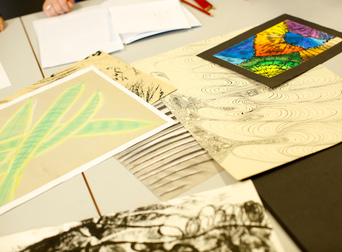 Alumni Stories
Jake Garwood
Meet Jake Garwood who discovered his passion for teaching and education while studying. He currently works as a Year 4 teacher in a junior school near the University.
Read more stories
Find out more about this course
Sparking a passion
Jake decided to go to the University of Hertfordshire based on our 'excellent reputation for teaching training.' His time as a student did not disappoint as his course sparked his passion for education and he says the 'engaging modules at the University and inspiring tutors played a key part in making me the teacher I am today.'
The variety of modules on both of my degrees, from contemporary issues in education to educational technology, from philosophy of education to equality and inclusion, put me in the best possible position to begin my teaching career.'
Aspirations for the future
Jake finds teaching an extremely rewarding career, therefore he does not intend to leave the profession. He says, 'I think it is one of the most rewarding profession available and if you care about the future, then teaching the next generation is one of the best things you can do.'
However, he adds that his ultimate goal is to work towards a Masters in Education, followed by a PhD in the same field. He'd like to keep his options open as to future career paths.'
The variety of modules on both of my degrees, from contemporary issues in education to educational technology, from philosophy of education to equality and inclusion, put me in the best possible position to begin my teaching career.
Due to the ongoing Coronavirus pandemic, examinations may be replaced by an alternative form of assessment during the academic year 2020/2021. Please refer to the Programme Specification on these pages for further details.
Please note that some of the images and videos on our course pages may have been taken before social distancing rules in the UK came into force.