BSc (Hons) Midwifery (Pre-registration)
NHS Learning Support Fund
Training grants of at least £5,000 a year are available for eligible healthcare students which you will not have to pay back.
You may also be eligible for an additional £2,000 towards childcare costs to help balance your studies with family life and £3,000 for students who find themselves in unforeseen financial hardship.
Find out more
Key information

Entry requirements

| UCAS | A Level | BTEC |
| --- | --- | --- |
| 120-128 | BBB-ABB - including at least grade B in a Biological or Behavioural/Social Science | DDM - in Applied Science or Health related subject |

Additional requirements

GCSE: Grade 4/C in English language, mathematics and science.

IB: 120-128 points from a minimum of 1 HL at grade 5 or above in a biological or behavioural/social science and 1 HL subject at a grade 4 or above (with the remaining points to come from a combination of HL, SL and Core).

Access: Access to Nursing and Midwifery, Health Professions or similarly named course- students must achieve a minimum of 30 Distinctions at Level 3 and the remainder at Merit.

We do request that applicants have (normally) undertaken some form of formal study within the last five years.

All offers will be subject to the applicants demonstration of the NHS constitution's "Values and Behaviours", satisfactory interview, occupational health screening and the Disclosure and Barring Services (DBS) checks. You can view the full NHS Constitution for England on the Government website.

For more details on the University of Hertfordshire's entry requirements, please visit our Undergraduate Entry Requirements page.

Find out more about International Entry Requirements

The University of Hertfordshire is committed to welcoming students with a wide range of qualifications and levels of experience. The entry requirements listed on the course pages provide a guide to the minimum level of qualifications needed to study each course. However, we have a flexible approach to admissions and each application will be considered on an individual basis.

Professional accreditations

When you successfully complete the BSc(Hons) Midwifery course, you can apply for registration with the Nursing and Midwifery Council, the regulatory body governing Midwifery practice in the UK. It is necessary to register in order to practice as a midwife in the UK.

Sign up for alerts

Get access to personalised content, tailored towards your interests:

Information on your favourite courses
Tips to help you through the application process
Blogs, vlogs and advice from current students
Why choose this course?
Gain hands on experience in our simulation hospital wards
Learn on clinical placements throughout your course
Provide essential care during pregnancy, labour and after the birth
we have an excellent reputation and will help you to develop the qualities needed that define a University of Hertfordshire graduate midwife.
with the BSc (Hons) Midwifery course you gain sound midwifery knowledge of normality, enabling you to become competent in recognising and managing deviations from this normality.
inclusion of the Newborn and Infant Physical Examination (NIPE) competency provides you with advanced knowledge to support the care provided.
our commitment to achieving UNICEF UK Baby Friendly Accreditation enables learning that supports best practice in relation to infant feeding.
in addition to university study skills support, lecturers also provide close guidance to students both in the university and in practice.
the course lays the foundation for your continuing personal and professional development throughout your career, with opportunities when you graduate for post-qualification study at masters and doctoral level.
100% of graduates are in work or doing further study 15 months after the course (Graduate Outcomes, 2019/2020).
for more resources on how to prepare for your midwifery course read more here.
Any queries about the programme or entry requirements, please contact the Midwifery Admissions Team.
What are the facilities like?
You'll benefit from specialist facilities within our Meridian House in Hatfield town centre. From clinical skills laboratories to simulation hospital wards and audio manikins, along with state-of-the-art audio-visual equipment that enhances lectures and conferences, you'll have the tools you need to enhance your learning experience.
What's the course about?
Midwives provide essential care during pregnancy, labour and the postnatal period to both mothers and their babies. You'll gain sound knowledge of what's normal and healthy in childbearing women and recognise and manage any problems that may arise. You'll learn how to perform examinations on the mothers-to-be as well as their infants after birth. Alongside studying the theory of midwifery, half of your time will be spent in various clinical settings partnering with experienced midwives.
Your time at the University
You will spend 50% of your time here. You'll build your theoretical knowledge in lectures, seminars, tutorials and laboratories. We'll help you strengthen your ability for self-directed study and further your interpersonal skills. You'll also develop your writing, presentations and computer literacy skills through case studies, individual and group projects and other student-centred activities.
In your first year, we'll start you right from the beginning. You'll explore a woman's journey into motherhood. You'll understand the well-being of the childbearing woman from antenatal to the postnatal period. You'll see the importance of working as part of one multi-professional group to help a new parent make informed pregnancy and birthing choices.
There are lots of social and cultural aspects to consider in midwifery. You will get to explore these in more detail in your second year. You will also look at disorders of body systems, medical conditions caused by pregnancy and breastfeeding conditions and challenges. At the end of the second year, you will also have the opportunity to undertake an elective placement.
In your final year, you'll find that you have grown to love certain topics that you just need to learn more about. For example, this could be the parent-baby attachment or how culture or religion affects the neonatal care you give to new mothers. It's up to you to decide what you want to focus your final literature review on.
Your main campus is College Lane
This is where the creative arts, science and health-related subjects are based. This means you'll share the campus with future nurses, scientists, artists and more. You can use the common rooms to relax with friends, work out in the 24-hour gym or have a drink in our on-campus pub or cafes. We also have restaurants for you to eat in or grab something on the go. Our Learning Resources Centres are open 24/7, which means you can study whenever suits you best. Want to pop over to the other campus? You can take the free shuttle bus or walk there in just 15 minutes.
What will I study?
You will experience a wide variety of approaches to teaching and learning on this course delivered by experienced experts in the field. We will support you to develop the qualities needed to become a skilled, competent and confident midwife who can care and advocate for mother and baby. Your studies will include standard lectures, seminars, tutorials and simulated learning in our clinical skills laboratory. We also facilitate learning through case studies project work and a range of student centred activities.
In your final year you will normally have the opportunity to practice independent study skills by completing an extended literature review on a subject of your choice.
Level 4

Level 5

Level 6

Work placement

You have the exciting opportunity to undertake an elective placement at the end of your second year. If you choose this option, it will get to spend three weeks in a different midwifery setting either in the UK or abroad.

You will spend 50% of your time in a clinical setting. You will partner with qualified, experienced midwives who will support your learning. You will also be involved in other healthcare environments which are relevant to midwifery throughout your three years of study.

placement sites are allocated according to preference and availability and include: West Herts Hospitals NHS Trust, based at Watford General Hospital, East and North Herts NHS Trust, based at Lister Hospital in Stevenage, and Royal Free London NHS Foundation Trust, based at Barnet Hospital, Luton and Dunstable University Hospital Foundation Trust in Luton and Princess Alexandra Hospital NHS Trust in Harlow
all placements will give you the opportunity to link the theoretical knowledge you gain via lectures and seminars with practical experiences in the clinical field.

What if I need support?

You'll get a personal tutor to guide you through your course and you will also have a student buddy to help you when needed. Additionally, all our sites have practice education facilitators with who we work closely, they will support you in practice in addition to lecturers.

You might also want or need extra support during your time with us. Rest assured, no matter what you study, we've got you covered. For help with study skills, including referencing, essay writing and presentations, you'll have access to our academic support services. You can attend workshops, 1-to-1 sessions and online tutorials. Both our LRCs run drop-in study skills sessions. And the best thing is, it's all free.
'This course has a good mixture of practice and placement blocks, to help implement our learning and help build confidence to be a competent practitioner with a NIPE qualification.'
Check out our student blogs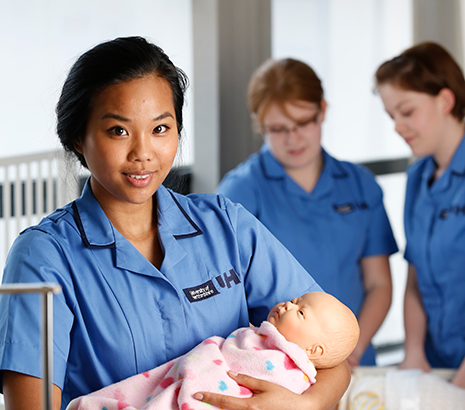 Student Blogs
Alina - Week at a glance
My week at a glance
Hello everyone! My name is Alina and I am in my first year of the Midwifery course. In this blog, I will tell you the few common things that I do every week when I'm at uni.
I always start my week by planning what I will be doing that specific week. I have a planner that I keep which helps me remember the things that I need to do. I write deadlines, duties that I must fulfil and other personal responsibilities.
Before lectures, I try to remind myself of the topic that will be discussed at that lecture so that I will be bringing the right things to the lecture.
Soon after each lecture, I tend to visit the Learning Resource Centre (LRC) and go over the lecture again in my own time to make sure I understand everything discussed in that lecture. I like to draw diagrams, print pictures and use many colours when taking notes. I have noticed that this is a very effective way of learning for me.
During placement weeks, I ensure I have the right things with me in the hospital, such as a note pad, a stethoscope, and a pen. Taking notes whilst on placement has aided my visual learning, as whenever I am shown something new, I find that writing it down helps to build and reinforce my understanding.
Aside from the compulsory lectures and placement, I try to do other activities within the University. I occasionally play volleyball and recently joined the Student Ambassador community. The midwifery course isn't entirely easy, and therefore it is very important to find some time for yourself to go out with friends and do what you love to do.
While university life may sound scary to many of you, if you have the right people next to you, encouraging you to keep going, you can have an amazing time studying a subject that you love. Therefore, I encourage all of you to make friends, join communities outside your course and be open to other opportunities. The University also has so much support available to all their students, so if you ever need some advice and support the student support centre and your school of study will be happy to lead you in the right direction.
I wish you all the best of luck!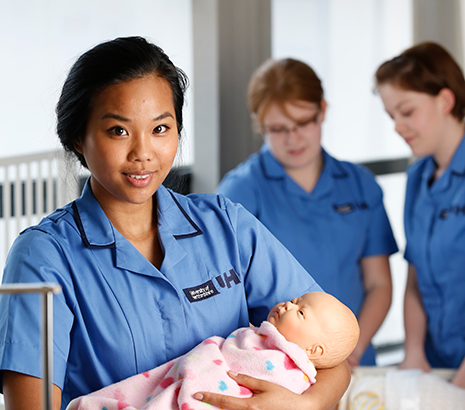 Student Blogs
Alina - Things you should know
Things you need to know before studying Midwifery at Herts
You probably think that reading is essential to gain the knowledge of midwifery, and yes, this is partly true, however, the university provides many practical resources and opportunities for you to gain the skills and knowledge of midwifery as well as theory. To be completely honest, I didn't know much information about midwifery before starting my course and now that my first year is almost over, I can tell you a few tips to enhance your knowledge of midwifery before starting the course.
Getting to know what midwifery is about
Before starting your course, you might find it useful to read about what the course is about, however you would have to find out what midwifery is about. There are some books which can help you get started. Reading about midwifery will make your life at university easier as they will not only inform you of what midwifery is about beforehand but also help you with your assignments and knowledge throughout your 3-year course. It is always helpful to ask the university what the course consists of and what to expect from it.
Midwifery is a complex course, however, the outcome of it is worth it. This course will require commitment, there will be moments when you will have to give up a night out to finish an assignment or cancel plans due to change in your timetable. As this course provides 50% theory and 50% placement, good time management is essential. You will have to make sure you're not absent and not late as it can affect your learning.
When studying midwifery there are different ways you will be assessed. Aside from being assessed on your knowledge of the theory you've been taught; you will also be assessed on your performance and skills in placement. There is no need for you to be worried about that now because everything will be easier to understand as you start your course. There is plenty of support available for you regarding any aspect of your course and anyone at the university will be happy to help you.
Studying midwifery will require a lot of independent work. You will be required to plan your time wisely to meet deadlines and avoid stressful situations. To help you organise your time better I recommend that you buy a diary where you can write your plans for the days and weeks to come. Making friends from your cohort can be very helpful as well. Yes, university life can get stressful at times, but you must ask for help when you need it.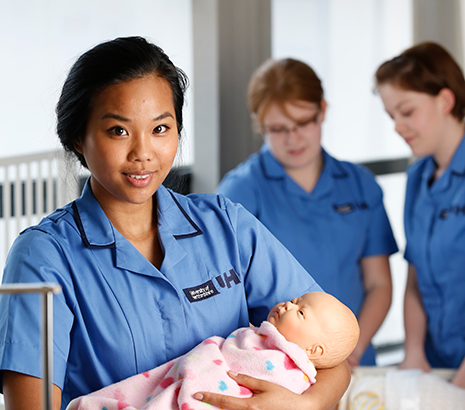 Student Blogs
Alina - Why I chose Herts
Why I chose Herts
Hi! My name is Alina and I am going into my second year of studying midwifery at the University of Hertfordshire. Before applying to universities last year, I used to live in North-West London with my family, therefore I applied to the universities closer to home. After being accepted at the University of Hertfordshire my family decided to buy a house in Northampton which meant that I had to commute from Northampton, live in halls or rent private accommodation in Hatfield. I went with the third option. This year I have had the opportunity to see what's it like to live with other students and how it is to take my life into my own hands.
Before studying at Herts, I studied a two year BTEC Health and Social Care course in London. During this time, I have had the opportunity to study different areas of health and social work. The decision to study midwifery was spontaneous and it the best decision I have made so far. The University of Hertfordshire is a great place for those who want to study midwifery. I remember the interview at Herts took place in a building where practical lectures usually took place. This is when I saw how many different learning resources the university can provide to its students.
The facilities of the university are amazing. Not only does it have 24/7 Learning Resource Centre (LRC) access and support available but also the quality of the food served as well as other advanced facilities have been an influence towards my decision to choose Herts as the university, I would like study at.
Moving away from home isn't easy, I have struggled at the beginning but the support I received was very helpful. For those who want to move into halls or other accommodation, I advise you not to panic. The idea of moving from home may sound scary but if you try to enjoy it, you will realize that it is not as scary as you thought it would be.
Thank you for reading this, good luck!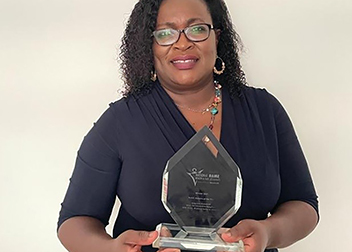 Alumni Stories
Angelina Ankomah
Meet Angelina Ankomah, Black, Asian and Minority Ethnic Midwife of the Year award winner with a passion for helping people
Read more stories
| | |
| --- | --- |
| Current job role | Diabetic Specialist Midwife - West Hertfordshire Hospitals NHS Trust |
| Year of graduation | 2006 |
| Course of study | BSc (Hons) Midwifery |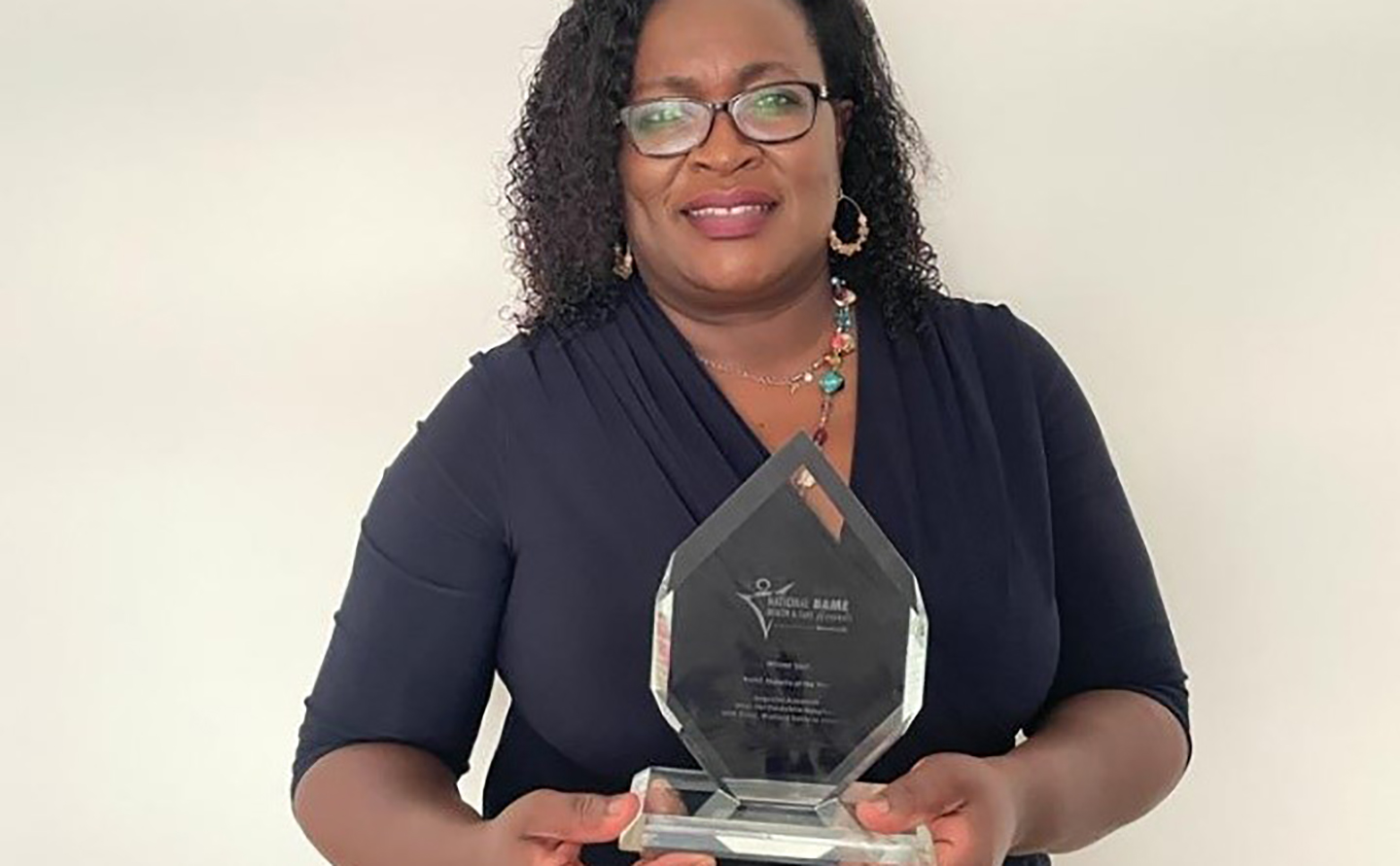 Award-winning midwife Angelina Ankomah (BSc (Hons) Midwifery, 2006) has made a huge impact in society since completing her degree at the University's School of Health and Social Work. This culminated in her being named Black, Asian and Minority Ethnic Midwife of the Year at the 2021 National Black, Asian and Minority Ethnic Health & Care Awards.
The awards recognise and celebrate the achievements of Black, Asian and minority ethnic staff across health and care services, including exceptional initiatives and leadership, and the improvement of services, for people from Black, Asian and Minority Ethnic communities. Angelina was originally shortlisted along with three other midwives from around the country and the judges were highly impressed by her commitment, dedication and inspiring leadership.
Speaking at the time about the award, West Hertfordshire Hospitals NHS Trust's Chief Nurse, Tracey Carter said, 'We are delighted that Angelina has won the 'Black, Asian and Minority Ethnic Midwife of the Year award 2021' and that her outstanding contribution to the maternity diabetes service has been recognised. Her leadership, compassion and commitment has improved care and outcomes for so many of our diabetic mothers.'
A passion for nursing
Looking back on her career, Angelina's dream was to become an accountant and work in the City but she was encouraged by her family to go into nursing. It turned out to be fantastic advice as she discovered nursing was her true passion. Angelina tells us her story,
'I started work as a Health Care Assistant (HCA) on an elderly care ward, which helped me to understand the practice of care within the health profession. I realised that I loved caring for people and supporting them through their journey to good health. I decided to study for a Diploma in Adult Nursing at the University of Hertfordshire in 1999 and this initiated my professional nursing career. '
Studying at Herts
Angelina returned to the University in 2004 to study for her BSc (Hons) in Midwifery and qualified in 2006. She looks back on her time at Herts with great pride and fondness,
'My experience at Herts was exceptional as the lecturers were extremely encouraging and supported me to excel in my academic work to achieve my potential. I have great memories of my time there as it was an environment where I built lifelong friendships.
My fellow students really made it a memorable experience for me as they helped motivate me and were always supportive. Group sessions were very stimulating and engaging; reflecting brings back fond memories of some of the exciting debates we got into as we did our coursework.
The social side of the university was fun, but I can't comment about the nightlife as I had a two-year old at home during that time! Nevertheless, I had a fantastic time whilst studying there.'
Life after Herts
After graduating in 2006 Angelina joined the Midwifery Department of Watford General Hospital where she started off as a junior midwife, working in all areas of midwifery and then finally settling in the labour ward. Her desire to expand her knowledge saw her take on further learning including qualifications in Management of Complex Pregnancies and Management of Diabetes in Pregnancy that eventually led to her current role as a Diabetic Specialist Midwife at Watford General Hospital.
She has also been a guest lecturer here at Herts, teaching midwifery students in the management of diabetes in pregnancy.
Charity work
Angelina is a core team member of The TRIO Bridge Foundation, a UK registered charity focused on the promotion of a holistic and evidence based approach to healthcare provision in developing countries and within Black, Asian and Minority Ethnic communities in the UK.
TRIO-Bridge also works in partnership with selected Black, Asian and Minority Ethnic Nurses Associations in the UK, aiming to bridge cultural and communication barriers. Covid-19 restrictions redirected training methods and as a result, Angelina is now working on a project to assist in pre-health service areas including strengthening faculty, skills development and improving ICT systems to selected health institutions in Ghana.
The future
When talking about her next steps in her career Angelina says,
'At the moment, my role is a very busy one, but I enjoy it. Following my recent Black, Asian and Minority Ethnic Midwife of the Year award there has been a lot of interest in my work, from contributing to magazines to speaking at midwifery conferences.
I would like to have more speaking opportunities at academic institutions, to motivate young Black, Asian and Minority Ethnic students to pursue options in nursing and midwifery as a career path to serve their community.'
Words of advice
Our conversation with Angelina finishes on a very positive note as she concludes,
'I remember as a junior nursing student, during my first day at nursing college, an Irish lecturer encouraged us to give our best to our patients. She told us to always be mindful that the patients for whom we provide care for could be our sister, brother, friend, or uncle, and that they are an extension of us.
This has stayed with me throughout my career, and I have no doubt that following that advice contributed to me being nominated and subsequently winning the Black, Asian and Minority Ethnic Midwife of the Year 2021.'
If you have an inspiring story like Angelina's please get in touch with us at the Alumni Office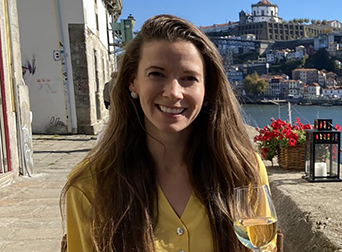 Alumni Stories
Sophie Wilkins
Meet Sophie Wilkins whose desire to help people has led her into a career as a midwife
Read more stories
| | |
| --- | --- |
| Current job role | Community Midwife |
| Year of graduation | 2020 |
| Course of study | BSc (Hons) Midwifery |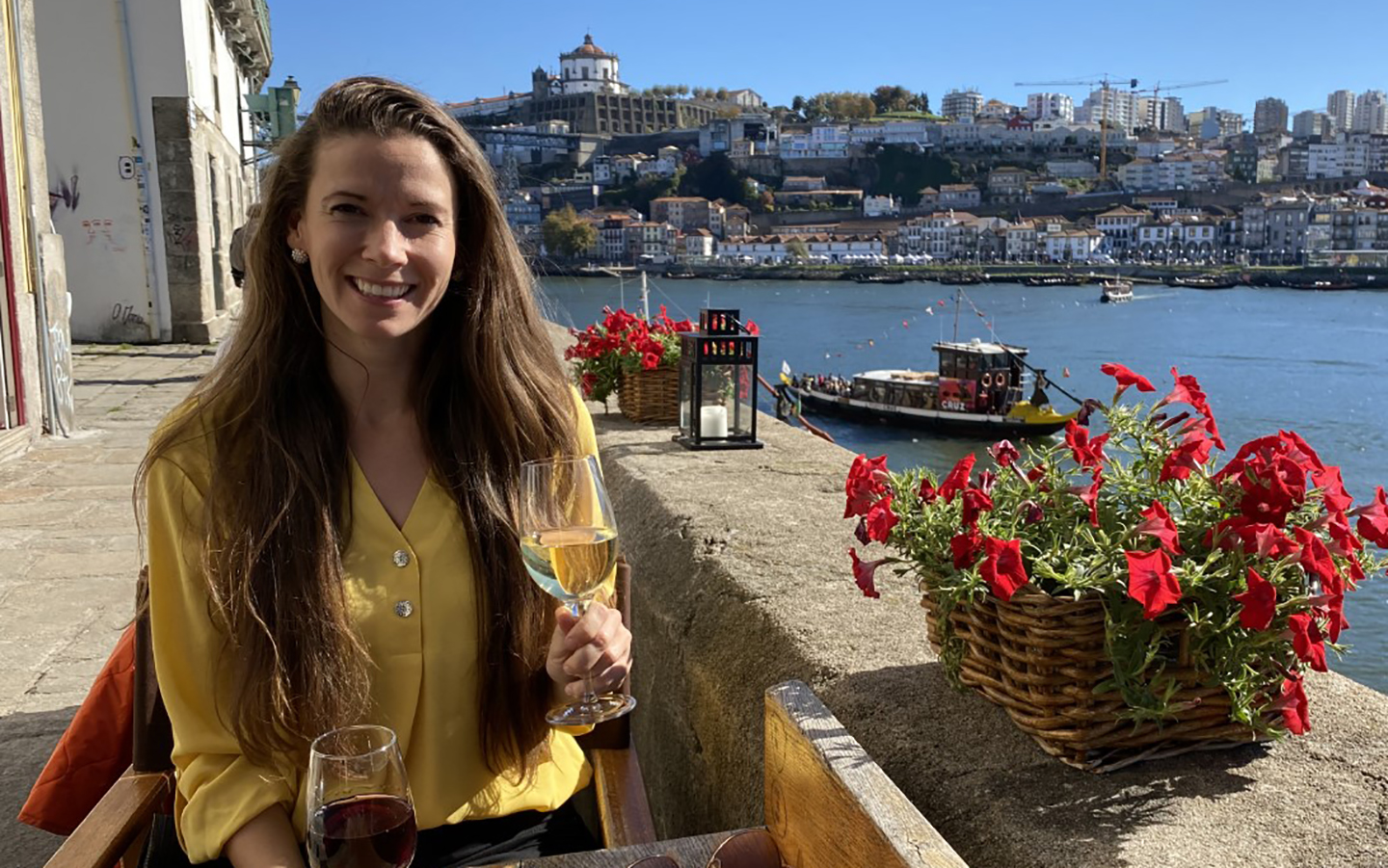 With a mother and sister both working in the NHS, Sophie was inspired by hearing their stories about how rewarding a career in healthcare can be. Coupled with a strong desire to help people she was led to midwifery and Herts.
Talking about why she chose midwifery Sophie says, 'The journey to motherhood and beyond is so inspiring, and it feels wonderful to be part of a profession involved in such a pivotal moment in peoples' lives.'
Having qualified in September 2020, during the pandemic, Sophie started work as a Band 6 Midwife at The Royal Free Hospital on their labour ward. This role entailed supporting women during labour, and facilitating births, in a range of low-risk and high-risk settings.
She has now moved into a role as a community midwife, working at Edgware Birth Centre. Sophie says, 'In this role I have a caseload of approximately 36 pregnant women of whom I provide, and co-ordinate, their antenatal care. I also see women within our community area once they've had their baby - providing feeding support and general postnatal care. It really is a fantastic role!
Study at Herts
When it comes to why she decided to study at Herts, Sophie says a variety of factors were pivotal in her decision.
'Herts is a very forward-thinking University, and one of the only providers in England to include The Newborn Infant Physical Examination qualification within their degree. Whilst I was very keen to apply, I visited for an Open Day before I did, and I absolutely loved the feel of the campus and the warm welcome I received from the midwifery team. It really did compound my decision that Herts was the place I wanted to study!'
Expert help
Looking back on her time at Herts and how the course has helped with her career Sophie says,
'The best thing about the course was the incredible knowledge of the midwifery lecturers. They all came from highly decorated clinical careers, with some even continuing to work in an acute hospital setting. It also meant the pastoral support received from them was exceptional - they all understood the pressures we faced whilst on clinical placement.
This unwavering support helped build my confidence and shape me into the midwife I am today. My personal tutor, Bernie Nipper, fuelled a passion in me to always have the woman, and her family, at the heart of what I do.'
Peer support
With an emphasis on support from both lecturers and students it's no surprise that Sophie has such strong memories of her time at Herts.
'My favourite memory of Herts is definitely the friends for life I have made on the course. The journey to becoming a midwife is like a rollercoaster, with incredible highs such as witnessing your first ever birth, to sombre lows when supporting bereaved families. It is during these three years that Herts provided the safe space to talk, process and support one another. I am so proud of all the Herts Midwifery students and I feel privileged to have graduated alongside them.'
'My fellow student and best friend was Chair of the Herts Midwifery Society - this provided us with fantastic learning opportunities. One of my favourites was a study day run by a fantastic organisation called 'Positive about Down Syndrome'.
The future
Sophie is very proud of the fact that in June of 2021 her third year literature review was published in MIDIRS, an academic midwifery publication. She is very much concentrating on the now, especially as the pandemic has such implications in healthcare and says,
'Whilst the COVID pandemic continues, my role as a community midwife is more important than ever. But most excitingly, I now have the opportunity to mentor new Herts midwifery students who are coming out on their clinical placement and give back to the University that gave me so much.'
View our Alumni profiles

Key staff

Chin Swain
Programme leader (3 year)


Further information - includes assessment method

| Course fact sheets | |
| --- | --- |
| BSc (Hons) Midwifery (Pre-registration) | Download |

| Programme specifications | |
| --- | --- |
| BSc (Hons) Midwifery (Pre-registration) | Download |

| Additional information | |
| --- | --- |
| Sandwich placement or study abroad year | n/a |
| Applications open to international and EU students | Yes |
| Course length | Full Time, 3 Years |
| Location | University of Hertfordshire, Hatfield |

How to apply?

Interview

Once you have applied via UCAS, you may then be invited for an interview. The face-to-face interview involves a group workshop and multiple mini interviews over the course of half a day. Tutors want to see your passion and enthusiasm for the career and an understanding of what being a midwife entails.

Fees and funding

Fees 2023

UK Students

Full time

£9250 for the 2023/2024 academic year

EU Students

Full time

£16705 for the 2023/2024 academic year

International Students

Full time

£16705 for the 2023/2024 academic year

​Our international fees include the cost of practice placements, occupational health, Disclosure and Barring Service (DBS) check, and uniform.

NHS Funding for UK/EU Students

Students studying on nursing, midwifery or allied health professional courses funded by Health Education England will have access to the same student loans support package and support for living costs as other students.

You could also benefit from the NHS learning support fund if you study an eligible nursing, midwifery, or allied health course. If eligible, the different kinds of support you could get include a training grant, parental support, money back for travel and temporary accommodation whilst on placement, and financial hardship (which you won't need to pay back).

For more detailed information on the scholarships and/or bursaries available, please visit our fees and funding page and the NHS learning support fund website.


*Tuition fees are charged annually. The fees quoted above are for the specified year(s) only. Fees may be higher in future years, for both new and continuing students. Please see the University's Fees and Finance Policy (and in particular the section headed "When tuition fees change"), for further information about when and by how much the University may increase its fees for future years.

View detailed information about tuition fees

Read more about additional fees in the course fact sheet

Other financial support

Find out more about other financial support available to UK and EU students

Living costs / accommodation

The University of Hertfordshire offers a great choice of student accommodation, on campus or nearby in the local area, to suit every student budget.