BSc (Hons) Automotive Technology
Entry requirements

| UCAS Points | A Level | BTEC | IB requirement |
| --- | --- | --- | --- |
| 104-112 | BCC-BBC - minimum of two A Levels | MMM-DMM - requires a Diploma in engineering or technology based | 104-112 points from a minimum of two HL subjects at grade 4 or above |

Additional requirements

GCSE: Grade 4/C in English language and 4/C mathematics

All students from non-majority English speaking countries require proof of English language proficiency, equivalent to an overall IELTS score of 6.0 with a minimum of 5.5 in each band.

If you do not have the required IELTS or equivalent for direct entry on to your degree programme, our Pre-sessional English and International Foundation courses can help you to achieve this level.

For more details on the University of Hertfordshire's entry requirements, please visit our Undergraduate Entry Requirements page.

Find out more about International Entry Requirements.

| UCAS Points | A Level | BTEC | Access Course Tariff | IB requirement |
| --- | --- | --- | --- | --- |
| 104-112 | BCC-BBC - minimum of two A Levels | DMM - requires a Diploma in engineering or technology based | Engineering or technology diploma with merit profile | 104-112 points from a minimum of two HL subjects at grade 4 or above |

Additional requirements

GCSE: Grade 4/C in English language and 4/C mathematics

All students from non-majority English speaking countries require proof of English language proficiency, equivalent to an overall IELTS score of 6.0 with a minimum of 5.5 in each band.

If you do not have the required IELTS or equivalent for direct entry on to your degree programme, our Pre-sessional English and International Foundation courses can help you to achieve this level.

For more details on the University of Hertfordshire's entry requirements, please visit our Undergraduate Entry Requirements page.

Find out more about International Entry Requirements.

Professional accreditations

The BSc (Hons) Automotive Technology course is accredited by IMechE and satisfies, in full, the academic requirements for Incorporated Engineer (IEng) registration for the cohort intakes from 2016 up to, and including, 2020. Accreditation is being sought for the 2022 intake.

Sign up for Clearing support package

Exclusive content to help you through Clearing

Tips and info sent straight to your inbox
Clearing advice livestream
Subject campus tour
1-on-1 call with advisor
Downloadable university starter kit
Opportunity to have your first year society membership fee paid upon enrolment
Why choose this course?
Learn using a 'design and build approach' which will gain you invaluable practical skills
Our graduates are highly employable, now working for multinational companies such as Nissan
Design, build and race a Formula Student race car by joining the Formula Student Competition
The BSc (Hons) Automotive Technology degree programme is specifically designed to provide you with a broad-ranging skillset to support the development of automotive products.
Excitingly so, Herts has recently joined the Conceive Design Implement Operate (CDIO) initiative; a worldwide network of academic professionals, industry representatives and engineering leaders who have a passion for engineering education and engineering leadership. The CDIO educational framework has been embedded into the BSc (Hons) Automotive Technology degree which hugely enhances the benefits you will take away on completion of this course. It means you will be able to put everything you learn into practice, through a 'Design and Build' approach, allowing you an authentic, hands on experience during your studies.
Herts Graduates are highly employable in a wide range of firms operating in the automotive sector. Recent automotive technology graduates have gone on to work at organisations including Nissan, Dyson, and Bentley Motors.
Clubs, societies and extracurricular
Herts participate in a Formula Student Competition which you are welcome to join from your very first year of study. This is an exciting extracurricular opportunity to work with other engineering students in designing, building and racing a Formula Student race car. A great addition that will shine on your CV and enhance your employment prospects.
Expand your knowledge and get the most out of your university experience by participating in the various co-curricular activities that are available to you while you study on this BSc (Hons) Automotive Technology course. The School of Physics Engineering & Computer Science has recently launched countless outstanding opportunities which can heighten your depth of understanding, should you choose to get involved. Activities available include Shell-Eco Marathon, Engineers without Borders Design Competition, IMechE Design Challenge, UP Research, Machining Club, and the Sim Racing Society.
What's the course about?
Gaining you the specialist skills, knowledge and experience needed to become a successful automotive engineer in a fast-growing industry.
This BSc (Hons) Automotive Technology degree offers a mixture of theory and practical-based learning, allowing you to grasp a thorough understanding of each of the key engineering principles while also gaining plenty of hands-on experience in practical projects where you can apply the theoretical knowledge gained in lectures. A significant amount of your time will be spent in workshops and using our well-equipped labs to aid with practical lessons included in the course curriculum. We carefully crafted this teaching blend to ensure you walk away with optimal capability that will give you a head start for when you start out working professionally in the industry.
Want to get the most out of your course? We encourage you to make the most of the exciting facilities available to you, that can really heighten your skills and experience in Automotive Technology by put learned theory into practice. Utilise the numerous computer labs where you will have full range to constantly advance your design and simulations skills and also enjoy the facilities dedicated to manufacturing where you'll be able to conduct an assortment of experiments.
In your first year, you will learn fundamental engineering principles while working on design and build projects. An exciting part of your first year is that you will be able to design, prototype and test simple engineering products.
In your second year, you will focus on automotive design and simulation techniques while expanding your knowledge about engineering systems and principles. As part of the curriculum, you will also develop an appreciation of production and distribution systems.
In your final year, you will get to explore the latest technologies used in the automotive sector, in particular with regard to autonomous vehicles. The curriculum also offers students the opportunity to develop expertise, in the field of engineering project management, for the design and development of complex engineering products.
Your main campus is College Lane   
This is where the creative arts, science and health-related subjects are based. This means you'll share the campus with future nurses, scientists, artists and more. You can use the common rooms to relax with friends, work out in the 24-hour gym or have a drink in our on-campus pub or cafes. We also have restaurants for you to eat in or grab something on the go. Our Learning Resources Centres are open 24/7, which means you can study whenever suits you best. Want to pop over to the other campus? You can take the free shuttle bus or walk there in just 15 minutes.
New School of Physics, Engineering and Computer Science building opening in 2024
Learn in our brand-new building, where you'll experience a range of experiential learning zones. You will have access to modelling, simulation and research labs, our Merlin Flight Simulator and automotive workshop (complete with electric vehicle facility), wind tunnel, welding bay and controls testing suite.
You will also benefit from a Success and Skills Support Unit, which is aimed at helping you build your employability and academic skills. Plus, have access to industry mentors who will provide you with pastoral support, vocational guidance, and career progression opportunities.
The new building will also provide space to collaborate, with plenty of workshops, social and meeting spaces available. Even better, the building has been designed with the University's net zero carbon target in mind, and forms part of our plan to replace or upgrade older sites that are energy inefficient.
What will I study?
The School has a reputation for innovation in teaching and learning with most modules delivered through a combination of traditional face to face teaching and online learning activities through the university's StudyNet web-based facility. StudyNet allows students to access electronic learning resources, electronic discussion with staff and other students, and, for some modules, submit coursework 24/7 from anywhere in the world! With a heavy emphasis on Computer Aided Engineering and simulations techniques, the school has a policy of using industrial standard software wherever possible. The School also operates an open access laboratory policy of when possible students doing experiments in their own time.
Level 4

Level 5

Level 6

Study abroad

An opportunity for an amazing experience, which will help make you stand out from the crowd. With more and more companies working internationally, experience of living in another country can make a great impression on future employers.

This course offers you the opportunity to enhance your study and CV with a sandwich year abroad. The University has partnerships with over 150 universities around the world, including the USA, Canada, Asia, Africa, Australia, South America and closer to home in Europe.

If you study abroad between your second and third year of study, you'll pay no tuition fee to the partner university and no tuition fee to us either. We'll ask you to make your decision in your second year, so there is plenty of time to think about it.

Find out more about Study abroad opportunities

Please note Erasmus+ funding is only available until May 2023. For students starting their course in September 2022 and wishing to study abroad in 2023-24 or 2024-25, please refer to the Turing Scheme.

Work placement

Graduate with invaluable work experience alongside your degree. This course offers you the opportunity to enhance your CV with a work placement sandwich year that will make you stand out from the crowd. It is a chance to explore career possibilities, make valuable contacts and gain sought after professional skills.

Our dedicated Careers and Employment Team are here to help guide you through the process.

Previous automotive technology students have undertaken placements in organisations such as:

Nissan Technical Centre
Triumph Motorcycles
Jaguar Land Rover
Mercedes AMG High Performance Powertrain
Multimatic
Safety Devices Ltd
UTAC (formely Millbrook Proving Ground).

You can attend work experience between your second and third year. You will pay no tuition fee for this year at the University of Hertfordshire; payments will recur only once you continue your third year of study. As work experience is optional, we ask that you make your decision in the second year so there is plenty of time to think about if this is something you want to do.

What if I need support?

We understand that the transition from college to university and settling in at each level of study comes with its challenging which is why we offer a personal tutoring system to all automotive technology students on this course. This involves you being allocated to a member of staff that will support you with academic progress and goals, personal and professional development, well-being and develop a sense of belonging.

We have various specialised central support units that are available to support all Herts students. We have dedicated teams that help with careers and employment, finance, counselling, disability services, Hertfordshire Students' Union, study success/academic skills.
Check out our student blogs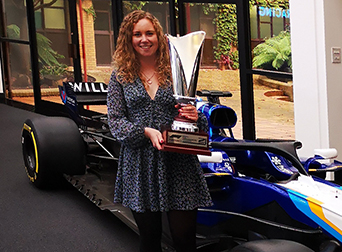 Alumni Stories
Katie Dobson
Meet Katie Dobson who is working for the Williams Formula 1 team
Read more stories
MEng (Hons) Automotive Engineering with Motorsport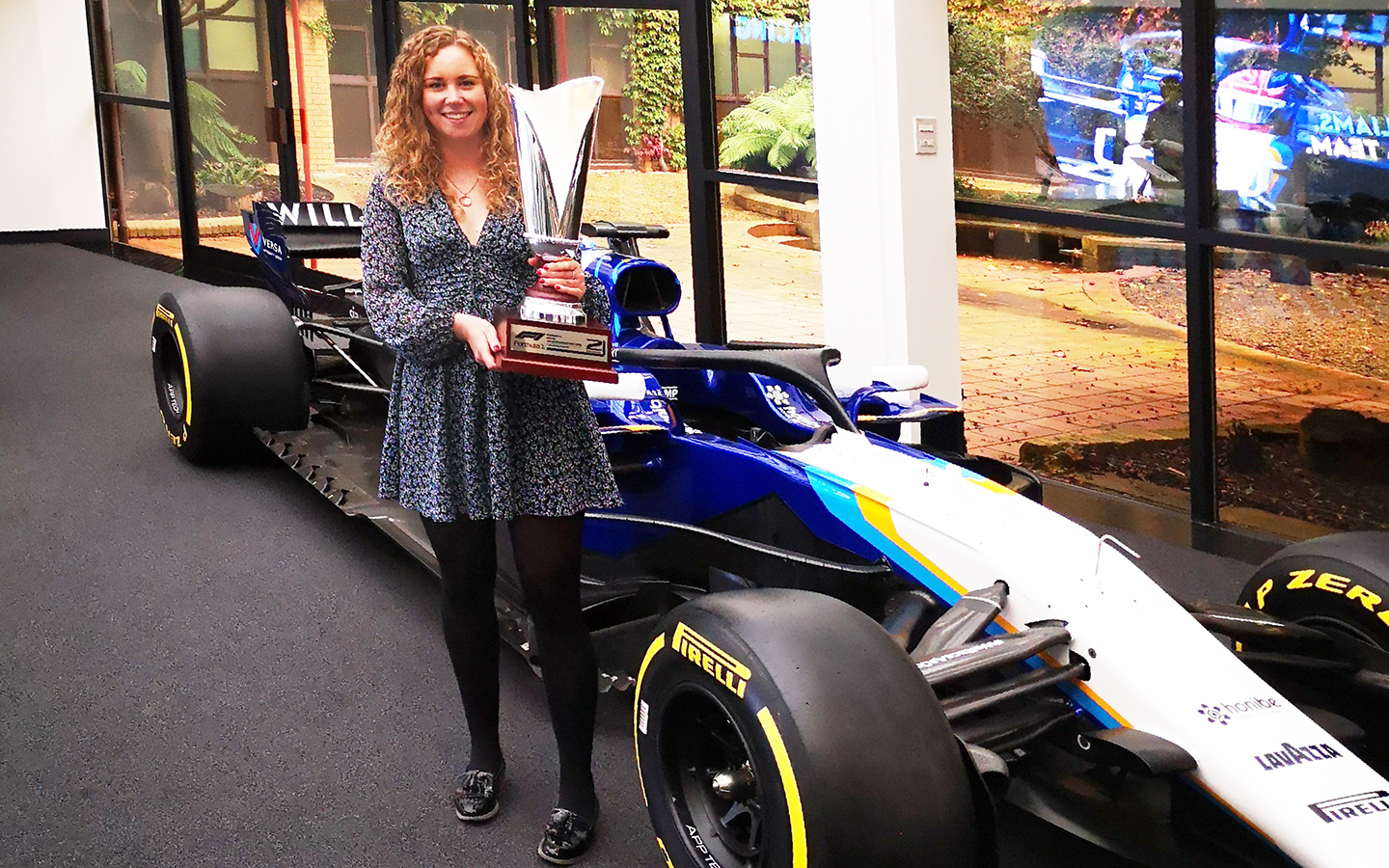 Katie knew that she wanted to pursue a career in Motor Sport and saw the course at Herts as the perfect pathway to follow her dream.
She is currently an Aerodynamic Design Engineer with the Williams Formula 1 team and explains a bit more about her role and what it entails, 'I was lucky enough to join Williams F1 as a Junior Aerodynamic Design engineer after completing my MEng in Automotive Engineering with Motorsport at Herts.
My role involves designing mechanical and aerodynamic components for the wind tunnel. I lead the research and development for the wind tunnel front wing design and work closely with the aerodynamicists to improve design concepts and make wind tunnel tests as streamlined as possible.'
Working in Formula 1
Katie really enjoys the challenge of the role and the industry which is fast-paced on all fronts.
'Working in Formula 1 is very enjoyable and very rewarding when you see results on the track. Seeing Williams back on the podium and scoring points again in 2021 were particular highlights.
I also enjoy the fast-paced environment and continual research and development required to keep up with technology and rules changes.'.
Why Herts
Katie chose to study at Herts because she was impressed with the large range of studies provided by the Engineering department and the range of facilities which provided crucial hands-on experience to work in industry. She adds, 'I was particularly impressed with the extra-curricular groups and studies provided by Herts such as the Formula Student team.'
When she talks about the best part of her course she says, 'It was being able to apply what I had learnt during my A-Levels to further my knowledge of engineering and the knowledge and enthusiasm my lecturers had to further my studies.'
Formula Student
Knowing that hands on practical experience is so important in the industry Katie became a member of the successful Formula Student team at Herts. She is certain that it helped when it came to her career and says, 'Participating in Formula Student particularly aided my ability to gain my current role in industry.
It was able to provide me with this expertise and allow me to broaden my field of study outside of the classroom or lecture hall.'
Favourite memories
Unsurprisingly Katie's best memories revolve around her experience with the Formula Student Team and the success on and off the track.
'My favourite memories at Herts were the times spent designing and manufacturing UH19 and UH20 with great friends. My favourite of them being completing at FSUK, FS Czech and FS Germany with the most successful UH FS car of all time as well as winning design at both the UK and Czech competitions.'
The future
Katie has set her sights high when it comes to the future and what it could bring. 'My future plans are to advance my career further in motorsport, and to hopefully win a Drivers and Constructors Championship in F1.'
Find out more about the Formula Student Team
If you have a great story like Katie's, please contact us!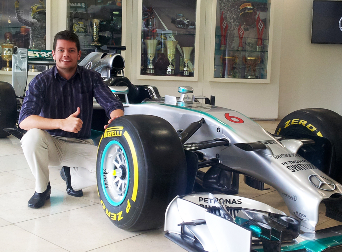 Alumni Stories
Lee Stretch
Meet Lee Stretch who has achieved great success in motorsport engineering since graduating in 2011. He currently works as a Vehicles Dynamic Engineer for Ferrari's Formula One team.
Read more stories
Find out more about this course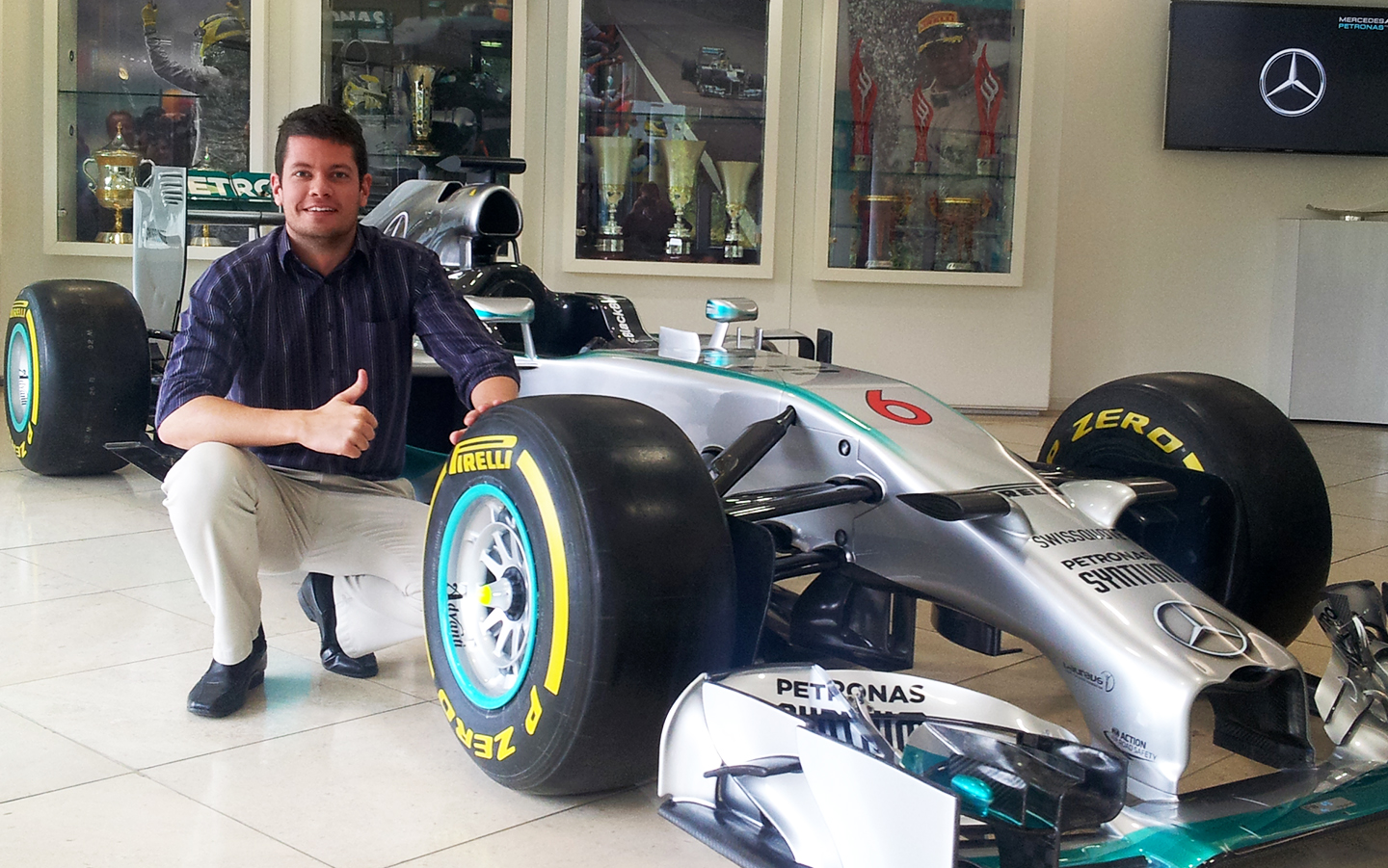 Facilities and experience
Lee made his decision to study at the University of Hertfordshire when he attended an open day, which included a visit to the Formula Student automotive workshop. 'The students had designed and built a single seat racing car which they raced against other universities. It blew me away!' His love of Formula Student became the catalyst for where he is today.
Lee felt the course itself was well rounded, covering all aspects of engineering, with a focus on design, which he enjoyed. Crucial moments of Lee's studies, from submitting his final year project, to designing a racing car in parallel with his full-time sandwich year job, taught him what is possible with determination, and a deadline.
This culminated in second place at Formula Student Germany - the best result ever for a UK team. 'Without these experiences, perhaps I wouldn't have had the guts to move to Italy.' He says, 'I've applied so many of the topics I studied at Herts to my career at Formula One. I regularly find myself reaching for my student notes from five years ago!'
Exciting career
After graduating, Lee worked with Mercedes GP as a Performance Simulation Engineer where he worked with some of the most sophisticated lap simulation tools in the industry. 'It was a very hard three years at Mercedes but equally rewarding, with the 2014 World Championship being the icing on the cake.'
Lee's passion and commitment was recognised by the only other team that he would have considered moving to - Ferrari. Lee moved to Italy and spent time learning Italian. After only six months in the role, he had contributed to next year's cooling system, and continues to develop the team's lap simulation tools. 'To help return Ferrari to the top of Formula One would be a dream come true!'
Despite working in a relatively specialised group of vehicle performance, Lee's role demands sound mechanical understanding, thermodynamics, practical design considerations and even pure mathematics in simulation. 'Communication is paramount, so all the report writing, presentation and team working skills necessary in the final two years of my degree have proved hugely beneficial.'
What's next for my career?

Graduating with a BSc (Hons) Automotive Technology degree options many doors for employment. Some jobs you can get include process engineer, design engineer, technical sales engineer, production specialist, suspension design engineer, vehicle dynamics simulation, test engineer, composites technician.

Not sure exactly what role you want to go into yet? No worries, our teaching staff cover a wide scope of different expertise including manufacturing technology, product design and development, motorsport design, process design and optimisation, lean manufacturing, advanced engines and powertrain systems, technologies for future mobility, aerodynamics, vehicle dynamics, project management, electrical machines and drives, automotive electrical systems, autonomous and connected vehicles, renewable energy systems (wind and solar energies). A perfect opportunity for you to learn and discover industry knowledge and insights from the perspectives of different well-educated professionals which will help to influence your next decisions based on what job role is for you.

View our Alumni profiles

Further information - includes assessment method

| Course fact sheets | |
| --- | --- |
| BSc (Hons) Automotive Technology | Download |

| Programme specifications | |
| --- | --- |
| BSc (Hons) Automotive Technology | Download |

Additional information

Sandwich placement or study abroad year

Optional

Applications open to international and EU students

Yes

Course length

Full Time, 3 Years
Part Time, 6 Years
Sandwich, 4 Years

Location

University of Hertfordshire, Hatfield

How to apply?

Fees and funding

Fees 2023

UK Students

Full time

£9250 for the 2023/2024 academic year

Part time

£1155 per 15 credits for the 2023/2024 academic year

EU Students

Full time

£14750 for the 2023/2024 academic year

Part time

£1845 per 15 credits for the 2023/2024 academic year

International Students

Full time

£14750 for the 2023/2024 academic year

Part time

£1845 per 15 credits for the 2023/2024 academic year

*Tuition fees are charged annually. The fees quoted above are for the specified year(s) only. Fees may be higher in future years, for both new and continuing students. Please see the University's Fees and Finance Policy (and in particular the section headed "When tuition fees change"), for further information about when and by how much the University may increase its fees for future years.

View detailed information about tuition fees

Read more about additional fees in the course fact sheet

Other financial support

Find out more about other financial support available to UK and EU students

Living costs / accommodation

The University of Hertfordshire offers a great choice of student accommodation, on campus or nearby in the local area, to suit every student budget.