BSc (Hons) Biomedical Science
Entry requirements

| UCAS points | A Level | BTEC | Access Course Tariff | IB requirement |
| --- | --- | --- | --- | --- |
| 112-120 | BBC-BBB including two science GCE A Levels (or equivalent), one of which must be a grade C in either biology or chemistry (acceptable A levels are Human Biology, Psychology, Geography, Maths, Physics, ICT and Sports Studies). Pass required in A level science practical | DDM - BTEC Extended Diploma in Applied Science with a minimum DMM profile on the general pathway (Applied Science) or either of these three endorsed pathways: Biomedical Science; Analytical and Forensic Science; Medical Science* | Access to Science Diploma with 45 Level credits at merit profile | 112-120 points from a minimum of two HL subjects at H4 or above to include Biology or Chemistry and one other Science (with the remaining points to come from a combination of HL, SL and Core) |

Additional requirements

BTEC* We have additional restrictions on some of the BTEC units accepted, four of six optional units taken must be Biology or chemistry titled at merit or above. Please email askbio@herts.ac.uk for specific enquiries.

DD: BTEC Diploma with a minimum DM profile on the pathways described above. Both optional units taken must be biology or chemistry focussed. You must have an additional Level 3 qualification.
D: BTEC Extended Certificate with a minimum D profile on the pathways described above. You must have two additional Level 3 qualifications, one of which must be science-based.

GCSE: Grade 4/C in English Language, 4/C in Mathematics and 4/C in Double Science or two Single Science grades at 4/C. We require GCSE English and Maths at 4/C for Bio Science courses due to the professional body requirement.

All students from non-majority English speaking countries require proof of English language proficiency, equivalent to an overall IELTS score of 6.0 with a minimum of 5.5 in each band.

If you do not have the required IELTS or equivalent for direct entry on to your degree programme, our Pre-sessional English and International Foundation courses can help you to achieve this level.

For more details on the University of Hertfordshire's entry requirements, please visit our Undergraduate Entry Requirements page.

Find out more about International Entry Requirements.

| UCAS points | A Level | BTEC | Access Course Tariff | IB requirement |
| --- | --- | --- | --- | --- |
| 112-120 | BBC-BBB including two science GCE A Levels (or equivalent), one of which must be a grade C in either biology or chemistry (acceptable A levels are Human Biology, Psychology, Geography, Maths, Physics, ICT and Sports Studies). Pass required in A level Science practical | DMM-DDM - BTEC Extended Diploma in Applied Science (depending on optional units studied) with DDM profile | Access to Science Diploma with 45 Level credits at merit profile | 112-120 points from a minimum of two HL subjects at H4 or above to include Biology or Chemistry and one other Science (with the remaining points to come from a combination of HL, SL and Core) |

Additional requirements

BTEC* We have additional restrictions on some of the BTEC units accepted, four of six optional units taken must be Biology or chemistry titled at merit or above. Please email askbio@herts.ac.uk for specific enquiries.

DD: BTEC Diploma with a minimum DM profile on the pathways described above. Both optional units taken must be biology or chemistry focussed. You must have an additional Level 3 qualification.
D: BTEC Extended Certificate with a minimum D profile on the pathways described above. You must have two additional Level 3 qualifications, one of which must be science-based.

GCSE: Grade 4/C in English Language, 4/C in Mathematics and 4/C in Double Science or two Single Science grades at 4/C. We require GCSE English and Maths at 4/C for Bio Science courses due to the professional body requirement.

All students from non-majority English speaking countries require proof of English language proficiency, equivalent to an overall IELTS score of 6.0 with a minimum of 5.5 in each band.

If you do not have the required IELTS or equivalent for direct entry on to your degree programme, our Pre-sessional English and International Foundation courses can help you to achieve this level.

For more details on the University of Hertfordshire's entry requirements, please visit our Undergraduate Entry Requirements page.

Find out more about International Entry Requirements.

Professional accreditations

Royal Society of Biology

As a bioscience graduate, you'll be eligible for graduate membership to the Royal Society of Biology.

This programme has been accredited by the Royal Society of Biology. Advanced Degree Accreditation by the Society recognises academic excellence in the biosciences, and highlights degrees that educate the research and development leaders and innovators of the future. The Advanced Accreditation criteria require evidence that graduates from the programme meet defined sets of learning outcomes, including gaining a substantial period of research experience.

Find out more about the Royal Society of Biology

Institute of Biomedical Science

Our course is accredited by the professional body; the Institute of Biomedical Science (IBMS). Studying our degree is the first step to becoming a registered biomedical scientist.

Sign up for Clearing support package

Exclusive content to help you through Clearing

Tips and info sent straight to your inbox
Clearing advice livestream
Subject campus tour
1-on-1 call with advisor
Downloadable university starter kit
Opportunity to have your first year society membership fee paid upon enrolment
Why choose this course?
Be taught by lecturers with expertise across academic research, NHS and industry
Placement opportunities in the NHS, local and global biotech companies
This course is accredited by the Institute of Biomedical Science and the Royal Society of Biology
Ever wondered how diseases occur? How genetic disorders lead to abnormalities? Or how microbes evade our immune system? As a biomedical science undergraduate, you'll study the causes, diagnoses, and treatments of diseases like cancer, blood disorders, and infectious disease.
Be inspired to become a biomedical scientist contributing to patient diagnosis. In the UK, the term 'biomedical scientist' is a protected title used by professionals working within the pathology department of a hospital. Our course is accredited by the professional body; the Institute of Biomedical Science (IBMS). Studying our degree is the first step to becoming a registered biomedical scientist. There is always something new to discover in this innovative field of science.
Get hands on experience in our modern science building with great teaching and research laboratories. You'll be able to use well equipped laboratories spread over five storeys of innovative facilities. You will work alongside researchers, academics, industry specialists and other students.
Our flexible programme introduces you to a range of bioscience topics in your first year before you begin to specialise for your remaining biomedical science studies. If your interests change in the first year, then it's easy to swap to another bioscience pathway, although you will need to be good at chemistry to switch to our biochemistry degree. This is why we give you the chance to experience a range of modules before committing to the biomedical pathway. We believe in flexibility. We will guide you to find your passion to study what you really love.
While you explore various new and exciting areas in this degree, we will be with you all the way. You'll get a personal tutor, who'll support you in gaining subject-specific skills in scientific writing, data interpretation, and communication. Take advantage of peer support too in group workshops.
You'll be at the forefront of exploring exciting new areas in the biomedical field. Our course is designed to provide you with a solid-stepping stone for your scientific career. You may choose to help save lives as a registered Biomedical Scientist. Research in pharmaceutical companies or academic environments offer exciting opportunities for our graduates. You may decide to take a new direction such as business or teaching for example. You'll have a wide range of options with your biomedical science degree. The transferrable skills that you gain during your degree can lead to exciting careers and are highly valued by employers.
Find out more about our teaching staff across biosciences
Get in touch
Follow us on Twitter: @UH_AskBIO
Email: askbio@herts.ac.uk
What's the course about?
A big focus is how scientists use laboratory tests to support patient diagnosis. You will learn about the structure and function of tissues and organs in normal and disease states. You'll link your expert knowledge of biology and chemistry to understand biochemical pathways and their influence in disease development. You'll explore haematology, microbiology and blood transfusion techniques that form the basis of modern medical diagnostics. In other words, you will literally learn how to save lives.
You have 20 hours of contact time, with lectures and workshops taking up about 6-10 hours per week. 
In your first year you'll gain a solid foundation in topics such as genetics, how drugs work inside our bodies and how viruses and fungi are formed. Your first year is shared with other degrees in biosciences. You may find you enjoy subjects explored further on the Molecular Biology pathway for example. Our shared first year gives you the opportunity to consider your bioscience pathway before committing. We believe in flexibility.
In your second year, you'll specialise even more. You will study areas of pathology; biochemistry, blood transfusion, cytology, genetics, haematology, histopathology, immunology, and microbiology. Patient case studies allow you to apply theory from each area. You'll analyse the different methods of research on diseases and treatment options. Building your skills as a researcher is developed through our Bioscience Research Methods module.
Work placement/study abroad option: Between your second and final year, you'll have the possibility to study abroad or do a work placement for up to a year. Not only will this give you an amazing experience to talk about but will also give your CV a boost. If you'd rather go straight to your final year, that's absolutely fine too.  
In your final year, you'll find that you have grown to love certain topics and now you have the chance to delve further. The final year is the chance to bring knowledge of subjects studied together. The final year project shows how you can answer a research question independently working with a member of our subject specialist staff.
Your main campus is College Lane  
This is where the creative arts, science and health-related subjects are based. This means you'll share the campus with future nurses, scientists, artists and more. You can use the common rooms to relax with friends, work out in the 24-hour gym or have a drink in our on-campus pub or cafes. We also have restaurants for you to eat in or grab something on the go. Our Learning Resources Centres are open 24/7, which means you can study whenever suits you best. Want to pop over to the other campus? You can take the free shuttle bus or walk there in just 15 minutes.  
What will I study?
Degree programmes are structured into levels, 4, 5 and 6.  These correspond to your first, second and third/final year of study.  Below you can see what modules you'll be studying in each.  
Level 4

Level 5

Level 6

Study abroad

An opportunity for an amazing experience, which will help make you stand out from the crowd. With more and more companies working internationally, experience of living in another country can make a great impression on future employers.

This course offers you the opportunity to enhance your study and CV with a sandwich year abroad. The University has partnerships with over 150 universities around the world, including the USA, Canada, Asia, Africa, Australia, South America and closer to home in Europe.

If you study abroad between your second and third year of study, you'll pay no tuition fee to the partner university and no tuition fee to us either. We'll ask you to make your decision in your second year, so there is plenty of time to think about it.

Find out more about Study abroad opportunities

Please note Erasmus+ funding is only available until May 2023. For students starting their course in September 2022 and wishing to study abroad in 2023-24 or 2024-25, please refer to the Turing Scheme.

Work placement

Graduate with invaluable work experience alongside your degree and stand out from the crowd.

This course offers you the opportunity to enhance your study and CV with a work placement sandwich year. It's a chance to explore career possibilities, make valuable contacts and gain sought after professional skills.

Our dedicated Careers and Employment team are here to help guide you through the process. Current employers and job titles are listed below:

GlaxoSmithKline: Data Management - Uxbridge
Guy's Hospital: Drug Research Unit - London
Imperial College: Toxicology Unit, Faculty of Medicine - London
Medical Research Council - Mill Hill
Medifix Adhesive Products - Luton
Mount Vernon hospital: Restoration of Appearance and Function Trust Institute of Reconstructive, Plastic and Burns Surgery Research - Middlesex
MRC: Human Genome Project - Hinxton
National Biological Standards Board - Potter's Bar
Roche UK - Welwyn Garden City
St. Bartholomew's & The Royal London: School of Medicine - London and St.George Medical School - London
St.George's Hospital: Analytical Unit - London
Syngenta Seeds - Cambridge
University of Hertfordshire: Biodeterioration Centre - Hatfield.

If you take up a work placement between your second and third year of study, at the University of Hertfordshire you'll pay no tuition fee for this year. We'll ask you to make your decision in your second year, so there is plenty of time to think about it.

What if I need support?

You'll get a personal tutor to guide you through your course, all the way to graduation.

You might also want or need extra support during your time with us. Rest assured, no matter what you study, we've got you covered. For help with study skills, including referencing, essay writing and presentations, you'll have access to our academic support services. You can attend workshops, 1-to-1 sessions, and online tutorials. Both our LRCs (Learning Resources Centres) run drop-in study skills sessions. And the best thing is, it's all free.
Check out our student blogs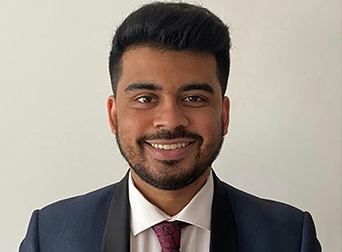 Alumni Stories
Jamee Ahmed
Meet Jamee, a regulatory scientist who enjoys volunteering in his spare time.
Read more stories
BSc (Hons) Biomedical Science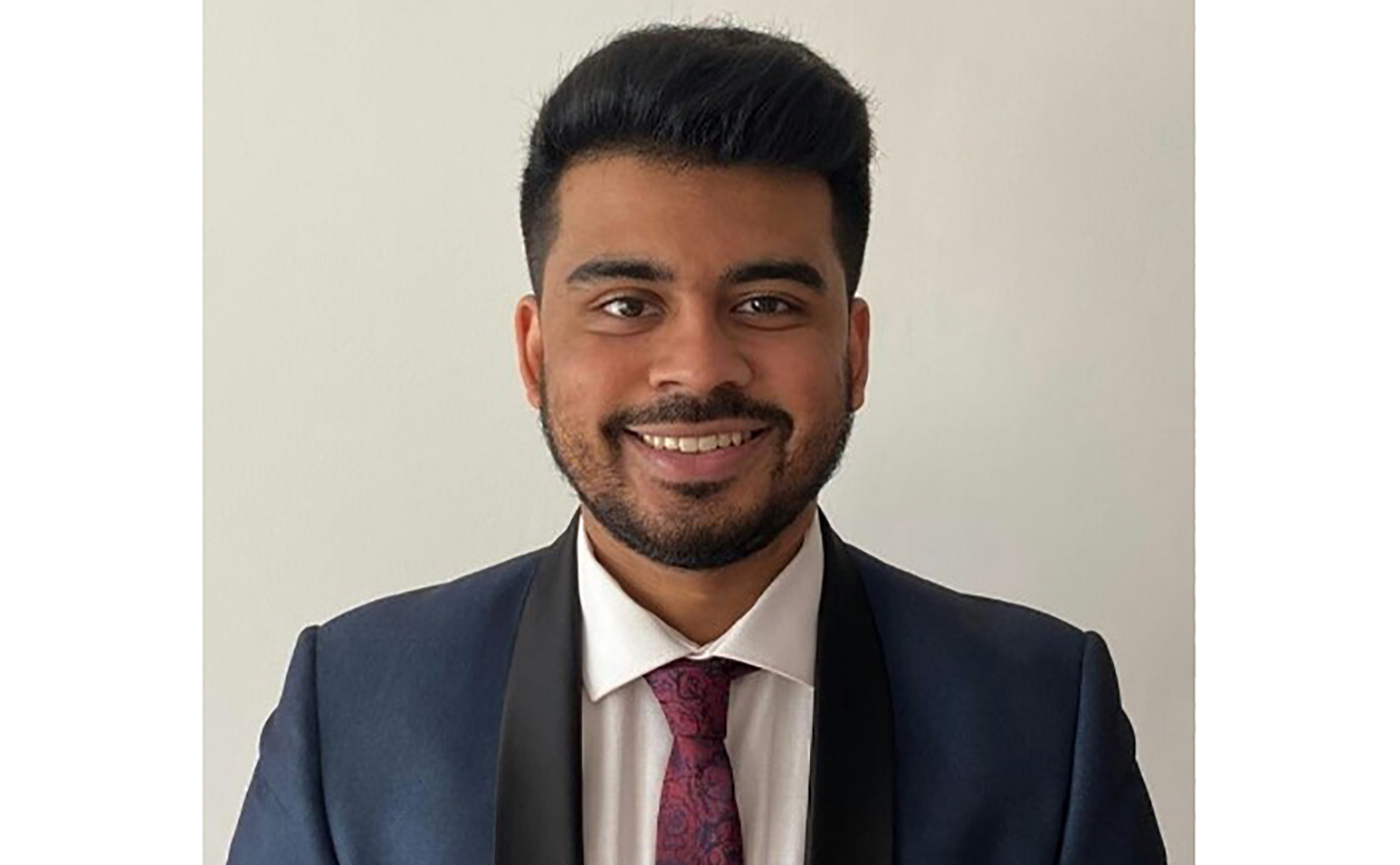 A Career in Biomedical Science
Jamee is a Senior Regulatory Affairs Associate, working in Chemistry, Manufacturing and Controls (CMC) for the biopharmaceutical company Amgen. Jamee says, 'I am involved in providing product support to the CMC global function, which is responsible for regulatory submissions across phases of product development from clinical to lifecycle.'
'As a student I didn't see myself working in a laboratory environment and I found the area of regulatory affairs an interesting yet a crucial part of the pharmaceutical and biotechnology industry.'
Jamee worked in other parts of the pharmaceutical and biotech industry and pursued further study, before embarking on his current career path.
'After my second year of university, I completed a summer internship within the Research & Development (R&D) department at Bio Products Laboratory. Working as a Bioprocessing Scientist, I was involved in providing support for R&D projects, specifically associated with safety, development, and analysis of new and improved products.'
'After graduating from Herts, I returned to Ascot Laboratories, the company where I completed my industrial placement year. I took the role of Quality Assurance Officer which involved in various tasks, including training the new placement students, supervising pharmaceutical production, and performing checks before batch release.'
'I later decided to undertake further study and I did an MSc in Biopharmaceuticals at King's College London. This postgraduate degree entailed learning about a range of different topics from drug delivery, formulation and pharmaceutical analysis, with a specialised focus on the discovery and development of biopharmaceuticals. My dissertation was on the topic of the availability of substandard and falsified medicines online, which I have published my findings in the Journal of Medicine Access. After completing my masters I began my career in regulatory affairs at Amgen.
Graduation day
Jamee will always remember his Herts graduation day.
'I have been fortunate to have many good memories and experiences during my time as a Herts student, however I think my favourite memory has to be graduation. It was so nice seeing and celebrating with my friends, family and teaching staff. The day went by pretty fast, but I was lucky to have a quite a few pictures and videos from the day which I can look back at.'
Volunteering as an Alumni Ambassador
As an Alumni Ambassador at Herts Jamee delivers talks to Bioscience Research students about his career journey and gave his industry insights.
'My involvement in these events is a great way for me to help the next generation of Herts students. As a student at university, I wanted to get an insight into different career options, so now that I have graduated and pursued my desired career, I'm happy to share my knowledge and experience, highlighting what a career in regulatory entails and its importance in the industry.'
'I like to volunteer and offer my knowledge and skills to support a range of organisations, initiatives and causes that I am passion about. I believe this allows me to make a positive difference and help others.'
What's next for my career?

Our Biosciences graduates are highly sought after by employers in the industry due to the reputation of our teaching, the vocational element to our degrees and the fact that many of our students already have a year's work experience when they graduate which they gained in the sandwich year. Graduates can find employment in the pharmaceutical, food and drink, agrochemical and biotechnology industries as well as in industrial, academic and charity funded research. Some graduates also go on to work in health care and environment agencies.

Specific examples include:

Trainee Biomedical Scientist
Clinical Trials Associate
Drug Safety Coordinator
Medical Representative
Lab Scientist
Microbiologist
Research Assistant
Tissue Culture Technologist
Donor Transplant Assistant.

Typical employers of recent graduates:

Pfizer
Denfleet Pharma Ltd
Health Protection Agency
GlaxoSmithKline
AstraZeneca
NHS Trusts
Lark Technology.

Upon graduation and completion of your IBMS portfolio, you'll be eligible to work as biomedical scientist in the NHS and public health laboratories. Alternatively, you could pursue a career in blood transfusion laboratories, pharmaceutical and healthcare industries, forensic laboratories, healthcare sales and marketing, education and research.

View our Alumni profiles

Further information - includes assessment method

| Course fact sheets | |
| --- | --- |
| BSc (Hons) Bioscience (Biomedical Science) | Download |

| Programme specifications | |
| --- | --- |
| BSc (Hons) Bioscience (Biomedical Science) | Download |

Additional information

Sandwich placement or study abroad year

Optional

Applications open to international and EU students

Yes

Course length

Full Time, 3 Years
Part Time, 5 Years
Sandwich, 4 Years

Location

University of Hertfordshire, Hatfield

How to apply?

Fees and funding

Fees 2023

UK Students

Full time

£9250 for the 2023/2024 academic year

Part time

£1155 per 15 credits for the 2023/2024 academic year

EU Students

Full time

£14750 for the 2023/2024 academic year

Part time

£1845 per 15 credits for the 2023/2024 academic year

International Students

Full time

£14750 for the 2023/2024 academic year

Part time

£1845 per 15 credits for the 2023/2024 academic year

There are no compulsory additional expenses for this course. Where you will use an EVS handset, Lab coats and log books, these will be provided as part of your course fees.

*Tuition fees are charged annually. The fees quoted above are for the specified year(s) only. Fees may be higher in future years, for both new and continuing students. Please see the University's Fees and Finance Policy (and in particular the section headed "When tuition fees change"), for further information about when and by how much the University may increase its fees for future years.

View detailed information about tuition fees

Read more about additional fees in the course fact sheet

Scholarships

University of Hertfordshire Sports Scholarships

Find out more about scholarships for UK/EU and international students

Other financial support

Find out more about other financial support available to UK and EU students

Living costs / accommodation

The University of Hertfordshire offers a great choice of student accommodation, on campus or nearby in the local area, to suit every student budget.