BA (Hons) International Business
Key information
Study abroad option
Entry requirements

| UCAS points | A Level | BTEC | IB |
| --- | --- | --- | --- |
| 112-120 | BBC-BBB | DMM-DDM | 112-120 |

Additional requirements

GCSE: Grade 4/C in English Language and Mathematics

All students from non-majority English speaking countries require proof of English language proficiency, equivalent to an overall IELTS score of 6 with a minimum of 5.5 in each band.

If you do not have the required IELTS or equivalent for direct entry on to your degree programme, our Pre-sessional English and International Foundation courses can help you to achieve this level.

For more details on the University of Hertfordshire's entry requirements, please visit our Undergraduate Entry Requirements page.

Find out more about International Entry Requirements.

The University of Hertfordshire is committed to welcoming students with a wide range of qualifications and levels of experience. The entry requirements listed on the course pages provide a guide to the minimum level of qualifications needed to study each course. However, we have a flexible approach to admissions and each application will be considered on an individual basis.

Professional accreditations

European Foundation for Management Development

We are one of only 12 UK universities in the UK and one of 96 schools worldwide with accreditation from the globally recognised European Foundation for Management Development (EFMD) for our International Business degree programme. European Foundation for Management Development (EFMD) is a mark of high quality and integrity in business ethics and global sustainability and recognises programmes that demonstrate high standards of education and dedication to student service.

Learn more about the European Foundation for Management Development

Transatlantic Business School Alliance

The course is also part of The Transatlantic Business School Alliance (TABSA) program. This is a dual degree program designed for students who are looking to enhance language skills developed in year 1 by doing a dual degree with a partner in Europe or US (an additional language isn't always needed for US).

Learn more about the Transatlantic Business School Alliance

Sign up for alerts

Get access to personalised content, tailored towards your interests:

Information on your favourite courses
Tips to help you through the application process
Blogs, vlogs and advice from current students
Why choose this course?
One of just 12 courses in the UK accredited by the European Foundation for Management Development.
A chance to study in up to 3 countries
Excellent preparation for an International Business career
Are you passionate about exploring new cultures, interested in working abroad and keen to travel? Our highly acclaimed degree offers you the chance to do just this, combining the best of study, work and travel in a flexible programme while spending one or two years in up to three different countries.
Global markets and international business are more accessible than ever for businesses of all sizes. No longer dominated by big multinational corporations and governments, agile smaller companies across the world are making their mark and growing. Our graduates, with an understanding of commerce and trade that crosses borders and cultures, are very much in demand with many working in tech and start-up organisations.
Employers know only too well that it's one thing to learn about a culture, but a totally different thing to experience it. Our programme offers you the chance to immerse yourself in a truly enriching and life-changing adventure. Study at one of our worldwide partners is an essential part of the course and, depending on the route you choose, you can study in up to three countries. With over 100 partners in 40 countries, the world really is your oyster. Our global partnerships give you access to even more opportunities with options to get multiple degrees via partner institutions.
Our versatile course prepares you for an international business career, either within a global organisation or even as your own boss bringing your own business idea to life. We will help you gain specialist insights through industry professionals from different backgrounds giving you access to a wide range of global learning experiences and introductions
Learn from people who have travelled the road you're hoping to take, and benefit from their valuable insight and guidance into the realities of doing business globally. We constantly build connections, with many of our high-flier alumni returning as guest speakers or to networking events to share their journeys and experiences. You'll become a part of a thriving international alumni network, ready to help you with your next steps.
Our vibrant and connected international community will be a big part of your student experience as you'll be spending less time with your peers than on other courses while you study abroad. We further support you with our buddy scheme between the lower and upper years as well as a mentoring scheme between alumni and latter-year students.
Our graduates have gone on to a wide variety of positions and organisations, from Asia to America, South America and right across Europe! They tend to be employed quickly as the mix of teaching and experience gives them the ability to think fast and be highly responsive.
Our Staff
Your teachers include doctorate staff and commercial experts who will teach you what they've learned and share their stories and experience. Your teachings are grounded in solid business principles that will serve you well throughout your career.
Alongside your teaching team, you will benefit from a dedicated academic support team, a well-being team and a personal tutor to help you adjust to the demands of university learning & living.
What's the course about?
You'll learn about all aspects of business, such as finance, management and marketing, through an international lens. Discover how to manage people from different cultures and backgrounds as you develop cross-cultural organisation skills through real-life experience.
We offer a 3 or 4-year route for our BA (Hons) International Business course and are one of only a handful of universities that allows two years of study abroad. This opportunity offers a chance to broaden your horizons, learn about other people, and cultures and advance your professional and personal development.
You'll also be able to study a language. We offer five languages: French, German, Japanese, Mandarin Chinese and Spanish.
"The international business degree has been the most exciting adventure of my life! Not only has it provided an opportunity to study and work abroad for two years. I also gained fundamental skills to succeed in the business world." surmises Heraldas Gaspariunas – winner of intellectual curiosity award in Deans awards 2020
Technology is a major part of any global business, and we embrace this by looking at experimental opportunities for students to engage with digitally at partner institutions. This may include a virtual exchange, working on assignments with students in partner universities, or the opportunity to compete in an international business simulation game!
The result of such an expansive course is that many alumni are now in senior positions, employed in organisations such as Michael Page, Google, H&M, Amazon FBA, Legal & General, Virgin Atlantic, Clifford Chance, Thomas Reuters, Novartis Biome, British Board of Film Classifications and Mondelez International. More recently, there has been a distinct trend for graduates to join tech companies such as OnePLM Ltd, Computacenter and Netgem.
Megan Curzon-Mann summarises her experience of the course: "International business provided me with the opportunity to not only study with like-minded individuals but travel abroad. I was able to work in several countries, expand my network and gain invaluable experience on an international level. This enhanced my chances of employment post-graduation and left me with a lifelong passion to continue travelling."
Where you'll study
Your learning experience will happen on our modern de Havilland campus, with self-study materials to support you from our virtual learning platform, StudyNet.
Hertfordshire Business School is located within a large University campus, at our de Havilland site. You'll be sharing this campus with others studying business, law, sports, education, and the humanities, as well as the Sports Village, which features a gym, swimming pool, coffee shop, and climbing wall and our Enterprise Hub.
There are dining options, a bar, and a recreational space on campus where you can shoot some pool or play video games. The Enterprise Hub is a vibrant destination where local firms and students can work and learn in comfort. In addition to open study spaces, our Learning Resources Centre also features private study rooms, and is open 24/7 allowing you to study around your schedule.
The student union bar and additional facilities are only a 20-minute walk or short bus ride away at our second campus. Student housing is available at both campuses.
What will I study?
Our BA (Hons) International Business degree will offer you an excellent foundation in business and management, with a strong global focus throughout. You have the opportunity to take a language in all years. In the final year, you can tailor your degree from a wide range of optional subjects, again all with a worldwide focus.
You'll also benefit from a complete programme of enrichment activities to further increase your knowledge and practical experience.
Study plan overview – Three-year programme
Year 1: University of Hertfordshire
Year 2: Study abroad in English (Europe, North America, Latin America, Africa, Asia or Australia). You are required to study abroad for one semester and ideally, you'll be away for the whole year.
Year 3: University of Hertfordshire
Study plan overview - Four-year programme
Year 1: University of Hertfordshire
Year 2: University of Hertfordshire or Study abroad in English (Europe, North America, Latin America, Asia, Australia) for one or two semesters.
Year 3: Study abroad with the option of a work placement (Europe, North America, Latin America, Asia, Middle East, Africa, Australia) or a year-long placement if you have studied abroad in Year 2. The work placements can also be in the UK, in internationally facing roles and would need to be approved by the placements team.
Year 4: University of Hertfordshire
This degree ensures you are well prepared for an international career, with many graduates working overseas. It also suits those seeking a career in the UK, meeting the needs of employers after graduates with a global mindset and a language.
There are also opportunities to further your personal development through our GoHerts program, placements, internships, study abroad and Future Success team events.
Level 0

Level 4

Level 5

Level 6

Study abroad

Due to the array of opportunities available to you on this course you will be supported with a series of workshops to support your decision-making process.

You are expected to study abroad for at least one year. Studying abroad provides many advantages both professionally and personally. It enables you to get first-hand experience of another country, boosting your career prospects internationally as well as with many UK employers. You can benefit from more confidence, building global networks, learning a new language and experiencing new cultures, all while having fun!

With over 100 partners in 40 countries, the world really is your oyster!  Our international partnerships give you access to even more opportunities. There are several options and our dedicated study abroad office advises students on this process. There are plenty of exciting destinations to choose from, fitting your specific interests and needs. Travel to the USA, Canada, Asia, Africa, Australia, South America or closer to home in Europe. Most students who have studied abroad describe it as the best decision they have made!

Find out more about Study abroad opportunities 

Hear from our students:

"My decision to pursue International Business at UH has been one of the most game-changing choices for my career. I have developed a well-rounded skillset that many peers from different universities couldn't have. During the four-year degree, I was able to obtain a complete international perspective by studying abroad in the United States and Singapore, as well as completing a year of industry work placement in the consulting sector. This pathway helped me stand out from the crowd both in my master's degree and job applications."

Lukas Dragon class of 2022 – Rising star

"I met amazing students from all over the world, and many significant individuals from various international places. The places I visited, people I met and the things I experienced were all out of this world. I'd do it all again in a heartbeat."

Josh Abbott Graduate

A few words on Finance

It may all sound daunting and costly but perhaps not as much as you think, and this will all depend on where you go. Whether you go abroad in the second or third year you will pay no tuition fees to the partner university. In the second year, UK students pay only 15% of the tuition fee to the University of Hertfordshire while in the third placement year, all students pay no tuition fees to the University of Hertfordshire. You will still be eligible for any regular student finance and often at an enhanced level to reflect studying abroad. In addition, there are a number of funding options available such as scholarships, and Turing funding for student mobility.

"The past 4 years have given me the opportunity to develop not only my business knowledge and French speaking through two exchanges in Canada and France but also allowed me to have fun, discover new places and become more independent."

Charlotte Williams, International Business with French and Extended Study Abroad

Please note Erasmus+ funding is only available until May 2023. For students starting their course in September 2022 and wishing to study abroad in 2023-24 or 2024-25, please refer to the Turing Scheme.

Work placement

At Hertfordshire Business School, you have the option to experience a year of working life which is not only a huge CV boost, but an amazing professional development opportunity.

Professional work experience is the biggest contributor to your future graduate employability. Why? An industrial placement year, or shorter internship, offers an opportunity to put your knowledge into action, while learning how a business operates. Along with preparing you for joining the workforce after graduation, you'll establish some great connections.

A work placement is not a compulsory part of the International Business course; however, you can choose to take a work placement overseas during your third year, further enhancing your employment prospects, learning new skills and understanding different cultures and working practices. The duration of your placement can be 12 weeks to 1 year, and you can choose anywhere in the world to do it. Some students even decide to return and build a career at their work placement companies upon graduation.

If you choose an industrial placement sandwich year, our dedicated HBS Future Success Team help you make the most of the experience, hand holding you through the whole experience, from start to finish, with CV assistance and preparing for interview and presentations, at our ground-breaking mock Assessment Centre Experience.

Students have enhanced their careers in companies as diverse as Mobile Phone Center, American Language Services, Cerise Media (Mirabelle), Clearstream Banking S.A., Dennis Eagle, Secret Barcelona, Camino Barcelona Spanish Language School, Greensill Capital, Envie de Fraise, TomTom, Oman Airways, Appetite Creative, Disney, Hype Energy, Oryx Gaming, Minor Hotels and Porsche Central Eastern Europe.

We also help you find other opportunities along the way to enhance your CV such as employer competitions, insight days, digital programmes, internships of all sizes and shapes, volunteering, student leadership roles, and awards to recognise your success and contribution.

What if I need support?

You will always find a friendly and supportive welcome in the Hertfordshire Business School (HBS). Our course and module tutors are here to guide you on your academic journey. To enhance your learning, we have a dedicated Centre for Academic Skills Enhancement (CASE), which provides both online and face to face academic skills guidance to all HBS students, enabling you to get the best grades possible. If you need further support and things don't go according to plan, our pastoral team are also here for you to help you get back on track. On top of that, both our LRCs run drop-in study skills sessions too. And the best thing is, it's all free.

Whether you stay in our ultramodern Halls of Residence or commute to the University, you will be a valued member of an active student community and the wider HBS family.
"The international business course gives students the opportunity to study a range of business aspects on a global scale whilst giving them the opportunity to work abroad and further develop a range of skills. During my time on this course I gained a full overview of the different aspects of businesses giving me the confidence to work in various business areas. This will allow me to explore multiple careers paths with confidence in the future without limitations which is a great asset to have."
Check out our student blogs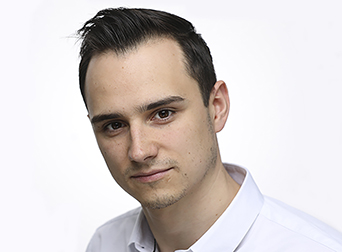 Alumni Stories
Heraldas Gaspariunas
Meet Heraldas Gaspariunas, an entrepreneur who is passionate about growing his biotech start-up and is committed to embracing new experiences and lifelong learning.
Read more stories
BA (Hons)(SW/YAB) International Business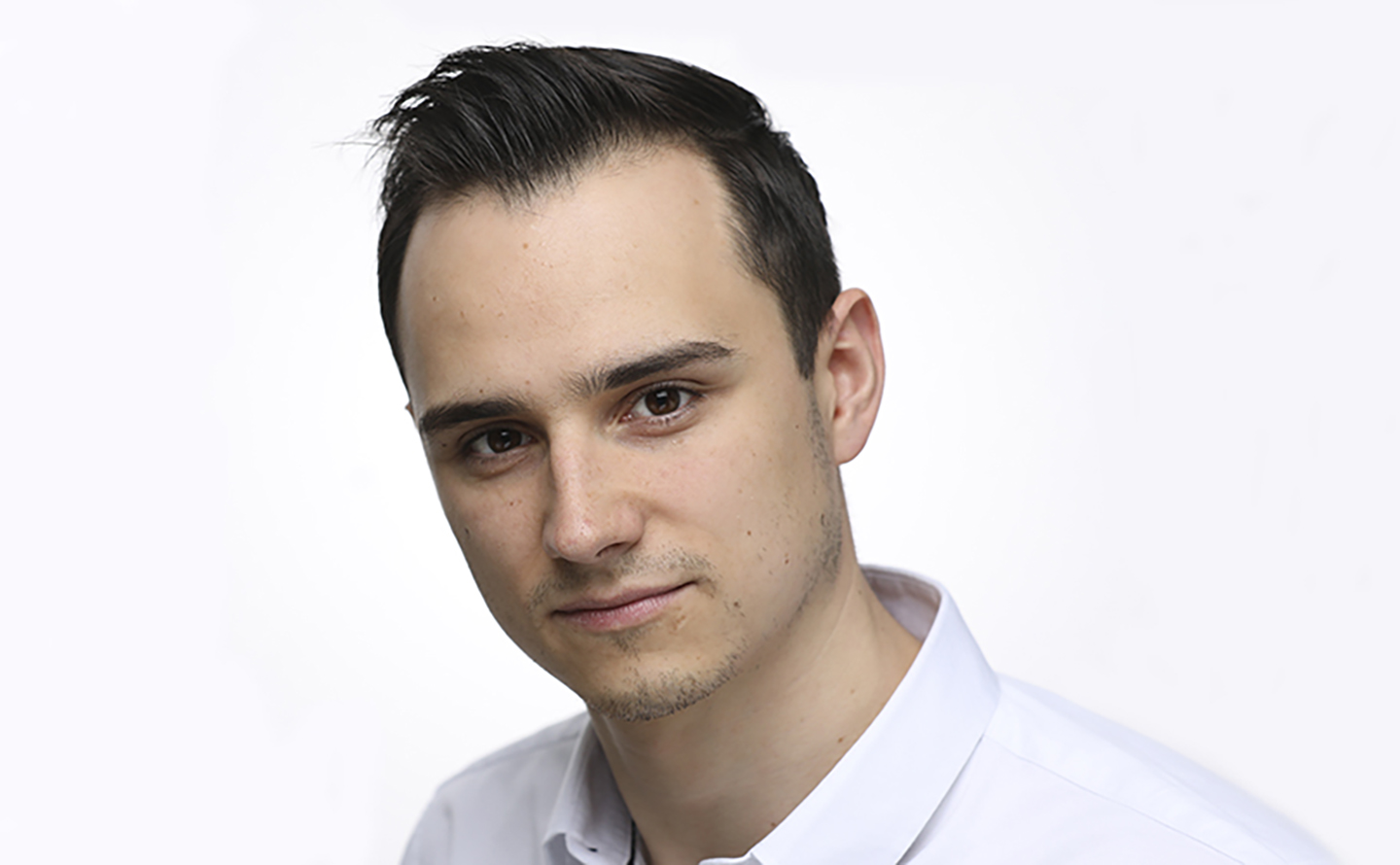 Entrepreneurial ambition
International Business graduate Heraldas is co-founder and CEO of an early-stage biotech start-up, ACellZ. His company is based on research developed by University of Hertfordshire PhD students and is focused on chemical safety in the eye. He says, 'My goal is to grow a successful start-up, where I can continue to learn and improve myself, both personally and professionally. I love working with people to find innovative solutions to problems. I look forward to one day becoming a mentor for others like me within this field.'
Heraldas has been very successful in securing large grants to grow his business, these include £50K from Innovation to Commercialisation of University Research (ICURe), and £300K from Innovate UK.
In 2021 Heraldas represented the University of Hertfordshire at the Santander X 2021 Entrepreneurship Awards, which is one of the UK's largest student and graduate business pitching competitions. Heraldas says, 'The Santander X programme really helped my professional development. It was an amazing opportunity to support and learn from like-minded entrepreneurs. The weekly workshops allowed me to learn new skills and supported my growth as an entrepreneur, CEO, and a leader. During Santander X, I was also selected to participate in the 'Founders Up!' project, which documents my journey during and after the Santander X programme via podcasts for future entrepreneurs to see.'
A global student experience
Heraldas applied to the University of Hertfordshire to benefit from expert lecturers and the opportunity of studying abroad. He says, 'The option of studying abroad for two years during my four-year degree was a huge selling point for me, and after visiting the Hertfordshire Business School facilities and meeting some of the lecturers, I knew Herts was the right place.' 'In every country I visited during my study abroad, I met so many amazing people and made long-lasting friendships. I explored new cultures and broadened my understanding of global business, which has had a positive impact on shaping my life aspirations. I studied in Australia for one year, six-months in Norway, and completed an internship with FlixBus in Germany for seven months. If I had to choose one memorable moment it would be jumping out of a plane and swimming with turtles in Australia.'
Embracing opportunities at Herts
Heraldas has continued to receive support from Herts since embarking on his entrepreneurial journey. 'I have benefited a lot from the support given to me by the University of Hertfordshire. My first graduate job was as a Business Associate through a Santander internship with a company called ImmuONE, which I applied for through the University's Careers and Employment Service. Meeting talented researchers at ImmuONE kick-started the opportunity for me to establish my own company ACellZ.' 'It was also the Careers and Enterprise Team who put me forward for the Santander X awards and they supported me with preparations for my ICURe pitch. In July 2021, I joined the University's Business Incubator to further learn from like-minded entrepreneurs.'
Advice for other graduates
'A love for learning and personal development does not necessarily come from knowing what you want but believing it will benefit you in reaching your dreams someday. Getting to this point has required hard work, persistence, and a willingness to go outside my comfort zone'.
At the University of Hertfordshire, I've not only earned a degree but gained knowledge and skills to run a business, developed my professional and personal life, and received support and direction for my entrepreneurial journey.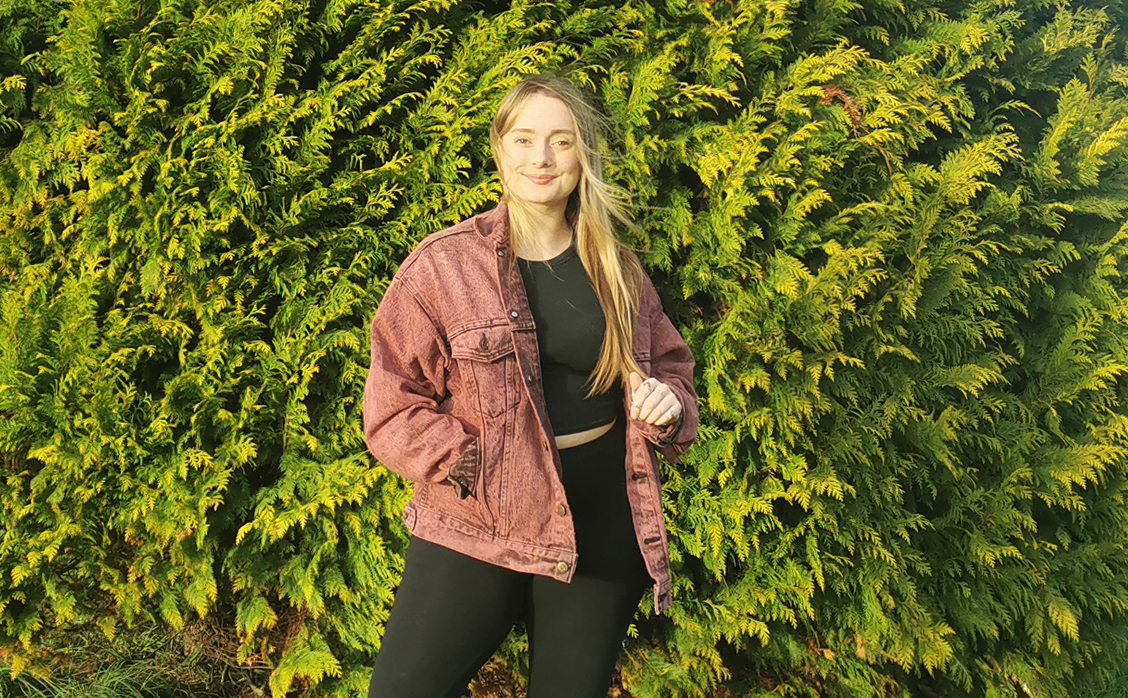 Alumni Stories
Grace Tucker
Meet Grace Tucker whose career has taken her from China to Kent and now to Guernsey in a very short time
Read more stories
Find out more about this course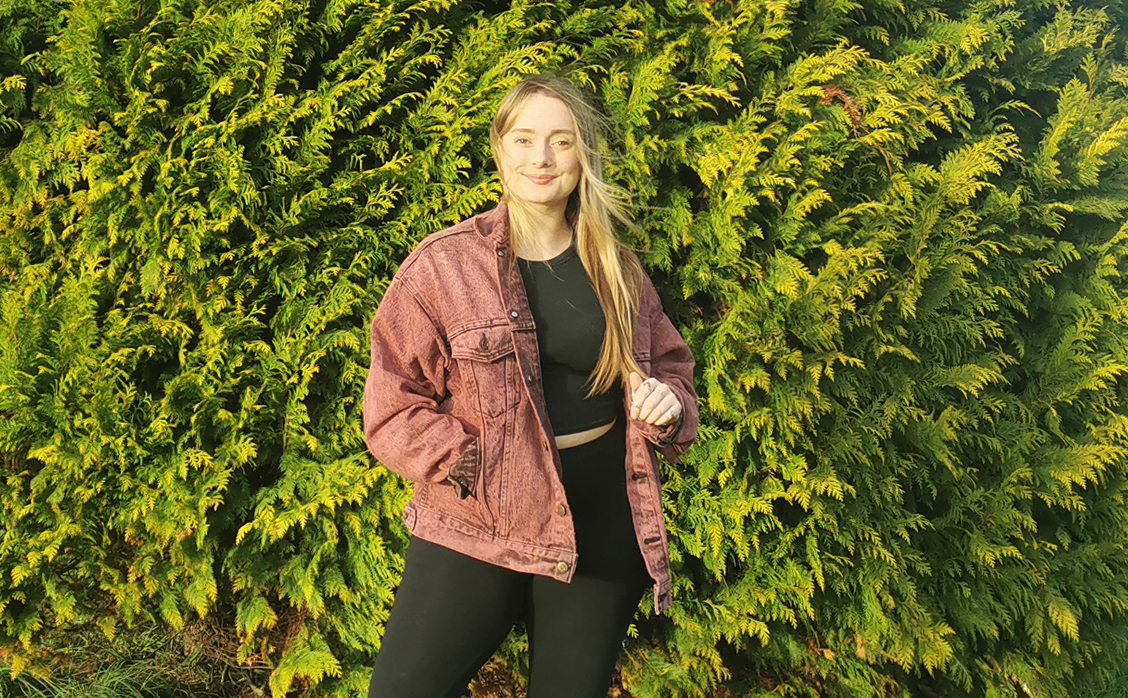 Grace wanted to study a flexible business course with a language, and was able to do both at Herts.
'I studied BA (Hons) International Business with Mandarin and I was also able to do an extended study abroad and work placement. I did one year in Singapore, a summer studying in China at ESSCA, six months in Barcelona and six months working in Shanghai as a Business Developer, a truly global experience.
Studying with Herts also allowed me to do two years abroad which has really benefitted me on a personal level, becoming a more well-rounded individual. It also helped further my career as it has demonstrated I am adaptable and motivated.'
Memories made at Herts
When thinking about her favourite memories of her time at Herts, Grace says it's difficult to narrow it down to a few.
'I have so many amazing memories. However, although I had some of the most fun in my life in first year living on campus with the most amazing friends I made, my favourite memory has to be being able to spend New Year's in Sydney when I was studying in Singapore.
I had met up with other course mates from Herts and they let me stay with them at their study abroad campus. We all met up and spent midnight at the Royal Opera House followed by getting the train to Bondi beach where we all ran into the sea and made it onto Australian TV!'
Life after Herts
Upon graduating Grace lived for a short while in China focusing on her language skills and doing a Marketing Internship. She also taught English to save some money but returned home from China to spend 6 months as a full-time carer for her father.
After this she was offered a job in the Guernsey Financial Services Commission where she now works as a Graduate Analyst in Financial Crime Division and feels very fortunate and happy for the opportunity.
Living on Guernsey amidst the coronavirus pandemic
Moving to the Channel Island of Guernsey has been quite an experience during the COVID-19 pandemic and very different to mainland UK. Grace says,
'I had three months of lockdown at my home in Kent with my mum, I spent a lot of time attending 1-1 Mandarin classes online and helped decorate her house whilst I waited to be able to get a flight to start my job in Guernsey. Flying in the middle of a pandemic was really interesting and I have never seen an airport so empty!
Guernsey's lockdown measures were very strict. On arrival there were lots of rules, I had to remain indoors for two weeks, not even allowed outside for a walk unless it was in my private garden. The border agency made random visits to make sure you were staying in.
However, because of this my life wasn't greatly affected by Covid-19. There were only a handful of cases here which were all contained. Life was very much completely normal... no masks, no hand sanitisers and everything operated as though Covid-19 never hit.
This was the case from May 2020 but changed recently due to a rise in cases on the island in January, which in turn has led to a second lockdown that we all hope will be over soon.'
The future
On her hopes for the future Grace is unequivocal in her reply, 'I am extremely grateful and lucky to be in this position despite missing my friends and family in the UK. I hope to remain in the Financial Crime Team with the GFCS and continue to work towards protecting Guernsey.'.
Studying with Herts also allowed me to do two years abroad which has really benefitted me on a personal level, becoming a more well-rounded individual. It also helped further my career as it has demonstrated I am adaptable and motivated.
What's next for my career?

This EPAS-accredited international business degree gives you exceptional employability and 92% of our graduates are in work or further study within six months of graduating. They go into a wide range of roles in both internationally oriented UK businesses and in organisations all over the world.

Some of our graduates are offered jobs by the companies they took placements with, while others join graduate training schemes with globally focused companies. Some work as international experts within smaller businesses, and others secure professional roles in multi-national companies. Each year a number of our students also stay on to study at postgraduate level.

With a business degree, language skills and international exposure, you'll be an attractive prospect for employers worldwide, as well as for UK-based multinationals. Many of our graduates work across Europe, North America, Asia and Africa, in the financial, automotive, publishing and retail sectors. They work in fields including HR, marketing, sales, procurement and travel management. Our graduates earn an average salary of £23,000 six months after finishing the course.

View our Alumni profiles

Key staff

Dr Maciej Bancarzewski
A lecturer in Economics and an Early Career Researcher as well as being a lecturer. His recent research interest concerns the labour process in transforming economies and foreign direct investment.


Program Leader Natasha Khilji
An experienced higher education professional who is highly focused, and results orientated, focused on proactive learning. Natasha also has considerable information technology industry.


Xini Hu
An enthusiastic lecturer in marketing as well as a researcher interested in internal marketing, consumer behaviour and psychology, employee well-being, and work-life balance. She is also a member on an ethics panel.


Further information - includes assessment method

| Course fact sheets | |
| --- | --- |
| BA (Hons) International Business | Download |

| Programme specifications | |
| --- | --- |
| BA (Hons) International Business | Download |
| Languages Programme Specification | Download |

| Additional information | |
| --- | --- |
| Sandwich placement or study abroad year | Mandatory |
| Applications open to international and EU students | Yes |
| Course length | Sandwich, 4 Years |
| Location | University of Hertfordshire, Hatfield |

How to apply?

Fees and funding