MEng (Hons) Automotive Engineering
Key information
Study abroad option
Entry requirements

| UCAS points | A Level | BTEC |
| --- | --- | --- |
| 128-136 | ABB-AAB - Requires Maths and either Physics or Technology or Engineering based subjects, excluding General Studies/Critical Thinking | Not accepted |

Additional requirements

GCSE: Grade 4/C in English Language and 4/C in Mathematics.

All students from non-majority English speaking countries require proof of English language proficiency, equivalent to an overall IELTS score of 6.0 with a minimum of 5.5 in each band.

If you do not have the required IELTS or equivalent for direct entry on to your degree programme, our Pre-sessional English and International Foundation courses can help you to achieve this level.

For more details on the University of Hertfordshire's entry requirements, please visit our Undergraduate Entry Requirements page.

Find out more about International Entry Requirements.

The University of Hertfordshire is committed to welcoming students with a wide range of qualifications and levels of experience. The entry requirements listed on the course pages provide a guide to the minimum level of qualifications needed to study each course. However, we have a flexible approach to admissions and each application will be considered on an individual basis.

Professional accreditations

The MEng (Hons) Automotive Engineering course is accredited by RAeS and IMechE as detailed in the programme specification and satisfies, in full, the academic requirements for Chartered Engineer (CEng) registration for the cohort intakes from 2016 up to, and including, 2019.

Additionally, the programme is accredited by IMechE as detailed in the programme specification and satisfies, in full, the academic requirements for Chartered Engineer (CEng) registration for the 2020 intake. The programme is currently going through the process of reaccreditation with IMechE for the 2021 intake onwards.

Sign up for alerts

Get access to personalised content, tailored towards your interests:

Information on your favourite courses
Tips to help you through the application process
Blogs, vlogs and advice from current students
Why choose this course?
Study at one of the largest engineering schools in the UK
Experiment with vehicle handling behaviour on our suite of vehicle simulators
Use our rolling road dynamometer, one of only a few in the UK
You will have use of our Automotive Centre with advanced powertrain test cells and testing facilities
You will gain a practical education based around several specialist laboratories including an aerodynamics laboratory with five wind tunnels of varying speeds.
This MEng degree course in Automotive Engineering will give you the opportunity to design, build and race single-seater race car in the UK Formula Student Competition and can get involved from your first year onwards, if you wish.
Our MEng Automotive Engineering students have previously completed work placement years at companies including: 3M UK Plc, Bentley Motors, and Millbrook Proving Ground
Recent Automotive Engineering graduates have gone on to work at organisations including: JCB, Nissan, Ford Motor Company, Nissan Technical Centre Europe, Jaguar Land Rover and McLaren Automotive.
Your MEng studies involve an extra year and will provide you with a broader and deeper understanding of the subject.
We are members of the CDIO Initiative (Conceive Design Implement Operate), a worldwide network of academic professionals, industry representatives and engineering leaders who have a passion for engineering education and engineering leadership. The CDIO framework has been embedded into our undergraduate degree programme, ensuring you'll put into practice what you learn through "Design and Build" projects during your studies.
What's the course about?
With a 30-year record of producing skilled engineers for all branches of the automotive industry, Hertfordshire's a great choice if you want to work in this cutting-edge sector. How? As with the BEng, this course focuses on vehicle design, taking into account performance, consumer demand, safety and sustainability. It follows the same structure as the BEng, but includes an extra year where you'll deepen your understanding of the automotive industry. This course is also accredited by the Institution of Mechanical Engineers.
Your main campus is College Lane 
This is where the creative arts, science and health-related subjects are based. This means you'll share the campus with future nurses, scientists, artists and more. You can use the common rooms to relax with friends, work out in the 24-hour gym or have a drink in our on-campus pub or cafes. We also have restaurants for you to eat in or grab something on the go. Our Learning Resources Centres are open 24/7, which means you can study whenever suits you best. Want to pop over to the other campus? You can take the free shuttle bus or walk there in just 15 minutes.   
What will I study?
The School has a reputation for innovation in teaching and learning with most modules delivered through a combination of traditional face to face teaching and distance learning through the university's StudyNet web based facility. StudyNet allows students to access electronic learning resources, electronic discussion with staff and other students, and, for some modules, submit coursework 24/7 from anywhere in the world! With a heavy emphasis on Computer Aided Engineering, the school has a policy of using industrial standard software wherever possible. The school also operate an open access laboratory policy of when possible students doing experiments in their own time.
What you will learn
You will study vehicle structures, engine performance, aerodynamics using wind tunnel testing, materials and manufacturing strategies applicable to mass car production and specialist vehicle development. You will gain skills in commercial engineering software used in the industry, such as CATIA (a computer-aided design package), as well as finite element analysis and computational fluid dynamics packages. There is also the opportunity to be involved with the Class 200 Formula Student car, where you will work on developing the previous year's Formula Student entry.
First Year
You will study motorsport and automotive technology, engineering mathematics, engineering applications of mathematics, materials and electrical science, mechanical science, introduction to manufacturing technology, introduction to design, as well as fluid mechanics and thermodynamics.
Second Year
You will study dynamics, thermofluid mechanics, further engineering mathematics, computer-aided engineering (CAE), structural mechanics, automotive electronics and control systems, integrated engineering systems design, and project management and product development.
Third Year
You have the option of taking an integrated one-year professional placement, or you can take the opportunity to study part of your degree abroad through student exchange programmes with other universities in the EU, USA or Canada.
Fourth Year
You will study vehicle engineering design, vibration, noise and vehicle dynamics, vehicle structural analysis and manufacture, manufacturing strategy, mechanics and properties of materials, thermofluid mechanics and heat transfer, and an individual major project. You will also have an opportunity to be involved with the development of the University's entry to the Formula Student competition.
Final Year (4th or 5th)
This year you will study human resources management, team project, successful project delivery, advanced engine and power systems, finite element analysis (FEA) and applications, computational fluid dynamics (CFD) techniques. The multidisciplinary team project involves applying your skills to solve a challenging problem, for example, the design and development of an electric-powered car.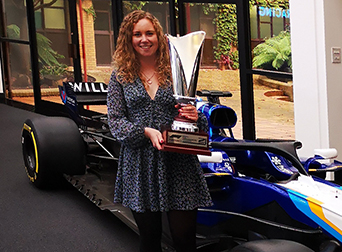 Alumni Stories
Katie Dobson
Meet Katie Dobson who is working for the Williams Formula 1 team
Read more stories
MEng (Hons) Automotive Engineering with Motorsport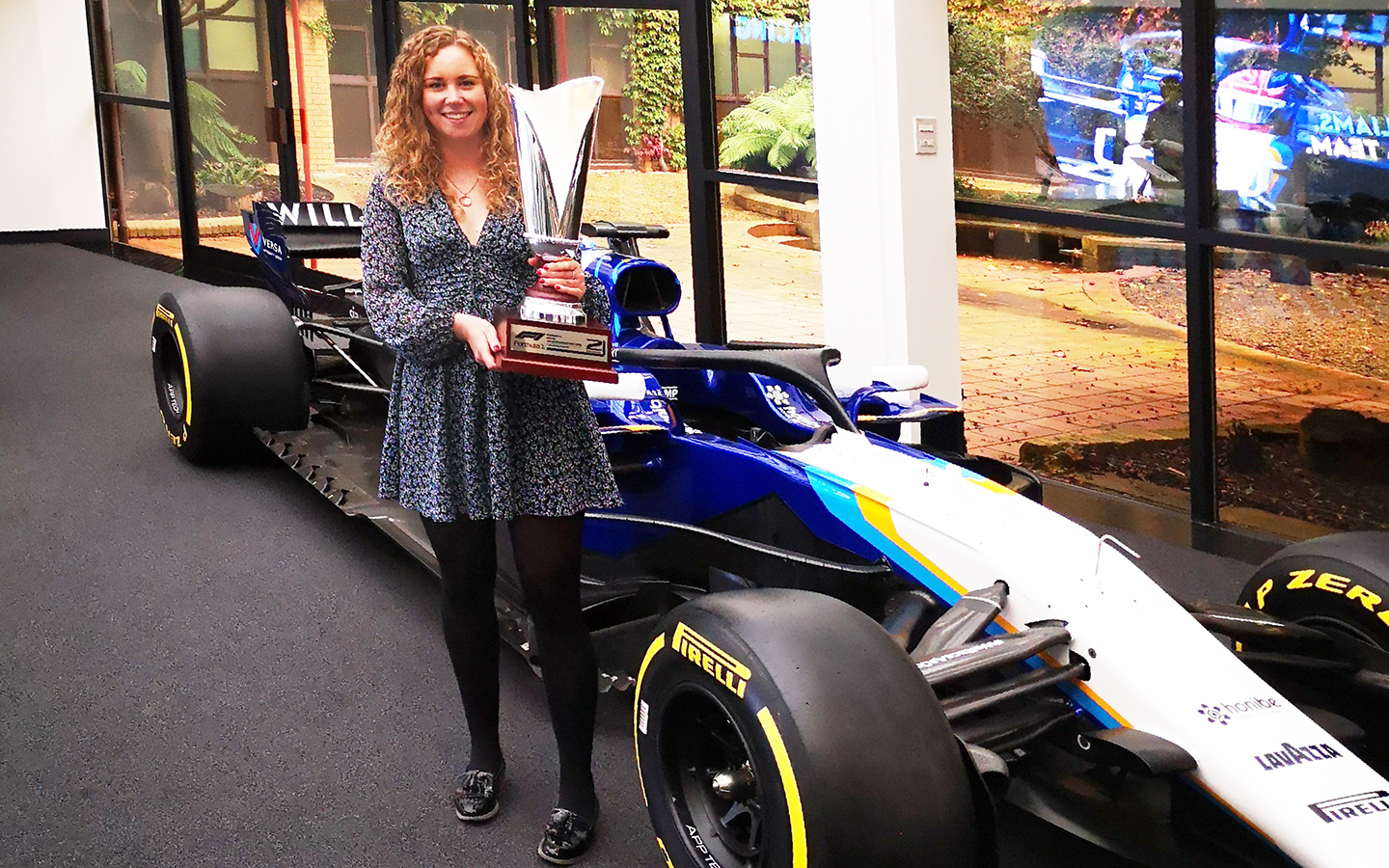 Katie knew that she wanted to pursue a career in Motor Sport and saw the course at Herts as the perfect pathway to follow her dream.
She is currently an Aerodynamic Design Engineer with the Williams Formula 1 team and explains a bit more about her role and what it entails, 'I was lucky enough to join Williams F1 as a Junior Aerodynamic Design engineer after completing my MEng in Automotive Engineering with Motorsport at Herts.
My role involves designing mechanical and aerodynamic components for the wind tunnel. I lead the research and development for the wind tunnel front wing design and work closely with the aerodynamicists to improve design concepts and make wind tunnel tests as streamlined as possible.'
Working in Formula 1
Katie really enjoys the challenge of the role and the industry which is fast-paced on all fronts.
'Working in Formula 1 is very enjoyable and very rewarding when you see results on the track. Seeing Williams back on the podium and scoring points again in 2021 were particular highlights.
I also enjoy the fast-paced environment and continual research and development required to keep up with technology and rules changes.'.
Why Herts
Katie chose to study at Herts because she was impressed with the large range of studies provided by the Engineering department and the range of facilities which provided crucial hands-on experience to work in industry. She adds, 'I was particularly impressed with the extra-curricular groups and studies provided by Herts such as the Formula Student team.'
When she talks about the best part of her course she says, 'It was being able to apply what I had learnt during my A-Levels to further my knowledge of engineering and the knowledge and enthusiasm my lecturers had to further my studies.'
Formula Student
Knowing that hands on practical experience is so important in the industry Katie became a member of the successful Formula Student team at Herts. She is certain that it helped when it came to her career and says, 'Participating in Formula Student particularly aided my ability to gain my current role in industry.
It was able to provide me with this expertise and allow me to broaden my field of study outside of the classroom or lecture hall.'
Favourite memories
Unsurprisingly Katie's best memories revolve around her experience with the Formula Student Team and the success on and off the track.
'My favourite memories at Herts were the times spent designing and manufacturing UH19 and UH20 with great friends. My favourite of them being completing at FSUK, FS Czech and FS Germany with the most successful UH FS car of all time as well as winning design at both the UK and Czech competitions.'
The future
Katie has set her sights high when it comes to the future and what it could bring. 'My future plans are to advance my career further in motorsport, and to hopefully win a Drivers and Constructors Championship in F1.'
Find out more about the Formula Student Team
If you have a great story like Katie's, please contact us!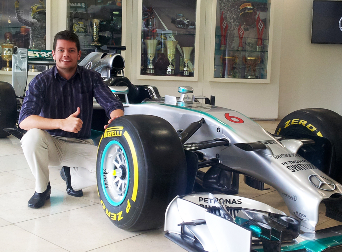 Alumni Stories
Lee Stretch
Meet Lee Stretch who has achieved great success in motorsport engineering since graduating in 2011. He currently works as a Vehicles Dynamic Engineer for Ferrari's Formula One team.
Read more stories
Find out more about this course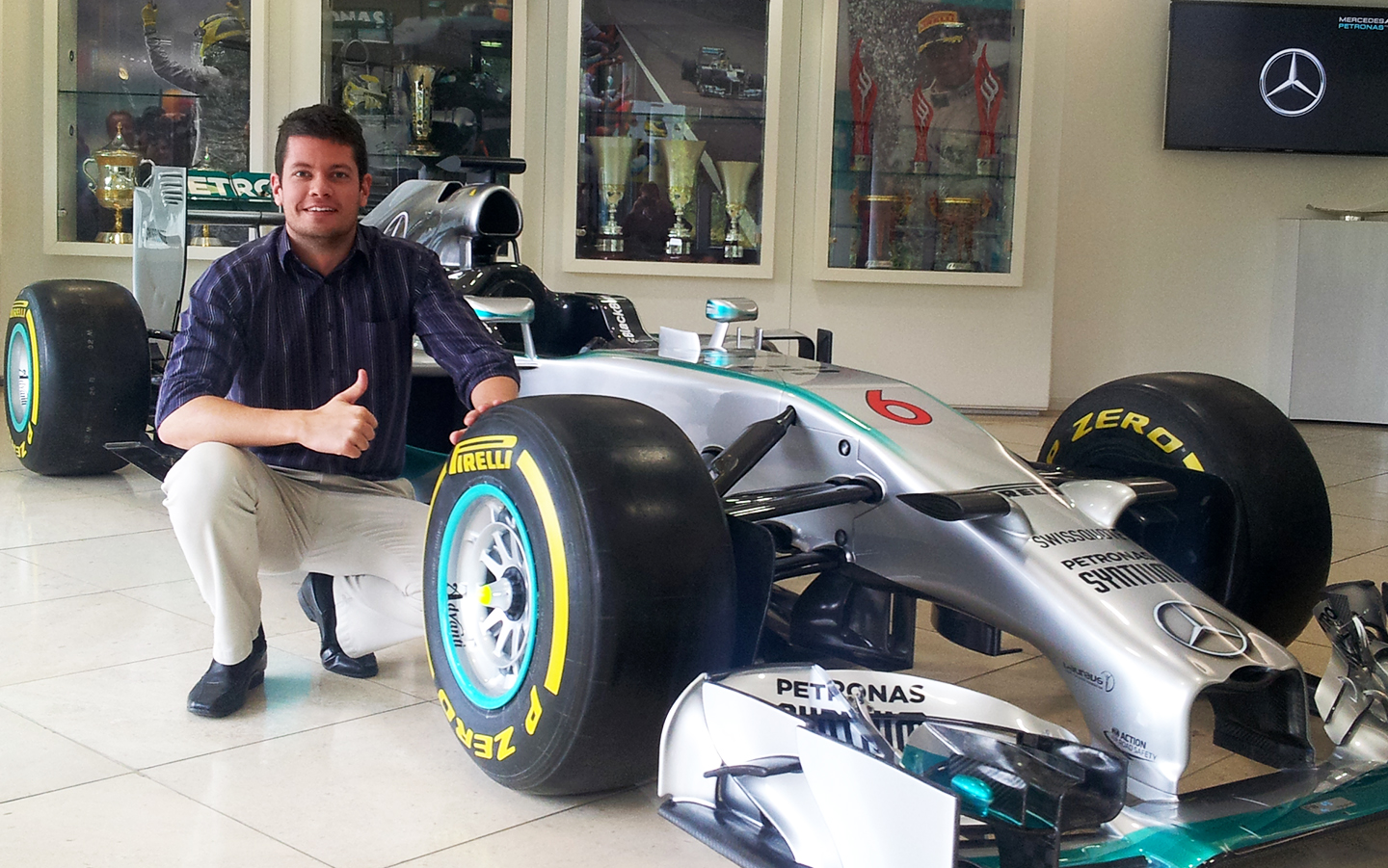 Facilities and experience
Lee made his decision to study at the University of Hertfordshire when he attended an open day, which included a visit to the Formula Student automotive workshop. 'The students had designed and built a single seat racing car which they raced against other universities. It blew me away!' His love of Formula Student became the catalyst for where he is today.
Lee felt the course itself was well rounded, covering all aspects of engineering, with a focus on design, which he enjoyed. Crucial moments of Lee's studies, from submitting his final year project, to designing a racing car in parallel with his full-time sandwich year job, taught him what is possible with determination, and a deadline.
This culminated in second place at Formula Student Germany - the best result ever for a UK team. 'Without these experiences, perhaps I wouldn't have had the guts to move to Italy.' He says, 'I've applied so many of the topics I studied at Herts to my career at Formula One. I regularly find myself reaching for my student notes from five years ago!'
Exciting career
After graduating, Lee worked with Mercedes GP as a Performance Simulation Engineer where he worked with some of the most sophisticated lap simulation tools in the industry. 'It was a very hard three years at Mercedes but equally rewarding, with the 2014 World Championship being the icing on the cake.'
Lee's passion and commitment was recognised by the only other team that he would have considered moving to - Ferrari. Lee moved to Italy and spent time learning Italian. After only six months in the role, he had contributed to next year's cooling system, and continues to develop the team's lap simulation tools. 'To help return Ferrari to the top of Formula One would be a dream come true!'
Despite working in a relatively specialised group of vehicle performance, Lee's role demands sound mechanical understanding, thermodynamics, practical design considerations and even pure mathematics in simulation. 'Communication is paramount, so all the report writing, presentation and team working skills necessary in the final two years of my degree have proved hugely beneficial.'
What's next for my career?

This programme prepares you for the many excellent career choices available to a professional chartered automotive engineer. Our placement students sometimes return to their final year studies with sponsorships and already holding job offers. We have links with all the major automotive companies in the UK and many abroad, and most Formula One racing teams have one of our graduates in their design team. There are also opportunities for consultancy work, specialising in vehicle safety. Many other graduates decide to stay at the University and extend their automotive education at a postgraduate level.

More about the course

The University has a 30-year track record of producing skilled engineers for every branch of the automotive industry, which is a dynamic environment offering excellent career prospects whether in large corporations, component suppliers or motorsport companies. This degree course is geared towards vehicle design, although it has much in common with the Mechanical Engineering course, and as it is accredited by the Institution of Mechanical Engineers, it provides the first step towards gaining Chartered Engineer status. The course is also recognised by the Society of Motor Manufacturers and Traders (SMMT).

Our graduates' employment prospects are excellent. You can expect to be employed in design, manufacturing or testing in one of the major automotive companies in the UK or internationally. In fact, most Formula One teams have one of our graduates in their design team. Other graduates decide to stay with us and extend their automotive education at postgraduate level.

View our Alumni profiles

Further information - includes assessment method

| Course fact sheets | |
| --- | --- |
| MEng Engineering (Automotive Engineering) | Download |
| MEng (Hons) Automotive Engineering | Download |

| Programme specifications | |
| --- | --- |
| MEng Engineering (Automotive Engineering) | Download |
| MEng Engineering (Automotive Engineering) | Download |

Additional information

Sandwich placement or study abroad year

Optional

Applications open to international and EU students

Yes

Course length

Full Time, 4 Years
Sandwich, 5 Years

Location

University of Hertfordshire, Hatfield

How to apply?

Fees and funding

Fees 2022

UK Students

Full time

£9250 for the 2022/2023 academic year

EU Students

Full time

£14000 for the 2022/2023 academic year

International Students

Full time

£14000 for the 2022/2023 academic year

Fees 2023

UK Students

Full time

£9250 for the 2023/2024 academic year

EU Students

Full time

£14750 for the 2023/2024 academic year

International Students

Full time

£14750 for the 2023/2024 academic year

*Tuition fees are charged annually. The fees quoted above are for the specified year(s) only. Fees may be higher in future years, for both new and continuing students. Please see the University's Fees and Finance Policy (and in particular the section headed "When tuition fees change"), for further information about when and by how much the University may increase its fees for future years.

View detailed information about tuition fees

Read more about additional fees in the course fact sheet

Other financial support

Find out more about other financial support available to UK and EU students

Living costs / accommodation

The University of Hertfordshire offers a great choice of student accommodation, on campus or nearby in the local area, to suit every student budget.