BSc (Hons) Radiotherapy and Oncology
We welcome applications from international and EU students
About the course
Oncology is the study and practice of treating cancers. One method of treatment is radiotherapy, which uses radiation at high energies to destroy cancer cells and relieve a patient's symptons. This course will give you the training to become a highly skilled practitioner, capable of planning and administering radiotherapy. Using a range of technical equipment, you'll learn to deliver accurate doses of radiation to destroy diseased tissue, while minimising the amount of radiation to surrounding healthy tissue. You'll also develop the vital skills to manage the psychological and emotional aspects of cancer in order to support patients and their families. Practical experience is vital, so around half your time each year will be spent in the clinical environment.
Why choose this course?
The course prepares you for a demanding but rewarding career in therapeutic radiography.
It is a full and varied course that gives you the therapeutic radiography skills, knowledge and attributes expected of the highly skilled practitioner.
It has been designed in collaboration with practitioners and health service managers and combines both academic and clinical placements.
99.6% of our Health and Social Work graduates went on to employment or further study within 6 months according to the latest national Destination of Leavers from Higher Education (DLHE) survey.
Key staff
Sam Glendinning


Professional Accreditations
Eligibility to apply for membership of the Society of Radiographers and registration with the Health and Care Professions Council as a Therapeutic Radiographer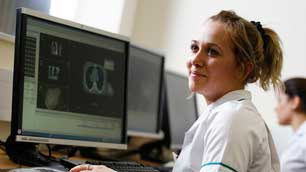 "
The Radiotherapy and Oncology team provide excellent standards of tuition to their undergraduate students. They prepare them for clinical placement as well as graduating and how to interview well for jobs.
They are happy to help students on a one to one or group basis with any work they are finding difficult, but are also available to listen and advise if students are having a tough time academically or personally. They should be acknowledged for all the hard work they put into making the programme the best it can be for current and forthcoming students.
The high standards of this team are reflected in Unistats with this course being one of the top performing courses in Radiotherapy and Oncology in the UK.​
Careers
Successful completion of this radiotherapy and oncology course leads to an honours degree and eligibility to apply for state registration with the Health and Care Professions Council as a Therapeutic Radiographer.
Radiotherapy provides excellent career prospects with the opportunity for continuous career development and opportunities to work in various specialties such as advanced practice, education, research and as an application specialist. The qualification is also recognised by other countries around the world providing prospects to work abroad.
99.6% of our Health and Social Work graduates went on to employment or further study within 6 months according to the latest national Destination of Leavers from Higher Education (DLHE) survey.
Teaching methods
A variety of teaching methods are employed in order for you to learn and develop the necessary skills to become a competent practitioner. These can include lectures, small group tutorials, seminars and clinical practice.
We also spend time in our radiotherapy labs including our planning suite, our VERT simulation centre and our imaging lab
Work Placement
As a student on the BSc (Hons) Radiotherapy and Oncology course, you will spend approximately 18-20 weeks per year on clinical placement gaining the valuable radiotherapy experience that you will need when you graduate and pursue a career as a Therapeutic Radiographer.
The placements will give you the opportunity to link the theoretical knowledge you gain via the lectures and seminars with the practical experiences.
Clinical placement are arranged in six accredited cancer centres in Berkshire, Cambridgeshire, Middlesex, London, Oxfordshire and Northamptonshire. They are managed and supported by a dedicated team of university lecturers, practice placement staff and clinical co-ordinators who work together to ensure that each student's clinical practice experience is of the highest quality.
Structure
Level 4
Core Modules
An Introduction to Interprofessional Education - 15 Credits
Radiotherapy Practice 1 - 30 Credits
Radiotherapy Science - 15 Credits
Foundations of Anatomy and Imaging for Radiotherapy - 30 Credits
Foundations of Oncology Management and Patient Care - 30 Credits
Optional
Level 5
Core Modules
Radiotherapy Practice 2 - 30 Credits
Imaging and Equipment for Radiotherapy Practice - 15 Credits
Radiation Dosimetry and Radiobiology - 30 Credits
Oncology Management and Patient Care - 30 Credits
Evidence and Research in Radiotherapy and Healthcare - 15 Credits
Optional
Level 6
Core Modules
Enhancing Health & Social Care through Inter-professional Education - 15 Credits
Contemporary Issues in Radiotherapy Practice - 15 Credits
Radiotherapy Practice III - 30 Credits
Oncology and Management III - 30 Credits
Radiotherapy Research Exercise - 30 Credits
Optional
Fees & funding
Fees 2018
UK/EU Students
Full time
£9250 for the 2018/2019 academic year
International Students
Full time
£16500 for the 2018/2019 academic year
Our international fees include the cost of practice placements, occupational health, Disclosure and Baring Service(DBS) check, and uniform.
NHS Funding for UK/EU Students
Students studying on nursing, midwifery or allied health professional courses funded by Health Education England, who start from September 2017 will have access to the same student loans support package and support for living costs as other students. The new arrangements also apply to students planning to take these courses as a second qualification.

The NHS will no longer grant bursaries. There will be, however, additional funding by the NHS Business Services Authority for some nursing, midwifery and allied health professional students because of the compulsory clinical placement required by these courses. This funding will cover students with child dependants and severe hardship. It will also cover travel and accommodation expenses incurred over and above the daily travel costs to university and for those who need dual accommodation.

For more information about the changes visit the gov.uk website and the Funding Clinic.
Discounts are available for International students if payment is made in full at registration
*Tuition fees are charged annually. The fees quoted above are for the specified year(s) only. Fees may be higher in future years, for both new and continuing students. Please see the University's Fees and Finance Policy (and in particular the section headed "When tuition fees change"), for further information about when and by how much the University may increase its fees for future years.
View detailed information about tuition fees
Additional course costs
Compulsory
Accommodation costs during clinical placements - indicative prices are: £230-£560.
Transport to clinical placements (students can claim if eligible for NHS Bursary and travel costs): up to £600 per placement
Eligible students for an NHS Bursary can claim all, or part depending on circumstances. EU students who are not eligible for an NHS Bursary cannot claim it (in this case the figures quoted are top-end and depend upon placement venue and distance travelled).
Optional
Society of Radiographers student membership. Indicative fee for the first year is £163
Scholarships
Find out more about scholarships for UK/EU and international students
Other financial support
Find out more about other financial support available to UK and EU students
Living costs / accommodation
The University of Hertfordshire offers a great choice of student accommodation, on campus or nearby in the local area, to suit every student budget.
Clearing
Clearing places available on this course, call us now on 0300 303 6300 #UHClearing
How to apply