BSc (Hons) Radiotherapy and Oncology
Available to non EU students
About the course
Oncology is the study and practice of treating malignant disease (cancer). One method of treating people with cancer is radiotherapy, a dynamic and ever-changing area of oncology, which uses ionising radiation at high energies to either cure the patient or improve their quality of life.
The BSc (Hons) Radiotherapy and Oncology course prepares you for a future career in radiotherapy and provides the training to become a highly skilled practitioner who will be capable of planning and administering radiotherapy treatment. The necessary radiotherapy skills combine a high degree of technical expertise with the ability to manage the physical needs of the patient.
When you work in a radiotherapy department you also need additional skills, which you will be taught in this radiotherapy and oncology course, such as communication skills to manage the psychological and emotional aspects of cancer for patients, their relatives and friends.
Key qualities include an affinity for science, good interpersonal skills, the ability to work in a team or independently and an enthusiastic, motivated and caring attitude.
The BSc (Hons) Radiotherapy and Oncology course has been designed in collaboration with practitioners and health service managers and combines both academic and clinical placements. Our accredited clinical placement sites are located in cancer centres covering a wide geographical area including centres located in the west of London, Northampton, Northwood, Oxford, Peterborough and Reading.
There is full integration of theory with practice and highly qualified clinical personnel work closely with our academic team to ensure the highest standard of education, support and professional development during your clinical placements. Approximately half your time is spent in practice each year. You will be allocated to a host placement site where most of your clinical practice takes place, however in your final year, there will be opportunities for specialist placements, and for elective placements of your choice either in the UK or abroad.
First Year
During the first year you will study modules designed to underpin your understanding of clinical practice including fundamental physical, biological, psychological and social sciences, as well as introducing topics specific to oncology and radiotherapy.
Second Year
The second year will build on your first year study, with focus on the understanding and application of planning and treatment delivery, including a widened range of clinical techniques. There is coverage of practical clinical oncology and cancer management.
Final Year
The final year gives a wider perspective of health and health care. Your knowledge is consolidated with topics covering current radiotherapy practice. Advice and information on securing your first post is provided with the structure of the degree is designed to equip you for a life-long learning approach and to encourage future continuous development. On graduation (and subject to state registration) you will be able to commence your career without further training.
Why choose this course?
The course prepares you for a demanding but rewarding career in therapeutic radiography.
It is a full and varied course that gives you the therapeutic radiography skills, knowledge and attributes expected of the highly skilled practitioner.
It has been designed in collaboration with practitioners and health service managers and combines both academic and clinical placements.
99.6% of our Health and Social Work graduates went on to employment or further study within 6 months according to the latest national Destination of Leavers from Higher Education (DLHE) survey.
Key staff
Sam Glendinning


Professional Accreditations
Eligibility to apply for membership of the Society of Radiographers and registration with the Health and Care Professions Council as a Therapeutic Radiographer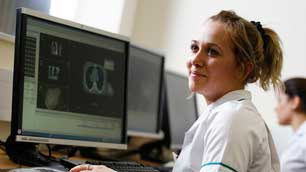 "
The Radiotherapy and Oncology team provide excellent standards of tuition to their undergraduate students. They prepare them for clinical placement as well as graduating and how to interview well for jobs.
They are happy to help students on a one to one or group basis with any work they are finding difficult, but are also available to listen and advise if students are having a tough time academically or personally. They should be acknowledged for all the hard work they put into making the programme the best it can be for current and forthcoming students.
The high standards of this team are reflected in Unistats with this course being one of the top performing courses in Radiotherapy and Oncology in the UK.​
Careers
Successful completion of this radiotherapy and oncology course leads to an honours degree and eligibility to apply for state registration with the Health and Care Professions Council as a Therapeutic Radiographer.
Radiotherapy provides excellent career prospects with the opportunity for continuous career development and opportunities to work in various specialties such as advanced practice, education, research and as an application specialist. The qualification is also recognised by other countries around the world providing prospects to work abroad.
99.6% of our Health and Social Work graduates went on to employment or further study within 6 months according to the latest national Destination of Leavers from Higher Education (DLHE) survey.
Teaching methods
A variety of teaching methods are employed in order for you to learn and develop the necessary skills to become a competent practitioner. These can include lectures, small group tutorials, seminars and clinical practice.
We also spend time in our radiotherapy labs including our planning suite, our VERT simulation centre and our imaging lab
Work Placement
As a student on the BSc (Hons) Radiotherapy and Oncology course, you will spend approximately 18-20 weeks per year on clinical placement gaining the valuable radiotherapy experience that you will need when you graduate and pursue a career as a Therapeutic Radiographer.
The placements will give you the opportunity to link the theoretical knowledge you gain via the lectures and seminars with the practical experiences.
Clinical placement are arranged in six accredited cancer centres in Berkshire, Cambridgeshire, Middlesex, London, Oxfordshire and Northamptonshire. They are managed and supported by a dedicated team of university lecturers, practice placement staff and clinical co-ordinators who work together to ensure that each student's clinical practice experience is of the highest quality.
Structure
Level 4
Core Modules
An Introduction to Interprofessional Education - 15 Credits
Radiotherapy Practice 1 - 30 Credits
Radiotherapy Science - 15 Credits
Foundations of Anatomy and Imaging for Radiotherapy - 30 Credits
Foundations of Oncology Management and Patient Care - 30 Credits
Optional
Level 5
Core Modules
Radiotherapy Practice 2 - 30 Credits
Imaging and Equipment for Radiotherapy Practice - 15 Credits
Radiation Dosimetry and Radiobiology - 30 Credits
Oncology Management and Patient Care - 30 Credits
Evidence and Research in Radiotherapy and Healthcare - 15 Credits
Optional
Level 6
Core Modules
Enhancing Health & Social Care through Inter-professional Education - 15 Credits
Contemporary Issues in Radiotherapy Practice - 15 Credits
Radiotherapy Research Exercise - 30 Credits
Radiotherapy Practice III - 30 Credits
Oncology and Management III - 30 Credits
Optional
Fees & funding
NHS Funding for UK/EU Students
Students studying on nursing, midwifery or allied health professional courses funded by Health Education England, who start from September 2017 will have access to the same student loans support package and support for living costs as other students. The new arrangements also apply to students planning to take these courses as a second qualification.

The NHS will no longer grant bursaries. There will be, however, additional funding by the NHS Business Services Authority for some nursing, midwifery and allied health professional students because of the compulsory clinical placement required by these courses. This funding will cover students with child dependants and severe hardship. It will also cover travel and accommodation expenses incurred over and above the daily travel costs to university and for those who need dual accommodation.

For more information about the changes visit the gov.uk website and the Funding Clinic.
Discounts are available for International students if payment is made in full at registration
*Tuition fees are charged annually. The fees quoted above are for the specified year(s) only. Fees may be higher in future years, for both new and continuing students. Please see the University's Fees and Finance Policy (and in particular the section headed "When tuition fees change"), for further information about when and by how much the University may increase its fees for future years.
View detailed information about tuition fees
Other financial support
Find out more about other financial support available to UK and EU students
Living costs / accommodation
The University of Hertfordshire offers a great choice of student accommodation, on campus or nearby in the local area, to suit every student budget.
Entry requirements...
2018 entry
120 - 136 UCAS Points
We operate a flexible admissions policy and treat everyone as an individual. This means that we will take into consideration your educational achievements and predicted grades (if applicable) together with your application as a whole including work experience and personal statement and may make an offer at any point within the stated tariff range. We also welcome applicants who are predicted grades in excess of our published tariff.
All Applicants must have a minimum of 5 GCSEs (or equivalent) at grade C / grade 4 or above which must include Maths, English and Science taken at one sitting.
120 UCAS points from GCE A2/AS levels to include 96 points from A2 subjects and should include grade C or above from a Science subject or Mathematics
BTEC Extended Diploma in Applied Science with DDM profile,
or BTEC Extended Diploma in Health & Social Care with DDM profile plus Grade C or above in a GCE A level Science or Maths subject.
Irish Leaving certificate 120 points calculated from 5 higher level subjects to include B2 or above from science
A science based foundation degree in which all modules are passed with an average mark of 60% over all.
Access to HE in Science or Health Studies (or similar) to include: 45 credits at level 3 of which 24 credits are Distinction including 9 credits from a Science subject and 21 credits are Merit For those applicants who do not have GCSE english grade C or equivalent we require 6 credits in English and for those that do not have GCSE Maths Grade C or equivalent we require 6 credits in numerical subjects.
Extended Degree in Science UH progression route average mark of 60% or greater. Must also have completed including a minimum of 60% in Mammalian Physiology and 55% in Maths for Science. Students may also find it useful to take Physics.
International Baccalaureate 120 points from 1 HL subject at grade 5 or above and 1 HL subject at grade 4 or above to include a life science or maths subject.
For a science based degree minimum of 2:2 classification achieved.
For all applicants where English is not their first language IELTS at level 7 (with no less than 6.5 achieved in any one band) are required.
If you do not have the required IELTS or equivalent for direct entry on to your degree programme, our Pre-sessional English and International Foundation courses can help you to achieve this level.
For country specific qualifications, please visit our Your Country page.
All offers will be subject to the applicants demonstration of the NHS constitution's "Values and Behaviours", satisfactory interviews, health screening and the Disclosure and Barring Services (DBS) checks. In addition applicants will need to provide evidence of a clinical visit/work experience. You can view the full NHS Constitution for England on the Government website: https://www.gov.uk/government/publications/the-nhs-constitution-for-england
Guidelines for work experience and clinical visits
Clinical Visit Reflection Form
How to apply