BSc (Hons) Physics
Available to non EU students
About the course
This course will give you the skills to understand the world in terms of forces and particles in small or complex systems. You will learn you comprehend everything from the streamlined shape of dolphins to the quantum encryption of messages.
What you will learn
You will learn both the fundamentals of Physics and the results of modern cutting-edge research. We are highly regarded for our innovative and successful teaching. Our internationally excellent and world-leading Physics research covers the microphysics of air quality, atmospheric physics, light scattering, quantum optics and mathematical physics. The School's vibrant research programmes feed into the course content and into Final Year project investigation. Your degree will provide you with a highly regarded professional qualification and prepare you for postgraduate study.
First Year: You will cover a broad range of topics in classical and modern physics, with an introduction to relativity, quantum physics and cosmology. This will be supported by practical work in the laboratory and at the observatory. As well as developing sound mathematical skills, you will be introduced to a high-level programming language. By taking part in academic tutorials and workshops, you will be able to discuss your ideas with others.
Second Year: You will study electromagnetism and optics, nuclear and quantum physics, thermal and statistical physics, condensed matter physics and further mathematics.
Third Year: You will have the opportunity of working in industry or at a research institution. Study abroad opportunities are available at universities in Europe, Australia and the USA. You may also be able to combine a shorter placement with some study abroad.
Final Year (3rd or 4th): Subjects include computational physics, contemporary quantum physics and fluid dynamics. You will carry out a research investigation on a physics topic of your choice. This could be in conjunction with one of our existing research programmes. A range of optional subjects is also available. These include space dynamics, stellar physics and partial differential equations.
Why choose this course?
Our degree lets you study the fundamental theories behind Physics and their application to modern-day research and technology. We will take you from the knowledge that you have gained in your school or college studies right the way to the most up-to-date developments.
During your second and third years you begin to specialise in experimental physics or more theoretical and mathematical concepts. You can choose from a range of options in your final year, including Nonlinear Systems, Rocket Performance and Propulsion, Physics of Stars, Nonlinear Systems, Partial Differential Equations, Dynamics and Geometry, Further Numerical Methods or Quantum Computing.
You will also carry out a final year investigative project in a cutting-edge area of Physics research. You will be closely supervised and guided by one of our experienced researchers in the Centre for Atmospheric & Instrumentation Research. Previous projects have included designing a calibration system for airborne ice sensors, modelling the behaviour of soliton waves in the oceans, and examining quantum dynamics using topological methods.
If you are continuing on our MPhys programme it is possible to extend your project into your MPhys year. We also have an innovative strand of industrial projects supported by the Institute of Physics that give you direct experience of working in industrial research.
Key staff
Dr James Collett
For academic queries
Find out more about Dr James Collett
Dr Mark Thompson
For admissions queries
Find out more about Dr Mark Thompson
Professional Accreditations
The BSc degree has had accreditation from the Institute of Physics (IoP) for a number of years.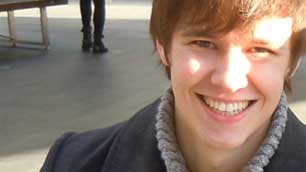 "
As part of my studies at the University of Hertfordshire I opted to take a placement year at the Rutherford Appleton Laboratory where I had to learn new skills on the job, working to precision, provide excellent customer service and liaising with other members of a multidisciplinary team. Most of the research at the laboratory was geared up towards laser-driven nuclear fusion, and I was able to work on one of the lasers; the Vulcan.

I have just graduated with first class honours in BSc Physics from the University of Hertfordshire and got accepted onto a graduate scheme with Frank Hirth PLC; a UK/US tax advisory firm in London. I keep the science ticking over in the background and plan on returning to it from a career perspective at some point in the future.
Careers
A physics degree will open up opportunities for careers in industry, teaching, telecommunications, computing and research. The analytical skills you will gain are also highly valued in a variety of non-scientific jobs, including finance, accounting or commerce. You will also be able to progress onto postgraduate study.
More about the course
Physics is one of the most fundamental of all sciences, dealing with the underlying nature of the Universe and the behaviour of matter, energy and forces. Advances in Physics have driven modern day society, from the thermal physics that underpinned the Industrial Revolution, to the electromagnetism, quantum physics and relativity that are an integral part of things like GPS, computers and lasers. Physics graduates are in high demand in a number of sectors due to their well-developed analytic, mathematical and transferable skills.
In the School of Physics, Astronomy & Mathematics we aim to teach you these skills in a friendly and professional environment, giving you the opportunity to learn both the fundamentals of Physics and the results of modern cutting-edge research. We are in the top ten of Physics departments in the UK and we are highly regarded for our innovative and successful teaching. Our internationally excellent and world-leading Physics research covers the microphysics of air quality, atmospheric physics, light scattering, quantum optics and mathematical physics.
Extracurricular activities
During your time with us we want you to have the widest opportunities possible to achieve your full potential. So, alongside your studies, we also organise many optional extracurricular activities to help you gain professional Physics experience. We run regular summer placements and internships in our research laboratories, and make our facilities at the Bayfordbury Observatory open to you (once you have passed an accreditation course). Also, as a member of the South East Physics Network (SEPNet), our students have the possibility for summer internships with any of our 8 SEPNet partners.
Teaching methods
We take pride in our student-focused approach to teaching Physics. With one of the best student-staff ratios in the country we are able to put our focus on you as an individual and give you the support that you need to reach your full potential as a Physics graduate. Our graduates are in a wide range of careers, from scientific research to teaching and industry.
We use a variety of teaching methods during our Physics degrees, ranging from small-group tutorials, to lectures and practical classes. Our typical intake of students is around 50-60 in each year, which means that our class sizes are small enough so that your lecturers will know you by name. We place particular emphasis on transferable skills, employability and project work throughout the degree.
You will meet your personal tutor on a regular basis in small-group tutorials, which are a great way of reinforcing the material that you learn in lectures. We also offer a wide variety of support throughout your degree, from you lecturers, the School's Maths Centre and peer support from our student proctor scheme.
Work Placement
All of our Physics degree programmes can be taken as a sandwich degree, with a professional placement year. We have a dedicated Placements Tutor in our School who, along with the University's Careers & Placements Service, will help you find and set up your placement. Within the UK our students have worked at:
IBM
Microsoft
the Rutherford Appleton Labs
the Met Office and
the National Physical Laboratory.
Many of our graduates go on to work or postgraduate study at their placement hosts.
Study Abroad
This course offers you the opportunity to study abroad in the Sandwich Year through the University's study abroad
programme. Study abroad opportunities are available worldwide and in Europe under the Erasmus+ Programme. Past students have gone on research and study abroad placements to the US, Canada, Australia, France, Germany, Switzerland and Singapore. Find out more about Study abroad opportunities.
Structure
Level 4
Core Modules
Contemporary Physics (L1) - 30 Credits
The Physical Universe - 30 Credits
Small Group Tutorial - 0 Credits
Mathematical Techniques 1 - 30 Credits
Applications of Computing - 15 Credits
Laboratory Physics 1 - 15 Credits
Optional
Level 5
Core Modules
Thermal and Condensed Matter Physics (L2) - 30 Credits
Optical Physics & Electromagnetism - 30 Credits
Quantum Physics - 15 Credits
Mathematical Techniques 2 - 15 Credits
Graduate Skills - 0 Credits
Optional
Laboratory Physics 2 - 15 Credits
Programming - 15 Credits
Dynamics - 15 Credits
Professional Teaching Skills - 15 Credits
Numerical Methods - 15 Credits
Differential Equations - 15 Credits
Level 6
Core Modules
Waves and Fluids - 30 Credits
Computational Physics - 15 Credits
Contemporary Quantum Physics - 15 Credits
Investigation in Physics - 15 Credits
Optional
Rocket Performance and Propulsion - 15 Credits
Professional Placement - 0 Credits
Physics of Stars - 30 Credits
Space Dynamics - 15 Credits
Year Abroad - 0 Credits
Partial Differential Equations - 15 Credits
Dynamics and Geometry - 15 Credits
Further Numerical Methods - 15 Credits
Nonlinear Systems - 15 Credits
Placement with Study Abroad - 0 Credits
Entry requirements...
2018 entry
UCAS introduced a new tariff for 2017 entry so the points being asked for are substantially different to previous years.
128 UCAS points
Must include A2 level Maths and Physics adding together to give 80 UCAS points or above, and must be at grade C or above.
BTEC qualification in Applied Science plus A level Maths at grade C or above. Access to HE Diploma with 30 credits at merit or above in Maths and Physics.
IB - 128 points from a minimum of 3 HL subjects at grade 5 or above to include Maths and Physics (with the remaining points to come from a combination of HL, SL and Core).
GCSE Maths at grade 4 or above and English Language at grade 3 or above.
All students from non-majority English speaking countries require proof of English language proficiency. The following qualifications and grades will be considered
- GCSE English language grade A-C
- IELTS 6.0 (with no less than 5.5 in any band)
Other English language tests are accepted. Please contact the International Office for details.
If you do not have the required level of English for entry, our academic English and foundation courses can help you to achieve this level.
How to apply