Law

Hello Everyone!
Welcome to the Law resources page.
Here you will find out exactly what our academics are looking for in their students, including skills they look out for, some of the topics they want you to know, recommended reading and useful places to boost your knowledge.
So without further ado let's get started!
Skills we are looking for
Willingness to read (a lot)
Passion for learning
Independent learners
Effective writing skills
Critical thinkers
Open-minded individuals
"The old University Challenge phrase "You read for a degree" is never more true than with law."
Topics to explore before you start
"The LLB has a two-week induction period, where we will introduce you to all the key concepts of studying law. The best preparation is to read about the law and to continue developing your interest."
Recommended reading to prepare for university
The Secret Barrister. (2019) The Secret Barrister: Stories of the Law and How It's Broken, London, Picador. ISBN: 1509841148.
McBride, N. (2017) Letters to a Law Student: A Guide to Studying Law at University (4th edn.), London, Pearson. ISBN: 1292149248.
Hutchinson, A. C. (2011) Is Eating People Wrong? Great Legal Cases and How They Shaped the World, Cambridge, United Kingdom, Cambridge University Press. ISBN: 9780521593762.
Programmes to know
Microsoft word
Microsoft PowerPoint
Microsoft Teams
Zoom
Websites our academics recommend
Guiding millions of students to make the right choice. Match your skills and personality to 400+ job profiles.
Legal Cheek is the most-read legal website in the UK. Each month their combination of news, analysis, careers advice and insider insight on the leading law firms and chambers operating in the UK attracts over a million pageviews.
The independent professional body for solicitors in England and Wales.
The essential springboard into the legal job market for students, graduates and school leavers.
Research the work of the Law Commission. Is there a particular area of law which fascinates you?
The Law Society Gazette website:
Read articles and law reports from the Law Gazette. Is there anything that's surprised/challenged/inspired you?
Are there any issues that intrigue you? Is there anything that you're surprised by? How do these podcasts challenge your current way of thinking? Do they confirm your interest in law? If so how?
Professional bodies to research
Solicitors Regulation Authority:
The SRA is the regulator of solicitors and law firms in England and Wales and regulates more than 200,000 solicitors.
Regulates barristers and specialised legal services businesses in England and Wales in the public interest.
The Inns of Court: Gray's Inn, Lincoln's Inn, Middle Temple & Inner Temple
The "Inns" are professional membership associations for barristers in England and Wales. You must be a member of an Inn before you start the vocational component of training for the Bar.
Her Majesty's Courts & Tribunals Service (HMCTS):
Responsible for the administration of criminal, civil and family courts and tribunals in England and Wales. The HMCTS is an executive agency, sponsored by the Ministry of Justice.
The Ministry of Justice is a major government department, at the heart of the justice system in the UK. They work to protect and advance the principles of justice.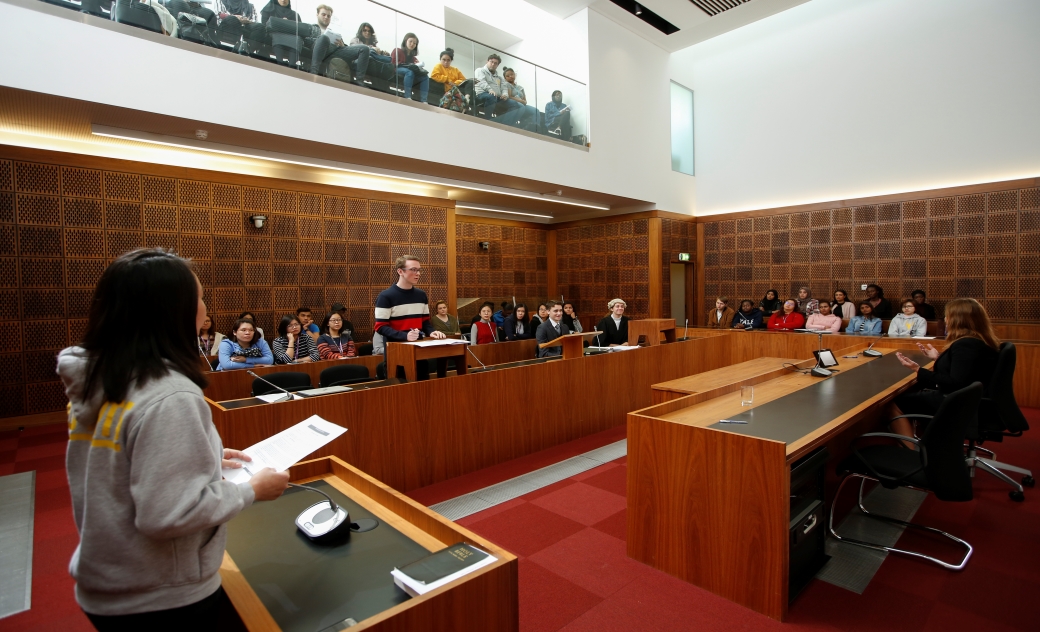 Courses Herts offer
Interested in studying Law here at Herts?
Take a look at our undergraduate courses below:
*As part of this course, you will have the opportunity to add an additional year to study abroad or do a work placement.
Get a feel for studying at Herts
Contact us
We hope you all found these resources useful but we appreciate that you may have more questions.
If you have any questions regarding our campuses, facilities, accommodation or just general life here at Herts, you can contact current Herts students via Unibuddy.