Agent & Partner Toolkit
Pay your fees
Powering Potential. It's the promise that we make to our students when they come to study at the University of Hertfordshire.
At the University of Hertfordshire, we see our students' potential, we hear their ambitions and we support their futures.
Useful links
Our public contact details
If you are displaying the contact details for the International Office, please use the follow:
Using

our logo

Our logo is the centrepiece of our brand, appearing on all communications and advertising. Below, you'll find guidance on how to use it.

We have two main versions of our logo: Dark and Light. To achieve sufficient contrast and legibility, the Dark version should be used on light backgrounds, while the Light version should be used on darker backgrounds.

The minimum size that the logo may appear at is 30mm. A minimum exclusion zone should be used to keep the logo clear of any other visual assets. This is constructed using the H from the UH elements. More information about logo usage can be found here.

If you have used the University's logo, please send final artwork to Col Norrish, International Marketing Coordinator for approval.
Download the logo
Pre laid out design files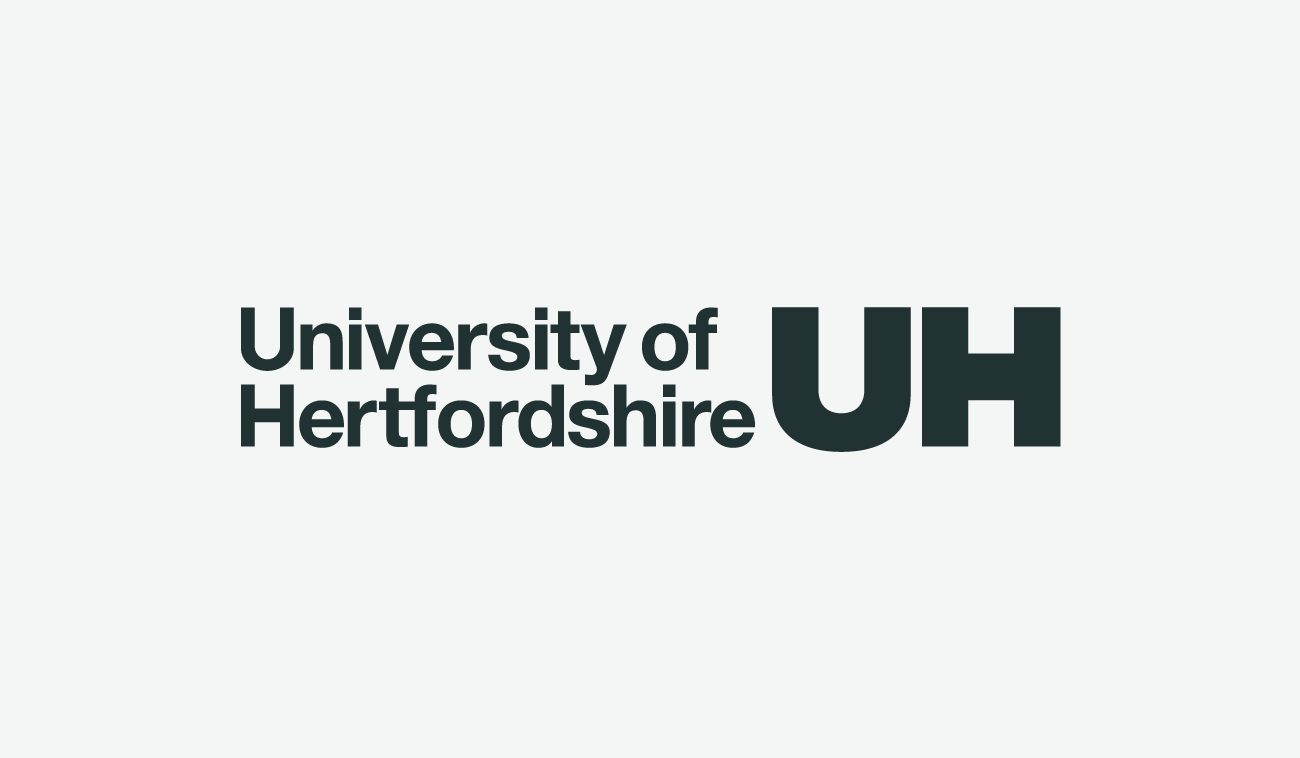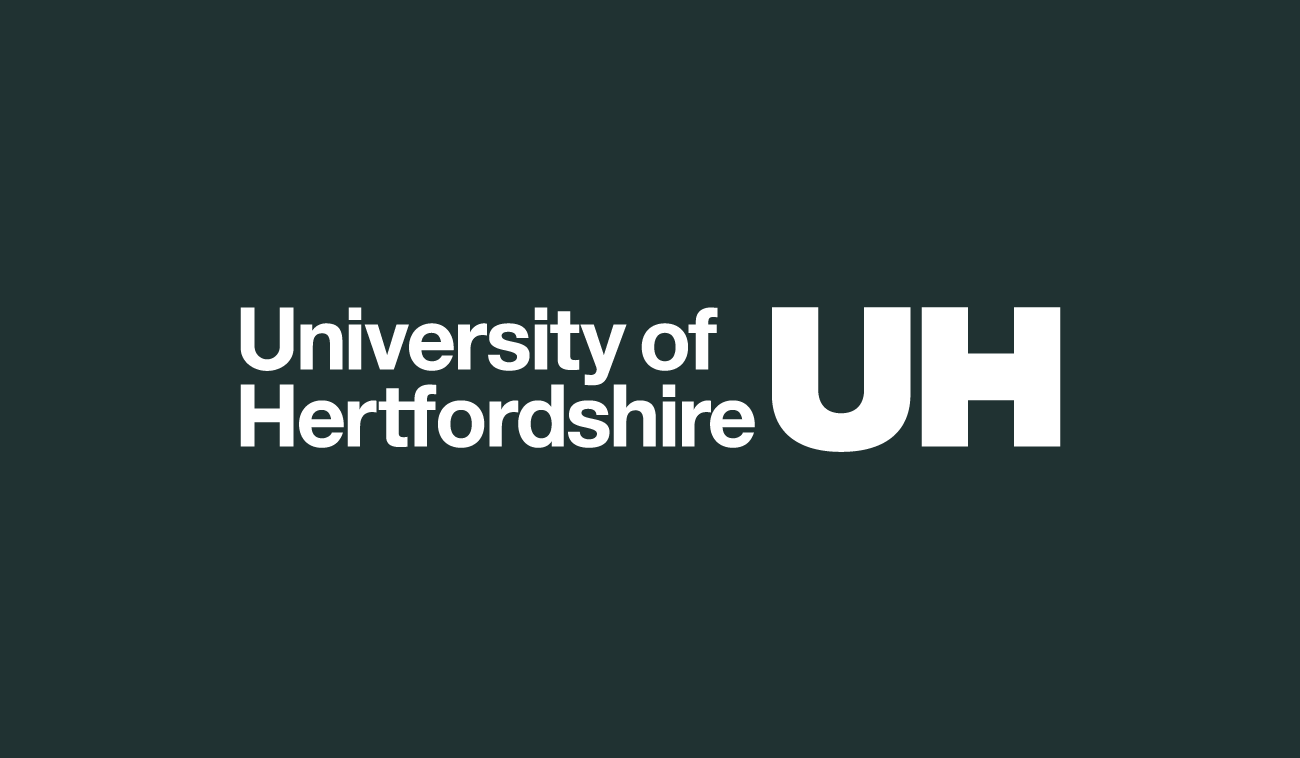 Posts for your social media channels
Hashtags
If you wish to post about the University of Hertfordshire on your social channels, you can also use appropriate hashtags like;
#UniofHerts
#GoHerts
#Herts
#UniversityofHertfordshire
Pre-written text
About the University of Hertfordshire
The University of Hertfordshire brings the transformational impact of higher education to all. Its students, staff and businesses consistently reach their full potential. Through high quality teaching, 300 flexible degree programmes, cutting-edge research projects and powerful business partnerships, they think bigger, stand out and positively impact local, national and international communities.
Longer description
The University of Hertfordshire: Powering the potential of students, staff and business
The University of Hertfordshire is in the town of Hatfield, which is just 25 minutes by train from London King's Cross station. With over 300 programmes across eight Schools of Study it's easy to find a course to match your career aspirations. Our programmes are created with industry in mind and placements are offered alongside many courses providing you with hands-on experience.
With its heritage in Britain's pioneering aeronautical industry, the University has been an innovative force in education since the early 1950s and today hosts a community of over 24,500 students from the UK and around the world. Over the past 20 years we've invested almost half a billion pounds in our green campuses, which span 125 acres. Rated Platinum for our EcoFriendly campus (EcoCampus, 2018), everything is designed with our student community in mind.
Academics are experts in their field, and many are focused on researching solutions to the Grand Challenges of our time. From developing a humanoid robot that can support children with autism, to using a pioneering laser facility to deliver critical insights into climate change, staff drive forward and deliver cutting-edge research.
With inspiring learning spaces, state-of-the-art facilities and a £120 million student accommodation village, you have everything you need on your doorstep.
Globally, the University partners with institutions in countries all over the world, as well as welcoming 4,000 students from over 100 countries to its campus in the UK. Home students are also encouraged to take the opportunity to experience studying abroad at one of over 170 Universities worldwide.
Text and information about the University
Any written text you would like to use to advertise the University, please take from the above pre-written text, our International Guide or Subject Guides which can be found in the link below. These guides are kept up to date with course and University changes.
Image

library

We can offer an extensive library of photos for international agents. We have set up a Flickr page with high quality images available to download. Each image comes with a relevant description which will support you in using them online, in print and on social media.

We'll work to update this gallery regularly and update with the latest imagery to showcase the University.

You can access our Flickr Gallery here.
League table and rankings
We deliver consistently outstanding teaching, learning and outcomes for our students.
So what does that actually mean for our students? It means over 93% of Herts students are getting jobs within 15 months of graduating (HESA, 2020).
Our learning environment supports our consistent drive to improve the learning experience at Herts. The Complete University Guide has rated us in the Top 10 for facilities spend, showcasing the consistent and extensive investment we make each year in your learning experience.
Accredited by professional bodies
Nearly all of our programmes are recognised by professional bodies. Our academic schools work with many government agencies, professional bodies, trade groups and network associations within Hertfordshire and nationally.
League table success
Some of the recent league table successes include:
#1 for Games (TIGA Games Industry Award, 2019)
Ranked 4th nationally for Economics (The Guardian, 2020)
Ranked 7th nationally for Tourism, Hospitality and Event Management (The Guardian, 2020)
Ranked 10th nationally for Engineering: Electronic and Electrical (The Guardian, 2020)
Ranked 12th nationally for Optometry, Ophthalmology & Orthoptics (Complete University Guide, 2022)
Ranked 15th nationally for Social Work (Complete University Guide, 2022)
Ranked 15th nationally for Food Science (Complete University Guide, 2022)
Ranked 16th nationally for Film Production & Photography (The Guardian, 2020)
Ranked 18th nationally for History (The Guardian, 2020)
Ranked in the top 20 for Education in the UK (The Guardian, 2021)
Ranked 24th nationally for Architecture (The Guardian, 2021)
Ranked 25th nationally for Politics (The Guardian, 2021)
The 2022 Complete University Guide has rated us 8th for facilities spend, showcasing the consistent and extensive investment we make each year in the learning experience.
Social media
The International Office is across all of the major social media channels. Please follow us and remember to tag us in any content you post.
Get in touch
If you have any questions about our brand guidance, assets or campaigns please contact a member of the team: