Our logos
The University of Hertfordshire is a diverse organisation powering students, business and the community through career-focused teaching and internationally renowned research. Our family of logos reflects this diversity and our commitment to each strand of our business.
Our family of logos
Primary logos
Our primary logo comes in two colours: Light and Dark. To achieve sufficient contrast and legibility, the Dark version should be used on light backgrounds, while the Light version should be used on darker backgrounds.
In some instances (where increased contrast is required or print options are limited) a black version of our logo may be used. Please contact Marketing and Communications for guidance.
Sub logos
Sub logos can be used in place of the primary logo where the piece of communication is directly from an SBU, department or group and contains information related solely to their own activity. If that activity impacts the wider University, the main logo should be used.
Sub logos are available in Dark Grey and White and follow the same usage guidance as the main logo.
Sub logos should only be developed for SBUs, recognised research centres, units and groups, or when warranted by the profile or remit of a smaller professional team. Please contact Marketing and Communications for further guidance.
How to use our logos
Size
In order to ensure maximum legibility and presence, it is important that the logo is used in a consistent way. The width of the logo is dictated by the width of the communication you are creating. Sizes are specified for a range of standard formats below. When applying the logo on larger or non-standard formats please scale the logo accordingly and use your discretion to maintain clarity and legibility. The minimum size that the logo may appear at is 30mm in print or 80px in digital formats.
Where a logo is required, but at a size smaller than recommended, you may use one of our abbreviated logos. Please contact Marketing and Communications for support.
Logo width for standard print sizes

| Document Size | Portrait | Landscape |
| --- | --- | --- |
| A6 | 48mm | 55mm |
| A5 | 56mm | 64mm |
| A4 | 68mm | 78mm |
| A3 | 96mm | 110mm |
| A2 | 136mm | 156mm |
| A1 | 192mm | 220mm |
| A0 | 272mm | 312mm |
| Roll up banner | 400mm | N/A |

Logo width for stand digital sizes

| Document Size | Logo width |
| --- | --- |
| MPU | 180px |
| Skyscraper | 77px |
| Wide skyscraper | 120px |
| Leaderboard | 167px |
| Halfpage | 180px |
| Banner | 126px |
| Static interstitial | 180px |
| Smartphone static | 167px |
| Smartphone static wide | 167px |
Exclusion zone
A minimum exclusion zone should be used to keep the logo clear of any other visual assets and safely within the live area. This is constructed using the H from the UH elements as detailed below.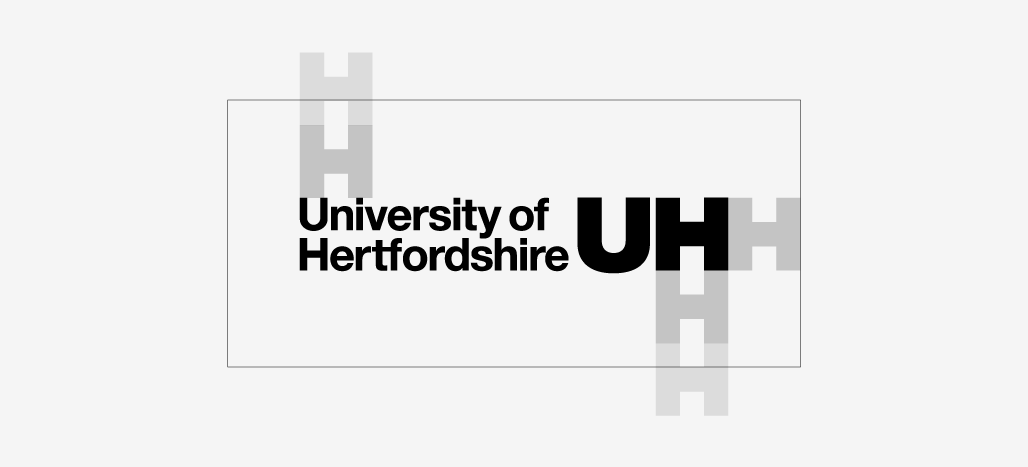 Position
In most cases, the logo should appear in the top left of communications, and be positioned according to the exclusion zone as detailed below. In some instances, the logo may appear in the bottom left or bottom right where the design lends itself, for example in PowerPoint presentations, corporate publication covers or digital display advertising.
Top left positioning respecting exclusion zone
Logo positioned in top left
Bottom right positioning respecting exclusion zone
Logo positioned in bottom right
Dos and don'ts
To ensure consistency and to protect our brand, it is vital that the logo is only used as detailed in these guidelines. The examples below are not exhaustive – if you are unsure about use of the logo, please contact Marketing and Communications.
Do: use the logo in approved colours, with no amendments
Do: use the white logo on darker backgrounds
Do: use the dark logo on lighter backgrounds
Do not: retouch, recolour or otherwise amend the logo
Do not: use previous versions of the logo
Do not: use legacy wide versions of sub logos
Do not: use versions of the logo sourced online, as these may have been recreated by third parties
Do not: deconstruct the logo
Do not: stretch or condense the logo
Do not: create your own sub logos
Social media profile images
All social media accounts managed by the University, its schools and departments should use an official social media profile image.
Our profile images uses an abbreviated version of the logo to ensure legibility at a small scale. No other images or versions of the University logo (including sub logos or the abbreviated with added text) should be used; social media account names should clearly communicate the purpose of the account.
For more information on creating and maintaining social media accounts, please see our Social Media guidance.
Endorsed activity
On occasion, Marketing and Communications will agree the production of a bespoke logo or badge for activities that require greater prominence outside of our branded house. This may include: wholly owned subsidiaries, research projects with a significant external profile, recognised sub brands or large-scale corporate events and festivals.
Logos and badges for endorsed activity should be developed in collaboration with Marketing and Communications and will usually adhere to a standard format and wider brand elements, either employing the abbreviated logo or our 'Powered by University of Hertfordshire' strap line.




Student engagement
Internal (and sometimes external) campaigns with significant reach may benefit from the use of a campaign mark. We call these 'stickers'. Stickers can be used to link and strengthen campaign activity, especially where this is dispersed across University departments or University-wide campaigns have local strands. Stickers should developed in collaboration with Marketing and Communications.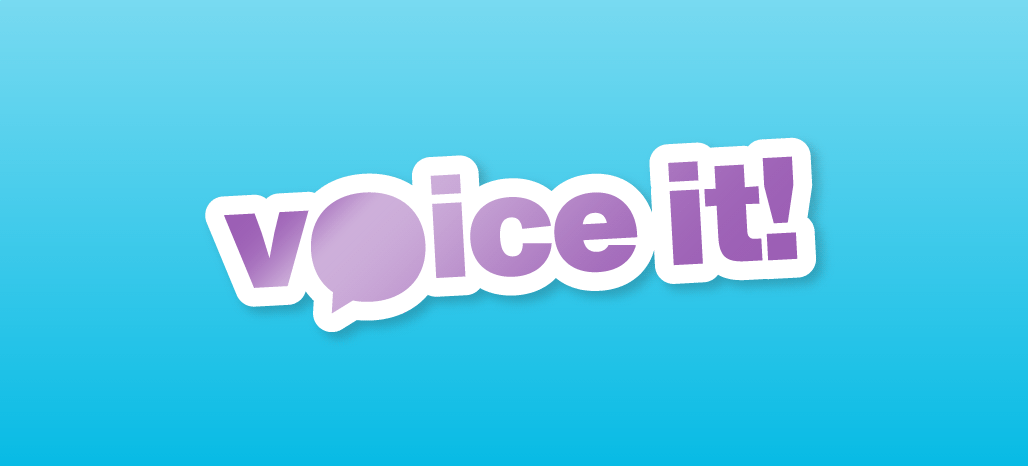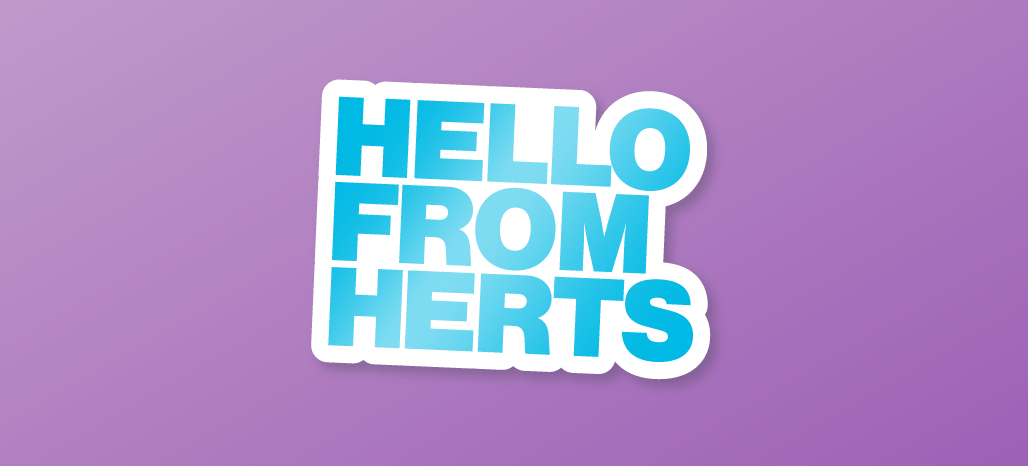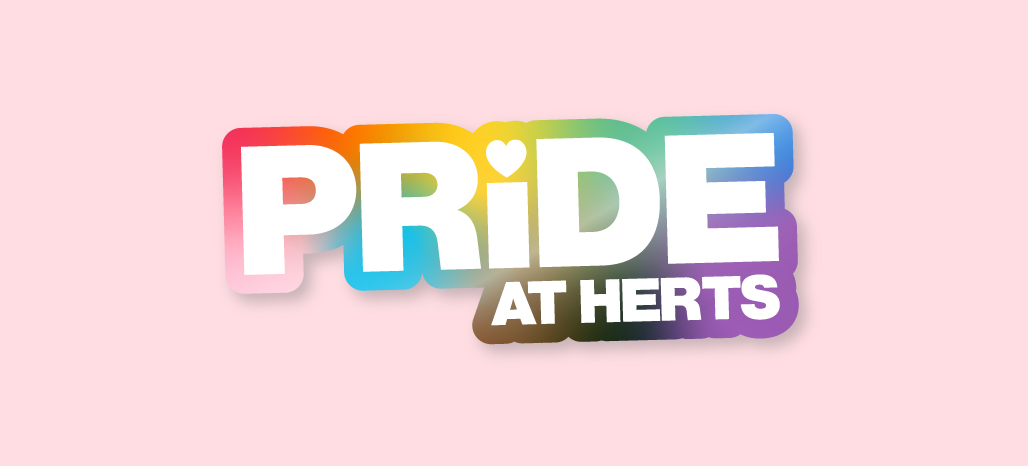 Downloads
Primary logo

Schools of study

Professional teams

Research

| Research Centre | Download (Asset Library) |
| --- | --- |
| Centre for Atmospheric and Climate Physics Research | Download |
| Centre for Agriculture, Food and Environmental Management | Download |
| Centre for Astrophysics Research | Download |
| Centre for Computer Science and Informatics Research | Download |
| Centre for Educational Leadership | Download |
| Centre for Engineering Research | Download |
| Centre for Health Services and Clinical Research | Download |
| Centre for Regional and Local History Research | Download |
| Centre for Research in Biodetection Technologies | Download |
| Centre for Research in Professional and Work-Related Learning | Download |
| Centre for Research in Psychology and Sports Sciences | Download |
| Centre for Research in Public Health and Community Care | Download |
| Centre for Research into Topical Drug Delivery and Toxicology | Download |
| Centre of Data Innovation Research | Download |
| Cyber Security Centre | Download |

| Research Group | Download (Asset Library) |
| --- | --- |
| Agriculture, Environment and Food Sciences Research Group | Download |
| Allied Health Professions Research Group | Download |
| Biosciences Research Group | Download |
| Contemporary Arts Practice Research Group | Download |
| Critical Humanities and International Politics Research Group | Download |
| Design Research Group | Download |
| English Language and Communication Research Group | Download |
| English Literature Research Group | Download |
| Enterprise and Value Research Group | Download |
| Global Work and Employment Research Group | Download |
| Heritage Hub | Download |
| History Research Group | Download |
| Law Research Group | Download |
| Managing Complex Change Research Group | Download |
| Mathematics and Mathematical Physics Research Group | Download |
| Media Research Group (creative arts) | Download |
| Media Research Group (humanities) | Download |
| Microfluidics and Microengineering Research Group | Download |
| Organisations, Markets and Policy Research Group | Download |
| Philosophy Research Group | Download |
| Theorising Visual Art and Design Research Group | Download |
| Weight and Obesity Research Group | Download |

| Research Unit | Download (Asset Library) |
| --- | --- |
| Agricultural and Environmental Research unit | Download |
| Paramedic Clinical Research Unit | Download |
| Sport Physical Activity and Ageing | Download |

Social media profile images
Related Guidance
Get in touch
If you have any questions please contact a member of the team: