BSc (Hons) Sports Therapy
Key information

UCAS code

CB63

Institution code

H36

School of study

School of Life and Medical Sciences

Course length

Full Time, 3 Years
Part Time, 5 Years
Sandwich, 4 Years

Location

University of Hertfordshire, Hatfield

Entry requirements

| UCAS points | A Level | BTEC |
| --- | --- | --- |
| 104 | BCC: To include grade C in A Level Biology or other relevant life science (acceptable A levels: Biology, Human Biology, Chemistry, Physics, Applied Science, Physical Education, Sports Studies, Sports Science or Psychology) | DMM: BTEC Sport and Exercise Science or Applied Science Extended Diploma at DMM, BTEC Sport Extended Diploma (RQF 2016) at DMM (with merits achieved in the following modules – Anatomy and Physiology and Fitness Training and Programming for Health, Sport and Well-Being), Level 3 OCR CTEC (Cambridge Technical in Sport and Physical Activity), Extended Diploma at DMM (with merits achieved in the following modules – Body Systems and the Effects, Nutrition and Diet for Sport and Exercise, Sports Injuries and Rehabilitation). Additional Science BTEC's will be considered at tutor discretion. |

Additional requirements

GCSE: Grade 4/C in English, Mathematics, and Science.

All students from non-majority English speaking countries require proof of English language proficiency, equivalent to an overall IELTS score of 6.0 with a minimum of 5.5 in each band.

If you do not have the required IELTS or equivalent for direct entry on to your degree programme, our Pre-sessional English and International Foundation courses can help you to achieve this level.

For more details on the University of Hertfordshire's entry requirements, please visit our Undergraduate Entry Requirements page.

Find out more about International Entry Requirements.

The University of Hertfordshire is committed to welcoming students with a wide range of qualifications and levels of experience. The entry requirements listed on the course pages provide a guide to the minimum level of qualifications needed to study each course. However, we have a flexible approach to admissions and each application will be considered on an individual basis.

Sign up for alerts
About the course
This course gives you the latest skills needed to work in the cutting-edge field of sports therapy. You'll learn how to assess injuries, apply treatments (such as sports massage, electrotherapy and joint mobilisation), learn pitch-side injury management and design injury prevention and rehabilitation programmes.
You'll also study the underpinning theory of practice: anatomy, clinical biomechanics, exercise physiology, sports nutrition and psychology. Our students enjoy access to specialist labs and high-tech facilities, such as our dedicated sports injury clinic, and take valuable clinical placements in a diverse range of sport and exercise environments.
Why choose this course?
The degree in Sports Therapy is an ideal course for those who wish to train in the prevention, assessment, treatment and rehabilitation of sporting injuries.
We offer a sandwich year enabling you to go on a full year placement to gain invaluable clinical experience with professional sports teams, either within the UK or overseas.
Graduates are eligible for full membership with the Society of Sports Therapists.
We have specialist labs for: Physiology, Biomechanics and Sports Therapy. You can also make use of the University's Hertfordshire Sports Village at the de Havilland campus.
Additional opportunities include:
Visits to observe human dissections,
Massaging at events such as the London Marathon
Presenting research at national conferences.
First aid cover at events such as the Women's Rugby World Cup and Various sports events
Pre-season testing with Saracens and Northampton Saints
Sandwich Year and Work Placement opportunities
Specialist paramedic input onto sports trauma modules
Personal tutor scheme
HSE First Aid at Work
Level 2 Certificate in Gym Instructing
Opportunities to support research
Find out more about our sports staff.
What will I study?
Due to the nature of Sports Therapy, each module has both theoretical and practical components. You will learn through a variety of lectures, practical classes, workshops, tutorials and clinical placements. Our lectures are interactive and encourage applying theories to relevant real life situations, and in the practical classes you will learn your clinical techniques. During workshops your skills are put into problem solving and sports specific scenarios, and individual tutorials enable you to discuss areas of your choice. Along with clinical placement, in your own time you will be directed towards the university's vast learning and research resources for independent study.
As everybody learns differently, methods of teaching and assessment are varied. Modules may require written coursework, practical assessments, and written exams at the end of each semester. Some modules also have oral presentations, group work, portfolios, and poster sessions to ensure that all key skills of the graduate Sports Therapist are evidenced.
On the full time programme, you will study four modules at a time. Each module typically consists of four hours contact time per week, with further reading, research and coursework completed independently. On the part time programme, the course structure is considered on an individual basis with the Programme Tutor, depending on your needs and other commitments.
Clinical placements are completed in your own time, allowing flexibility to gain experience during usual working hours, at evenings or weekends, and during University vacations if preferred. Extensive extra-curricular opportunities are encouraged to supplement your standard programme. Visits and excursions to develop your skills and experience are offered, along with short courses and qualifications including first aid and fitness instructor qualifications.
Part-time study
If you are studying part-time you have 6 years to complete your course. You will complete 60-90 credits per year. All modules are compulsory, there are no options. Your timetable will depend on which modules you pick. Certain modules must be passed at each level before progression onto higher level clinical modules.
Professional Accreditations
The BSc (Hons) Sports Therapy is accredited by the Society of Sports Therapists.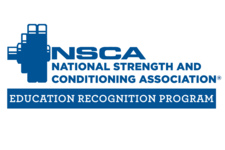 Careers
The Sports Therapy degree has led graduates to a wide variety of employments. Opportunities may be found working with professional sports teams, in independent sports injury clinics, in health centres and gyms, or on a self-employed basis. In addition, graduates have gone on to study for a MSc or PhD, complete a PGCE to become a teacher, or found opportunities with athletes with disabilities or in schools and youth sport. The skills that are developed throughout the course give the graduate many choices as to where to take their career, with the strong vocational element of the degree and the extensive clinical experience giving a head start in the jobs market.
What job can I get?
Our graduates have gone on to work for professional sports teams, in sports injury clinics, in health centres and gyms, or on a self-employed basis.
'The main benefit I have gained from doing a placement is being able to put theory into practice. I have been able to deal with real patients who have a wide variety of injuries. Being able to observe treatments and having practical sessions with feedback from a Sports Therapist has allowed me to gain confidence in carrying out treatments with clients. I was therefore able to undertake sports massage appointments with clients giving me the chance to see regular members. Following this I was able to carry out the assessment and treatment of other clients.'
Study abroad

This course offers you the opportunity to study abroad in the Sandwich Year through the University's study abroad programme. Study abroad opportunities are available worldwide and in Europe under the Erasmus+ Programme. Find out more about Study abroad opportunities.

Work placement

The optional year on placement provides a fantastic opportunity to develop your skills, gain incredible experience, enhance your employability, and travel. Whether abroad or in the UK, working with professional athletes in state of the art facilities gives you an amazing insight to the world of Sports Therapy, improving your practical abilities, theoretical knowledge and understanding, and personal skills such as communication and confidence.

Previous year placements have included Queensland Reds RFC, Australia, Nelson Giants Basketball, New Zealand, Georgia State Athletic Training Room, USA, and in the UK at Worcester RFC, Newport Gwent Dragons RFC, Charlton FC and Watford FC to name just a few.

Sports Therapy student Sarah Gallacher did her placement at the Sports and General Injuries Clinic in Bournemouth:

'The main benefit I have gained is being able to put theory into practice. I have been able to deal with real patients who have a wide variety of injuries. Being able to observe treatments and having practical sessions with feedback from a Sports Therapist has allowed me to gain confidence in carrying out treatments with clients. I was therefore able to undertake sports massage appointments with clients giving me the chance to see regular members. Following this I was able to carry out the assessment and treatment of other clients. I have also learnt a lot about the general running of a business which is essential if you want to set up your own clinic after graduating. I have always thought I'd love to run my own clinic and not only has the placement year confirmed that but it has also shown me that it is possible to set up your own clinic after doing a sports therapy degree.'

Fees and funding

Fees 2020

UK/EU Students

Full time

£9250 for the 2020/2021 academic year

Part time

£1155 per 15 credits for the 2020/2021 academic year

International Students

Full time

£13000 for the 2020/2021 academic year

Part time

£1625 per 15 credits for the 2020/2021 academic year

You will be expected to purchase navy tracksuit bottoms, a white polo shirt and navy shorts before starting the course. These can be University of Hertfordshire branded, bought from us before induction, but do not have to be.

*Tuition fees are charged annually. The fees quoted above are for the specified year(s) only. Fees may be higher in future years, for both new and continuing students. Please see the University's Fees and Finance Policy (and in particular the section headed "When tuition fees change"), for further information about when and by how much the University may increase its fees for future years.

View detailed information about tuition fees

Read more about additional fees in the course fact sheet

Scholarships

University of Hertfordshire Sports Scholarships

Find out more about scholarships for UK/EU and international students

Other financial support

Find out more about other financial support available to UK and EU students

Living costs / accommodation

The University of Hertfordshire offers a great choice of student accommodation, on campus or nearby in the local area, to suit every student budget.

Further information

How to apply