BSc (Hons) Psychology
Due to the ongoing Coronavirus pandemic, examinations may be replaced by an alternative form of assessment during the academic year 2020/2021. Please refer to the Programme Specification on these pages for further details.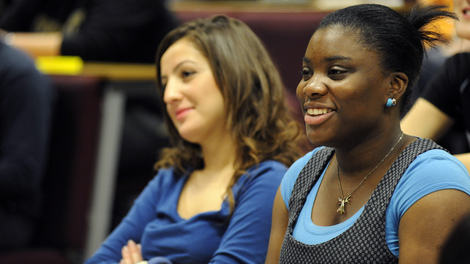 Choose from a wide range of specialist areas/paths into Psychology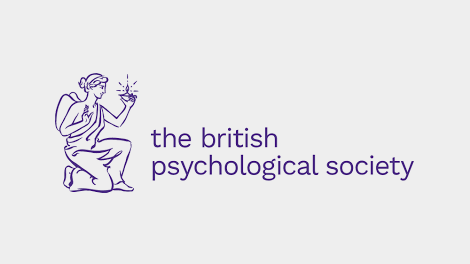 Gain a degree accredited by the British Psychological Society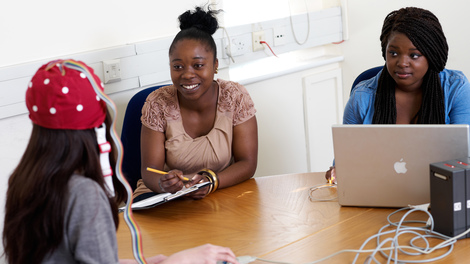 Brand new student areas, research facilities and equipment
This course includes the sandwich year options of:
*No fees are charged for this year
Key information

UCAS code

C800

Institution code

H36

School of study

School of Life and Medical Sciences

Course length

Full Time, 3 Years
Part Time, 6 Years
Sandwich, 4 Years

Location

University of Hertfordshire, Hatfield

Entry requirements

| UCAS points | A Level | BTEC |
| --- | --- | --- |
| 112 | BBC | DMM |

Additional requirements

All students from non-majority English speaking countries require proof of English language proficiency, equivalent to an overall IELTS score of 6.0 with a minimum of 5.5 in each band.

If you do not have the required IELTS or equivalent for direct entry on to your degree programme, our Pre-sessional English and International Foundation courses can help you to achieve this level.

For more details on the University of Hertfordshire's entry requirements, please visit our Undergraduate Entry Requirements page.

Find out more about International Entry Requirements.

The University of Hertfordshire is committed to welcoming students with a wide range of qualifications and levels of experience. The entry requirements listed on the course pages provide a guide to the minimum level of qualifications needed to study each course. However, we have a flexible approach to admissions and each application will be considered on an individual basis.

Professional accreditations

This programme is accredited by the British Psychological Society as conferring eligibility for Graduate Membership of the Society with the Graduate Basis for Registration, provided the minimum standard of qualification of second class honours is achieved. This is the first step towards becoming a Chartered Psychologist.

Sign up for alerts
Why choose this course?
One of the largest psychology departments in the country
Our Psychology degree is accredited by the British Psychological Society
Our staff are actively engaged in significant research which is reflected by our excellent, Grade 4 rating in the Higher Education Funding Council's last Research Assessment Exercise. See a list of our Psychology staff here.
Well equipped laboratories with excellent computing facilities
We were awarded a Teaching Quality rating of excellent (23 out of 24) in our subject review.
Work experience module in third year so students can understand various ways to apply their learning
A range of career focussed optional modules, including educational, counselling, forensic, and clinical psychology.
A vibrant research seminar series- contributed to by leading academics from across the country
Optional Study Abroad year in places such as USA, Canada and Australia
Graduate Stories:
What's the course about?
With a reputation for academic excellence, practical value and intellectual rigour, our BPS-accredited psychology degree is one of the most respected courses of its kind in the UK. This fascinating degree gives you a grounding in all major areas of psychology and our graduates are thoroughly prepared for employment, postgraduate research and professional training. Our Psychology department is one of the largest of any British university, offering a stimulating environment with high-profile, research-active staff and exceptionally well-equipped labs and computer facilities. In addition to covering core psychology topics, there are a number of specialist modules including individual differences, cyberpsychology, non-verbal behaviour, and forensic and clinical psychology.
What will I study?
Formal lectures tend to form the core of most modules. Lecture notes for modules will be available on StudyNet, often alongside links to other web based learning resources. A fundamental part of psychology learning is the acquisition of practical laboratory skills. Students attend laboratory sessions each week in smaller groups, where they learn to plan, carry out and report on practical investigations of psychological processes. Courses in statistics, which are needed to analyse the data from investigations, are supported by practical paper based and computer exercises. Each student has their own personal tutor with whom they meet in small groups on a regular basis.
If you are studying part-time you will typically take 6 years to complete your course. You will normally complete 60 credits per year. Your first two years of study are likely to consist of mandatory modules but optional modules will be available later in the course. Your timetable will depend on the modules you are studying in any one year.
Level 4

Level 5

Level 6

Study abroad

If you choose, you can apply to study an optional, additional year between your second and third year at one of our partner universities. The opportunity to study abroad is through the University's study abroad programme. Study abroad opportunities are available worldwide and in Europe under the Erasmus+ Programme. Find out more about Study abroad opportunities

Work placement

Students have the opportunity to undertake a four-week work experience during their second-year. A reflective report and poster presentation of the work experience is then undertaken in the final year. This is a good opportunity for students to obtain experience in their chosen setting and sometimes leads to future job opportunities.
Check out our student blogs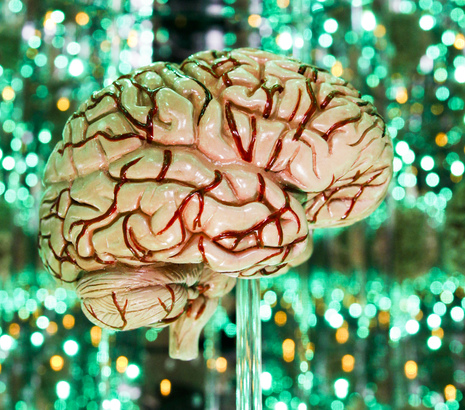 Student Blogs
Ameisha - Week at a glance
My week at a glance
A typical week for me, has changed rather drastically to say the least. With the lockdown measures in place; I have had to be inspired to pursuit new hobbies and activities to pursue whilst respecting the social distancing measures and keeping safe. With that being said, it has allowed me to change my perspective into not only exploring new things but discovering varying ways to study and complete assignments.
With the majority of my lectures being posted online, it has become a responsibility to keep on track with these lectures. To ensure this, I read the lectures on the day it is posted on. I record my notes underneath each lecture slide, alongside highlight any key points mentioned for revision purposes. Any extra reading that is attached to the lecture, I distribute across the week so that I don`t have too much of a heavy workload for one day. For the modules that I have exams for, I use Quizlet to create exam questions for myself to test myself on; so that I can determine my strengths and weaknesses.
Regarding any assignments set, this is something that I also breakdown into sections daily so that I am not too stressed with the copious amount. One assignment, consisted of a group project in which we had to not only analyse various interview techniques, but we had to create a poster together and rehearse for an online presentation with our module leader. We were able to conduct this through a series of Facetime calls which we scheduled ahead of time, so we knew exactly when to discuss our ideas. Workload was also split between us all, in which we created deadlines for ourselves to keep on track. For my individual assignments like essays, I gave myself a maximum of one week to finish each one so that I gave myself enough time to complete any additional work I had left. The first couple days would be dedicated to reading and planning, in which I would then complete a paragraph per day until I was finished.
After reviewing my lecture notes or completing my daily work, I would try to incorporate some form of activity whether it was completing a 45 minute home workout video or taking my little sisters to the park to play any sports or go jogging. Exercise has been something I recently incorporated into my routine since lockdown, as this was not a regular activity for me prior. In addition, because I am now at home; I take advantage of the open space in the park as this is located directly behind my house. As part of my downtime, I will play games on my laptop or may watch any interesting tv series I discover.
However, now that I have completed all my assignments and classwork; I am now on the lookout for any work experience that will be relatable to my aspiration. As a psychology student, finding a placement is essential for not just my course, but for myself; as I will be able to enhance my experience and skills within this field.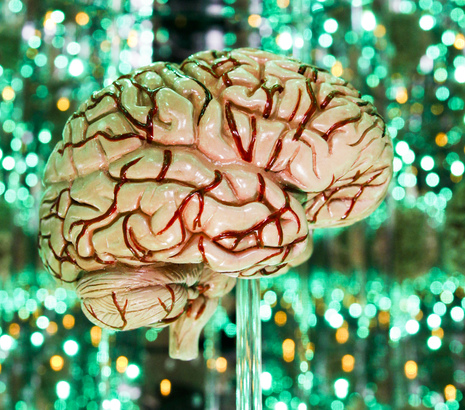 Student Blogs
Ameisha - Things you should know
Things you need to know before studying Psychology at Herts
Before choosing psychology as a course, you should remain aware of the course content and what the differing modules are comprised of. Knowing this, would allow you to be prepared for what you'll be learning throughout your time at university.
So, the first thing to do is to look at the mandatory modules. However, you must keep in mind that some of these modules may also change over time. When doing my research into this, I realised that statistics for psychologist and Methods for psychologists (Lab work) is an essential aspect of the course, which is studied alongside traditional psychology modules. Once you have established that this is the course you want to study, and have done research into the modules involved- you should also consider these aspects:
For almost every module, additionally reading is a key requirement! The lecture slides usually consist of the basic information, which is needed to know on that topic, however, to exceed the bare minimum- you must also do the extra reading that is required from you! The lecturers always expect you to do extra reading to enhance and enrich the content they provide, so never forget to do this!
Some courses are 100% exam or 100% coursework, however psychology has a combination of both exams and coursework as a form of assessment. A lot of the coursework consists of completing essays, usually of around 1500 words. However, for Methods for psychologists- these are comprised more of lab reports, which is usually based on the experiment you have been working on in lab. For some modules, you are tested through an exam which usually requires you to complete an essay under timed conditions or a series of multiple-choice questions.
Keeping on track with the extra reading and gaining an understanding of the module content, is the most important aspect in obtaining a good grade for this course. Revision remains key to ensure all of this, but if you educate yourself on all that is recommended- then you'll be all set to study Psychology at university.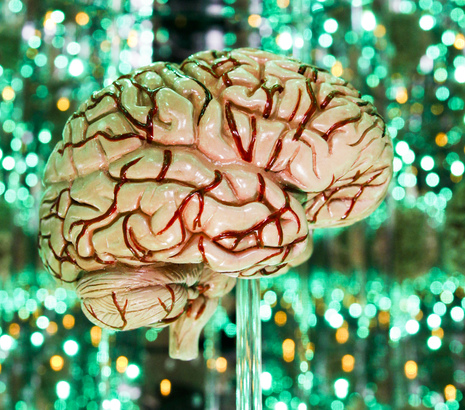 Student Blogs
Ameisha - Why I chose Herts
Why I chose Herts
Hertfordshire was originally in my top 2 universities to choose from, as I was unsure about which of the two, I would go to. However, upon receiving my unconditional offer alongside touring the university, I had ultimately made this my top choice.
Hertfordshire is located relatively close to me, only being a 45 minute drive away or a couple hours on the train. This location was ideal for me as it was far enough for me to gain my old independence but also close for me to return home. Because of this distance, I can return home around every fortnight when I feel bored on campus or want to see my family members.
In addition, the layout of the campus was ideal for me. The campus was intact, which meant that the distances between each location on campus was not too far apart. The furthest time I would walk for would be only 15 minutes long, which proved handy in getting from A to B. The accommodation had it`s own section of the campus, which was surrounded by sports courts and had the oval located in the middle of it, allowing us to get our mail and help at a close distance. Also, there is the forum on campus which host multiple events. This is very convenient to have a club on campus, as it provides an easier opportunity for a night out whilst remaining close. The campus also consists of a free shuttle bus transportation to the other campus, in case there are lectures there too!
Finally, I chose this university because it offered me the chance to do a study abroad year with various of different countries to choose from. My course allows this is an option which is something that I had been looking for. The course I had chosen was psychology and I wanted to learn a variety of different modules that came with psychology, to see which approach I would like to take in the future. The course offered here, had varying modules which I was interested in. The content included were interesting to me, which further persuaded me to choose Herts.
What's next for my career?

Postgraduate study can lead to professional careers in a range of areas including:

Forensic Psychology
Clinical Psychology
Health Psychology
Educational Psychology

If you choose not to pursue a career as a professional psychologist then the knowledge and skills you acquire throughout your studies will be applicable in a number of other employment settings.

Psychology graduates are highly sought after by a wide range of employers, such as marketing, personnel, local government and retail, most of whom look for graduates with an extensive set of transferable skills. A degree in psychology opens up a wide range of career opportunities, not restricted to psychology, and graduates are highly employable.

Typical jobs include Management, Team Leader, Support Worker, Project Coordinator, Victim Contact Officer, Research Assistant, Probation Services Officer, and Therapist for Autistic Children

Employers: BUPA, Probation Service, Work with Families, Excel, Victim Support Team, North Herts Partnership, Sony, Autism West Midlands

Our graduates go on to careers in forensic, clinical, health and educational psychology. Psychology graduates are highly employable and are sought by employers in areas such as retail, marketing, personnel and local government. Recent destinations include BUPA, the Probation Service, Work with Families, Excel, victim support teams, North Herts Partnership, Sony and Autism West Midlands.

Further information - includes assessment method

How to apply?

Fees and funding

Fees 2020

UK/EU Students

Full time

£9250 for the 2020/2021 academic year

Part time

£1155 per 15 credits for the 2020/2021 academic year

International Students

Full time

£13000 for the 2020/2021 academic year

Part time

£1625 per 15 credits for the 2020/2021 academic year

*Tuition fees are charged annually. The fees quoted above are for the specified year(s) only. Fees may be higher in future years, for both new and continuing students. Please see the University's Fees and Finance Policy (and in particular the section headed "When tuition fees change"), for further information about when and by how much the University may increase its fees for future years.

View detailed information about tuition fees

Read more about additional fees in the course fact sheet

Other financial support

Find out more about other financial support available to UK and EU students

Living costs / accommodation

The University of Hertfordshire offers a great choice of student accommodation, on campus or nearby in the local area, to suit every student budget.
Please note that some of the images and videos on our course pages may have been taken before social distancing rules in the UK came into force.