BA (Hons) Comics and Concept Art
Due to the ongoing Coronavirus pandemic, examinations may be replaced by an alternative form of assessment during the academic year 2020/2021. Please refer to the Programme Specification on these pages for further details.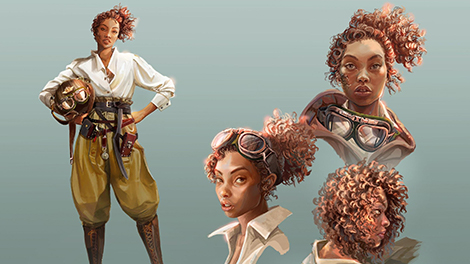 Study a curriculum inspired by our award-winning 2D animation degree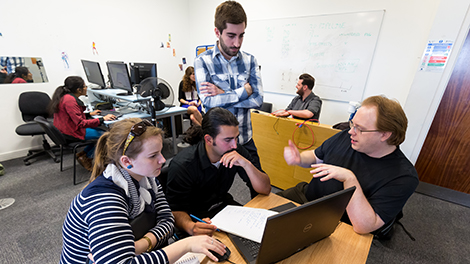 Learn from staff whose credits include Avengers, The Hobbit & Thor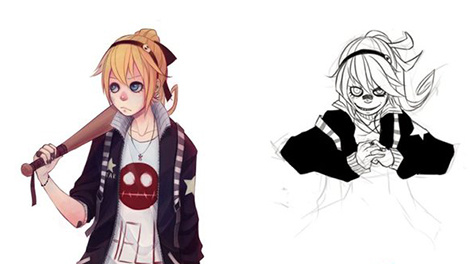 Launch your career with a professional portfolio, showreel & website
This course includes the options of:
*No fees are charged for this year
Key information

UCAS code

W619

Institution code

H36

School of study

School of Creative Arts

Course length

Full Time, 3 Years
Sandwich, 4 Years

Location

University of Hertfordshire, Hatfield

Entry requirements

| UCAS points | A Level | BTEC |
| --- | --- | --- |
| 112 | BBC - An art and design or creative subject which involves drawing | DMM |

Professional accreditations

The digital animation programme is accredited by The Rookies, SideFX and CILECT.

Sign up for alerts

Get access to personalised content, tailored towards your interests:

Information on your favourite courses
Tips to help you through the application process
Blogs, vlogs and advice from current students
Why choose this course?
You want to become a comic illustrator or concept artist
You dream of characters and worlds for them to live in. You're constantly thinking up stories and scenarios that will intrigue, excite and engage your audience. You have a sketch book full of ideas. You want your fans to escape to a world of your creation. You may dream about becoming a freelance comic artist, an independent author or even publishing your own comics. Perhaps your desire is to run your own webcomic series online? You could even become a concept artist working within the animation, games and film industries. This degree keeps all these career options open plus many more. The design, illustration and storytelling skills you'll gain are in high demand by the sector. Plus, you'll learn essential transferable skills in pitching ideas, project management, self-promotion and problem solving. Now's the time to take your passion to the next step, to immerse yourself in your craft and discover your potential.
You want to join the No.1 Animation School in the UK and Europe (and No.3 in the World) acclaimed by The Rookies Awards 2020.
This new course has evolved from our award-winning 2D animation course. Our digital animation programme as a whole, is accredited by The Rookies, SideFX and CILECT. This means, you'll be joining a department that's gained industry recognition for training the animators of the future. As well as expert teaching, at Herts, you'll have access to dedicated PC labs, kitted out with everything you need to bring your creations to life. The Learning Resource Centre contains clones of our animation labs (software and hardware) so if you want to continue your animation studies late at night or during the weekend you can. Plus, you can use our motion capture suite, digital photography and filmmaking equipment to work on your projects. Kickstart your future by joining a reputable course that's industry focused.
You want to join an exciting animation community
You want to train under the guidance of experienced animators. To learn from artists and authors in the comics, film and games industries who've worked on projects including The Hobbit, Tintin and The Avengers. We'll share our experience and unique insight into the animation industry so you can develop your skills with confidence. You'll have the opportunity to work on live projects to gain a working knowledge of the industry and begin to build a network of industry contacts. When you graduate, we'll invite you to join our active alumni community, many of whom have senior positions in the animation industry.
What's the course about?
We deliver a mix of teaching methods, from project work to software and art-based workshops and lectures. You'll be assessed on group and individual project work. We'll ask you to submit portfolio submissions, sketches, storyboards, digital artwork and presentations. Plus, you'll develop your analytical thinking, critical curiosity and easy writing skills.
In your first year, you'll benefit from common modules within the wider animation programme, gaining valuable knowledge of the digital media industry. You'll study alongside peers on 2D and 3D animation, games and visual effects, expanding your network from day one. We'll teach you digital illustration techniques. You'll practice life drawing, designing characters and environments. You'll explore comics, animation and film history, bringing cultural context to your craft. At the end of this year you'll have the choice to switch to a different animation degree course if your passion has led you in a new direction.
In your second year you'll develop your illustrative style. You'll use your design skills to create characters, creatures, props and environments. You'll produce comic narratives, tailoring your approach to match the needs of print and digital publications. At the end of the year, you'll show your individual flare and design expertise in a major comic or concept art project, collaborating with students across the digital animation programme.
In your third year, you'll write your dissertation on an area of popular culture linked to comics and concept art that fascinates you. You'll develop an ambitious project. Your expert design techniques and your fluency with digital illustration and 3D software will bring your original ideas to life. Be authentic. Be brave. You'll take a project through from initial concept to production, proving your project management and leadership qualities. You'll graduate with an impressive professional portfolio, showreel and website to launch your career.
Your main campus is College Lane 
This is where the creative arts, science and health related subjects are based. This means you'll share the campus with future nurses, scientists, artists and more. You can use the common rooms to relax with friends, work out in the 24-hour gym or have a drink in the pub or cafes. We also have restaurants for you to eat in or grab something on the go. You can take the free shuttle bus to our other campus or walk there in just 15 minutes. 
What will I study?
Degree programmes are structured into levels, 4, 5 and 6. These correspond to your first, second and third/final year of study. Below you can see what modules you'll be studying in each.  
Level 4

Level 5

Level 6

Study abroad

This course offers you the opportunity to study abroad through the University's study abroad programme. Study abroad opportunities are available worldwide and in Europe under the Erasmus+ Programme.

Work placement

Placements are a valuable way to establish industry contacts and gain an insight into the commercial reality of your chosen discipline. We have a long history of students working with industry, supplementing our curriculum with real life on the job experience.

What if I need support?

You'll get a personal tutor to guide you through your course, offering academic and pastoral support all the way to graduation. Individual and group tutorials, seminars and regular access to our teaching and technician staff will support you every step of the way. In the School of Creative Arts, we also have a dedicated student liaison officer so you can access academic support with someone who understands the requirements of creative arts courses. Plus, there's additional support if you have dyslexia. For international students, we also have a creative arts international support officer. The Creative Arts Toolkit is a fantastic resource where you can find lots of information about facilities, equipment and study skills.

You might also want or need extra support during your time with us. For help with study skills, including referencing, essay writing and presentations, you'll have access to our academic support services. You can attend workshops, 1-to-1 sessions and online tutorials. Both our LRCs run drop-in study skills sessions. And the best thing is, it's all free. You can feel confident that for all your educational, wellbeing and disability needs, we've got you covered.
What's next for my career?

The digital animation programme prepares you for a range of careers within the industry. These include 2D animator, concept artist, 3D animator, 3D generalist, FX technical director, compositor, environment artist, character artist and a huge variety of roles in between. Our graduates have gone on to work at ILM on Star Wars films, to Epic Games to work on Fortnite, to Blue Zoo to animate cartoon series, and to Sony to work as concept artists.

The digital animation programme prepares you for a range of careers within the industry. These include 2D animator, concept artist, 3D animator, 3D generalist, FX technical director, compositor, environment artist, character artist and a huge variety of roles in between. Our graduates have gone on to work at ILM on Star Wars films, to Epic Games to work on Fortnite, to Blue Zoo to animate cartoon series, and to Sony to work as concept artists.

Key staff

Further information - includes assessment method

How to apply?

Interview

Applicants apply via UCAS or through the International Admissions Office and are then processed by the admissions department based on their current and predicted qualifications. Those selected will be offered an interview and asked to submit online portfolios for review

If you are invited to interview, during the interview you'll need to talk through the contents of your online portfolio of artwork. Please see below for guidance regarding artwork selection. You'll then have a one to one interview with a member of staff (currently this will take place remotely via Zoom). Successful applicants are offered a place on the course.

Fees and funding
Please note that some of the images and videos on our course pages may have been taken before social distancing rules in the UK came into force.