NHS Learning Support Fund
Training grants of at least £5,000 a year are available for eligible healthcare students which you will not have to pay back.
You may also be eligible for an additional £2,000 towards childcare costs to help balance your studies with family life and £3,000 for students who find themselves in unforeseen financial hardship.
Find out more
Why choose Herts?
NMC Accreditation: You will be eligible to enter the Nursing and Midwifery Council Professional Register to legally practice as an Adult Nurse
Teaching Excellence: You will be taught by expert nursing academics, all recently awarded Teaching Innovation of the Year at the Student Nursing Times Awards 2020. Our Allied Health: Nursing, Dentistry and Pharmacy is ranked in the top 25% of UK universities for research impact (Research Excellence Framework, 2022)
Frontline Experience: Gain clinical experience working alongside experienced senior nursing staff through placements in Hertfordshire and London.
Entry requirements and key information

A 2:1 honours degree in any subject or a 2:2 honours degree in a health-related subject with relevant work experience in health care.
GCSE mathematics and English at grade C or above (or equivalent).

All offers will be subject to the applicants demonstration of the NHS constitution's "Values and Behaviours", satisfactory interviews, numeracy and literacy test, health screening and the Disclosure and Barring Services (DBS) checks. You can view the full NHS Constitution for England on the Government website.

Applying to the programme

It really is important that you can articulate why you want to be an Adult Nurse when you apply. You can find out more about adult nursing by reading professional journals such as Nursing Times or Nursing Standard. These can be purchased through High Street shops or on-line. Such journals are a foundation, and students need to progress on to more field-specific journals very quickly. Examples of these include the British Journal of Nursing, British Journal of Palliative Care Nursing, British Journal of Wound Care. You can also visit appropriate websites such as those listed below:

NHS careers
Department of Health
National Institute of Health and Care Excellence (NICE)
Websites specific to the topics being discussed in class such as Diabetes UK
Kings Fund
Nursing and Midwifery Council
Royal College of Nursing (especially their online library).

It is always useful to gain some experience in a health setting whether in a voluntary or paid capacity as this will help you to determine whether adult nursing is for you however this is not obligatory.

English language requirements

All students from non-majority English speaking countries require proof of English language proficiency.

IELTS

International qualifications will be considered for equivalency using NARIC. International candidates will be required to complete IELTS with scores of at least 6.5 in the listening and reading sections and at least 6.5 in the writing and speaking sections and the overall average score must be 6.5 or above.

If you do not have the required IELTS or equivalent for direct entry on to your degree programme, our Pre-sessional English and International Foundation courses can help you to achieve this level.

If you do not have the required level of English for entry, our academic English courses can help you to achieve this level.

| | |
| --- | --- |
| Institution code | H36 |
| School of study | School of Health and Social Work |
| Course length | Full Time, 2 Years |
| Location | University of Hertfordshire, Hatfield |

Request information and updates

Get access to personalised content, tailored towards your interests:

Information on your favourite courses
Tips to help you through the application process
Blogs, vlogs and advice from current students
Employability

Careers

There is high demand for graduate nurses and many of our graduates take up positions within the Hertfordshire and London NHS Trusts. Our nursing graduates are highly valued, and most tend to gain initial experience as a staff nurse, usually within community or in-patient organisations operating within the NHS, voluntary and independent sectors of health. Further career paths include:

Senior nurse or ward sister – leadership positions managing the care given by a team of nurses

Specialist nurse - adult nurses can develop specific clinical skills and knowledge that will allow them to become specialist nurses such as District Nurse, Clinical Nurse Specialist or Nurse Consultant

Management roles such as Modern Matron all the way through to very senior board level roles such as Director of Nursing in an NHS Primary Care or Acute Trust. These roles involve managing multi-million pound budgets and directly leading/ managing a large number of staff as well as strategically influencing how the NHS responds to new developments

Research and education - Some nurses opt to pursue educationally focussed careers within the NHS or in further and higher education institutions such as the University of Hertfordshire. They still retain their professional registration and unique identity as an Adult Nurse but are involved in advancing nursing knowledge and influence through research and education.

Wherever your career takes you, as an Adult Nurse you will never stop learning and will undertake a variety of training and education throughout your career. This might be formal education such as specialist clinical courses or PhD studies or essential skills training associated with professional practice.

Alumni success stories

See what some of our previous graduates have gone on to achieve and how their time at the university helped shaped their careers.

Work placement

You will experience a wide variety of clinical settings including for example:

Acute Care settings such as general and specialist surgical wards, medical wards, accident and emergency departments
Community-based settings such as working with district nurses in service users own homes or in facilities such as GP practices, nursing homes or community hospitals
You may be placed in settings such as nursing homes, hospices and other private or voluntary organisations that care for a variety of medical conditions and illnesses and health care needs.

Practice placements are organised for students by the University's Practice Placements Team within neighbouring NHS Trusts in Hertfordshire and London and in other settings including the private and voluntary sectors. Whilst on placement, you will be supported by a mentor (a qualified nurse who has undertaken post qualifying learning in practice based education), a link lecturer (an academic from within the School who supports mentors in placement areas) and a wealth of supportive services available on campus through the Student Union and Student Services.

Usually, when an NHS Trust is allocated to the student at the start of the programme, the student remains at that NHS Trust for the duration of their programme.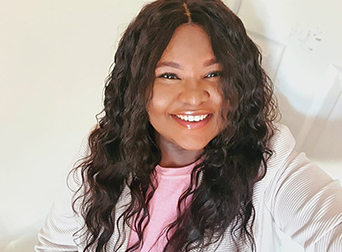 Alumni Stories
Alice Adetutu Banjo
Meet Alice, a registered nurse with ambitions to drive improvement and reform in the health service.
| | |
| --- | --- |
| Current job role | Registered Nurse at the East and North Hertfordshire NHS Trust |
| Year of graduation | 2021 |
| Course of study | MSc Nursing (Adult) |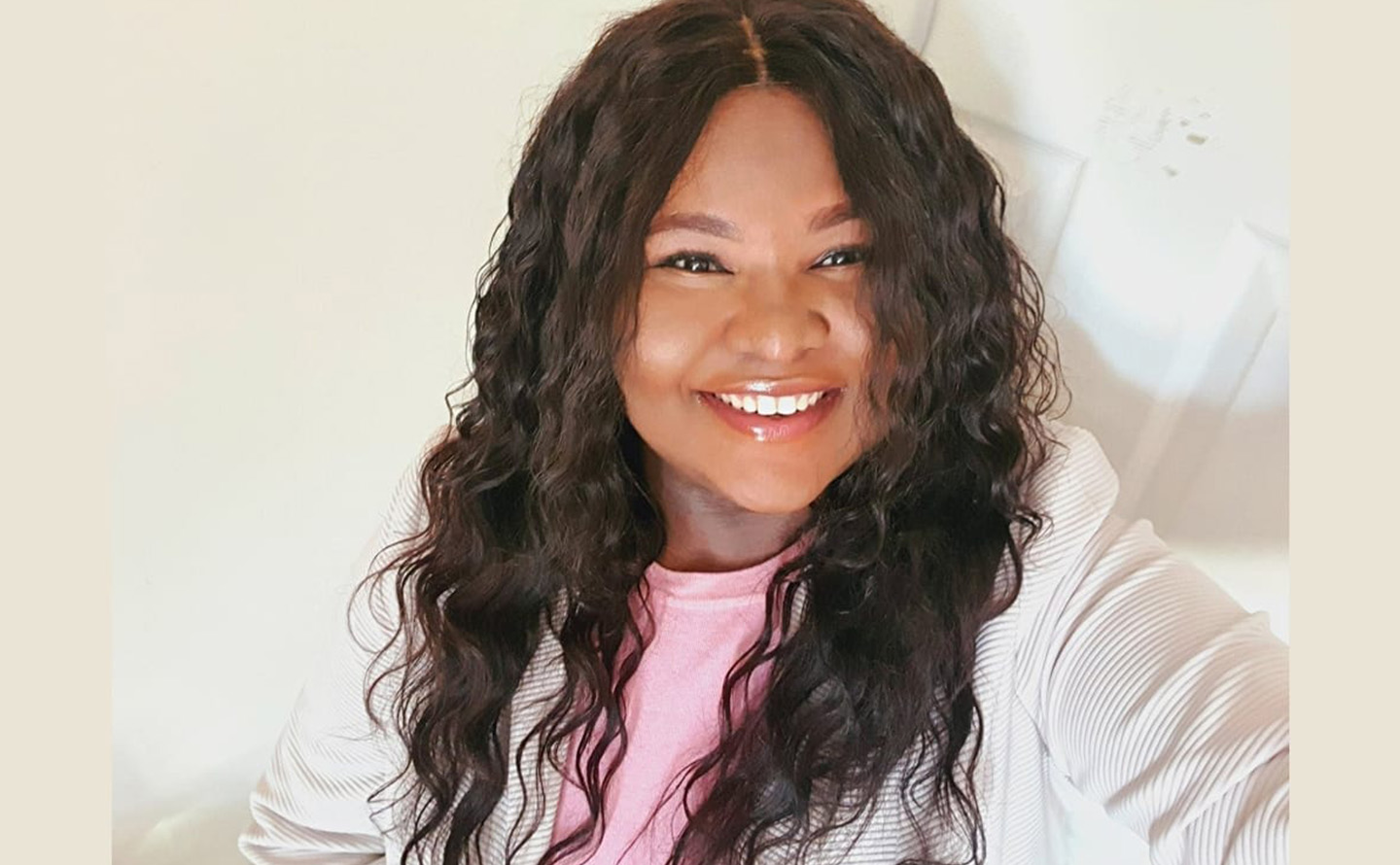 The path to nursing
Alice has always been passionate about helping people with their physical and mental health needs. After volunteering for several wellbeing projects and charities, she decided to enrol on an undergraduate course in psychology where she worked alongside nurses whilst on placement. Alice saw how rewarding, and challenging, nursing could be and quickly fell in love with the profession. She then decided to pursue it full-time and began postgraduate study at Herts.

'Because I had completed a health-related undergraduate degree I was accepted on to the MSc Nursing (Adult) course. Herts had been recommended to me before, so I decided to come to an open day and see what it was like. Everyone was so approachable and more than happy to talk about the course. The facilities were outstanding – Herts has everything you need to develop as a nurse – and the fact it is close to London was also a big bonus for me.'
Unprecedented challenges
Shortly after Alice began her course, the COVID-19 pandemic hit. Despite the significant challenges she faced, Alice says she is grateful for the experience and that the 'togetherness' of the Herts community helped pull her through it.

'There is a strong sense of community at the University, driven in large part by the teaching staff. They helped students build strong peer networks, where we could rely on one another for information and support, and to boost our morale.'
Becoming a game changer
Alice graduated in 2021, with ambitions to drive improvements in the health service. She is now planning to move into research.

'Studying at Herts has ignited a thirst in me to drive healthcare reform and innovation. A lot of our coursework required a creative mind and independent thinking - things that were strongly encouraged by our tutors.'

'What advice do I have for future and current students? Always take the initiative and make sure you use all the support available to achieve your goals.'
Professional Accreditations
Upon successful completion of the programme, students will be eligible to enter the Nursing and Midwifery Council Professional Register as an Adult Nurse and will be legally entitled to practise anywhere in the UK.
About the course
The MSc Nursing (Adult) course will provide you with the knowledge and skills required to qualify as a registered nurse in adult nursing practice. The demand for nurses with a postgraduate qualification is increasing, with nurses at the heart of our health care provision and society. This course will enable you to pursue a career with purpose, making a daily difference to patients, their families and the health care system.
Through this course, you will learn from expert nursing academics as well as from clinical practitioners, gaining frontline experience through our placement opportunities across Hertfordshire and London and developing the skills and experience needed to manage a variety of health conditions from prevention through acute case to end of life care. Your scientific knowledge and compassionate understanding will be enhanced with the psychology and sociology of health and ill-health, and you will develop the critical thinking skills and professional judgement needed to provide outstanding patient care.
This master's degree allows you to develop as a future leader in nursing, with opportunities for self-development through a range of initiatives such as research placements and student ambassadorships. The University of Hertfordshire offers a large range of Continuing Professional Development courses once you are qualified, working with many local NHS Trusts to keep developing your knowledge and providing the opportunity to specialise.
Why choose this course?
Award-winning teaching: The University is 2nd in the East of England for Nursing (2023 Complete University Guide) and our Allied Health Nursing, Dentistry, Pharmacy ranked in the top 25% of UK universities for research impact (Research Excellence Framework, 2021) and 2nd for health and social care in the Postgraduate Taught Experience Survey (PTES, Advance HE, 2023)

Professional qualification: this two-year full-time programme is especially designed for people wishing to become registered nurses who already hold a first degree. Graduates will be eligible to enter the Nursing and Midwifery Council Professional Register as an Adult Nurse and will be legally entitled to practise

Placement programme – our strong partnership agreements ensure that 50% of learning takes place in a clinical setting. Placement opportunities are available in Hertfordshire and London NHS Trusts.

Research opportunities – students can join research programmes, developing critical research and leadership skills and benefiting from our top 25% ranking of UK universities for research impact

Employability - 100% of our students surveyed are in full time graduate level employment or further study, with many offered employment where they have carried out their placement (Graduate Outcomes 2019 / 2020)

Multi-dimensional learning – as well as academic and practice settings, you will benefit from real-life learning scenarios in our on-campus simulation units

Continuing Professional Development (CPD) - The University of Hertfordshire offers a large range of CPD courses once you are qualified, working with many local NHS Trusts to keep developing your knowledge and providing the opportunity to specialise if that is something you would like to pursue

Go Herts Award - students can choose to undertake further curricular activities during their programme to earn a Go Herts Award (more details when course commences).
What will I study?
Students will typically study elements of nursing that are essential for personal and professional development:
Nursing care
Nursing knowledge
Evidence-based practice
Ethics of care
Leadership and management
Practical nursing care
Research-informed care delivery
Decision-making in nursing
Change management in healthcare.
You will experience a wide variety of teaching methods throughout the programme including:
Interactive and 'key-note' lectures at University
Seminars and workshops incorporating for example case/ care plan presentations, role play, scenario based learning and discussion groups covering a wide variety of topics
Laboratory based practical work / experiments, with the use of simulation in our simulation labs - simulation education is recognised by the NMC as being a leading mechanism to educate student nurses in clinical skills labs. Simulation allows the student to practise skills and communication in a safe environment and to ask questions regarding any situation in a safe and supportive environment.
Learning technologies for example video, podcasts, digital storyboards and other e-packages designed to enhance learning and teaching. These packages are supported by an extremely well stocked learning resource centre and via a virtual learning environment called StudyNet which enables you to access resources on line 24 hours and day, seven days a week
Individual and group based tutorials will also feature in your learning experience
Supervised practice - working with qualified nurses to develop clinical skills
Training and education activities within the placement setting
Skills development activities to ensure patients' needs are met
The use of Canvas platform for the uploading of lecture and reading materials.
As potential students of Adult Nursing undertaking an MSc programme, please note that this programme will be different to any previous degree you have undertaken. In your previous degree, your programme was most likely based on theoretical delivery over an academic year of 36 weeks. The MSc Adult Nursing programme incorporates both theory and practice, of which both elements carry equal importance and responsibility. The delivery of both elements will take place over an academic year of 45 weeks. Full engagement with the programme is required from the outset. A clear focus on what is expected of you as a student nurse, and forward planning are all essential elements to ensure your success on the MSc Adult Nursing programme.
Further course information
| Programme specifications | |
| --- | --- |
| MSc Nursing | Download |
| Additional information | |
| --- | --- |
| Sandwich placement or study abroad year | n/a |
| Applications open to international and EU students | Yes |
Student experience
At the University of Hertfordshire, we want to make sure your time studying with us is as stress-free and rewarding as possible. We offer a range of support services including; student wellbeing, academic support, accommodation and childcare to ensure that you make the most of your time at Herts and can focus on studying and having fun.
Find out about how we support our students
You can also read our student blogs to find out about life at Herts.
Funding and fees

Scholarships

Find out more about scholarships for UK/EU and international students

Other financial support

Find out more about other financial support available to UK and EU students

Fees 2023

UK Students

Full time

£9250 for the 2023/2024 academic year

EU Students

Full time

£16950 for the 2023/2024 academic year

International Students

Full time

£16950 for the 2023/2024 academic year

Fees 2024

UK Students

Full time

£9250 for the 2024/2025 academic year

EU Students

Full time

£17950 for the 2024/2025 academic year

International Students

Full time

£17950 for the 2024/2025 academic year

NHS Funding for UK/EU Students

The funding of health education is currently undergoing a transition period from student bursaries to student loans. We are currently reviewing our guidance on the funding arrangements for pre-registration postgraduate courses commencing in the 2018/19 academic year following a recent announcement from the UK government.

Information regarding this announcement can be found on the Department of Health and Social Care website.

Students studying on nursing, midwifery or allied health professional courses funded by Health Education England, who start from September 2017 will have access to the same student loans support package and support for living costs as other students. The new arrangements also apply to students planning to take these courses as a second qualification.

The NHS will no longer grant bursaries. There will be, however, additional funding by the NHS Business Services Authority for some nursing, midwifery and allied health professional students because of the compulsory clinical placement required by these courses. This funding will cover students with child dependants and severe hardship. It will also cover travel and accommodation expenses incurred over and above the daily travel costs to university and for those who need dual accommodation.

For more information about the changes visit the gov.uk website and the Funding Clinic.

*Tuition fees are charged annually. The fees quoted above are for the specified year(s) only. Fees may be higher in future years, for both new and continuing students. Please see the University's Fees and Finance Policy (and in particular the section headed "When tuition fees change"), for further information about when and by how much the University may increase its fees for future years.

View detailed information about tuition fees

Living costs / accommodation

The University of Hertfordshire offers a great choice of student accommodation, on campus or nearby in the local area, to suit every student budget.

View detailed information about our accommodation

How to apply