MA Journalism & Media Communications
We welcome applications from international and EU students
About the course
The MA in Journalism & Media Communication aims to bridge theory and practice in a dynamic interplay as the programme works to develop a wide ranging portfolio of skills. Staff teaching on the modules will be drawing synergies between various Media subjects. There will also be a focus on current media practice and the technologies of convergence exploring the impact of digital environments on the communications industries.
The course aims to develop professional and academic skills in the area of Journalism and Media Communications. Therefore, the programme will explore how to make communication more effective in professional settings by looking at magazine journalism and its associated business models, internal and external corporate communications, the impact of technology on the communications industries, and developing an understanding of ethical responsibilities and current legislation for media professionals. To offer more flexibility and to allow particularly international students to explore journalism and media production on a global scale, we also offer a choice module 'International Journalism Trends', which gives students the opportunity to develop a deeper insight into the theoretical and cultural framework of media and journalism.
During the course you will develop the theoretical knowledge as well as the practical writing and technical skills necessary for operating effectively in a professional media environment. Employability is a key characteristic of the programme, so you are given choice of taking an optional work placement instead of a dissertation as your final project.
Why choose this course?
In the media industry we are witnessing the advent of a new paradigm. It is one that thrives on inter-disciplinary collaboration. In this new world, social media, public relations and magazine stories rub shoulders, complement and indeed, often deliberately, inspire each other. This calls for a new breed of communications professional - the 'multi-skilled practitioner'. This new paradigm focuses on how best to create content and increasingly involves engaging audiences and media practitioners in dialogue. In this contemporary media environment social media, PR and magazine journalism are increasingly overlapping and this MA programme aims to address these synergies.
Careers
This programme will enable you to work in a variety of occupations from Marketing Communications and PR to magazines and web publications.
Teaching methods
The Media group is made up of academics who have professional experience of print, web design, journalism and PR, which lends the programme a currency and employability edge.
Teaching on this course takes mostly place in 3-4 workshops + additional online activities depending on the module.
Work Placement
This module will give students the opportunity to work in a professional environment and put into practice the knowledge and skills developed over the year. Students will be typically be expected to have spent a minimum of 20-25 days on an internship or on a work experience placement. After completing the work placement, students will write a 3.500 word report and give a short presentation reflecting on his or her experience.
Structure of the programme
The programme consist of 1 year full-time or 2 year part-time study.
Modules may change year by year. Examples of modules we offer are: International Journalism Trends, Writing for Magazines, Corporate Communications, PR and Advertising, Media Production, Critical and Theoretical Debates and Advanced Research Skills.
You will also have the opportunity to choose one of the following final projects: Researching and writing a 14,000 word dissertation on a topic of your choice OR A 22 day work placement in a media-based environment together with an analytic report and presentation.
For all of the above, you will be supported by regular one-to-one supervision with an appropriate member of staff.
Whilst this programme has a strong professional orientation, you are also expected to engage in academic activities to extend your skills in critical thinking and problem solving; interpersonal and mediated communication; writing processes and styles as well as collaborative working practices and research methods in this area.
Continue on to the "Modules" tab to find out more about the course. Please note that this list of modules is indicative only and subject to changes. For more information on the 2017/18 modules, please contact the programme leader.
Structure
Level 7
Core Modules
Optional
International Journalism Trends - 30 Credits
Corporate Communication, PR and Advertising - 30 Credits
Media Production - 30 Credits
Research Methods 2: Advanced Research Skills - 15 Credits
Writing for Magazines - 30 Credits
Media Dissertation - 60 Credits
Research Methods 1: Critical and Theoretical Debates - 15 Credits
Work Placement - 60 Credits
Entry requirements...
We require at least 2:2 (or equivalent) degree in Humanities or a Business subject. Graduates with an Honours Degree in any discipline who have otherwise demonstrated potential to succeed at postgraduate level Journalism and Media Communications will also be considered. International students should have an English Language assessment of IELTS 7, or equivalent as determined by the School of Humanities.
If your IELTS score is below 7 you can take one or more Pre-sessional English short courses to help you reach the required level. For more details visit: http://www.herts.ac.uk/courses/pre-sessional-english-higher-route
How to apply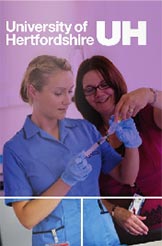 Download the Prospectus