MA Human Resource Management
We welcome applications from international and EU students
About the course
If you want to develop a career in the broad field of human resource management, employment relations, training & development, performance management, reward management, recruitment, selection, and consultancy, then this course is for you. As well as receiving an academic qualification you can also gain professional membership to the Chartered Institute of Personnel and Development (CIPD).
Focusing on contemporary, critical and applied themes in the subject area, the course gives you the opportunity to develop the knowledge and understanding necessary for the appropriate analytical, technical and behavioural responses to these issues.
The programme
This well regarded and established programme provides a deep and critical insight into leading, managing and developing people. You will achieve an advanced and evidence based understanding of human behaviour in organisations and HRM roles, perspectives and skills.
The course will develop your practitioner skills and you will learn how research and practice work together. This is an advanced HRM course and the modules look at strategic as well as operational issues.
Key features
Acquire CIPD accreditation
Improve your employability and career prospects
Enhance your personal and professional skills
Develop your network
Benefit from the experience of well respected and successful Business School staff
Flourish in a supportive and challenging environment
Interact with international partners
Engage with mentoring and coaching opportunities
Part-time study
As a part-time student your classes will be held between 16.00 and 20.00 one day a week for two academic years from a September start date, and two and half academic years from a January start date. While these are our normal part-time patterns other options may be available, please contact Dr Gary Pheiffer, Programme Leader to discuss.
Full-time study
The full time course is held mostly on a Tuesday, Wednesday and Thursday for the core modules. The course can be completed in one year.
Why choose this course?
Gain a full Master's and the knowledge required to gain Chartered Membership of the CIPD
Full and part-time study options to fit around your existing commitments
Career and study support
Unique blend of practice and theory
Key staff
Dr Gary Pheiffer
Programme Leader
Find out more about Dr Gary Pheiffer
Professor Michael Brookes
MA HRM Professor
Find out more about Professor Michael Brookes
Professional Accreditations
Hertfordshire Business School is a Chartered Institute of Personnel and Development (CIPD) approved centre.
Successfully complete the MA or PG Diploma and you'll receive the Chartered Institute of Personnel and Development's (CIPD's) Advanced Level 7 Diploma, and become an Associate member, meaning you can use the designatory letters Assoc CIPD after your name. You can apply to upgrade to Chartered Member or Chartered Fellow if you have the relevant experience.
Upgrading to Chartered Membership or Chartered Fellowship of the CIPD enables you to use the designate letters CMCIPD or CFCIPD respectively, further enhancing your employability.
Similar Courses
We also offer a PGDip in Human Resource Management which has CIPD accreditation.
Careers
The programme will appeal particularly to those interested in a career in human resource management, industrial/employment relations and also to those responsible more generally for managing people in organisations.
Teaching methods
We offer a varied programme of teaching that includes facilitated seminars, practical workshops, web-based learning, case study analysis and traditional lectures. In the classroom we blend theory and practice, with a focus on problem diagnosis and the selection of relevant HRM tools to provide the best results in the workplace situation.
The teaching staff are active researchers in their chosen specialisms. This means you'll benefit from their expert academic input on key issues for HR professionals. We also provide sessions by visiting staff, practitioners and consultants to give a varied perspective of the topics covered. Guest speakers from private industry, not-for-profit, the public sector, consultancy and published authors will add to your learning.
Assessment is by a combination of coursework and examination. You will also complete a dissertation (management report) of 15 000 words that will investigate an HRM related issue in an organisation. ​​
Structure
Level 7
Core Modules
HRM Practice and Perspectives - 15 Credits
Organisational Behaviour: Theory and Practice - 15 Credits
Employment Relations: Theory and Practice - 15 Credits
Postgraduate Research Methodology for HRM - 15 Credits
Strategic HRM - 15 Credits
Optional
Managing Across Cultures - 15 Credits
People Resourcing - 15 Credits
Remuneration: Strategy and Practice - 15 Credits
Leadership and Management Development - 15 Credits
International and Comparative HRM - 15 Credits
Comparative Employment Relations - 15 Credits
PG HRM Dissertation - 45 Credits
PG HRM Dissertation/Management Research Project (CIPD) - 45 Credits
Employment Law - 15 Credits
Entry requirements...
An honours degree with classification 2.2 or better in any subject from a UK university or the equivalent from a recognised university overseas.
or
Evidence of two or more years relevant work experience in human resource management, industrial relations, managing people, equal opportunities work, or as a trade union official or representative and two or more appropriate references. Or other appropriate experience as determined by the Programme Tutor and two or more appropriate references.
N.B. There is no guarantee that any or all applicants who meet the criteria will be accepted. In addition all students must produce evidence of their English Language proficiency.
N.B. Prospective students must be aware that this is not an entry level programme. It is designed for practitioners who are preparing themselves to move up to middle and senior management positions in their chosen careers and who concurrently want to achieve Chartered professional status through the CIPD. People wanting to make a career move to HRM from another area of professional work should ideally have experience of managing staff. If you have any concerns about the suitability of this programme for you please don't hesitate to contact Gary Pheiffer on to discuss your options.
All students from non-majority English speaking countries require proof of English language proficiency. The following qualifications and grades will be considered:
- GCSE English language grade A-C
- IELTS 6.5 (with no less than 5.5 in any band)
Other English language tests are accepted. Please contact the International Office for details.
If you do not have the required level of English for entry, our academic English courses can help you to achieve this level.
How to apply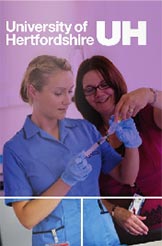 Download the Prospectus