When you arrive
The start of university can be full of fun and excitement. You will be getting to grips with your new programme and, for some of you, moving away from home for the first time.
With everything going on it's easy to forget some of the important stuff. So, to make things as simple as possible, we've put together a couple of checklists to make sure you've got everything covered.
Your first week at Herts
You've just arrived on campus… what next? Time to tick off the important admin tasks to make sure you get off to the best start.
Get registered
To be able to start your programme, you must have registered with the University. You must complete Stage 1 registration 40 days before your programme starts. This bit involves setting up or updating your Student Record, uploading your documents and making sure your details including your programme information is correct.
Stage 2 is the final bit where our Student Records and Enrolment team will check your uploaded documents, and if it's all correct, they will mark you as fully registered. You can check this has happened by logging into StudyNet under your programme.
Read more about Stage 1 on Ask Herts
Read more about Stage 2 on Ask Herts
Collect your student ID card
Don't forget to pick up your student ID card from either Ask Herts Hubs on College Lane or de Havilland campus. You will need a physical student ID card to use on the UNO buses, to access buildings and facilities such as our Learning Resources Centres and to check in to your classrooms; you should always have it on you when you're on campus.
If you lose your ID card, you will need to get a replacement card.
Finding my timetable
You can find details about your timetable and what to do and where to go during your first week.
Keep an eye on your emails and on Canvas for changes and updates, your teaching staff may also get in touch.
Find your way around campus
Download our Herts mobile app to direct you around campus using wayfinding. It is helpful to always know where you are and for directing you to your teaching rooms. You can also check out our virtual tour before coming to campus to become familiar with buildings, cafes, and shops.
Travelling to campus
If you're coming to campus then check out the University's bus network - Uno, for timetables and routes. You can save up to 44% on your travel with Uno buses and you can pay using contactless payment.
And if you want to drive while you're here, then make sure you check out Ask Herts for information on parking. Student parking on campus is very limited and for permit holders only, but the Park and Ride is a great alternative with very regular shuttle buses running to both campuses.
Say hello to new people
Starting uni is daunting, but everyone feels the same way. Everyone is hoping to make friends, so take the leap and strike up a conversation with anyone and everyone – the person next to you in the queue for registration, the barista in Starbucks, your new flatmates.
We want you to make the most of your time on campus and feel part of our Herts community. We provide social spaces for you to relax in, offer a wide variety of sports clubs and societies you can join, and ensure there are great transport links - so you can join in on campus without worrying about how you'll get home.
Get involved through your Students' Union
Join us on social media
We have a fantastic community of students and staff from all over the world. With over 24,000 students from over 100 countries, there's a lot going on! How can you keep track of them? Our social media platforms are the answer!
Your first month
So you're starting to get settled in to life at Herts, what else needs to be done?
Register with our on-campus doctors
With so much happening at the start of term, it is easy to get run down and you may not feel your best. Make sure you register with our on-campus doctors' surgery so if you do need an appointment you won't need to go far.
Get vaccinated
With lots of students coming to campus, it can be easy to pick up illnesses. So, to get the most out of your time at uni, make sure you have had both of your UK-approved COVID-19 vaccinations.
You should aim to have the ACQY vaccine against meningitis, MMR vaccine (measles, mumps and rubella), and the flu jab if you are eligible. If you haven't had a chance to get any of these before arriving on campus, make sure you book yourself in during your first week or so.
Get involved
There is so much to get involved in here at Herts.
Clubs and societies


The

Students' Union

, is where you can go and meet members from the huge range of student clubs and societies. So many interests are covered, with all kinds of social, cultural, music, dance, volunteering and political groups that you're bound to find groups of like-minded new friends.

Sports
If you're keen to get involved in competitive sports and represent the University, or you're looking to stay active or try a new sport, check out HertsSquad.
Events
We've got everything from trips to London, nights out, career workshops, equality, diversity inclusion events and so much more. View our events calendar.
If you want to get some recognition of the activities and groups you get involved with, check out the Go Herts Award. It's no secret that the job market is getting increasingly competitive, so we've partnered with the Students' Union to offer Go Herts Awards to students who get stuck in with extra-curricular activities, helping them to graduate with more than a degree.
Get connected to the WiFi
You can connect to the university WiFi or eduroam to access the internet. Find out how on Ask Herts. And if you get stuck, our friendly WiFi warriors are available to help in the Learning Resources Centres or by emailing our Helpdesk or calling them on +44 (0) 1707 284678.
Let us know if you need help
If you've got any questions or problems with the admin side of student life then head to one of our Ask Herts hubs, and the team there will be able to direct you to the right place and get answers to your questions.
If you're having trouble adjusting to university life and could do with some emotional support then our Student Wellbeing team have a range of resources available to help you out.
There are a whole range of other support services available to you, so you shouldn't ever feel like you've got to deal with a problem or issue alone – we've got you!
Add these numbers to your phone
We pride ourselves on providing a safe and welcoming environment for our students, but if a situation comes up that you feel our 24-hour security team need to step in to help with, you can call them on +44 (0)1707 281010 or extension 1010 if calling internally.
In the event of emergency please call +44 (0)1707 285555 or extension 5555 if calling internally.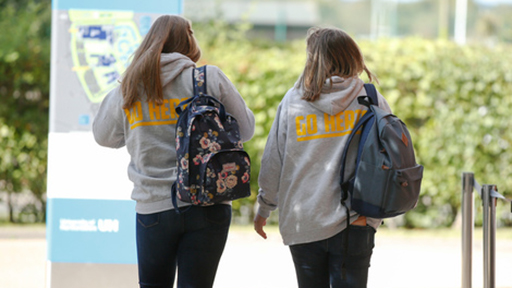 Check out our events calendar. With a whole range of virtual and physical events to help connect our Herts community,...