Mediation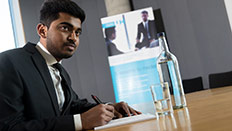 Mediation has been recognised by the Supreme Court as being the largest growth area within the law and there is a real appetite within the legal sector to encourage parties to mediate prior to going to court.
At Hertfordshire Law School, we have recognised the importance of mediation and of training the mediators of the future as well as providing a valuable service for the community.
Learn essential skills
As part of our commitment to you, we also recognise that it is essential to give you the opportunity to learn the skills and art of mediation.
As part of our co-curricular offering we offer you the opportunity to learn the skills of a mediator from our professional world-class accredited mediators. You will learn skills including:
how to read body language
being empathetic
deducing substantive facts
listening
impartiality
Our LLB students have represented us internationally at the International Chamber of Commerce World Mediation Competition in Paris.