Hertfordshire Business School Alumni Network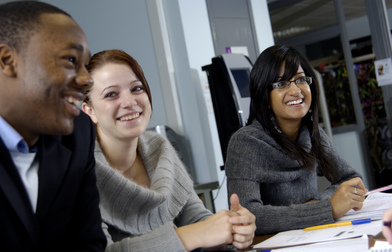 For our students, their relationship with the Hertfordshire Business School does not end when they celebrate their graduation. We believe that our alumni should remain part of our worldwide community, which includes former students, current students and staff. We actively encourage our alumni to stay in touch with us, attend our events and reunions and even return to the University to talk to our current students about their success stories.
The School is one of the largest and best new university business schools in the UK, rated highly for the quality teaching and with excellent professional links, offering study in eight different subject areas, and home to over 4,300 students.
The University has been offering business courses since 1962, when it became possible to study for an HNC in Business Studies. If you were one of our students we would love to hear from you, no matter when you graduated.
Business School alumni can easily access benefits and discounts, get free career support, find a range of other support and attend a wide variety of events:
See events for all University alumni
Your success stories
We are always looking for alumni who would be willing to share their success stories to help inspire our current students.
If you are an alumnus with a story to tell, and would be happy to provide us with a short profile of yourself or perhaps visit us on one of our career days to talk to our current students, we would love to hear from you.
Please email hbsalumni@herts.ac.uk if you would like to get involved.