On-campus accommodation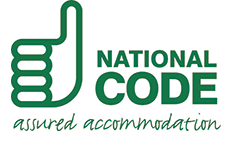 Living on campus is the best way to get the most out of your university experience. Campus accommodation provides the full spectrum of University life all in one safe and friendly place. Our campuses are the perfect place to enhance your studies. They are conveniently situated to essential facilities and amenities and offer plenty of social activities to get involved in.
On both College Lane and de Havilland campuses, you'll be in walking distance from your lectures, the libraries and social spaces, which will also help save you money on transport. Everything you will need is available on-site, including shops and laundry facilities.
Your room
Inside our halls are individual flats that house between 6 to 12 students. The flats offer single or double bedrooms which are either en-suite or have shared bathrooms. You'll share a kitchen but have access to your own cupboard for your food and groceries. There are also some single studio rooms, separate to the flats, with their own kitchen and bathroom.
24/7 support
If you live on-campus you'll benefit from 24/7 support 356 days a year from our security team and residential assistants (RAs). The residential assistants live within the halls so you'll become familiar with them. You'll also get the opportunity to meet them at the start of term. Whether you are locked out of your room, need an emergency repair or are feeling unwell, they are always on hand to ensure you quickly get the support you need. Residential assistants are also here to support your wellbeing while living on campus, offering confidential support if you are feeling anxious or depressed about anything from exams to personal relationships.
Which campus?
You can choose to live on either College Lane or de Havilland campus, regardless of where you're studying. Both campuses offer a great mix of accommodation, all with Wi-Fi.
Which contract?
We offer various contract lengths to meet your needs. You can apply for accommodation to live on campus for 42 or 50 weeks
Most students will choose the 42 week option as this will give you plenty of time to complete your studies. If you are an international student, a student on an extended course, or want to stay on campus over the summer then apply for a 50 week contract.
*Subject to application deadline and personal needs.
FAQs

Find out more about staying in halls.

Are bills included?

Yes, all utility bills are included in the cost of your accommodation.

Do you offer any catered halls?

No, none of our halls are catered. However, money can be loaded onto our cashless Food Hertfordshire loyalty cards which can be used at any of our food outlets on campus. There are kitchen facilities in all flats for those who prefer to cook for themselves.

How do I get my keys?

If you are moving into halls during the main arrivals weekend – 15 and 16 September, please read our arrivals leaflet.

Is there WiFi in halls?

Yes, all our halls of residence have University WiFi and every room has an ethernet port if you prefer a wired connection.

Do I have to pay Council Tax if I live in halls?

If you are living in halls you will be exempt from council tax for your term time address and you will not be billed.

Do I need a TV license?

The TVs in the communal areas of our Halls are already covered by a licence, however if you watch or record TV in your room you will need your own TV licence. Check the TV licensing website for more information.

Do I have to clean my kitchen?

Yes, it is important that residents maintain an acceptable level of cleanliness in their accommodation. This will be audited by staff on a regular basis.

Where can I clean my clothes?

At College Lane campus, there are card operated laundries in each of the courtyard common rooms. On de Havilland campus, there are 5 card operated laundries in the Halls of residence.

Can I have a visitor stay overnight?

Yes, you may have people to visit you, but you will need to ensure that you obtain a visitors' permit as any visitors found not to have a permit, may be escorted off site.

How do I receive post in halls?

Letters will be delivered to your mailbox, parcels will need to be collected from the accommodation helpdesk.

Can I bring my car?

Parking for students living in Halls is extremely limited and for most students this means it's not possible for you to bring a car with you if you are living in halls.

Please visit our residential parking page for more information.

Do I need contents insurance?

Contents insurance is included as part of your on campus accommodation contract. Details of the policy and level of cover can be found here.

Who can I talk to if I have a problem with my accommodation?

Once you have moved in, there is lots of support available if you have any problems. You can contact a member of the Student Support team at housingservices@herts.ac.uk or you can call a Resident Assistant outside of office hours via security on +44 (0)1707 281010.

If you have any problems or queries with your accommodation application or offer before you move in, contact the Residential Allocations team.