Important information
Your deposit
A small deposit of £100 is held for the duration of your licence, to cover any rent arrears, damages and additional charges* you may have incurred.
Your deposit will be held securely by the University, not in a Government Tenancy Deposit Scheme and will only be utilised in accordance with the terms of the Licence Agreement.
You will receive an inventory when you arrive which we encourage you to complete and return. This will help the process at the end of the licence period should there be any dispute.
Your room should be returned in the same condition it was provided at the start of the licence period, allowing for fair wear and tear.
Deposits will be refunded within 28 days if there are no deductions to be made. You will be notified of any proposed deductions, in which case please allow up to eight weeks for your remaining deposit to be refunded pending any dispute.
* additional charges: For example, loss of key card etc; as stated within your licence agreement and the College Lane Guide to Living on Campus and de Havilland Student Guide to Living On Campus.
Be a good neighbour
We want the University of Hertfordshire to make a valuable contribution to our local community. Our environment, neighbours and local businesses are important to us. Hatfield has been our home for a long time, and we hope that you too will feel at home here. We ask you to share our values. To be respectful of the people who live and work here. To care for our environment. To be mindful of your behaviour when out and about. Every new generation of students who come to Hatfield have an opportunity to make a positive impact. We hope that your time at university will hold some of your happiest memories, and that you will remember Hatfield fondly.
Living in halls
It's likely that when you move into your halls of residence, it will be the first time you have lived with flatmates. We're all different, have different personalities, skills and ways we contribute. The most important thing is that we all belong. Spend time getting to know your flatmates. A lot of problems can be easily solved by talking honestly, listening and being respectful.
To help make your halls of residence a happy home, read our code of conduct, campus guides (for both College Lane and de Havilland), and your licence agreement. Remember you can always talk through any problems with our residential assistants and student support teams. Also, there is a contents insurance policy in place for students living in halls.
In addition, the University of Hertfordshire are members of the National Code for student accommodation. This means that we agree to comply with benchmark standards that relate to both the physical condition of a building as well as its day to day management. The Code of Standards provides you with reassurance that the accommodation is safe and well managed; and reassurance that, should any problems arise, there exists a mechanism to help get them resolved. So, you can feel extra certain that there is system in place to make sure you are comfortable and happy on campus.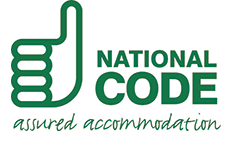 Living in the local community
If you live in private accommodation off campus, it is also important that you find ways to get along with your neighbours. Introduce yourself and be considerate. Your neighbours are your most local community and good relationship will help you both feel at home.