BSc (Hons) Sport and Exercise Science
Key information
Study abroad option
Entry requirements

UCAS points
A Level
BTEC
112 - 120

BBC - BBB

Including at least one Science A level preferably Biology and/or PE

(acceptable A levels: Human Biology, Biology, Chemistry, Physics, Psychology, Sports Science)

DMM:

BTEC Sport and Exercise Science or Applied Science Extended Diploma at DMM

BTEC Sport and Exercise Science or Applied Science. Extended Diploma at DMM.

BTEC Sport Extended Diploma (RQF 2016) at DMM (With merits achieved in the following modules: Anatomy and Physiology and Fitness Training and Programming for Health, Sport and Well-Being)

BTEC Sport Extended Diploma (QCF) at DMM (With merits achieved in the following modules: Principles of Anatomy and Physiology in Sport, The Physiology of Fitness and Fitness Testing for Sport and Exercise)

Level 3 OCR CTEC (Cambridge Technical in Sport and Physical Activity) Extended Diploma DMM (With merits achieved in the following modules: Body Systems and the Effects, Nutrition and Diet for Sport and Exercise, Sports Injuries and Rehabilitation).

Additional Science BTEC's will be considered at tutor discretion.

Additional requirements

GCSE: Grade 4/C in English Language and Mathematics and grade 3 or 4 in Double Science.

All students from non-majority English speaking countries require proof of English language proficiency, equivalent to an overall IELTS score of 6.0 with a minimum of 5.5 in each band.

If you do not have the required IELTS or equivalent for direct entry on to your degree programme, our Pre-sessional English and International Foundation courses can help you to achieve this level.

For more details on the University of Hertfordshire's entry requirements, please visit our Undergraduate Entry Requirements page.

Find out more about International Entry Requirements.

The University of Hertfordshire is committed to welcoming students with a wide range of qualifications and levels of experience. The entry requirements listed on the course pages provide a guide to the minimum level of qualifications needed to study each course. However, we have a flexible approach to admissions and each application will be considered on an individual basis.

Professional accreditations

All our sport and exercise science courses are endorsed by the governing body, the British Association of Sports Science (BASES). You'll learn the core principles underpinning sport and exercise science and graduate with the professional requirements of being a sport and exercise scientist. You'll also have the opportuntiy to undertake a range of optional modules and extra-curricular activities which have been highlighted by BASES as they provide you with better employability prospects after graduation.

Find out more about the British Association of Sports Science (BASES).

The BSc(Hons) Sports and Exercise Science is also a pre-approved degree for eligibility to the ACSM - Certified Exercise Physiologist qualification (*specific module options required) and is also recognised by the NSCA Educational Recognition Programme.

Sign up for alerts

Get access to personalised content, tailored towards your interests:

Information on your favourite courses
Tips to help you through the application process
Blogs, vlogs and advice from current students
Why choose this course?
2nd in the East of England for Sports Science (2023 Complete University Guide)
Experiment in human performance labs, including altitude chambers
Learn physiology and biomechanics in specialised labs
You'll study on a National Strength and Conditioning Association (NSCA) recognised programme which will allow you to complete the Certified Strength and Conditioning Specialist qualification near graduation. During your time with us, you'll cover the three main disciplines of sport science: physiology (including nutrition), biomechanics and psychology. You'll learn about human anatomy, sports performance, and strength and conditioning. You'll use the performance labs to learn how to assess and improve sporting performance. What's more, you'll gain invaluable knowledge on the role exercise plays in improving health and wellbeing.
Many of your lecturers are accredited or chartered with professional bodies. These include the British Association of Sport and Exercise Sciences (BASES), the UK Strength and Conditioning Association (UKSCA) and the British Psychological Society (BPS). This means you'll learn from lecturers who are recognised for their high standards of knowledge and skills. They'll be there to ensure those standards are transferred to you. You'll spend around eight hours in lectures per week, and eight hours in practical sessions. Some of these will take place in our labs, others are interactive workshops and seminars. The course recieved a 91% satisfaction rate for teaching in the 2022 National Student Survey (NSS).
Herts is one of the few Universities with an Active Students and Staff programme. This means we offer free sports and exercise sessions to all our students and staff. This gives you an excellent opportunity to do research on the effects of sport and exercise on wellbeing. You could even get a part time job working for them as an Activator – leading your own exercise sessions or assisting with qualified instructors. Maybe even play some new sports yourself.
Benefit from specialist labs and facilities
You'll have access to two dedicated sports science and therapy laboratories on campus. They are equipped with a state-of-the-art grail treadmill, force plates, a bod pod and a climate chamber. You'll be able to use specialist physiology, biomechanical and biochemistry equipment, for example, online gas analysers. You'll even be able to do blood analysis to test for blood lactate and cholesterol. Or use the running treadmills, cycling and rowing ergometers to measure physiological processes. You'll use specialist arthrometric equipment, dynamometers and weight-lifting equipment. There is even an indoor putting green for psychological and biomechanical analysis.
You'll be able to get a membership with the University's £15 million Hertfordshire Sports Village (HSV) on the de Havilland campus. It has a 25-metre swimming pool, a 12m climbing wall and a gym. The gym has both strength and cardio equipment, such as rowing machines, cable stations and a free weights area. There is a smaller 24-hour gym on the College Lane campus.
More than just a degree
During your time with us, you'll be able to access many additional resources and opportunities. Here are just a few of them:
- Guest lectures from renowned companies and individuals. Past speakers include GSK, the Hertfordshire Sports Village, and Felicity Aston – the first woman to walk the Antarctic solo.
-Work Experience: including local, national, and international employers taking students for their work experience module in final year (e.g. football, rugby clubs, hospitals, other universities).
Guest lecturers: e.g. GSK, HSV, Felicity Aston (first woman to walk the Antarctic solo)
Work Experience: including local, national and international employers taking students for their work experience module in final year (e.g. football, rugby clubs, hospitals, other universities)
Opportunities for students to support applied testing and research in the labs
Opportunities to gain internationally recognised qualifications:

Certified Strength and Conditioning Specialist (NSCA)
ACSM Certified Exercise Physiologist

Level 2 Fitness Instructor certification
Turn your dreams into your dream job
Because you'll study various aspects of sport and exercise, there is a wide range of career opportunities waiting for you. Interested in becoming an exercise physiologist? A sports therapist? Maybe a health promotion specialist? This course will give you a solid foundation to do exactly that. If you prefer going into sports coaching or even manage a fitness centre of your own, we've got you covered. Some of our graduates have gone on to work and study in education, business, and nutrition. The opportunities are endless.
What's the course about?
In your first year, you'll learn the foundations of human physiology and nutrition, as well as musculoskeletal anatomy, psychology and the principles of biomechanics. You'll gain the analytical and problem-solving skills needed to excel. There is a special module to teach you how to perform and analyse fitness testing and exercise prescription. You'll study the acquisition of skills and motor control. To help you settle into university life, you'll take a module focused on developing the academic skills you need to be a successful student.
Your second year builds on what you learnt in first year. You'll study the applied biomechanics of performance, applied sport and exercise psychology and exercise physiology. The module on research design helps you understand the principles and methods that underpin scientific research. You'll be able to use this to critique and understand research done in this field. It'll also come in handy for your final year project in third year. There are also a few optional modules for you to choose from. Learn about exercise for a health population, sports conditioning or functional anatomy and clinical biomechanics.
Work placement/study abroad option: Between your second and final year, you'll have the option to study abroad or do a work placement for up to a year. Not only will this give you an amazing experience to talk about but will also give your CV a boost. If you'd rather go straight to your final year, that's fine too. You'll decide in your second year with us, so there is still plenty of time to think about this.
In your third year, there is only one compulsory module: your final year project. You'll get a personal supervisor and together you will produce an independent sports research project. This means you'll design and undertake you own project on a topic relevant to your area of study. You'll present this in the form of a poster presentation and journal-style report. All other modules are optional and allow you to specialise in the areas you like best. Learn about technology in sport, advanced biomechanics or strength and conditioning. There is one module that allows you to gain 70 hours of work experience*
For a full list of modules, see the section under 'What will I study?'

*Depending on the COVID-19 guidelines and developments
Your main campus is de Havilland
You'll share this campus with students from business, law, sport, education, and humanities subjects. The student housing is close to our Sports Village which includes a gym, swimming pool and climbing wall. You can get breakfast, lunch, or dinner in our on-campus restaurant or bar (in the newly built Enterprise Hub) on days you don't feel like cooking. You can also use the common room to play pool, video games or just to hang out with friends.  Our Learning Resources Centres are open 24/7, which means you can study whenever suits you best. Want to pop over to the other campus? You can take the free shuttle bus or walk there in just 15 minutes.  
What will I study?
Degree programmes are structured into levels, 4, 5 and 6. These correspond to your first, second and third/final year of study. Below you can see what modules you'll be studying in each.
Modules are assessed in a variety of ways via coursework, practicals and exams. The type of coursework is varied, depending on the module and includes essays, reports, practical write-ups, posters and seminar presentations.
Our laboratories boast an enviable range of performance testing equipment (e.g. Metalaysers for VO2 max testing; blood-taking facilities and blood analysers to measure blood lactate and cholesterol; running treadmills; cycling and rowing ergometers; Dynamometers, Anthropometric equipment; weight-lifting equipment, and even an indoor putting green for psychological and biomechanical analysis).
Throughout your time at the University you work closely with a personal tutor in order to help develop academic, personal, and vocational skills. This work is supported by the University intranet (Studynet) which provides a location for lecture notes, study guides, assessment details, example exam papers, and discussion forums amongst other things.
You also have 24-hour access (during term-time) to two outstanding learning resources centres.
Level 4

Level 5

Level 6

Study abroad

An opportunity for an amazing experience, which will help make you stand out from the crowd. With more and more companies working internationally, experience of living in another country can make a great impression on future employers.

This course offers you the opportunity to enhance your study and CV with a sandwich year abroad. The University has partnerships with over 150 universities around the world, including the USA, Canada, Asia, Africa, Australia, South America and closer to home in Europe.

If you study abroad between your second and third year of study, you'll pay no tuition fee to the partner university and no tuition fee to us either. We'll ask you to make your decision in your second year, so there is plenty of time to think about it.

Find out more about Study abroad opportunities

Please note Erasmus+ funding is only available until May 2023. For students starting their course in September 2022 and wishing to study abroad in 2023-24 or 2024-25, please refer to the Turing Scheme.

Work placement

Graduate with invaluable work experience alongside your degree and stand out from the crowd.

This course offers you the opportunity to enhance your study and CV with a work placement sandwich year. It's a chance to explore career possibilities, make valuable contacts and gain sought after professional skills.

Our dedicated Careers and Employment team are here to help guide you through the process.

If you take up a work placement between your second and third year of study, at the University of Hertfordshire you'll pay no tuition fee for this year. We'll ask you to make your decision in your second year, so there is plenty of time to think about it.

What if I need support?

You'll get a personal tutor to guide you through your course, all the way to graduation. You might also want or need extra support during your time with us. Rest assured, no matter what you study, we've got you covered. For help with study skills, including referencing, essay writing and presentations, you'll have access to our academic support services. You can attend workshops, 1-to-1 sessions, and online tutorials. Both our Learning Resources Centres (LRCs) run drop-in study skills sessions. And the best thing is, it's all free.
'My undergraduate degree in Sport & Exercise Science at the University of Hertfordshire gave me a broad understanding of sport and exercise physiology and psychology needed to enter the working world. I benefited from learning about nutrition, biomechanics, strength and conditioning from an applied sense, which made the degree current and interesting. This multi-disciplinary course also offered a balanced range of assessments including, presentations, coursework and exams. Having the opportunity to take a placement year in my third year became the foundation I built my career and specialism in cardiac physiology within the NHS. I would definitely recommend this course, as the staff, resources and opportunities are top class.'
Check out our student blogs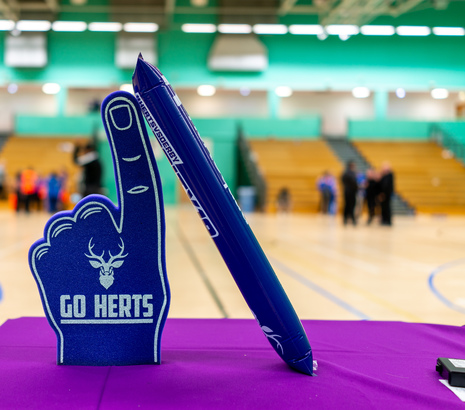 Student Blogs
Ayooluwa - Week at a glance
My week at a glance
To start off the week I look over my timetable so that I am aware of what lectures, practicals and workshops I have. This is because my timetable doesn't stay the same every week and I like to plan around my timetable. I make notes during my lectures and then go over them afterwards with some essential reading. All my lectures are two hours long and the times for practicals vary. I usually have a maximum of two or three sessions per day and there is free time during the day. If there is a 30 minute or an hour break between lectures, I would usually get something to eat at the restaurant, SU shop or library café.
Due to the assignments I get given either individual or group ones, a lot of my time is spent in the Learning Resource Centre (LRC) with my course mates. When given my assignments I plan them according to the due dates and the word count. Also, I do some research by reading online journals for a good foundation. To get extra help with lectures or assignments I book tutorials with my lecturers and I find them very helpful. Sometimes I feel overwhelmed or I don't know where to start but asking for help from my lectures makes it easier.
When I am not focusing on my academics, I attend weekly sessions of netball, badminton, Zumba and roller-skating which is run by Active Students. I enjoy physical activities especially when they are free of charge so taking part in this programme is a great way for me to spend my free time. It gives me the chance to let my hair down and bond with my friends and other students. Also, on Wednesdays, I attend a Christian fellowship called RCF. I enjoy it because I allow me to grow my faith and meet amazing people. And of course, Netflix & YouTube = Chill Time!!!
Within the university, I work part-time as a student ambassador. As my weeks can be loaded sometimes it is important for me to balance my work, social life, well-being and academics. This is my main aim because I want to achieve the best grades I can accomplish and have a great university experience. As I was told before coming to university, 'University will be one of the best experiences of your life,' and this statement is spot on.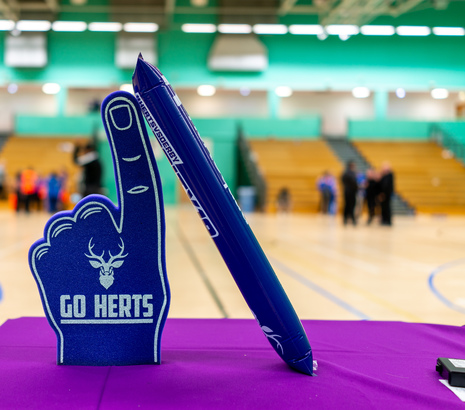 Student Blogs
Ayooluwa - Things you should know
Things you need to know before studying Sport & Exercise Science
As someone who loves sport, I was excited to be studying this course. But I was in for a shock. Sport & Exercise Science, emphasis on the science part. Please don't think this course is only about testing, training, sport, and exercise. When I tell people that I study this course they ask me 'do you guys just run around.' Erm no. There is a lot of science involved which is paired with sport and exercise. So please be prepared for that. The science part is interesting as it gives an insight into how an athlete's body works and how to improve training etc. Sport Science is not an 'easy' course, you must work just as hard as if you were studying any other course.
There is essential reading for this course and recommended reading. Essential reading is given at the beginning of the course to aid your learning, it is information that you need to know for this course. Recommended reading is important for widening your course knowledge. Further reading is good for when you don't understand something during lecture and need to learn about a topic in more depth. I would suggest following the readings given to you by lecturers because with course knowledge and knowledge outside of the course specification you are more likely to achieve higher grades on essays and exams.
The way you will be assessed is split between assignments and exams. The assignments usually involve essays, written exams, practical exams, group presentations and individual presentations. Having a mixture of assessments is quite good because it multiplies your skills and if you are too positive about one method you can make up for it with the other. Most of the assignments are online submission now.
Being organised is crucial for staying on top of assignments and feeling less stressed. This involves planning essays, spreading out revision and setting time aside for reading. Sometimes some assignments have due dates close together and to avoid feeling bombarded it's best to start assignments early and plan which ones to focus on first. It's so easy to leave assignments to last minute without even realising it but it's best to avoid this to increase your chances of higher grades and maintaining positive well-being.
Whilst completing your academics it is easy to forget about your wellbeing and mental health. Forgetting to take care of yourself could lead to a build-up of stress that can lead to breakdowns, which we want to avoid. It's important to take breaks whilst studying and reading (not super long ones though). Also, don't overload yourself. Sport & Exercise Science has a society which allows you to socialise with course mates and lecturers so this may be a good way to chill out a bit. Make sure you have free time as well!!
For this course, there is a lot of support available to the students. If you need help with your assignments, revision, the course content, or the course, in general, you can book tutorials with your lecturers during the week. The staff are friendly and extremely helpful so don't hesitate to ask for help if you need it. Also, if you are struggling to write essays there are services available in the Learning Resource Centre (LRC) to help you. Sessions can be booked to get some help.
Well, my last piece of advice is to study well, make memories and enjoy yourself. Good Luck!!!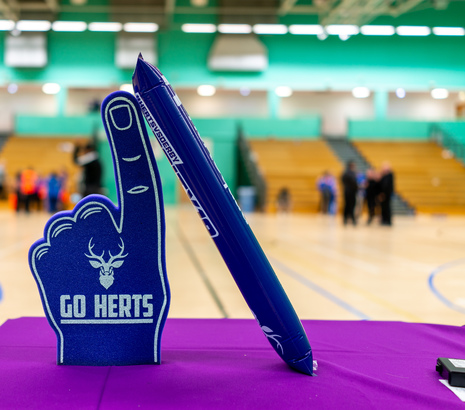 Student Blogs
Ayooluwa - Guide to the facilities
Guide to Sport & Exercise Facilities
Here is a short guide to the sport and exercise science facilities accessible.
Labs are used for practicals, on campus, there are physiology labs and performance labs. The physiology labs have all the equipment needed for physiological testing and anatomy. The performance labs have equipment related to fitness and training. These labs are supervised by staff and can be used for data collection for assignments and for practising practical exams. The labs have all the equipment needed for the course.
Learning Resource Centres (LRCs)
There are two Learning Resource Centres (LRCs) at the University of Hertfordshire. The one on College Lane Campus has the books needed for this course. Mostly every book that is under essential and recommended reading is found in this LRC. Books are loaned from the LRC and can be automatically renewed until the end of the academic year unless someone requires the book. There will be at least three copies of each book available and one copy that is only to be used in the LRC. There is also an online library system that tells you whether there are any books left to loan and has access to e-books. Every book you need for the course is available with the university, so it is best not to buy books in advance before starting the course. They will be in the LRC already. There are study rooms available for group sessions or individual study. There are silent study floors and quiet rooms available. The computers already have software on them that are needed for lectures and practical sessions. Additionally, there is a café and social space if you want to take a break from studying or want a bite to eat.
All the lectures take place in lecture rooms. They are recorded and uploaded to Canvas so you can go over it many times. The lecture slides are also uploaded. Having these materials accessible online is extremely helpful when I have gaps in my lecture notes and for any misunderstandings, I had during the lecture. If you have any further misunderstandings, you can talk to your lecturers during the week. The lecturers are friendly and extremely helpful when you go to them for help. You can book tutorials with them or go to drop-in sessions that the lecturers set up.
The careers department give support for students that are looking for jobs, placements, internships and furthers study. They give advice on where to look, where to get more information etc. Additionally, they can help you with job interviews, applications, your CV, cover letters and finding vacancies.
I have found these facilities to be very helpful towards my degree and have not needed anything that the university does not have. Make sure you make the most of these facilities and utilise them. Good luck!!!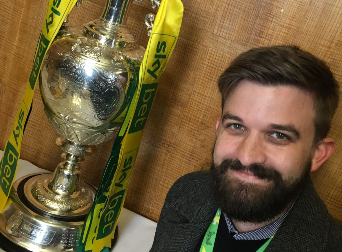 Alumni Stories
Gavin Beard
Meet Gavin Beard who has taken his love for sports into industry. Since graduating he has worked his way up the career ladder and is now the Head of Marketing for Norwich Football Club.
Read more stories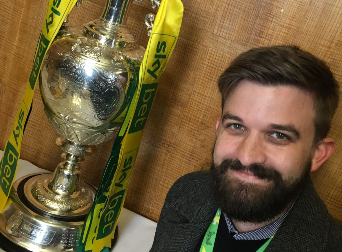 More than a degree
Gavin graduated from the University of Hertfordshire with more than a degree; his university experience helped him to gain valuable insight to several disciplines and allowed him to narrow down his career choices.
He says, 'My degree allowed me to study various disciplines, including coaching, science and business. Having exposure to these different areas helped me understand what I favoured, and it was clear that business (and in particular, marketing) was an area I felt I could forge a career in.'
After successfully completing his degree Gavin began moving up the career ladder, working at many well respected companies such as Coral, BT Sport and currently Norwich City Football Club. Gavin puts a lot of his success down to the degree he studied and the support provided by the university.
He comments, 'The variety of modules and the exposure to different disciplines within my course were extremely useful. This was crucial in helping me determine my path. After year one, I knew I liked marketing, so I worked with the ERASMUS team to find a pathway to help me study this abroad. I then studied business in Valencia for a year and it was an experience I'll never forget.'
Aspirations for the future
Gavin is still really enjoying his career in leading the Marketing team at Norwich City Football Club. He says, 'It's an incredibly varied role; one day I could be leading the campaign to promote the new kit, the next it'll be marketing the Take That gig at Carrow Road!'
Gavin is hopeful for the future and says 'Given my experience, my future roles will continue to be in marketing, hopefully I will help Norwich to become an established Premier League team. Then who knows!'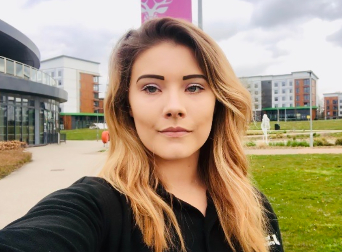 Alumni Stories
Annabelle Bullock
Meet Annabelle Bullock, a BUCS gold medalist, who studied Sports Studies alongside her athletic pursuits. As an athlete she competed in target shooting and as a member of the women's Lacrosse team.
Read more stories
Find out more about this course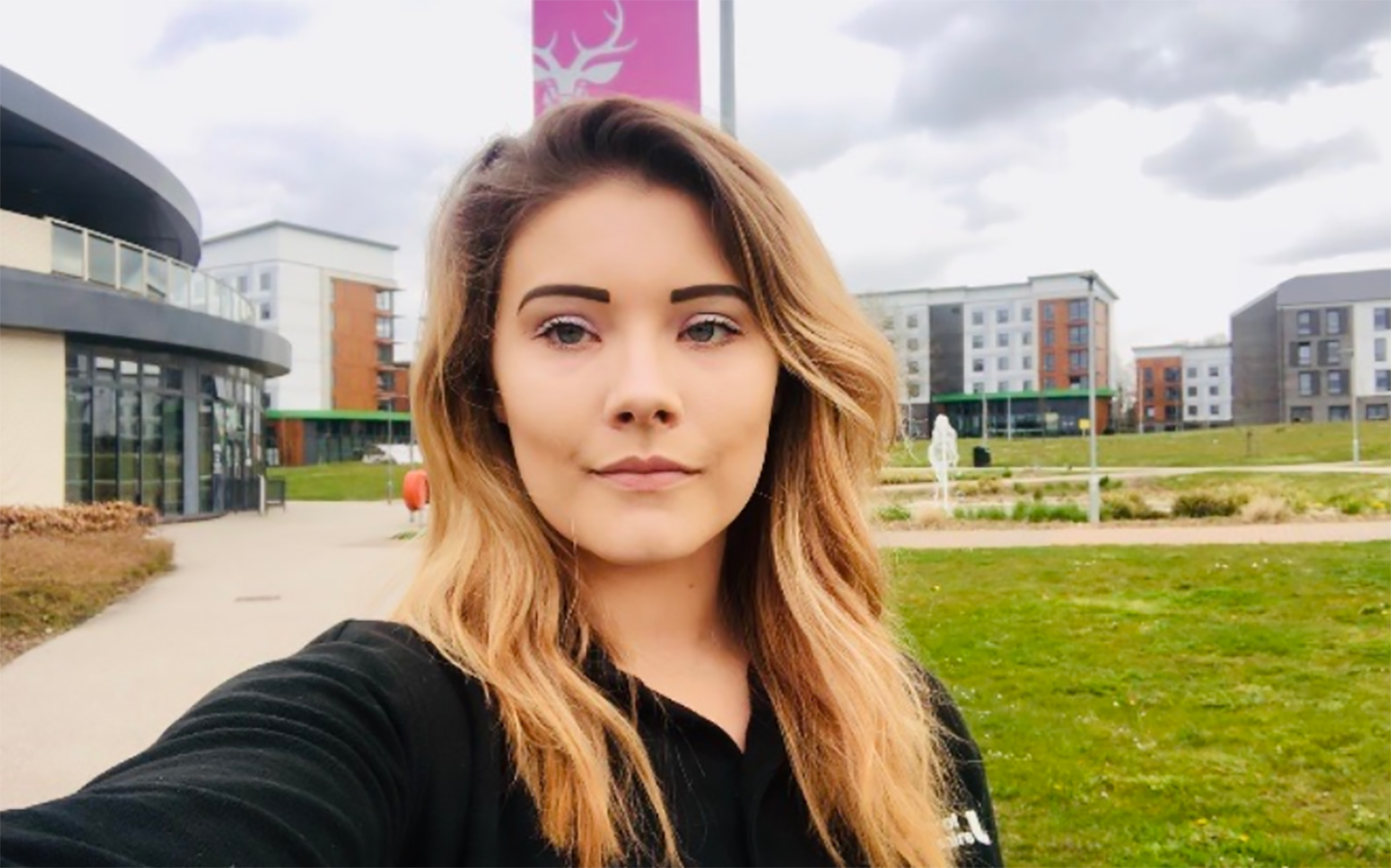 University experience and support
The University supported Annabelle by making her one of its sponsored athletes providing her with greater flexibility and access to sporting facilities and opportunities. This helped her develop a broad and transferable set of skills and experience.
Annabelle says, 'Being an athlete and studying was challenging, but the University and my lecturers were so supportive. Being made a sponsored athlete also came with a bunch of perks. All this support and the opportunities that the University provided helped me to build the skills and confidence I needed to be truly successful in my job today.'
Annabelle currently works as one of the Education Liaison Coordinators at Herts. Having established fantastic contacts within the University, her student activities meant she could seamlessly progress into a professional role that complimented many of her skills and interests.
'I always assumed that I would do something within sport, but when it came to my final year in BSc Sport Studies, I had found my passion for Coach Education. During my MA in Education at the University, I discovered another passion for helping others and working with student athletes.'
Opportunities to explore
The University is committed to recognising talent in its students and offering any exciting opportunities that can enrich their studies and further their careers. Annabelle's lecturers' encouraged her to explore her passion for research which inspired her to continue with postgraduate study. Most impressively, the University helped her win its first BUCS gold medal in target shooting, which she says 'felt amazing as I was the only one in the team!'
Annabelle's advice for new and current students is to 'Do things that are out of your comfort zone because the skills and experiences you develop may just be the thing that your employer is looking for. Take all of the opportunities you can. I thought I was going to be an athlete forever, then I discovered coaching. I am very lucky that my first "proper" job is something that I absolutely love but I am still able to continue coaching. This summer I am helping coach a target shooting national team in the biggest junior, under 21, competition in the country.'
What's next for my career?

Our graduates progress to a wide range of careers which reflects the multidisciplinary nature of the degree programme.

Our graduates have gained employment with elite athletes, professional sports teams, health clubs and within the National Health Service. Also, in the leisure industry, military, fire service and as coaches. They have progressed to study for a Master's degree, PhD or teacher training qualification.

Job titles of recent graduates include:

Community Rugby Coach, Sports Lecturer, Police Officer, NHS Trainee Cardiac Physiologist, Special Needs Coach, Strength and Conditioning Coach, Fire Brigade Fitness Advisor, Health and Fitness Coach, IT Support Officer, Learning Support Assistant, PE Technician, Personal Trainer/Gym Instructor, Pharmaceutical Production Technician, Sport Science Support Officer, Lecturer in Sport Science in Further Education, Physiotherapy Assistant, Fitness Instructor, Recreation Assistant, Swimming Coach, Lifestyle Consultant, and Mental Health Physical Activity and Nutrition Advisor.

Examples of recent employers are the NHS, the English Institute of Sport, Lucozade Sport, and Mind.

Our graduates work with elite athletes, professional sports teams, health clubs and in the NHS. Recent jobs for our graduates include community rugby coach, police officer, trainee cardiac physiologist, fire brigade fitness advisor, health and fitness coach, personal trainer / gym instructor, pharmaceutical production technician and nutrition advisor.

View our Alumni profiles

Further information - includes assessment method

| Course fact sheets | |
| --- | --- |
| BSc (Hons) Sport and Exercise Science | Download |

| Programme specifications | |
| --- | --- |
| BSc (Hons) Sports Sciences | Download |

Additional information

Sandwich placement or study abroad year

Optional

Applications open to international and EU students

Yes

Course length

Full Time, 3 Years
Part Time, 5 Years
Sandwich, 4 Years

Location

University of Hertfordshire, Hatfield

How to apply?

Fees and funding

Fees 2023

UK Students

Full time

£9250 for the 2023/2024 academic year

Part time

£1155 per 15 credits for the 2023/2024 academic year

EU Students

Full time

£14750 for the 2023/2024 academic year

Part time

£1845 per 15 credits for the 2023/2024 academic year

International Students

Full time

£14750 for the 2023/2024 academic year

Part time

£1845 per 15 credits for the 2023/2024 academic year

You will be expected to purchase navy tracksuit bottoms, a white polo shirt and navy shorts before starting the course. These can be University of Hertfordshire branded, bought from us before induction, but do not have to be.

*Tuition fees are charged annually. The fees quoted above are for the specified year(s) only. Fees may be higher in future years, for both new and continuing students. Please see the University's Fees and Finance Policy (and in particular the section headed "When tuition fees change"), for further information about when and by how much the University may increase its fees for future years.

View detailed information about tuition fees

Read more about additional fees in the course fact sheet

Other financial support

Find out more about other financial support available to UK and EU students

Living costs / accommodation

The University of Hertfordshire offers a great choice of student accommodation, on campus or nearby in the local area, to suit every student budget.