BSc (Hons) Initial Year for Extended Degree in Science - Mathematics
Entry requirements

The University of Hertfordshire is committed to welcoming students with a wide range of qualifications and levels of experience. The entry requirements listed on the course pages provide a guide to the minimum level of qualifications needed to study each course. However, we have a flexible approach to admissions and each application will be considered on an individual basis.

| UCAS points | A Level | BTEC | Access Course Tariff | IB Requirement |
| --- | --- | --- | --- | --- |
| 48 | DD | PPP | Overall pass | 48 points |

Additional requirements

GCSE: Grade 4/C at English Language, Mathematics and Science

Sign up for more information

Get access to personalised content, tailored towards your interests:

Information on your favourite courses
Tips to help you through the application process
Blogs, vlogs and advice from current students

Why choose this course?

The Extended Science Degree is designed as a preparatory year to enable you to acquire the necessary knowledge and skills needed to progress onto the first year of many of our science undergraduate degrees.

Studying on this Initial Year for Extended Degree in Science - Mathematics, you will:

Have the opportunity to progress onto one of the full degrees below at the University of Hertfordshire following successful completion of your initial year.
Get to study at one of our four large, partnered, further education colleges (of your choice) while also being registered with the University of Hertfordshire which grants you access to double the facilities, including accommodation, learning resources, general science laboratories and computing facilities.
Enjoy studying in small class cohorts and benefit from further support and one to ones with your programme leaders.
Gain comparable career prospects to those who directly apply to study for an individual degree at Herts.
Get to choose which of our four colleges you want to study at but can be assured that all have comparable quality in student learning experience and provision of resources.

After your initial year you will have the opportunity to progress onto one of the following degrees (some require an interview):

The initial year is very flexible, and you can also choose to progress onto one of the routes offered by the sports*, psychology, geography and environmental sciences, mathematics* or physical sciences* Extended Degree.

What's the course about?

On completion of this extended degree, there will be at least three undergraduate courses you'll have the option to progress onto, allowing you multiple opportunities to gain entry to a Batchelor degree at Herts.
Students studying this course are registered full-time but typically attend college three days a week, providing a flexible learning schedule.
This course is moderated and informed by subject specialists and admissions tutors within the university who are in turn guided by the professional accreditation bodies associated with each of university degree programmes. This enhances the quality of the education you will receive to prepare you for when you apply for an undergraduate degree.
You will have access to a virtual learning environment where you can collaborate with other students, college staff, and Herts staff. This platform may also be used to deliver lectures and talks from industry speakers.
This course is not a foundation course and does not lead to a qualification, instead, it is a unique opportunity that allows you to progress onto a bachelor's degree at Herts, starting at level 4.

Please note that on completion of this course there is no guaranteed progression onto a desired pathway, although it is highly likely. Should your performance prove adequate, you will have the option of choosing an alternate course within the wide range of progression pathways available.

Who is this course for?

This course could be for you if:

You need specific subject choices to get onto a desired degree, whether this is due to a change in career direction or whether it's because you didn't have the choice of taking a particular subject at school.
You want to study for a specific degree but did not meet the requirements the first time around. This is an alternative opportunity to get onto the desired course with lower entry requirements in compromise for completing an additional year.
You need additional support before embarking on a full undergraduate degree. This course is typically less challenging than an undergraduate course, making it an ideal stepping stone for you if you have been out of education for numerous years and would like to gradually get back into learning.
You are seeking a gradual transition to university from a schooling environment, where additional support would be desirable to ease you into self-directed learning and independent study required at undergraduate level. Similarly, this route could be for you if you are overwhelmed by the thought of attending university, living away from home, and engaging in large class cohorts.

Study Location

You will study your first year at North Hertfordshire College and then you have two options. You can either progress onto a full-time University of Hertfordshire degree for another 3 years (totaling 4 years), or you can progress onto studying a sandwich year (totaling 5 years).

Upon successful completion of the initial year, you will continue onto a degree at the University of Hertfordshire.

Each of the colleges we work with provides different types of support to help you get the most out of your extended degree. You can access financial support, information support, and support services that help with student learning and welfare.

Learning support services, include:

Computer suites
Learning Resources Centre incorporating hard copy and online resources
Support in mathematics and English
Higher Education learners study hub
Study skills support, including a range of printed and online materials
Learning support for students with learning or physical disability

Welfare and counseling include:

Safeguarding
Mental health and wellbeing
Childcare support
Careers advice
Food facilities
Sports clubs

What will I study?

This course focuses on teaching you the fundamentals of applied science taught within an industrial context. It is essential that you have good knowledge and understanding of science, as this is a requirement for all the progression pathways available upon completion of this extended degree.

During your initial year, you will be taught over two semesters (A and B) where you will have core modules, advised modules, and optional modules dependent on the undergraduate course you are interested in pursuing. Please refer to the Programme Specification for full details, supporting your progression pathway of choice.

Typically, most of you will study the following:

In semester A, you will study four core modules in Mathematics and Computational Modelling.

In semester B, you will study two core modules which are an Individual Project, Advanced mathematics, and Statistics.

Application process

Students will need to apply through a standard UCAS application where you will be required to submit a supporting personal statement.

The personal statement should:

Sum up why you want to study your chosen subject.
Show your suitability for the course by demonstrating your interest in your chosen subject.
Show you have relevant academic skills/ knowledge to do well on this course.
Show you have the personal qualities required to cope with the demands of studying at university.

Progression is dependent on meeting grade tariffs but will also consider life experience. Interviews are only required for students seeking to progress onto a healthcare pathway.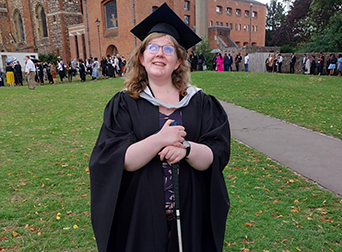 Alumni Stories
Heather Tymms
Meet Institute of Mathematics prize-winner Heather, who loved her time at Herts and was determined not to let her sight-loss become a barrier to getting fully involved with student life and achieving a first-class degree.
Read more stories
BSc (Hons) Mathematics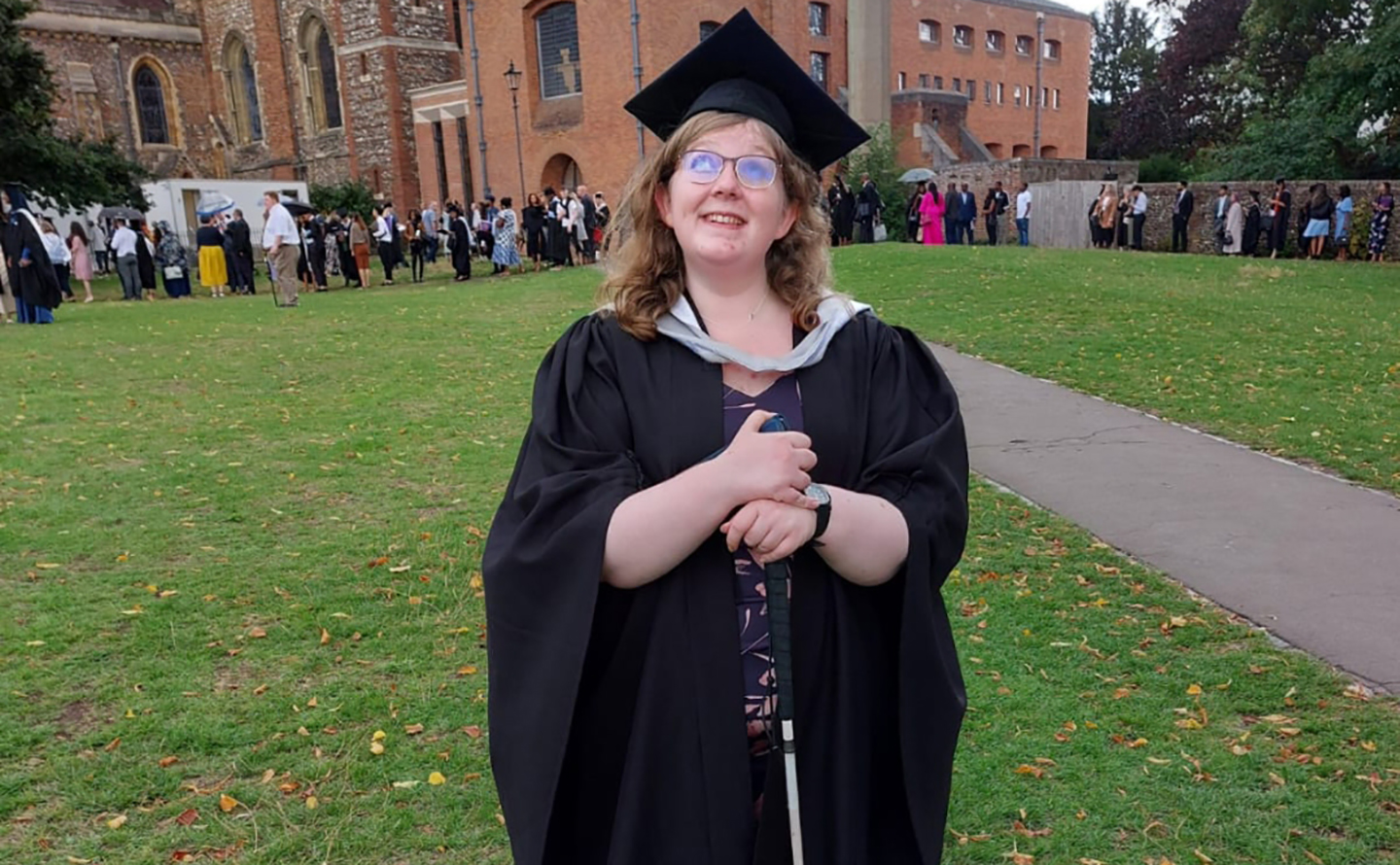 Studying at Herts with a disability
Heather hadn't planned to go to university straight after A-Levels as she lacked the confidence. However six years ago she lost the majority of her sight and wanted to find her independence again. This was when she decided she needed a challenge and a new qualification. Her journey has led her to achieving a first-class degree in Mathematics, winning a school prize from the Institute of Mathematics and its Applications.
Heather says, 'I can't believe how far I have come. I have grown so much, and the future is brighter than I ever imagined it to be. When I started at Herts I would never have dreamt of being able to commute to London. Herts has given me the confidence to achieve more and provided me with the skills and ambition I needed to equip myself for a professional career in a fascinating sector!'
Heather chose to study at Herts as it was her local university and because she knew she would be able to get the support she needed.
'Being new to having a disability, I needed some extra help and guidance along the way. The Wellbeing Team at Herts provided me with lots of support and resources. Before I started, I was taken on a tour to familiarise myself with the campus so I could learn the best routes between my lectures. This was very useful, as I can get anxious in new places. I also had help in the lectures because I couldn't see the board! My lecturers were very accommodating and changed timetabled classrooms to improve access for me if required. I was able to claim the Disabled Students' Allowance, which enabled me to buy a specialist laptop with assistive technology and a magnifier.'
'I stayed closely connected with my lecturers and the Wellbeing Team through my studies, and I was able to help improve the experience of other disabled students on campus. For example, working with university staff on signage and communication around building sites to enhance safety measures. The university staff were always happy to help improve the safety of all their students.'
'I really benefited from the support I received from my school careers advisor. Through this service, I had help to secure both a placement and graduate job. I received expert practical advice to help me apply for jobs, they helped improve my confidence with job interviews, and showed how I could disclose my disability to employers in a covering letter.'
Life at Herts
Heather had a brilliant student experience and got involved with lots of extra-circular activities.
'I really enjoyed my course, I found the lecturers extremely friendly, knowledgeable, and approachable, something which I really valued. I also enjoyed meeting and working with people from all different backgrounds. Herts is a truly diverse and inclusive place to study, and I benefited from collaborating with so many different people.
'My favorite place on campus was the library. It has such a good atmosphere, and this was where I could concentrate on course work with friends.'
'I also got involved with the Physics, Astronomy and Maths Society (PAMsoc) and in my final year, I was the society chair. Through PAMsoc activities I was able to learn and make friends with like-minded people, enriching my student experience. We did quizzes, pub nights, discussion groups, and invited our lecturers to speak to us about their personal career paths and the cutting-edge research they are doing.'
Heather's future career aspirations
Heather is passionate about Maths and says, 'You can do so many different things with a Maths degree, and not just teaching. You learn transferable skills, critical thinking, elements of computer science, and physics.'
'I was introduced to the data sector in my placement year at Sainsbury's Digital, where I got to work on interesting projects like using data analysis to improve the experience of customers at the supermarket checkout. I now work for an Engineering Consultancy, GHD, a company who are committed to solving global challenges in the areas of water, energy and urbanisation, values which align to my own. I do a job that I love using data models and python, skills learnt on my course.'
'I do miss academia sometimes and I may like to do further study in the future.'
Heather's advice for other students
'At Herts, you can learn about your chosen subject, but also learn about yourself. Make sure you take the time to reflect and understand both you and your passion throughout your studies and take every opportunity you can. Say yes to new things but know your own limit and don't burn yourself out. At Herts, there is always support available to you, so seek out help if you need it.'
What's next for my career?

When you complete your chosen degree you may apply for jobs/ further training in the industry/ service of your choice. Your career options will depend on your chosen degree from subjects including:

applied biology
astrophysics
geography
pharmaceutical science
environmental studies
sports sciences and nutrition.

Some examples of eventual careers are: scientific work in the chemical and pharmaceutical industry; environmental science; teaching; management; and in the food industry and retailers.

View our Alumni profiles

Key staff

Linda Paterson
Programme Manager


Further information - includes assessment method

| Course fact sheets | |
| --- | --- |
| Initial Year for Extended Degree in Science - Mathematics | Download |
| Initial Year for Extended Degree in Science - Mathematics | Download |

| Programme specifications | |
| --- | --- |
| Initial Year for Extended Degree in Science - Mathematics | Download |
| Initial Year for Extended Degree in Science - Mathematics | Download |

| Additional information | |
| --- | --- |
| Sandwich placement or study abroad year | n/a |
| Applications open to international and EU students | No |
| Course length | Full Time, 4 Years |
| Location | |

How to apply?

2024

| Start Date | End Date | Link |
| --- | --- | --- |
| 15/09/2024 | 31/05/2025 | Apply online (Full Time) |

Fees and funding