BSc (Hons) Biological Science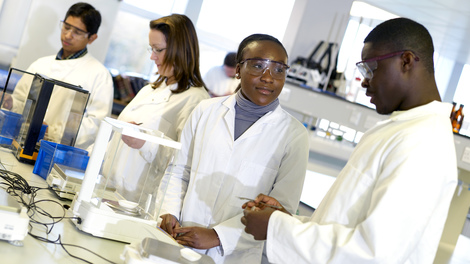 Lecturers with expertise across academic research, NHS and industry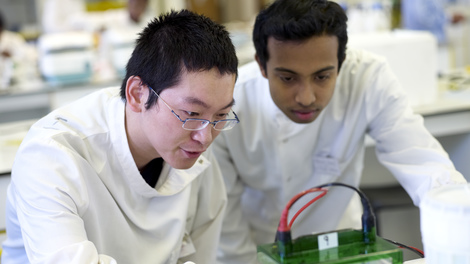 Explore each Bioscience pathway before specialising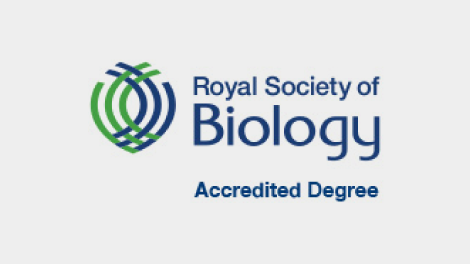 This course is accredited by the Royal Society of Biology  
This course includes the options of:
*No fees are charged for this year
Key information

UCAS code

C902

Institution code

H36

School of study

School of Life and Medical Sciences

Course length

Full Time, 3 Years
Part Time, 5 Years
Sandwich, 4 Years

Location

University of Hertfordshire, Hatfield

Entry requirements

| UCAS points | A Level | BTEC |
| --- | --- | --- |
| 104-112 | BCC-BBC: Including 2 science GCE A Levels (or equivalent) one of which must be a grade C in either biology or chemistry (acceptable A levels are Human Biology, Psychology, Geography, Maths, Physics, ICT and Sports Studies).Pass required in A level science practical. | MMM-DMM: Extended Diploma in Applied Science (depending on optional units studied) with DMM profile. |

Additional requirements

GCSE: Grade 4/C in English Language, 4/C in Mathematics and 4/C in Double Science or two Single Science grades at 4/C.

All students from non-majority English speaking countries require proof of English language proficiency, equivalent to an overall IELTS score of 6.0 with a minimum of 5.5 in each band.

If you do not have the required IELTS or equivalent for direct entry on to your degree programme, our Pre-sessional English and International Foundation courses can help you to achieve this level.

For more details on the University of Hertfordshire's entry requirements, please visit our Undergraduate Entry Requirements page.

Find out more about International Entry Requirements.

The University of Hertfordshire is committed to welcoming students with a wide range of qualifications and levels of experience. The entry requirements listed on the course pages provide a guide to the minimum level of qualifications needed to study each course. However, we have a flexible approach to admissions and each application will be considered on an individual basis.

Professional accreditations

All Biosciences graduates in Biological Sciences are eligible for graduate membership of the Royal Society of Biology.

This programme has been accredited by the Royal Society of Biology. Advanced Degree Accreditation by the Society recognises academic excellence in the biosciences, and highlights degrees that educate the research and development leaders and innovators of the future. The Advanced Accreditation criteria require evidence that graduates from the programme meet defined sets of learning outcomes, including gaining a substantial period of research experience.

Sign up for alerts

Get access to personalised content, tailored towards your interests:

Information on your favourite courses
Tips to help you through the application process
Blogs, vlogs and advice from current students
Why choose this course?
Interested in the biological phenomena of life? Intrigued by the functions of microorganisms, plants, human beings, and other animals? If your answer is 'yes', then we need you in the world of Biological Science. Gain the technical, analytical and practical skills for examining molecular and cellular processes present in all living organisms. You'll learn biochemical, blood and microbial analyses in our modern £30m science building. You'll also have exclusive access to IT rooms for bioinformatics. You'll even have the chance to experience our broad, flexible range of optional modules before committing to the Biological Science pathway.    
You will explore many new areas in this degree. Rest assured, we are with you all the way. You will have the time of a personal tutor, who will support you in gaining subject-specific skills in scientific writing, data interpretation, and communication. Take advantage of peer support too in group workshops. Share your breakthroughs and discuss patient case studies. This programme is the stepping-stone into a wide range of scientific careers with plenty of transferable skills to enter broader fields like teaching or business.  
Find out more about our teaching staff across the biosciences.
Get in touch
Follow us on twitter: @UH_AskBIO
Email: askbio@herts.ac.uk
What's the course about?
You have 20 hours of contact time with lectures and workshops taking up about 6-10 hours per week.  
In your first year, you will gain a solid foundation in topics areas such as physiology, biochemistry, genetics, and cell biology in lectures, seminars, and tutorials. You will use your theory to build on your practical skills in a well-equipped, modern laboratory.  
In your second year you will start to specialise. You will choose from a range of modules from across our Biosciences courses so you can shape your leaning journey.  
Work placement/study abroad option: Between your second and final year, you'll have the option to study abroad or do a work placement for up to a year. Not only will this give you an amazing experience to talk about but will also give your CV a boost. If you'd rather go straight to your final year, that's absolutely fine too.
In your final year you will find that you have grown to love certain topics that you just need to delve deeper into. You can select from all modules, whether this be disease, blood or medicine, and focus your major project or dissertation in this area. 
Throughout your degree, you will be assessed in a variety of ways. This will include exams, literature reviews, portfolios, lab reports, practical and presentations. Coursework assessments are generally 50-100% per module. You will also take part in a 15 -credit work experience, complete with a final portfolio. 
Your main campus is College Lane
This is where the creative arts, science and health-related subjects are based. This means you'll share the campus with future nurses, scientists, artists and more. You can use the common rooms to relax with friends, work out in the 24-hour gym or have a drink in our on-campus pub or cafes. We also have restaurants for you to eat in or grab something on the go. Our Learning Resources Centres are open 24/7, which means you can study whenever suits you best. Want to pop over to the other campus? You can take the free shuttle bus or walk there in just 15 minutes.   
What will I study?
What will I study?
Degree programmes are structured into levels, 4, 5 and 6.  These correspond to your first, second and third/final year of study.  Below you can see what modules you'll be studying in each.    
Part-time study
If you are studying part-time you will have up to 7 years to complete your course from registration. You will complete 60 credits per year and the modules you will study each year will depend on how they fit together on the timetable.  For some modules, there are several sessions run for each workshop and practical.  As a part-time student you will be able to choose the slots that fit best with when you are at the University for other teaching sessions.
Level 4

Level 5

Level 6

Study abroad

An opportunity for an amazing experience, which will help make you stand out from the crowd. With more and more companies working internationally, experience of living in another country can make a great impression on future employers.

This course offers you the opportunity to enhance your study and CV with a sandwich year abroad. The University has partnerships with over 150 universities around the world, including the USA, Canada, Asia, Africa, Australia, South America and closer to home in Europe.

If you study abroad between your second and third year of study, you'll pay no tuition fee to the partner university and no tuition fee to us either. We'll ask you to make your decision in your second year, so there is plenty of time to think about it.

Work placement

Graduate with invaluable work experience alongside your degree and stand out from the crowd.

This course offers you the opportunity to enhance your study and CV with a work placement sandwich year. It's a chance to explore career possibilities, make valuable contacts and gain sought after professional skills.

Our dedicated Careers and Employment team are here to help guide you through the process. Current employers and job titles are listed below:

GlaxoSmithKline: Data Management - Uxbridge,
Guy's Hospital: Drug Research Unit - London,
Imperial College: Toxicology Unit, Faculty of Medicine - London,
Medical Research Council - Mill Hill,
Medifix Adhesive Products - Luton,
Mount Vernon hospital: Restoration of Appearance and Function Trust Institute of Reconstructive, Plastic and Burns Surgery Research - Middlesex ,
MRC: Human Genome Project - Hinxton,
National Biological Standards Board - Potter's Bar,
Roche UK - Welwyn Garden City,
St. Bartholomew's & The Royal London: School of Medicine - London and St.George Medical School - London,
St.George's Hospital: Analytical Unit - London,
Syngenta Seeds - Cambridge,
University of Hertfordshire: Biodeterioration Centre - Hatfield.

If you take up a work placement between your second and third year of study, at the University of Hertfordshire you'll pay no tuition fee for this year. We'll ask you to make your decision in your second year, so there is plenty of time to think about it.

What if I need support?

You'll get a personal tutor to guide you through your course, all the way to graduation.

You might also want or need extra support during your time with us. Rest assured, no matter what you study, we've got you covered. For help with study skills, including referencing, essay writing and presentations, you'll have access to our academic support services. You can attend workshops, 1-to-1 sessions, and online tutorials. Both our LRCs (Learning Resources Centres) run drop-in study skills sessions. And the best thing is, it's all free.
What's next for my career?

Our Biosciences graduates are highly sought after by employers in the industry due to the reputation of our teaching, the vocational element to our degrees and the fact that many of our students already have a year's work experience when they graduate which they gain in the sandwich year. Graduates can find employment in the pharmaceutical, food and drink, agrochemical and biotechnology industries as well as in industrial, academic and charity funded research. Some graduates also go on to work in health care and environment agencies. First salaries range from £12,000 to £22,000 pa.

Typical job titles of recent graduates:

Trainee Biomedical Scientist,,
Clinical Trials Associate,
Drug Safety Coordinator,
Medical Representative,
Lab Scientist,
Microbiologist,
Research Assistant,
Tissue Culture Technologist,
Donor Transplant Assistant.

Typical employers of recent graduates:

Pfizer,
Denfleet Pharma Ltd,
Health Protection Agency,
GlaxoSmithKline,
AstraZeneca,
NHS Trusts
Lark Technology.

Our graduates are highly sought after. They find employment in the pharmaceutical, food and drink, agrochemical and biotechnology industries, as well as in industrial, academic and charity-funded research. Jobs include drug safety coordinator, lab scientist, microbiologist, research assistant and donor transplant assistant.

Further information - includes assessment method

How to apply?

Fees and funding

Fees 2021

UK Students

Full time

£9250 for the 2021/2022 academic year

Part time

£1155 per 15 credits for the 2021/2022 academic year

EU Students

Full time

£13450 for the 2021/2022 academic year

Part time

£1680 per 15 credits for the 2021/2022 academic year

International Students

Full time

£13450 for the 2021/2022 academic year

Part time

£1680 per 15 credits for the 2021/2022 academic year

There are no compulsory additional expenses for this course. Where you will use an EVS handset, Lab coats and log books, these will be provided as part of your course fees.

*Tuition fees are charged annually. The fees quoted above are for the specified year(s) only. Fees may be higher in future years, for both new and continuing students. Please see the University's Fees and Finance Policy (and in particular the section headed "When tuition fees change"), for further information about when and by how much the University may increase its fees for future years.

View detailed information about tuition fees

Read more about additional fees in the course fact sheet

Other financial support

Find out more about other financial support available to UK and EU students

Living costs / accommodation

The University of Hertfordshire offers a great choice of student accommodation, on campus or nearby in the local area, to suit every student budget.
Due to the ongoing Coronavirus pandemic, examinations may be replaced by an alternative form of assessment during the academic year 2020/2021. Please refer to the Programme Specification on these pages for further details.
Please note that some of the images and videos on our course pages may have been taken before social distancing rules in the UK came into force.