MSc Power Electronics and Control
Why choose Herts?
Industry accreditation: This course is accredited by IET and meets the standards set by the Engineering Council in the UK Standard for Professional Engineering Competence (UKSPEC).
Employment Prospects: Our graduates work as Power Engineers, Power Systems Engineers, and Control Engineers working on power systems projects for organisations including EDF, British Gas and AAB.
Industry connections: Benefit from our long-established relationships with industry, to include Imagination Technologies, Samsung, and BAE who support with careers fairs and guest lectures.
This course is up for periodic review

This course is due to be renewed at a Periodic Review event which will be held on January 2024.

We anticipate that there will be further enhancements made to the course as a result of the Review.

Our website and printed literature will be updated following completion of the Periodic Review in order to provide applicants with further confirmed details on the following:

module titles
whether the modules are core or optional
the expected contact hours
how the course will be assessed
staff teaching on the course

Entry requirements and key information

The entry requirements will typically be a minimum of a 2(ii) Honours degree in Electronic Engineering, Computer Engineering or a closely related discipline.

In addition, candidates should have been exposed to relevant material at undergraduate level to sufficient depth to enable them to benefit from their chosen MSc programme.

International qualifications will be considered on the basis of their equivalence to UK qualifications, typically guided by a resource such as the National Academic Recognition Information centre (NARIC). Candidates will be required to demonstrate a suitable level of proficiency in written and spoken English.

An IELTS score of 6.0 (or equivalent) would typically be required from candidates whose first language is not English. Candidates who do not satisfy these requirements will be considered on a case-by-case basis.

If you do not have the required level of English for entry, our academic English courses can help you to achieve this level.

| | |
| --- | --- |
| Institution code | H36 |
| School of study | School of Physics, Engineering and Computer Science |
| Course length | Full Time, 1 Years |
| Location | University of Hertfordshire, Hatfield |

Request information and updates

Get access to personalised content, tailored towards your interests:

Information on your favourite courses
Tips to help you through the application process
Blogs, vlogs and advice from current students
Employability

Careers

You will typically be employed to manage power systems projects and deploy appropriate tools to create/manage applications. Within your area of expertise, you will be making independent design decisions on mission-critical systems.
Professional Accreditations
This course is accredited by the Institution of Engineering and Technology (IET) up to and including the January 2024 intake on behalf of the Engineering Council as meeting the requirements for Further Learning for registration as a Chartered Engineer. Candidates must hold a CEng accredited BEng/BSc (Hons) undergraduate first degree to comply with full CEng registration requirements.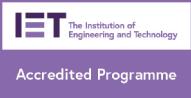 About the course
On the MSc in Power Electronics and Control, the development of skills and advancement of knowledge focus on enabling you to solve multidisciplinary problems related to energy conversion, renewable energy systems integration and energy efficiency. Alongside this there will be the opportunity for you to develop practical skills for the analysis, design and application of power conversion systems in key areas of industry.
You will cover subject specific subjects such as Advanced Power Electronics and Control and Control of Engineering Systems alongside cohort taught subjects to develop their management skills and their employability.
The successful postgraduates of the course will acquire the knowledge and understanding, intellectual, practical and transferable skills necessary for the analysis and synthesis of problems in engineering and manufacturing through a combination of experimental, simulation, research methods and case studies. You can expect to gain work in a range of disciplines within a variety of industries from specialist technical roles to positions of management responsibility.
Why choose this course?
Gain experience of integrating and designing systems that are based on renewable energy systems.
Develop knowledge and understanding of fundamental technologies used in the control and conversion of electric power.
Supported by the School which has over 25 years' experience of teaching electronic engineering and has established an excellent international reputation in this field.
We offer extensive lab facilities for engineering students, including the latest software packages.
5th for engineering in the Postgraduate Taught Experience Survey (PTES, Advance HE, 2023).
What will I study?
Our enthusiastic staff is always looking for new ways to enhance your learning experience and over recent years, we have won national awards for our innovative teaching ideas. In addition, our staff are active in research and useful elements of it are reflected on the learning experience.
The Department of Engineering and Computer Science has a reputation for innovation in teaching and learning, where nearly all MSc modules are delivered through a combination of traditional face-to-face teaching and backup tutorial's using the University's StudyNet web based facility. StudyNet allows students to access electronic teaching and learning resources, and conduct electronic discussions with staff and other students.
A heavy emphasis is placed on theory and practice, and the Department of Engineering and Computer Science has a policy of using industrial standard software wherever possible.
Where will I study?
Learn in our brand-new School of Physics, Engineering and Computer Science building, opening in 2024, where you'll experience a range of experiential learning zones. You will have access to modelling, simulation and research labs, our Merlin Flight Simulator and automotive workshop (complete with electric vehicle facility), wind tunnel, welding bay and controls testing suite.
You will also benefit from a Success and Skills Support Unit, which is aimed at helping you build your employability and academic skills. Plus, have access to industry mentors who will provide you with pastoral support, vocational guidance, and career progression opportunities.
The new building will also provide space to collaborate, with plenty of workshops, social and meeting spaces available. Even better, the building has been designed with the University's net zero carbon target in mind, and forms part of our plan to replace or upgrade older sites that are energy inefficient.
Further course information
| Course fact sheets | |
| --- | --- |
| MSc Power Electronics and Control | Download |
| Programme specifications | |
| --- | --- |
| MSc Modular Masters in Electronics | Download |
| Additional information | |
| --- | --- |
| Sandwich placement or study abroad year | n/a |
| Applications open to international and EU students | Yes |
Student experience
At the University of Hertfordshire, we want to make sure your time studying with us is as stress-free and rewarding as possible. We offer a range of support services including; student wellbeing, academic support, accommodation and childcare to ensure that you make the most of your time at Herts and can focus on studying and having fun.
Find out about how we support our students
You can also read our student blogs to find out about life at Herts.
Funding and fees

Other financial support

Find out more about other financial support available to UK and EU students

Fees 2023

UK Students

Full time

£9900 for the 2023/2024 academic year

EU Students

Full time

£15450 for the 2023/2024 academic year

International Students

Full time

£15450 for the 2023/2024 academic year

Fees 2024

UK Students

Full time

£11655 for the 2024/2025 academic year

EU Students

Full time

£16450 for the 2024/2025 academic year

International Students

Full time

£16450 for the 2024/2025 academic year

*Tuition fees are charged annually. The fees quoted above are for the specified year(s) only. Fees may be higher in future years, for both new and continuing students. Please see the University's Fees and Finance Policy (and in particular the section headed "When tuition fees change"), for further information about when and by how much the University may increase its fees for future years.

View detailed information about tuition fees

Living costs / accommodation

The University of Hertfordshire offers a great choice of student accommodation, on campus or nearby in the local area, to suit every student budget.

View detailed information about our accommodation

How to apply