Why choose Herts?
Teaching Excellence: Our academic research has been rated as industry-leading with strengths in threat analysis, critical infrastructure protection, digital forensics, penetration testing and IoT security.
Industry Connections: You will benefit from our strong links in the computing industry with regular careers fairs and industry sessions supported by Microsoft, Hewlett Packard and Ocado Technologies.
Industry-Focused Content: You will explore the latest penetration testing and digital forensics software at our purpose-built Cyber Security Centre (see about the course for software details).
Entry requirements and key information

The normal requirement is a good honours degree (or equivalent) in computer science or cognate discipline. The choice of award title students may be accepted on to will be determined by the award applied for and the prior learning of the student as demonstrated by the transcript for existing qualifications held by the applicant.

Applicants whose first language is not English must demonstrate sufficient competence in English to benefit from the Programme. This is normally demonstrated by recognised awards equivalent to an overall IELTS score of 6.0. Candidates who do not satisfy these requirements will be considered on a case-by-case basis.

The programme is subject to the University's Principles, Policies and Regulations for the Admission of Students to Undergraduate and Taught Postgraduate Programmes (in UPR SA03), along with associated procedures. These will take account of University policy and guidelines for assessing accredited prior certificated learning (APCL) and accredited prior experiential learning (APEL).

Institution code

H36

School of study

School of Physics, Engineering and Computer Science

Course length

Full Time, 15 Months
Full Time, 1 Years

Location

University of Hertfordshire, Hatfield

Request information and updates

Get access to personalised content, tailored towards your interests:

Information on your favourite courses
Tips to help you through the application process
Blogs, vlogs and advice from current students
Employability

What job can I get?

Our master's programme is designed to give Computer Science graduates the specialist, up-to-date skills and knowledge sought after by employers, whether in business, industry, government or research.

The MSc Cyber Security course will equip students with in-depth knowledge and practical skills in cyber security.

Successful graduates may pursue a career in the cybersecurity industry, or any other industries that require in-house information security management such as educational institutions, hospitals, retail chains, banks, or government.

Work placement

This MSc is available with an optional one year industry placement. This offers you the opportunity to work for one year in a highly professional and stimulating environment. You will be a full-time employee in a company earning a salary and will learn new skills that can't be taught at University. During the placement, you will be able to gain further insight into industrial practice that you can take forward into your individual project.
Professional Accreditations
Accredited by BCS, The Chartered Institute for IT for the purposes of partially meeting the academic requirement for registration as a Chartered IT Professional.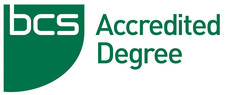 About the course
One of a range of degrees from the taught master's programme at the Department of Computer Science.
This course considers current research and practice in cyber security. You will build the fundamental and advanced aspects of cyber security in terms of theory, practice, policy and security standard to enable critical cyber security decision marking, the extant threats to current and emerging systems and networks and the effective countermeasures to such threats in compliance with information security management standards, and the social, legal and ethical issues relating to cyber security in the context of digital forensics, information security management, penetrating testing and cyber operations.
The programme offers three award routes that you can choose to study:
Why choose this course?
3rd for computer science in the Postgraduate Taught Experience Survey (PTES, Advance HE, 2023).
This MSc is available with an optional one-year industry placement. The 'with placement' programmes give you additional industrial experience by applying the skills you have learned throughout your studies.
One of a range of advanced courses within our postgraduate master's programme in Computer Science, this particular course provides you with a specialism combining theoretical knowledge and practical skills in cyber security.
You will develop technical expertise and practical skills in identifying and critically evaluating vulnerabilities of and threats to the security and integrity of distributed systems, conducting and managing a comprehensive risk assessment of the distributed systems in a complex and unpredictable environment. Advanced topics studied include distributed systems security, information security, management and compliance, digital forensics, penetration testing, and cyber operations.
Taught by a highly-regarded and long-established computer science department with strong links to business.
Computer Science saw 90% of its research ranked as world-leading (Research Excellence Framework, 2021).
What will I study?
Classes consist of lectures, small group seminars, and practical work in our well-equipped laboratories. We use modern, industry-standard software wherever possible. There are specialist facilities for networking and multimedia and a project laboratory especially for masters students. In addition to scheduled classes, you will be expected a significant amount of time in self-study, taking advantage of the extensive and up-to-date facilities. These include the Learning Resource Centres, open 24x7, with 1,500 computer workstations and wifi access, Studynet our versatile online study environment usable on and off campus, and open access to our labs.
Where will I study?
Learn in our brand-new School of Physics, Engineering and Computer Science building, opening in 2024, where you'll experience a range of experiential learning zones.
The computer science labs are home to telecommunications, robotics and UX empathy labs, with a variety of research spaces that range from dark rooms to clean rooms, and sample prep labs to calibration and assembly labs.
You will also benefit from a Success and Skills Support Unit, which is aimed at helping you build your employability and academic skills. Plus, have access to industry mentors who will provide you with pastoral support, vocational guidance, and career progression opportunities.
The new building will also provide space to collaborate, with plenty of workshops, social and meeting spaces available. Even better, the building has been designed with the University's net zero carbon target in mind, and forms part of our plan to replace or upgrade older sites that are energy inefficient.
Further course information
| Course fact sheets | |
| --- | --- |
| MSc Cyber Security | Download |
| Programme specifications | |
| --- | --- |
| MSc Cyber Security | Download |
| Additional information | |
| --- | --- |
| Sandwich placement or study abroad year | n/a |
| Applications open to international and EU students | Yes |
Student experience
At the University of Hertfordshire, we want to make sure your time studying with us is as stress-free and rewarding as possible. We offer a range of support services including; student wellbeing, academic support, accommodation and childcare to ensure that you make the most of your time at Herts and can focus on studying and having fun.
Find out about how we support our students
You can also read our student blogs to find out about life at Herts.
Funding and fees

Other financial support

Find out more about other financial support available to UK and EU students

Fees 2023

UK Students

Full time

£9900 for the 2023/2024 academic year

Part time

£825 per 15 credits for the 2023/2024 academic year

EU Students

Full time

£15450 for the 2023/2024 academic year

Part time

£1290 per 15 credits for the 2023/2024 academic year

International Students

Full time

£15450 for the 2023/2024 academic year

Part time

£1290 per 15 credits for the 2023/2024 academic year

Fees 2024

UK Students

Full time

£11655 for the 2024/2025 academic year

Part time

£865 per 15 credits for the 2024/2025 academic year

EU Students

Full time

£16450 for the 2024/2025 academic year

Part time

£1370 per 15 credits for the 2024/2025 academic year

International Students

Full time

£16450 for the 2024/2025 academic year

Part time

£1370 per 15 credits for the 2024/2025 academic year

*Tuition fees are charged annually. The fees quoted above are for the specified year(s) only. Fees may be higher in future years, for both new and continuing students. Please see the University's Fees and Finance Policy (and in particular the section headed "When tuition fees change"), for further information about when and by how much the University may increase its fees for future years.

View detailed information about tuition fees

Living costs / accommodation

The University of Hertfordshire offers a great choice of student accommodation, on campus or nearby in the local area, to suit every student budget.

View detailed information about our accommodation

How to apply