MSc Artificial Intelligence and Robotics with Advanced Research
Due to the ongoing Coronavirus pandemic, examinations may be replaced by an alternative form of assessment during the academic year 2020/2021. Please refer to the Programme Specification on these pages for further details.
Sign up for alerts

Get access to personalised content, tailored towards your interests:

Information on your favourite courses
Tips to help you through the application process
Blogs, vlogs and advice from current students

Key information

Institution code

H36

School of study

School of Engineering and Computer Science

Course length

Full Time, 24 Months
Full Time, 2 Years

Location

University of Hertfordshire, Hatfield

Entry requirements

For admission to MSc Artificial Intelligence and Robotics with Advanced Research, the normal requirement is a good Honours Degree (or equivalent) in computer science or cognate discipline. The choice of award title students may be accepted on to will be determined by the award applied for and the prior learning of the student as demonstrated by the transcript for existing qualifications held by the applicant.

Applicants whose first language is not English must demonstrate sufficient competence in English to benefit from the Programme. This is normally demonstrated by recognised awards equivalent to an overall IELTS score of 6.0. Candidates who do not satisfy these requirements will be considered on a case-by-case basis.

The programme is subject to the University's Principles, Policies and Regulations for the Admission of Students to Undergraduate and Taught Postgraduate Programmes (in UPR SA03), along with associated procedures. These will take account of University policy and guidelines for assessing accredited prior certificated learning (APCL) and accredited prior experiential learning (APEL).
About the course
The School has a strong international reputation for research in this area and this expertise influences this course which explores current research and practice in artificial intelligence and robotics. This MSc can lead to a career such as a designer of intelligent systems or in research.
Graduates obtaining this award will be equipped to pursue research to PhD level, or to enter specialist employment in technically advanced and unpredictable working environments requiring sound judgment and the exercise of personal responsibility and initiative.
Why choose this course?
The award offers the opportunity for you to study advanced research topics in computer science, normally across multiple specialisms, and comprehensive research methods, and to undertake an extended masters project on a cutting-edge research topic.
One of a range of advanced courses within our postgraduate Master's programme in Computer Science, this particular course provides you with a specialism in Artificial Intelligence and Robotics
Advanced topics studied include artificial life with robotics, neural computation and machine learning, theory and practice of artificial intelligence.
Taught by a highly-regarded and long-established computer science department.
Sixty percent of our research impact in Computer Science and Informatics at the University of Hertfordshire has been rated at world-leading or internationally excellent in the Research Excellence Framework (REF) 2014.
What will I study?
Classes consist of lectures, small group seminars, and practical work in our well-equipped laboratories. We use modern, industry-standard software wherever possible. There are specialist facilities for networking and multimedia and a project laboratory, especially for masters students. In addition to scheduled classes, you will be expected a significant amount of time in self-study, taking advantage of the extensive and up-to-date facilities. These include the Learning Resource Centres, open 24x7, with 1,500 computer workstations and wifi access, Studynet our versatile online study environment usable on and off campus, and open access to our labs.
Professional Accreditations
The former version of this course was accredited by BCS under the award title MSc Artificial Intelligence with Robotics as below.
Accredited by BCS, The Chartered Institute for IT for the purposes of fully meeting the further learning academic requirement for registration as a Chartered IT Professional.
Accredited by BCS, The Chartered Institute for IT on behalf of the Engineering Council for the purposes of partially meeting the academic requirement for registration as a Chartered Engineer.
This new version of the programme has been carefully designed to achieve appropriate levels of accreditation, and the department is currently in touch with the BCS regarding continued accreditation.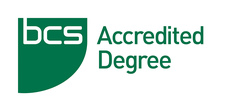 What job can I get?
Our master's programme is designed to give Computer Science graduates the specialist, up-to-date skills and knowledge sought after by employers, whether in business, industry, government or research.
The MSc Artificial Intelligence and Robotics with Advanced Research course will equip students with the knowledge and practical skills that are needed to contribute to the design and implementation of working systems in intelligent computing and prepare students to take up a challenging job or to pursue further research in specific AI fields.
Successful graduates may pursue a career as a research scientist or designer for intelligent systems such as machine learning engineer, business intelligence developer, or R&D engineer.
Fees and funding

Further information

| Course fact sheets | |
| --- | --- |
| MSc Artifical Intelligence and Robotics with Advanced Research | Download |

| Programme specifications | |
| --- | --- |
| MSc Computer Science (Modular) with Advanced Research | Download |

| Additional information | |
| --- | --- |
| Sandwich placement or study abroad year | n/a |
| Applications open to international and EU students | Yes |

How to apply
Please note that some of the images and videos on our course pages may have been taken before social distancing rules in the UK came into force.