MA Graphic Design
We welcome applications from international and EU students
About the course
MA Graphic Design degree will develop your professional skills as a graphic designer.
You will work with design professionals of international standing.
This Master's degree gives you the opportunity to work in professional and industrial contexts.
Opportunity to spend a semester in Germany at the prestigious Hochschule Mannheim as part of your course.
See examples of work and course news on the MA Graphic Design Blog
This award can also be taken on a distance learning pathway online.
Take a look at our MA Design Leaflet.
Why choose this course?
MA Graphic Design sits within the MA Art and Design programme at the School of Creative Arts. There is strong emphasis on professional practice and the real-world applications of art and design, where you will develop key research skills and gain a good understanding of the work of other practitioners in your field.
The aim of the postgraduate programme is to equip you with the skills, knowledge and understanding required to practice at an advanced level, to foster your creativity and enhance your employment opportunities. You will work alongside artists and designers who are involved with a wide variety of media and forms. Induction, seminars and social events for students and staff mean that you will be part of a friendly and supportive postgraduate community, which also includes film makers, musicians and professionals working in new media. Senior research staff and internationally renowned artists work with postgraduate students, helping you to develop original and challenging work.
Visual communication and the graphic image are increasingly important in the global information economy. On this masters degree, you will be encouraged to adopt a creative, enquiring and critical approach to the graphic image and its uses in contemporary practice.
From traditional craft processes to digital image making, exploring the graphic image and its uses, in both web based and print formats. We focus on professional practice and enterprise, helping you acquire the skills required to practice in the creative and cultural industries, and equipping you with the skills necessary to work as a freelance practitioner. Key aspects of the course also include social, political, environmental and commercial contexts of graphic design, and the processes by which graphic signs operate to convey meanings in various environments.
Our staff are experienced in research and professional practice, and you will also benefit from contributions from visiting designers and design professionals, as well as from involvement with our international exhibitions programme and our close links with industry partners.
Creative Arts Distance Learning Courses
Study MA Graphic Design (online) or MA Illustration (online). With our distance learning courses you can fit studies around work and life commitments.
Programme tutor Barbara Brownie explains how it all works in this video!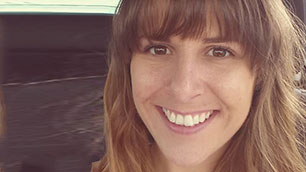 "
With support from my tutors, I have worked in new, often alternative ways to further develop my design practice and push boundaries which resulted in me founding my own design studio 'Tiny Grey'
Careers
Particular emphasis is given to providing you with the skills necessary to further your career as a graphic designer. The course is designed to help you understand and work within the contemporary industrial environment and particular attention is given to helping you acquire entrepreneurial skills.
Teaching methods
This course is designed to help you develop your practice and give you the skills recovery to further your career in industry both in the UK and abroad. The course includes practice based modules where you will explore and develop your work as a graphic designer. It also contains course or research skills, entrepreneurialism and professional practice. The final part of the course enables you to complete a major project.
Structure
Level 7
Core Modules
Creative Economies - 15 Credits
Major Study: Graphic Design - 60 Credits
Research and Enquiry - 15 Credits
Practice 1: Design - 30 Credits
Practice 2: Design - 30 Credits
Discourse and Reflection: Design - 30 Credits
Optional
Research and Enquiry (Online) - 15 Credits
Creative Economies (Online) - 15 Credits
Fees & funding
Fees 2018
UK/EU Students
Full time
£8000 for the 2018/2019 academic year
Part time
£665 per 15 credits for the 2018/2019 academic year
International Students
Full time
£12500 for the 2018/2019 academic year
Part time
£1040 per 15 credits for the 2018/2019 academic year
Discounts are available for International students if payment is made in full at registration
*Tuition fees are charged annually. The fees quoted above are for the specified year(s) only. Fees may be higher in future years, for both new and continuing students. Please see the University's Fees and Finance Policy (and in particular the section headed "When tuition fees change"), for further information about when and by how much the University may increase its fees for future years.
View detailed information about tuition fees
Additional course costs
Distance learning course fees for the 2015/2016 academic year:
UK/EU £2040 per year (£4080 total course fee)
Overseas £3390 per year (£6780 total course fee)
Other financial support
Find out more about other financial support available to UK and EU students
Living costs / accommodation
The University of Hertfordshire offers a great choice of student accommodation, on campus or nearby in the local area, to suit every student budget.
Entry requirements...
An honours degree (2:2 or above) in a field relevant to the award you want to study. If you do not have a degree, you will need to show you have appropriate professional experience and skills to benefit from the course. We may also be able to take into account accredited prior learning (APL) or accredited prior experiential learning (APEL). If your degree is in a different field, you will need appropriate knowledge, skills or experience in the field you wish to study, or be able to show that you are prepared for intensive new learning. In all cases you will need to demonstrate through a portfolio or interview your preparedness for study at postgraduate level.
If you do not have the required level of English for entry, our academic English courses can help you to achieve this level.
How to apply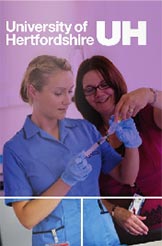 Download the Prospectus