Professional Doctorate in Clinical Psychology
About the course
Clinical Academic Programme
The academic programme is based on a 'core competency' model (BPS, 2007) and comprises four main areas of teaching: Professional Practice and Personal Development; Therapeutic Models and Interventions; Research Methods in Clinical Psychology; and Client Groups and Client Contexts.
Each of these four areas is further divided into a number of specific teaching modules that span the three years of training and correspond as much as possible with the structure and sequence of clinical placements. An awareness of the issues of ethical practice and equality for all is highlighted in all modules. Particular consideration is given to the many ways in which issues relating to diversity and inequality impact on the work of practising clinical psychologists within the lectures, and all lectures are formally evaluated on this by the trainees. Additionally, there are specific lectures considering a wide range of diversity issues within the Clients in Context module taught across the three years.
Four models of psychological therapy are currently taught on the programme: cognitive behavioural therapy (CBT), systemic and family psychotherapy, personal construct therapy and psychodynamic psychotherapy. The content of the introductory CBT module is mapped onto the IAPT curriculum to enable trainees to include this in their portfolio of competencies, should they wish to seek employment where this is a specific requirement. More advanced training is provided in the third year of training. A previous trainee recently gained accreditation with the BABCP based on their CBT training at the University of Hertfordshire.
The academic programme is located within the overall programme philosophy which places particular emphasis on incorporating constructivist and social constructionist approaches to conceptualising psychological difficulties and their management. In line with the programme philosophy, an important aim of the academic programme is to train clinical psychologists who can understand and apply a range of psychological theories and approaches to both clinical practice and research. We teach our trainees to draw on multiple theoretical and evidence bases to develop individually tailored assessments, formulations, interventions and evaluations of complex psychological problems. We emphasise the flexibility to adapt and combine different approaches as a key competence, and our curriculum therefore aims to develop a broad, thorough and sophisticated understanding of various psychological theories and therapeutic approaches.
Service User Participation:
The DClinpsych course encourages service user and carers' participation in the training and have established a committee of service users and carers who consult and participate in the training course.

Problem Based learning
Problem-based learning (PBL) forms an important part of clinical training at the University of Hertfordshire. As part of the academic programme trainees complete a series of small-group based PBL exercises, which aim to promote reflective, collaborative and self-directed learning.
Throughout the three years, trainees also participate in a series of small group discussions to consider academic papers and clinical cases. These discussions provide an academic context for trainees to integrate theory and research, to highlight theory-practice links, and to enable peer review of formulation and intervention plans. More formal case presentations are undertaken in the third year.
A unique feature of our clinical psychology training at UH is the access that our teachers and trainees have to a purpose-built, advanced simulation training centre.
The trainees are regarded as mature students, and for this reason an adult learning model is adopted. In line with this model and the overall programme philosophy, it is recognised that not only do trainees learn in different ways, but also that they can pursue their own perceptions of the material being taught and interpret it for themselves.
In line with HPC requirements for all clinical training programmes, all trainees selected will be informed of the various activities that form part of the academic curriculum (e.g., role-plays, problem-based learning, simulation training, small group discussions, etc). Consent to participate in all aspects of the academic programme will be sought prior to the programme commencing.
How to apply
All applications for funded places to the Doctorate are made through the national Clearing House for Postgraduate Courses in Clinical Psychology (www.leeds.ac.uk/chpccp)
Our next intake of Trainees will be at the end of September 2017. Application packs are available from the Clearing House from September 2016, and the deadline for applications is early December 2016.
Each academic year starts at the end of September or beginning of October with a compulsory four-week, full-time introductory block of teaching. This is followed by teaching all day on Thursdays and Fridays during term-time.
We are now accepting self funding trainees from September 2016: See below on how to apply.
Up to two fee-paying places, on our doctoral programme for International, European and British applicants, are available for entry in Autumn 2015. Fee-paying students will follow the same programme of study as trainees with NHS funded places.
Applications for our fee-paying places need to be made directly to the programme, using our application form. The closing date for these applications is 1st March 2016.
Overseas applicants are strongly advised to apply for Graduate Basis for Chartered Membership (GBC) from the British Psychological Society (BPS) before applying. For further details about how to go about this, please view the BPS website.
Criteria for entry
All applicants will be subject to the same rigorous selection procedures as those followed for our NHS-funded places. This is to uphold the standards of excellence for which our Clinical Psychology Trainees are renowned.
Fees
Applicants offered a place under our fee-paying route, will enrol as full-time students of the University of Hertfordshire and will be subject to the terms and conditions of the University. Placement travel expenses will not be paid for fee-paying students, who will need to be able to self-finance all aspects of the programme. The programme fees for 2016 are £22,000 per annum, for all Home, International and EU/EEA students, plus an additional fee for placements.
Further information about self-funded training places is available from the Programme Administrator.
How to contact us
For further information, please contact the Course Administrators Mr Ben Hope (b.hope2@herts.ac.uk) or Catriona Roy (c.roy@herts.ac.uk) or tel +44 (0)1707 286322 +44 (0)1707 286322
How to find us
We are based in the Health Research Building on the College Lane Campus. Where to find us
Why choose this course?
The course has a particular remit to train clinical psychologists to take up NHS positions. Clinical psychologists working in the region support the course, and many are working in collaboration with the Programme Team to provide placement supervision, research supervision, teaching and skills workshops.
The DClinPsy Trainees attend the University for their lectures, seminars and tutor support, but also spend approximately three days per week on their clinical placements.
Professional Accreditations
Health Professions Council (HPC)
British Psychological Society (BPS)
(Committee for Training in Clinical Psychology)
Careers
In line with the concept of the "scientist-practitioner", the programme of research aims to equip trainees with the knowledge and skills required to undertake high-quality research, appraise literature critically, and adopt an evidence-based approach to clinical practice, where possible. It also aims to foster in trainees an awareness of the need for, and motivation to undertake, research in clinical settings - both during their placements and after qualification - to contribute to the evidence base of the profession.
Teaching methods
The programme takes three years to complete and comprises academic, clinical and research training.
Formal teaching introduces trainees to a range of methods and issues arising in the conduct of clinical research. This includes research design, qualitative and quantitative methods of data collection and analysis, guidance in the use of statistics, and the process of planning and organising research projects.
Towards the end of the first year, trainees conduct a Small-Scale Service-Related Project while on placement (typically an audit or service evaluation). Work towards the Major Research Project begins early in the second year, when trainees are given information about research opportunities in the region.
Trainees are initially encouraged to develop ideas with the Research Tutor before identifying a suitable team of research supervisors. In the second and third years substantial blocks of time are set aside to complete the literature review for the main project, to collect and analyse data, to write up the dissertation, and to summarise the research in a format suitable for submission to a journal. Full supervision is provided at all of these stages.
Each academic year starts at the end of September or beginning of October with a four-week, full-time introductory block of teaching. This is followed by teaching all day on Thursdays and Fridays during term-time.
All academic teaching takes place at the College Lane Campus in Hatfield and attendance is mandatory. Two and a half days a week are spent on clinical placement (more outside term-time) and half a day each week is allocated to study time.
In the second and third year of training time is allocated on the timetable to complete a small scale service related and a major research project
Trainee development and personal support
The team recognises that the course is a demanding one, and aim to provide a supportive climate during training. Seeking support is viewed as a professionally responsible course of action. A range of structures and procedures have been put in place in order to provide trainees with adequate support.
Advice and support is provided to trainees from the Research, Academic and Clinical Tutors, and from their Personal Course Tutors, who meet regularly with trainees to address any concerns. In addition, each trainee is allocated a Personal Advisor. These are clinical psychologists whose roles are kept separate from any evaluative component, and who may provide support, guidance and advocacy.
New trainees are also allocated a "buddy" from the year above for peer support. Finally, each cohort participates in reflective group work with an independent facilitator, focusing on reflective learning and support. Time is provided within the academic timetable for this.
The University's Counselling Service is available to trainees; in addition, the course team will be able to advise trainees regarding accessing personal therapy.
Work Placement
There are six placements, each of approximately six months, although year-long placements are also available.
Placements developing core competencies and experiences in settings working with adults, older adults, children and adolescents, people with learning disabilities and sometimes other client groups usually take place during the first and second year of training.
In the third year, a range of placements in specialist areas, and at advanced levels, is available. Current placements include opportunities for specialising in therapy approaches (for example, Cognitive-Behavioural Therapy; Systemic Family Therapy; Psychodynamic Therapy; Cognitive Analytic Therapy; Personal Construct Psychotherapy) and fields (for example, physical health; forensic; neuropsychology; eating disorders; early intervention in psychosis).
Placements are allocated to ensure the development of core competencies and experiences for all trainees, as well as to meet the specific training needs of individual trainees and are located over a wide geographical area encompassing Hertfordshire, Bedfordshire, West Essex and South Essex, and most are not easily accessible by public transport, so the ability to drive and have access to a car is usually essential. Willingness to undertake travel in order to meet training needs is essential. (Special arrangements will be made for trainees with disabilities which affect their ability to drive/travel.)
The course enjoys excellent relations with clinical psychologists in the region, and this is reflected in the quality of placements available. A Clinical Tutor undertakes reviews with trainees and supervisors at the mid-point and end of each placement, and also meets individually with trainees at the start of each placement, in order to review and facilitate their clinical development.
Fees & funding
*Tuition fees are charged annually. The fees quoted above are for the specified year(s) only. Fees may be higher in future years, for both new and continuing students. Please see the University's Fees and Finance Policy (and in particular the section headed "When tuition fees change"), for further information about when and by how much the University may increase its fees for future years.
View detailed information about tuition fees
Other financial support
Find out more about other financial support available to UK and EU students
Living costs / accommodation
The University of Hertfordshire offers a great choice of student accommodation, on campus or nearby in the local area, to suit every student budget.
Entry requirements...
At least an upper second class honours degree in psychology recognised as conferring eligibility for the Graduate Basis for Chartered Membership (GBC) with the British Psychological Society (BPS) at the time of applying. Candidates with a lower 2(ii) need to demonstrate strong academic performance in a relevant higher degree and eligibility for GBC.
At least two year's full-time equivalent clinical or research experience in a relevant field. Applicants must have a commitment to working in the NHS, ideally within the local regions of Bedfordshire, Hertfordshire and Essex and be acceptable to the NHS in an employed status, and eligible for home based tuition fees.
A high level of proficiency in communication in English is essential. Applicants whose first language is not English, or whose previous education and examination qualifications have not been in the English language, will need to provide evidence of an English language proficiency of IELTS level 8 (with no score below 7.5 in each test element: listening, reading, writing and speaking) or equivalent.
There are no Accreditation for Prior (Experiential) Learning (AP(E)L) concessions, exemptions or advanced progression to training prior to entry nor whilst on the course.
Selection procedure
Applications are first screened to ensure they meet the minimum admissions criteria. Each eligible application is then independently rated by two clinical psychologists. Applications are rated with respect to demonstration of: academic ability; relevant experience (and the application of learning gained from this experience); and personal and professional suitability. From this, a short-list is compiled of candidates to be invited for interview. We regret that, due to the large numbers of applications and limitations on resources, we are unable to give individual feedback to candidates who are unsuccessful at this stage.
Shortlisting
Short-listed candidates are then invited to participate in a range of tasks.
The programme includes:
A group exercise
An individual interview addressing academic research, clinical and personal issues
A written exercise (at the point of interview all applicants with writing needs are asked to inform the course)
A talk from the Programme Director; and opportunities to ask questions and meet with current trainees
We assess for NHS values based qualities throughout our selection procedures
For 2016 we are not using pre-selection tests to select candidates to interview
The aim is for all interviews and assessments to be carried out by two selectors, including one member of the programme team and one local Clinical Psychologist. Service users and carers are involved in the development of selection tasks and in the rating of the candidates performance in the group task along with Clinical Psychologists from the region, Candidates are informed of the outcome, and those not successful at interview are offered feedback by telephone if requested.
How to apply
2018
| Start Date | End Date | Link |
| --- | --- | --- |
| 07/09/2018 | 31/07/2019 | Apply online (Full Time) |
2019
| Start Date | End Date | Link |
| --- | --- | --- |
| 07/09/2019 | 31/07/2020 | Apply online (Full Time) |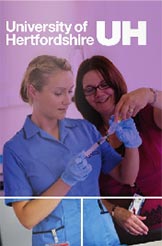 Download the Prospectus