BSc (Hons) Biological Science
Available to non EU students
About the course
Biology is the scientific study of living organisms and deals with every aspect of life. Your study of biological sciences will examine the physiology of the human body, and how it is affected by disease and drug. You will study the structure, biochemistry, and mechanics of the cell, evolutionary processes and genetics, both in mammals and micro-organisms. All of this will be accomplished in your first year!
The School has excellent facilities for chemical and biomedical analysis, genetics and cell biology studies and students have access to the latest equipment for chemical synthesis and purification, PCR, qPCR and 2D protein gel analysis systems for use during their final year projects.
"Studying the Biological Sciences course gives me the freedom of choosing optional modules that I will enjoy and be more likely to succeed at. This opportunity aids my enthusiasm for the course, while allowing me to explore a huge variety of skills. This is highly beneficial as it provides me with the chance to be able to apply for jobs in many different sectors after graduating." Ozlem (second year student)
Why choose this course?
Biology is a discipline with a broad range of applications affecting many areas of human activity. You will study life at all levels from molecules, through organelles and cells, to whole organisms. You will gain the technical, analytical and practical skills needed to investigate biological phenomena in microorganisms, plants, human beings and other animals.
The Biological Science programme offers you flexibility and a broad range of options for study. The first year provides a solid foundation in all aspects of biology including topics in areas such as physiology, biochemistry, genetics and cell biology. It also gives you an opportunity to start developing your practical skills in the laboratory. At second and final year you can choose from a range of modules from across our biosciences courses according to your particular interests.
The degree provides a stepping stone to a wide range of scientific careers, including teaching.
Find out more about our teaching staff across the Biosciences
Download the course leaflet for BSc Biological Science
Get in touch
Follow us on twitter: @UH_AskBIO
Email: askbio@herts.ac.uk
Professional Accreditations
All Biosciences graduates in Biological Sciences are eligible for graduate membership of the Royal Society of Biology.
This programme has been accredited by the Royal Society of Biology. Advanced Degree Accreditation by the Society recognises academic excellence in the biosciences, and highlights degrees that educate the research and development leaders and innovators of the future. The Advanced Accreditation criteria require evidence that graduates from the programme meet defined sets of learning outcomes, including gaining a substantial period of research experience.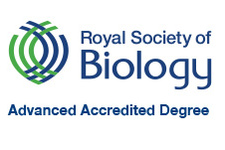 Careers
Our Biosciences graduates are highly sought after by employers in the industry due to the reputation of our teaching, the vocational element to our degrees and the fact that many of our students already have a year's work experience when they graduate which they gain in the sandwich year. Graduates can find employment in the pharmaceutical, food and drink, agrochemical and biotechnology industries as well as in industrial, academic and charity funded research. Some graduates also go on to work in health care and environment agencies. First salaries range from £12,000 to £22,000 pa.
Typical job titles of recent graduates:
Trainee Biomedical Scientist,,
Clinical Trials Associate,
Drug Safety Coordinator,
Medical Representative,
Lab Scientist,
Microbiologist,
Research Assistant,
Tissue Culture Technologist,
Donor Transplant Assistant.
Typical employers of recent graduates:
Pfizer,
Denfleet Pharma Ltd,
Health Protection Agency,
GlaxoSmithKline,
AstraZeneca,
NHS Trusts
Lark Technology.
Teaching methods
You will develop your capacity for independent study and interpersonal skills on this programme. There is an emphasis on structured research, well-prepared written and verbal presentations and computer literacy.
You will experience a wide variety of teaching styles on the programme including:
standard lectures
seminars
tutorials
laboratories
case studies
individual and group projects
In your final year you will normally have the opportunity to hone your independent study and interpersonal skills by undertaking a major project or dissertation.
Part-time study
If you are studying part-time you will have up to 7 years to complete your course from registration. You will complete 60 credits per year and the modules you will study each year will depend on how they fit together on the timetable. For some modules there are several sessions run for each workshop and practical. As a part-time student you will be able to choose the slots that fit best with when you are at the University for other teaching sessions,
Work Placement
All Biosciences students have the opportunity to undertake a work placement or study overseas in Europe or North America during their 3rd year.
Work placements are usually paid. Current employers and job titles are listed below:
GlaxoSmithKline: Data Management - Uxbridge,
Guy's Hospital: Drug Research Unit - London,
Imperial College: Toxicology Unit, Faculty of Medicine - London,
Medical Research Council - Mill Hill,
Medifix Adhesive Products - Luton,
Mount Vernon hospital: Restoration of Appearance and Function Trust Institute of Reconstructive, Plastic and Burns Surgery Research - Middlesex ,
MRC: Human Genome Project - Hinxton,
National Biological Standards Board - Potter's Bar,
Roche UK - Welwyn Garden City,
St. Bartholomew's & The Royal London: School of Medicine - London and St.George Medical School - London,
St.George's Hospital: Analytical Unit - London,
Syngenta Seeds - Cambridge,
University of Hertfordshire: Biodeterioration Centre - Hatfield.
Study abroad
This course offers you the opportunity to study abroad in the Sandwich Year through the University's study abroad programme. Study abroad opportunities are available worldwide and in Europe under the Erasmus+ Programme. Find out more about Study abroad opportunities
Our overseas partners include:
Europe:
Université Libre de Bruxelles - Brussels, Belgium,
Universidad de Alcalá de Henarez - Madrid, Spain,
Universidad Católica San Antonio De Murcia, Spain,
Linkping Universitetet - Linkping, Sweden,
Katholieke Universiteit Nijmegen - Nijmegen, The Netherlands.
North America:
Bemidji State University - USA,
Bishops University, Canada,
Central Connecticut State University - USA,
Concordia University, Canada,
Ecole Polytechnique - Canada,
ETS - Canada,
Kansas State University - USA,
Laval University - Canada,
McGill University - Canada,
Oklahoma State University - USA,
Sherbrooke University - Canada,
University of Missouri at Rolla - USA,
University of Montreal - Canada,
University of Oklahoma - USA,
University of Toledo - USA,
University of Wisconsin at Au Claire - USA,
University of Wisconsin at Whitewater - USA,
UQTR - Canada,
West Virginia University - USA.
Structure
Level 4
Core Modules
Introduction to Biochemistry - 15 Credits
Human Physiology with Pharmacology - 30 Credits
Chemistry for Biologists - 15 Credits
Cell and Microbiology - 15 Credits
Practical and Transferable Skills - 30 Credits
Molecular Biology and Genetics - 15 Credits
Optional
Level 5
Core Modules
Bioscience Research Methods - 15 Credits
Molecular and Cell Biology - 30 Credits
Principles of Immunology - 15 Credits
Optional
Microbiology of Disease - 15 Credits
Cytology and Histopathology - 15 Credits
Blood Sciences - 30 Credits
Biology of Disease - 15 Credits
Chemistry and Analytical Science - 30 Credits
Dosage, Form, Design and Manufacture - 30 Credits
Pharmacology - 30 Credits
Metabolic Biochemistry - 15 Credits
Regulatory Biochemistry - 15 Credits
Level 6
Core Modules
Optional
Applied and Integrated Biomedical Science - 15 Credits
Cellular and Molecular Pathology - 30 Credits
Clinical Microbiology - 15 Credits
Year Abroad: Bioscience - 0 Credits
Sandwich Placement; Bioscience - 0 Credits
Pharmaceutical Synthesis, Production and Analysis - 30 Credits
Drug Discovery, Design, Formulation and Delivery - 30 Credits
Applied and Integrated Pharmacological Science - 15 Credits
Neurobiology and Disease - 30 Credits
Translation of Science into Medicine - 15 Credits
Therapeutic Pharmacology - 30 Credits
Molecular Medicine - 15 Credits
Cell Differentiation and Development - 30 Credits
Advanced Biochemistry - 30 Credits
Applied and Integrated Molecular Science - 15 Credits
Clinical Biochemistry and Immunology - 30 Credits
Entry requirements...
2018 entry
104 UCAS points
Including 2 science GCE A Levels (or equivalent) one of which must be a grade C in either biology or chemistry (acceptable A levels are Human Biology, Psychology, Geography, Maths and Physics).
BTEC Extended Diploma in Applied Science with DMM. Access to Science Diploma with 45 Level credits at merit profile.
IB offer 104 points from a minimum of 2 HL subjects at H4 or above to include Biology or Chemistry and one other Science (with the remaining points to come from a combination of HL, SL and Core).
Plus GCSE English language, mathematics and double science at grade 4 or above (or 2 single sciences) A minimum IELTS score of 6.0 is required for those for whom English is not their first language.
How to apply