Business support and consultancy
Access our expertise
The School of Life and Medical Sciences offer a range of business support and consultancy services in the areas of:
Bioscience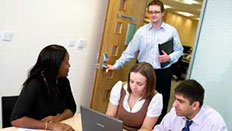 Our services include Biodet, our biosciences consulting team with specialities in water testing, indoor air quality and building hygiene investigations,outdoor air quality and Legionella training for facilities managers.
The Science Training Centre team of experts are able to run intensive training in biosciences laboratory techniques and run update courses for professionals in the form of short courses and or bespoke in-house training.
Find out more about our Biosciences consultancy
Geography, Environmental and Agriculture
Our Geography and Environmental consultancy team is a well qualified unit that is ready to help you transform your business and offers a range of services such as geographical information systems (GIS), social survey techniques, transport planning / travel plan design and implementation, ecological services and environmental management
Find out more about our Geography, Environment and Agriculture consultancy
Postgraduate Medicine
Academic staff have many years' experience and have specialist clinical backgrounds, so understand clients' needs priorities.
The range of skills we offer business consultancy on within postgraduate medicine includes: clinical, educational, leading professional and organisational development and practice development.
We welcome approaches to collaborate with other organisations on consultancy projects at any level.
Find out more about our Postgraduate Medicine consultancy
Psychology
Our Psychology team provides short courses, contract research and consultancy in the following areas:
Investigating and understanding human behaviour, thinking and development
Facilitating change in behaviour and attitudes
Data analysis and methods of enquiry
Find out more about our Psychology consultancy
Sport
The consultancy team operates with highly professional standards. Our ethos is to deliver world class support services to individuals and teams in the sport, health and exercise fields. Our Sport consultancy topics include:
Sports Management
Sports Development
Sports Injury and Rehabilitation
Performance Training Centre.
Many of our services are delivered at the University in the newly constructed state-of-the-art Performance Testing Centre, as well as the Sports Injury and Rehabilitation Centre. This applies to sports, exercise and research projects, as well as educational and training courses/workshops.