Doctor Who Conference 2013
Doctor Who: Walking in Eternity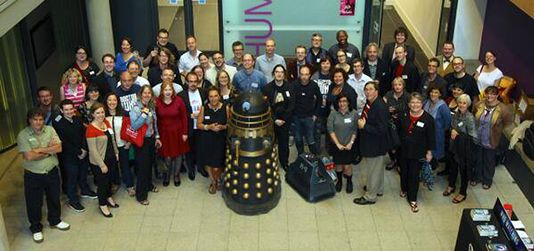 An international interdisciplinary conference celebrating 50 years in time and space, organised by the University of Hertfordshire on 3-5 September 2013.
The 'Doctor Who: Walking in Eternity' international conference was held to celebrate the 50 years anniversary of the BBC series Doctor Who. The aim of the conference was to bring together scholars to discuss and debate the full range of Doctor Who from 1963 to 2013 and its cultural significance. Over 70 scholars were in attendance for the full 3-day conference.
Find out more about the conference and delegates.
Keynotes
Prof. James Chapman (University of Leicester)
Dr. David Butler (University of Manchester)
Prof. Matt Hills (Aberystwyth University)
Kevin Jon Davies (director of Doctor Who: Thirty Years in the TARDIS)
Prof. David Lavery (Middle Tennessee State University)
Delegates
Jonathan Bignel, Billy Smart, Abigail Priddle (University of Reading)
Victoria Byard (University of Leicester)
Julian Chambliss (Rollins College)
Richard Wallace (University of Warwick)
Claire Jenkins (Bath Spa University)
Iain MacRury and Michael Rustin (University of East London)
B. W. L. Derhy (University of East Anglia / University Paris Ouest)
Amanda Potter (Open University)
Jason Jacobs, Steven Gil (University of Queensland)
Mark Adams (Brunel University)
Ian M. Peters (Georgia State University)
Paul Booth (DePaul University)
K. J. Donnelly (University of Southampton)
Liz Giuffre (Macquarie University)
Ross P. Garner (Cardiff University)
Dr. David Butler (University of Manchester)
Ivan Phillips (University of Hertfordshire)
Richard Hewett (Royal Holloway, University of London)
James Walters (University of Birmingham)
Ann Poulson (King's College, London)
Matthew Hurd (Saint Anselm College)
Michael Starr, David Simmons (University of Northampton)
Brenna V. Ross (Grinnell College)
Rebecca Williams (University of South Wales)
Leslie Manning (Old Dominion University)
Esther MacCallum (University of Surrey)
Derek Kompare (Southern Methodist University)
Stephanie Graves (Middle Tennessee State University)
Sherry Ginn (Rowan-Cabarrus Community College)
Craig Owen Jones (Prifysgol Bangor University)
Danny Nicol (University of Westminster)
Robin Bunce (University of Cambridge)
Teresa Forde (University of Derby)
Brigid Cherry (St Mary's University College)
Bethan Jones (Aberystwyth University)
Mark Aldridge (Southampton Solent University)
Laura Black (Volunteer State Community College)
Christopher Marlow (University of Lincoln)
David Cottis (University of Middlesex and East London)
Hamish Crawford (Independent Scholar)
Cynthia Burkhead (University of North Alabama)
John L. Sullivan (Muhlenberg College)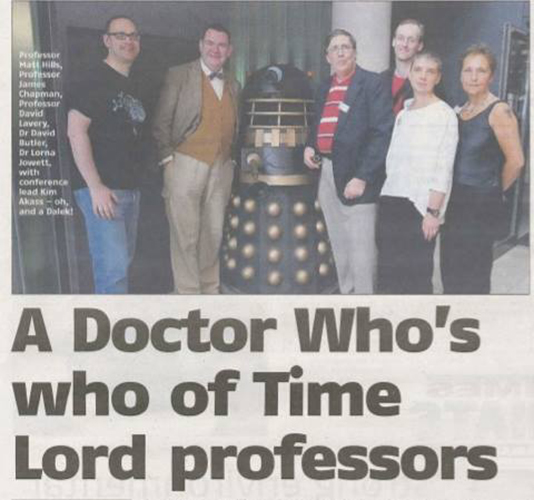 Welwyn Hatfield Times: "DR Who fans will soon be able to wax lyrical about their favourite Time Lord at a special event in Hatfield"